Songkran revenues flow whilst hot-season temperatures soar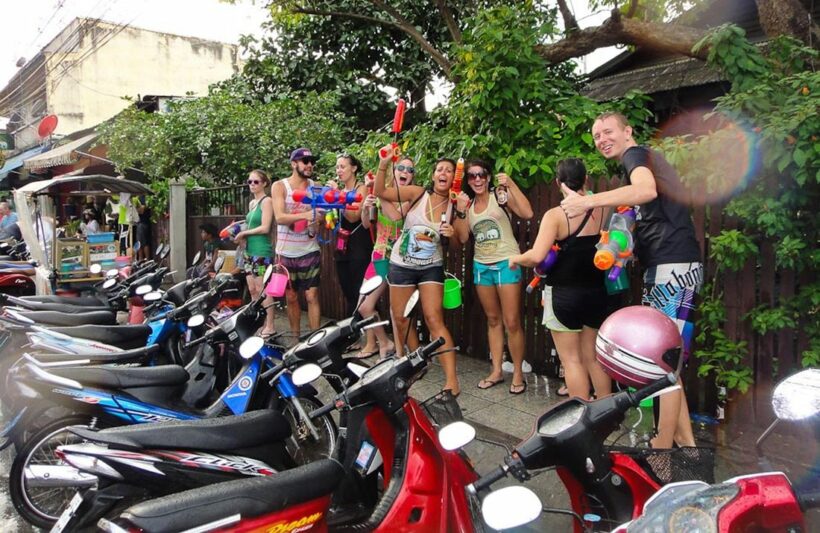 Songkran Festival has attracted millions of Thai and foreign tourists to popular destinations nationwide, generating significant revenue for local economies. Last week Tourism Authority of Thailand economic forecasters were predicting a 10 percent rise in spending this year.
Chuchat on-charern, the Tourism Authority of Thailand chief for the southern province of Phang-nga, said an estimated 155,000 tourists visited the province, with each Thai tourist spending an average of 4,000 baht per day and each foreign tourist spending an average of 6,586 baht per day.
The province's 11,000 hotel rooms have an occupancy rate of over 80 per cent this year, he said, adding that the tourism revenue during Songkran is estimated to top 1.1 billion baht, up 5 per cent from the previous year.
The province is popular among German, Scandinavian and Asian tourists due to its proximity to popular islands.
On the second day of the three days of the long traditional Thai New Year yesterday, Thailand was still soaked in a festive mood, even as the Meteorological Department reported a midday temperature above 32 degrees Celsius in every part of the country.
Some provinces in the upper part of Thailand reeled in heat exceeding 40 degrees Celsius. For the remainder of the holidays, the Weather Forecast Bureau yesterday said every region would face very hot weather. Temperature in the northern, northeastern, central and eastern regions would range from 34 to 40 degrees Celsius, while the average temperature in Bangkok and the South would be slightly cooler, averaging 32 to 38 degrees Celsius.
The highest temperature yesterday was recorded at 40.2 degrees Celsius in Nong Khai, Si Saket, Chaiyaphum and Surin provinces in the Northeast.
People planning to participate in outdoor Songkran water fights were advised to stay cool to prevent heat stroke and avoid long exposure to the midday sun without skin protection, or they could suffer sunburns.
Songkran celebration venues in major cities across the country reported an unexpectedly high turnout as people played in the water to cool off during the hot day.
Wanchai Sakudomchai, director of the Meteorological Department, forecast that today – the final day of the Songkran Festival – an approaching cold front from southern China would affect the weather in the eastern and northeastern regions, with risk of summer storms from today until next Wednesday.
As summer storms often bring intense downpours, thunder, gusty winds and hail, Wanchai urged all people residing in affected regions to be cautious.
Local people and farmers have also been told to remain prepared, as the summer storms could damage crops and properties. In the northern region, large crowds of Chinese tourists were seen celebrating Songkran and joyfully splashing water on each other with colourful water guns. There also were tourists from Western countries and Thais at Chiang Mai's Tha Pae Gate and along the moat in Chiang Mai's old town.
In Phuket we're heading for 33 degrees today with a 50 percent chance of rain and partly cloudy skies. Even Patong seemed to have just run out of Songkran steam as of last night.
SOURCES: Sunday Nation, The Thaiger

Greed unravelled the trio's grisly plot – Phrae double murder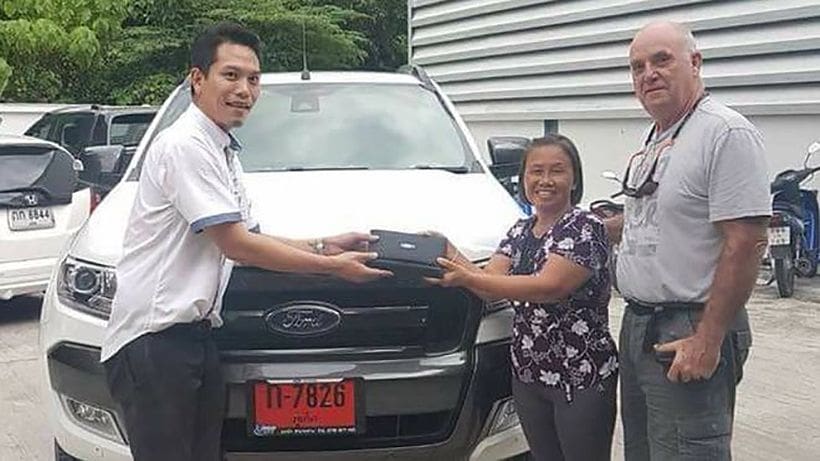 PHOTO: Alan and Nod receive the keys to their new pick-up truck.
The bodies of 64 year old Alan Hogg and his 61 year old wife, Nod Suddaen, wee unearthed yesterday morning following a short investigation where greed brought the plot unstuck for the killers.
After a few hours of interrogation three men admitted to collusion in the plot to murder the married couple.
Included in the latest interrogations was Khun Nod's brother, Warun Satchakit, who was first set free on bail after initial questioning over the couple's stolen white pick up, but was released before his later arrest when the car was located last Sunday.
The other two arrests are reportedly local friends of Khun Warut. In the confession they detailed the method of killing the pair. Warut confessed to organising and carrying out the killings. It is understood that he fired the gun that killed Mr Hogg and bludgeoned Khun Nod to death with a hammer.
Warut told police he then took the bodies to an area behind the house, near a creek, to bury them with a small excavator/back hoe. The corpses were found lying next to each other about 2 metres underground.

Happier times for the married couple – Alan and Nod
During the interrogation Warut has told police that the couple 'repeatedly criticised him' and that that he'd tired of the constant criticism and went about planning their deaths.
The plot unravelled after the killers allegedly stole the dead couple's new pick-up and tried to get a quick sale for cash. A Lao man bought the car and was driving south on Sunday night when he heard about the missing couple and the missing car. He reported to police in Ayutthaya and was able to provide police with information that led to the trio's arrest.
Police initially arrested Khun Warut after CCTV footage showed him entering the couple's home and driving away in the pickup last Thursday but he denied any involvement in their disappearance. He was charged with theft of the pick up and released on bail of 100,000 baht at the time.
Friends of the couple had alerted police about their concerns over the missing couple as early as last Tuesday, two days before Khun Warut was first arrested.

A backpack full of meth pills headed for Chiang Mai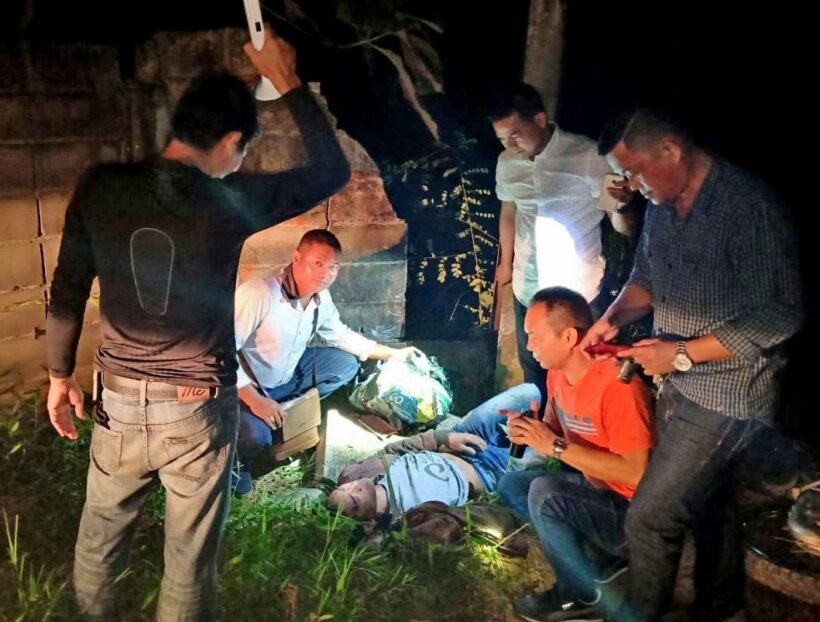 A Chiang Mai man has been arrested las night after allegedly trying to smuggle 100,000 methamphetamine pills into the city from the Myanmar border, 100 kilometres away.
Police at a checkpoint in Mae Ai district had signalled for a motorcyclist to stop but he sped off. With officers in pursuit, he lost control of his motorbike and came to grief on the roadside, tumbling off his bike.
The meth was found in his backpack.
32 year old Chana Jabu was taken to the district hospital with bruises and then arrested.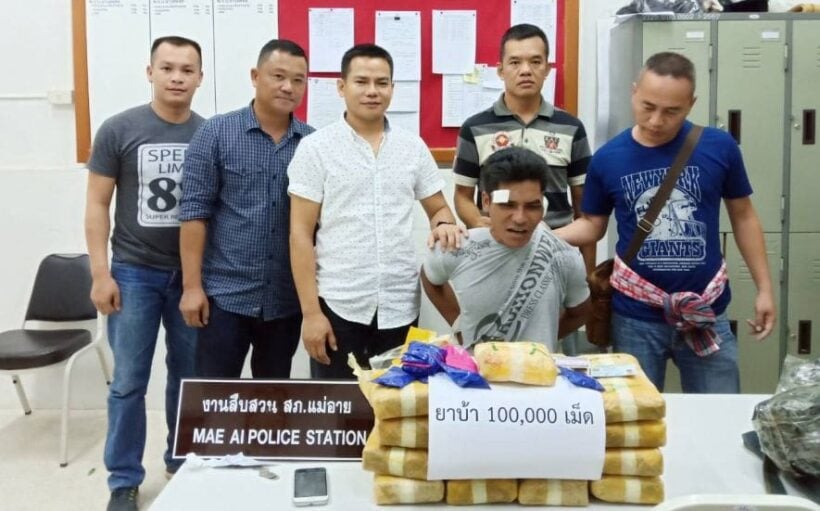 STORY: The Nation
Two motorists died in Phuket road accident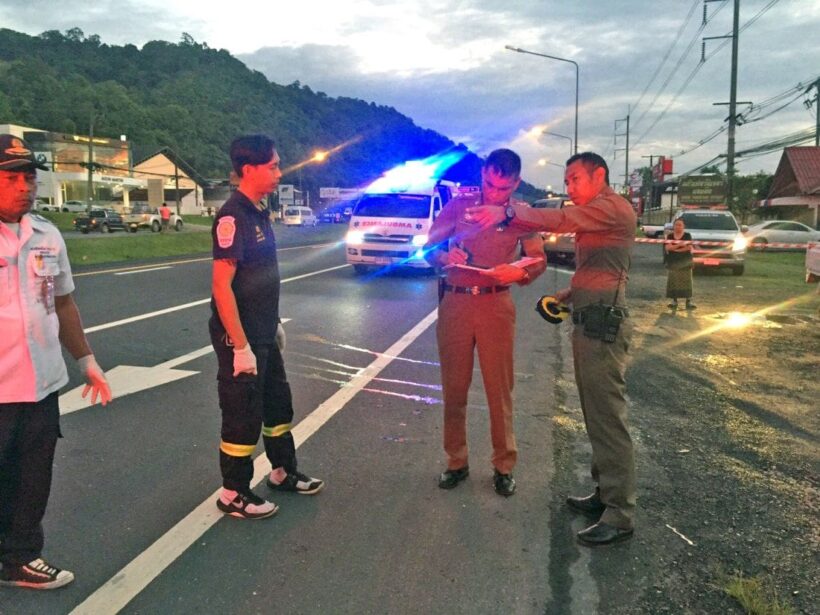 PHOTOS: CITY LAW 201 / Newshawk Phuket
Two motorists havedied in a road accident on Chalermprakiat Ror 9 Road (Bypass Road), southbound this morning.
The Phuket City Police were notified of the accident at 5.45am this morning.
Emergency responders and police arrived at the scene two find one deceased female and one deceased male.
Two identification cards were found with their personal items. The dead are 36 year old Mipha Tabe-er and 42 year old Wan Tapiaw. Both are from the Chiang Mai province.
A motorbike was found nearby. Their bodies were taken to Vachira Phuket Hospital.
At this stage police speculate that they collided with a light pole and dies instantly. Police are continuing their investigation and checking CCTV footage nearby to find the exact cause of accident.