Songkran revenues flow whilst hot-season temperatures soar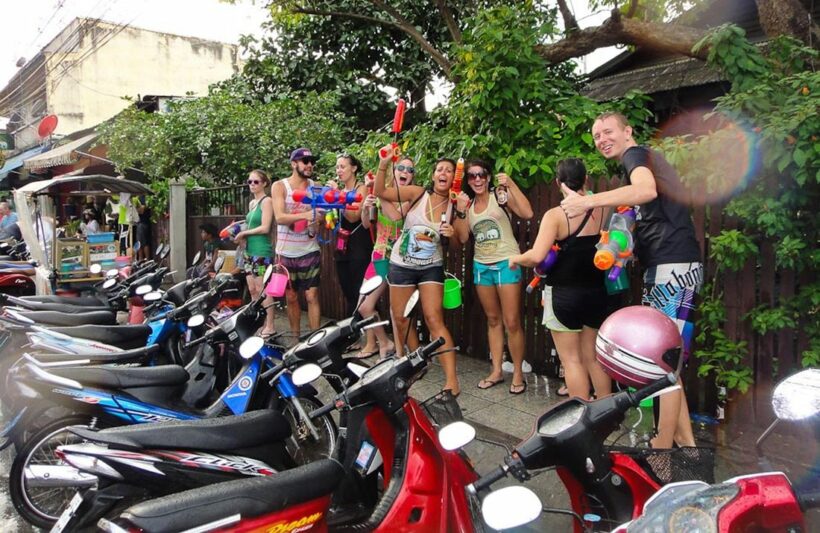 Songkran Festival has attracted millions of Thai and foreign tourists to popular destinations nationwide, generating significant revenue for local economies. Last week Tourism Authority of Thailand economic forecasters were predicting a 10 percent rise in spending this year.
Chuchat on-charern, the Tourism Authority of Thailand chief for the southern province of Phang-nga, said an estimated 155,000 tourists visited the province, with each Thai tourist spending an average of 4,000 baht per day and each foreign tourist spending an average of 6,586 baht per day.
The province's 11,000 hotel rooms have an occupancy rate of over 80 per cent this year, he said, adding that the tourism revenue during Songkran is estimated to top 1.1 billion baht, up 5 per cent from the previous year.
The province is popular among German, Scandinavian and Asian tourists due to its proximity to popular islands.
On the second day of the three days of the long traditional Thai New Year yesterday, Thailand was still soaked in a festive mood, even as the Meteorological Department reported a midday temperature above 32 degrees Celsius in every part of the country.
Some provinces in the upper part of Thailand reeled in heat exceeding 40 degrees Celsius. For the remainder of the holidays, the Weather Forecast Bureau yesterday said every region would face very hot weather. Temperature in the northern, northeastern, central and eastern regions would range from 34 to 40 degrees Celsius, while the average temperature in Bangkok and the South would be slightly cooler, averaging 32 to 38 degrees Celsius.
The highest temperature yesterday was recorded at 40.2 degrees Celsius in Nong Khai, Si Saket, Chaiyaphum and Surin provinces in the Northeast.
People planning to participate in outdoor Songkran water fights were advised to stay cool to prevent heat stroke and avoid long exposure to the midday sun without skin protection, or they could suffer sunburns.
Songkran celebration venues in major cities across the country reported an unexpectedly high turnout as people played in the water to cool off during the hot day.
Wanchai Sakudomchai, director of the Meteorological Department, forecast that today – the final day of the Songkran Festival – an approaching cold front from southern China would affect the weather in the eastern and northeastern regions, with risk of summer storms from today until next Wednesday.
As summer storms often bring intense downpours, thunder, gusty winds and hail, Wanchai urged all people residing in affected regions to be cautious.
Local people and farmers have also been told to remain prepared, as the summer storms could damage crops and properties. In the northern region, large crowds of Chinese tourists were seen celebrating Songkran and joyfully splashing water on each other with colourful water guns. There also were tourists from Western countries and Thais at Chiang Mai's Tha Pae Gate and along the moat in Chiang Mai's old town.
In Phuket we're heading for 33 degrees today with a 50 percent chance of rain and partly cloudy skies. Even Patong seemed to have just run out of Songkran steam as of last night.
SOURCES: Sunday Nation, The Thaiger
- The Thaiger & The Nation
15 year old dies in Chiang Mai boarding house fire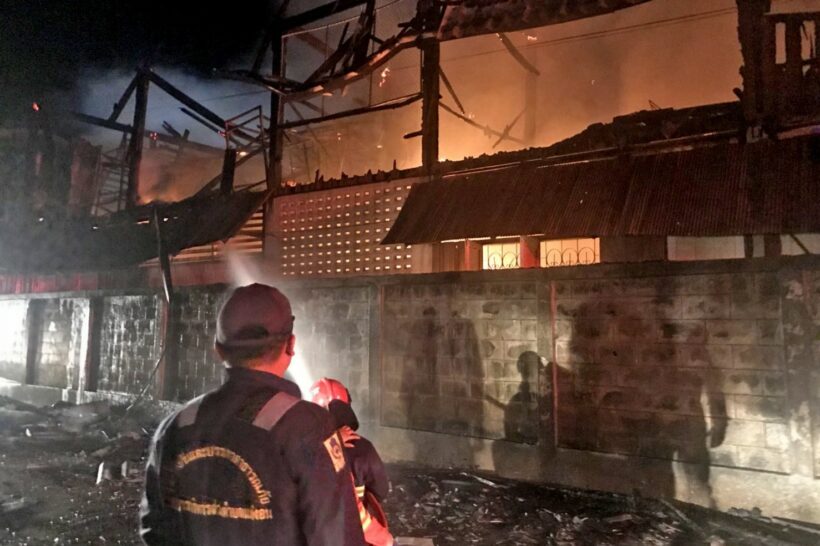 PHOTO: Chiang Mai City Life
A 15 year old girl has died following a fire that engulfed the living areas of a Christian boarding school in Fang district, north of Chiang Mai city, this morning. Fang police were alerted at 1:30am about the fire at the Christian Paolo School that is run by the Evangelical Fellowship of Thailand.
Ten fire engines were dispatched to tackle the fire that was raging through the two storey boarding house. All but one of the 74 children escaped, assisted by firefighters. The boarding house accommodates 28 boys and 46 girls, most of them from hill tribes.
After the fire was eventually extinguished hours later, the charred body of Saenghom Omsin was found on the second floor. The students told police that they believe the fire was started by a short circuit in a ceiling fan in her room before it spread.
Police suspect that Saenghom went underneath her bed instead of running out.
SOURCE: The Nation, Chiang Mai City Life
Chiang Mai: Spanish man arrested in Lampang over UK cocaine bust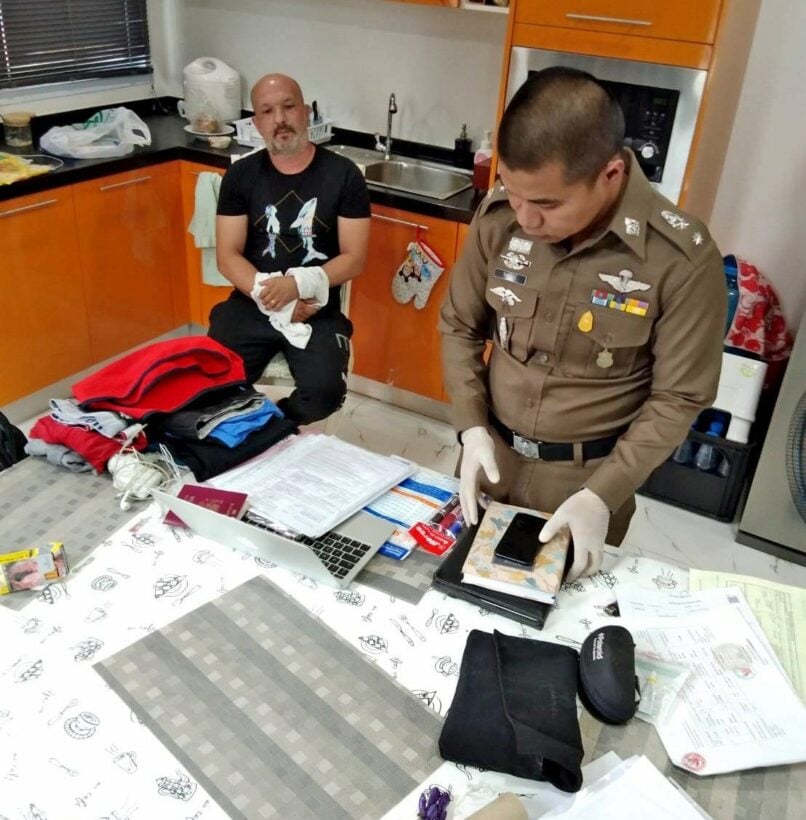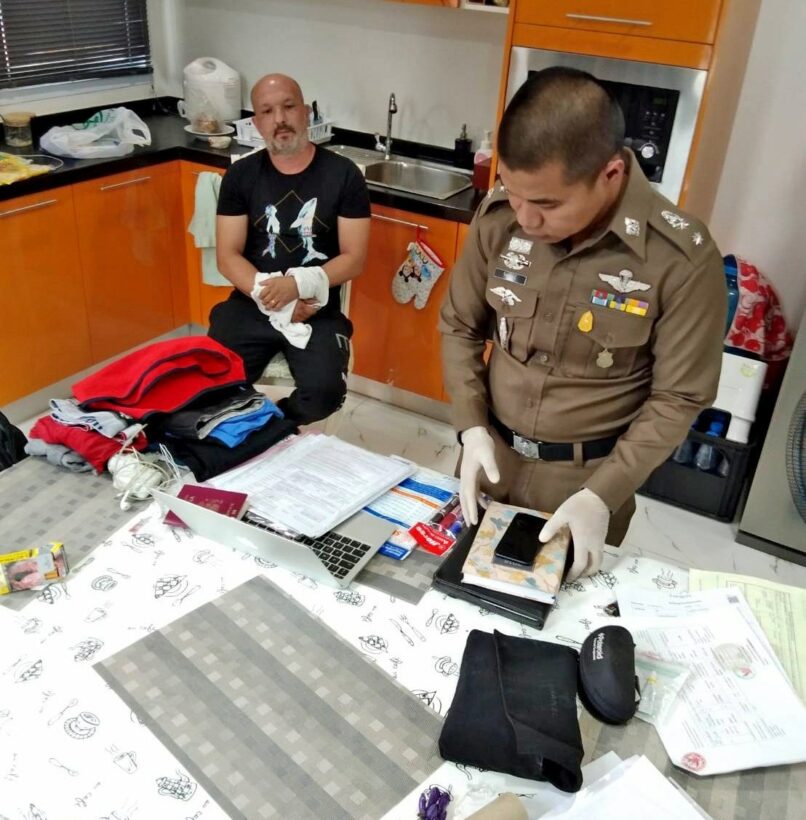 Heavily armed drug suppression police have arrested a 36 year old Spanish citizen at a noodle shop in Lampang in northern Thailand at the weekend.
A warrant for the arrest of Spaniard  Francesco Jesus Gutierrez Marcos was issued in Thailand last Friday following representation from UK authorities and an official extradition request.
Marcos is alleged to be a member of a five person gang that imported 513 kilograms of cocaine into the United Kingdom. UK authorities said that Marcos fled to Thailand after the bust at the end of January this year.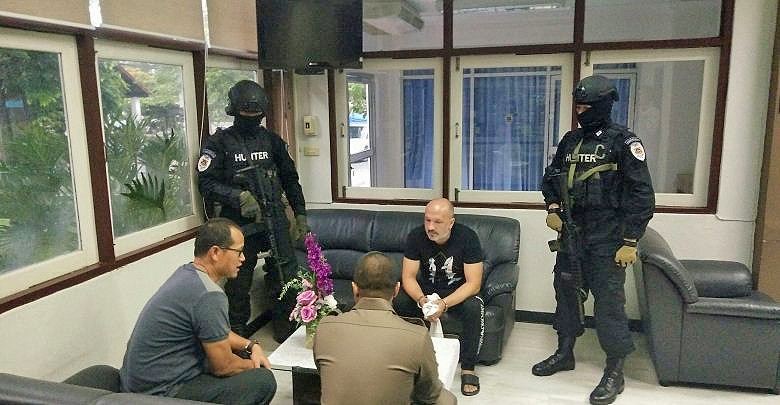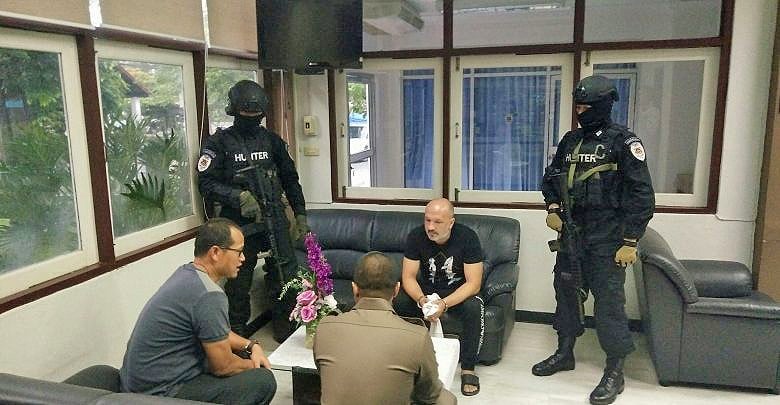 SOURCE: INN
Chiang Mai: Governor visits 74 year old rape victim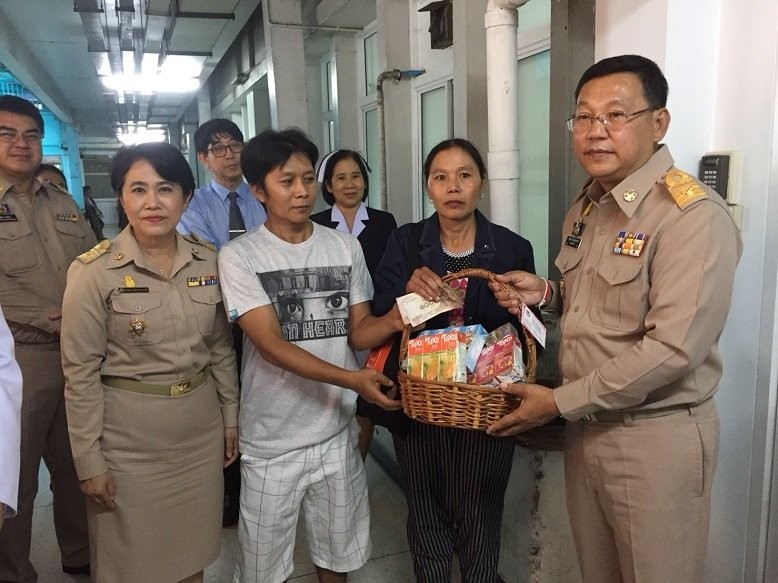 PHOTO: Chiang Mai City Life
Chiang Mai's Governor, Supachai Iamsuwan, visited the elderly sexual assault victim from earlier this week.
Read the story HERE.
The new governor, along with officials from the Office in Social Development and Human Security, visited 74 year old Sudjai Sukhamton at her home.
Social Development and Human Security say they will be following the Governor's visit with regular checks on her trauma and to provide additional services.
The attacker, 30 year old Suchart 'Tim Tinyam' Sukasem, had served time in jail in the past and was recently working as an attendant at a local carnival. The attack on 74 year old Sudjai occurred on the night of July 9.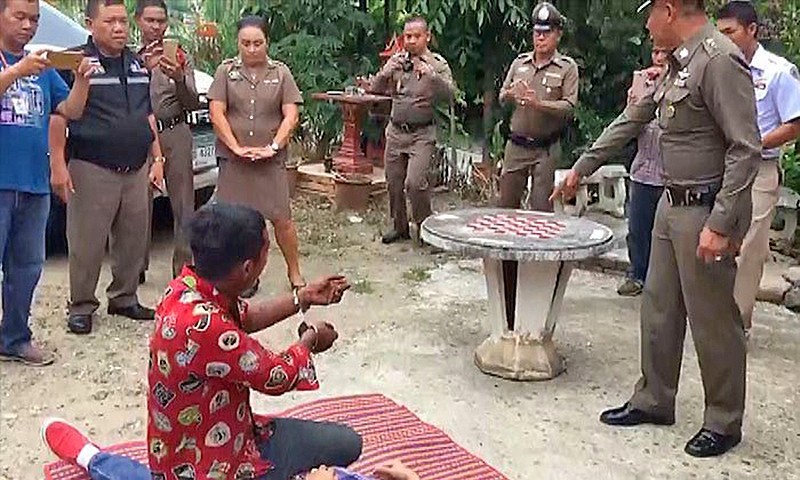 Original story HERE.