Koh Samui
Koh Tao finds a way to get rid of its trash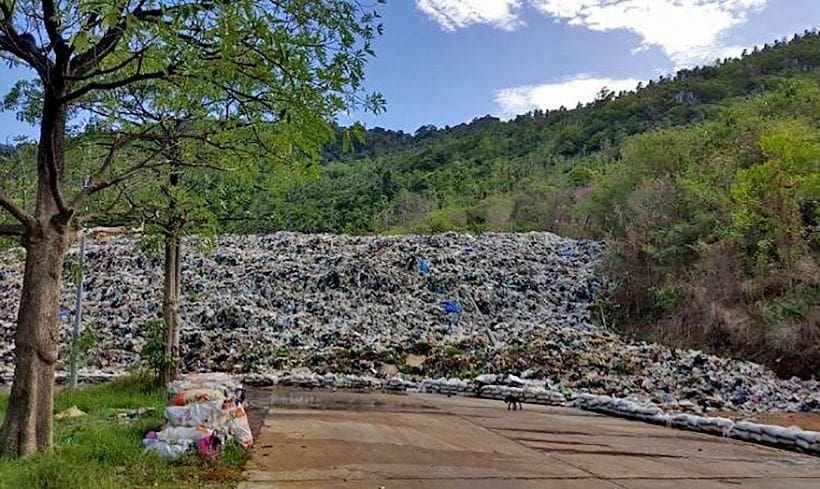 PHOTO: Thai PBS – Koh Tao rubbish
Koh Toa has some good news today, for a change, after it's been revealed that the Surat Thani dostrict of Poonpin has agreed to accept the island's pile of 45,000 tonnes of rubbish for disposal.
About 30 tonnes of trash is added to the garbage disposal plant of the island. The island has an incinerator to help with the disposal of the stinking mess but, you guessed it, it hasn't been working for a while.
A bit of background… contractors Advance Alliance Logistics won the contract to dispose of the mountain of rubbish by compressing and packing the pile into transportable 'packages', ferrying it over to Surat Thani and then transported by land to a clean power generating factory in Khon Kaen. Here it would be burned as fuel.
But news about the garbage arriving in the north-eastern province leaked out prompting an online protest from residents. The mayor of Khon Kaen buckled under the pressure and prohibited the power plant from accepting garbage from the southern Gulf island of Koh Tao.
The Koh Tao mayor, together with the district chief of the Koh Pha-ngan district, eventually convinced the municipal council of Tambon Tha Rong Chang in Surat Thani to accept 45,000 tonnes of the garbage. A memorandum of understanding was signed on Wednesday. Discussions about a more permanent solution are being discussed.
A spokesperson for Tambon Koh Tao says the incinerator was installed when there was only 5-6 tonnes of rubbish being generated each day but that the growth in tourism had shot that amount up to 30,000+ tonnes a day, depending on the time of the year.
SOURCE: Thai PBS