Road-resurfacing in Kathu leaves traffic hazard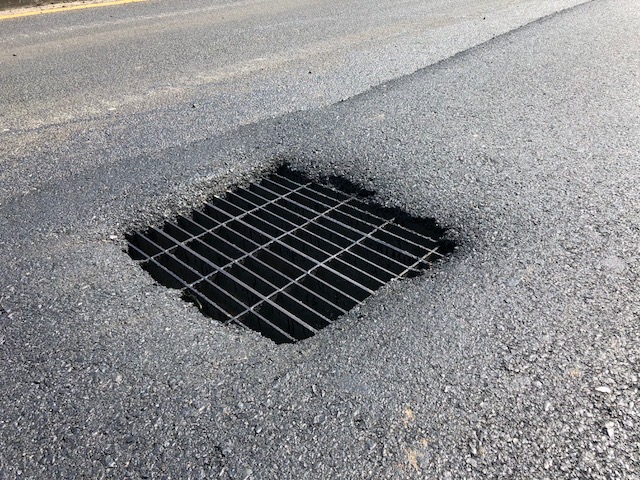 Good news for people driving around the Kathu Ring Road (specifically the section going past the Loch Palm Golf Course entrance), the roads are being resurfaced from the entrance of Soi Namtok to near the entrance of Loch Palm Gof Course today (Monday).
Bad news, the roadmakers have left a 8-12 cm gap between the surface of the road and the road grates they've paved over, leaving a substantial hazard for motorbikes. Just in the five minutes we were there taking photos and video, four or five bikes had near-accidents trying to ride over one of these newly-made depressions in the road. You could hear the suspension on the scooters bottoming out as they tried to ride over them.
This is a substantial road hazard, without any warnings or traffic diversions and we would urge all road users to share this post and alert other road users in the area to proceed with caution until the situation is fixed up, IF it's fixed up.
TRAFFIC ALERTHigh danger, especially for motorbikes, on the road going past the entrance of the Loch Palm Golf Course in Kathu.

Posted by The Thaiger on Monday, March 26, 2018


Read more headlines, reports & breaking news in Phuket. Or catch up on your Thailand news.
Freak storm batters Don Mueang Airport, Bangkok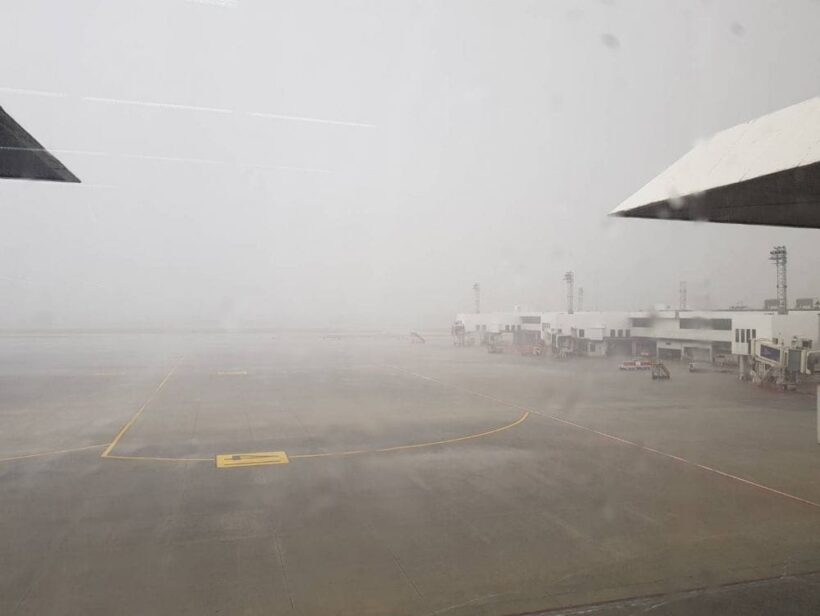 A random summer storm has struck Bangkok's Don Mueang Airport this afternoon. The freak storm affected more than 18 flights and stranded 3,000 passengers whilst the storm battered the area north of the main city.
At least one flight was re-directed to the nearby Suvarnabhumi Airport and another to U-Tapao Airport.
Strong winds caused a Lion Air mobile airstair to hit a Nok Air aircraft parked nearby, after which all 176 passengers on board the Nok Air flight had to disembark and board another aircraft. Their flight was delayed up to 90 minutes.
The storm disrupted flights in and out of Don Mueang Airport between 2pm and 4pm.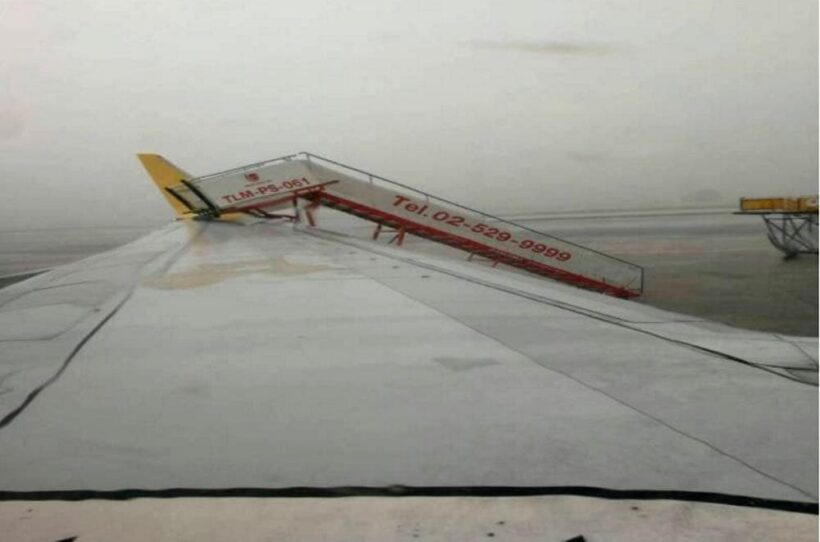 A mobile stairwell was more mobile than it was meant to be during the storm
The Aeronautical Radio of Thailand reported that the storm passed at about 3.15pm and normal services at the airport resumed soon after.
During the storm dozens of planes were parked waiting for a take off slot, while dozens others circled in the city's vicinity waiting for the opportunity to land.
Pathum Thani was also hit by winds, so severe that they blew off a section of the Western University's concrete wall. The falling debris seriously damaged four cars and two motorcycles owned by university staff and lecturers, though nobody was injured.
The Meteorological Department has forecast summer and electrical storms in the North, Northeast, East and Central regions, including Bangkok tomorrow and into the early part of the weekend.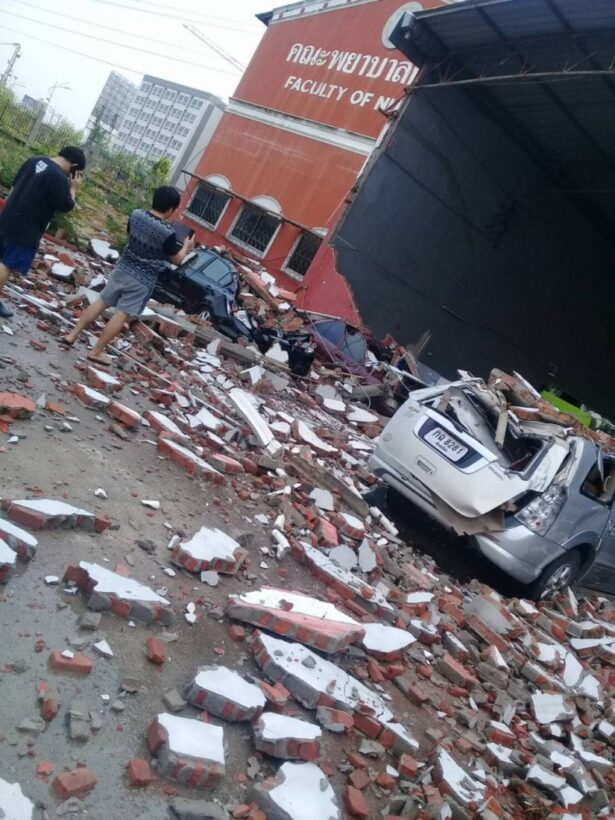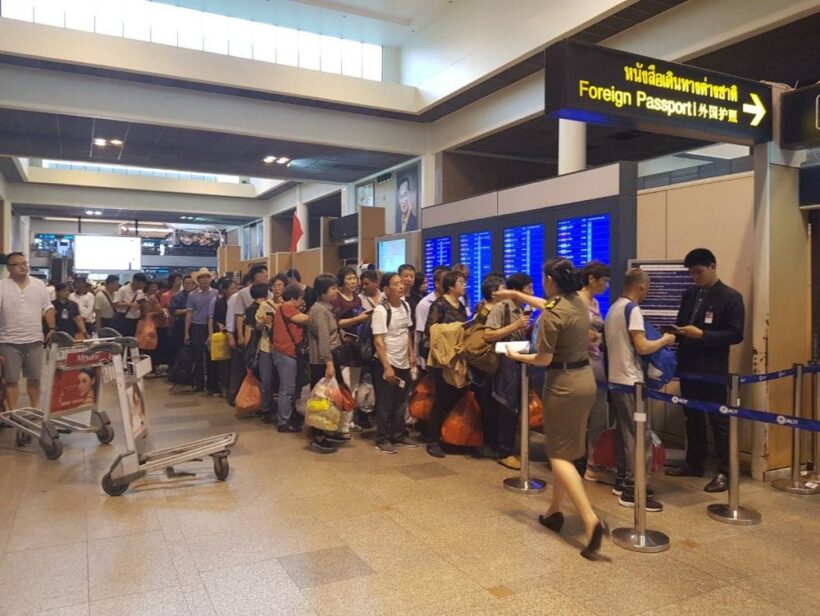 SOURCE: The Nation
3.6 million coronation souvenir coins ordered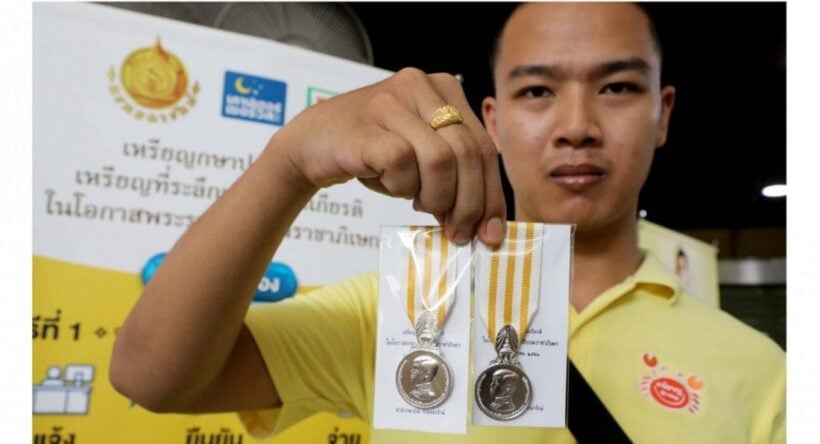 The Treasury has reported that orders have been placed for more than 3.6 million souvenir coins of different models that are being especially minted to mark the May 4 coronation of His Majesty the King.
The orders include 200 for the highest value platinum coins worth 1 million baht apiece, and 10,000 for gold coins, department chief Amnuay Preemonwong said.
The department has also extended the booking deadline from April 4 to May 10, while the coins will be delivered from June 1 onwards, he said.
A large number of people have been showing up to place orders at the Treasury Department on Rama VI Road in Bangkok as well as at its related offices in provinces, including the pavilions set up in Chiang Mai and Songkhla.
The department will produce limited quantities of three types of souvenir coins without engraved values.
Only 1,000 platinum coins, worth 1 million baht apiece, will be minted; no more than 100,000 pieces of the blackened and sandblasted silver coins worth 5,000 baht apiece will be minted; and 100,000 pieces of the blackened and sandblasted copper coins, worth 3,000 baht apiece will be minted.
The department will also produce three types of commemorative coins with engraved values as follows: 50,000 gold coins with 19,000 baht denomination priced at 40,000 baht apiece; 100,000 silver coins with 1,000 baht denomination selling at 3,000 baht apiece; and 5 million cupronickel coins with 20 baht denomination going for 20 apiece.
The department will also produce 500,000 sets of commemorative medals priced at 1,600 baht each.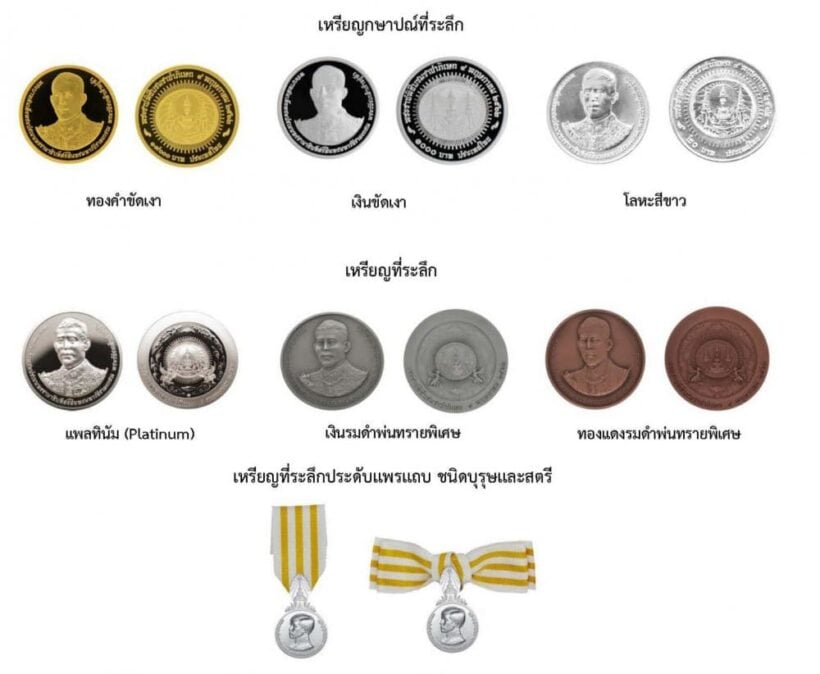 SOURCE: The Nation
Power outage hits parts of Thalang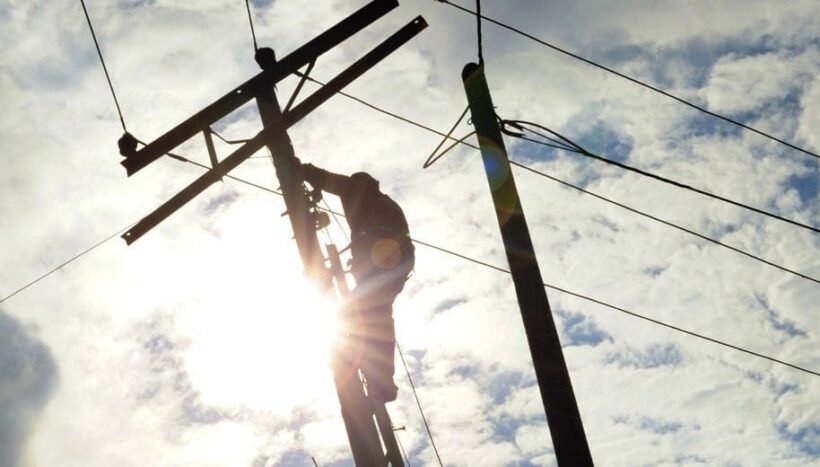 Electricity was shut off in Thalang today. The The Phuket Provincial Electricity Authority (PEA) announced the outage.
Residents of Thalang have had to endure blackouts from 9am to 4.30pm today as the PEA continues its work on high power voltage systems in the area.
Areas being affected are from Makprok PTT Gas Station to Baan Mueang Mai Intersection and from Baan Mueang Mai Intersection to Mud Dok Khao Intersection on Thepkrasattri Road.
As always, the PEA apologises for the inconvenience. (Maybe we can sit in the PEA and enjoy their air-conditioning)
For more information contact the Operations and Maintenance Department of the Provincial Electricity Authority on 076 386 880 – 2