Phuket's 233 Year Anniversary launched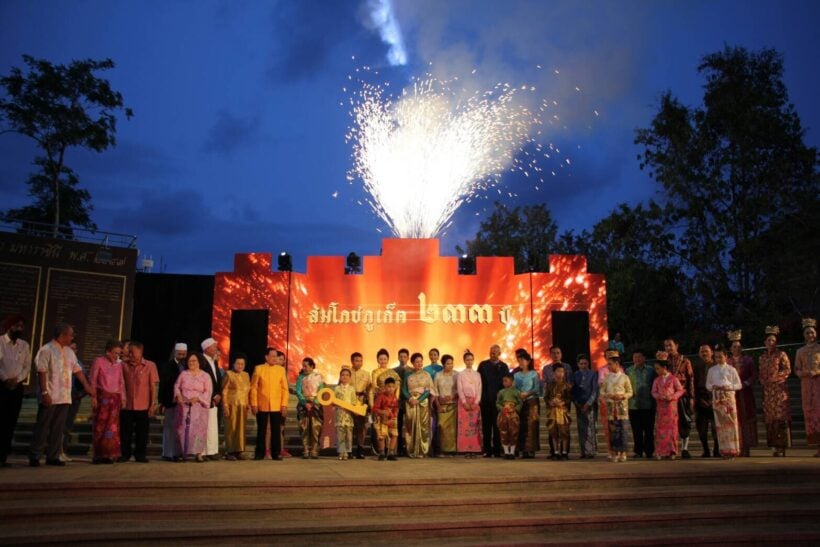 The official opening ceremony for Phuket's 233 year anniversary celebration was launched last night (April 25), chaired by the Phuket Governor, Norapat Plodthong, the President of Phuket Red Cross and the Vice Governors along with local authorities.
The opening ceremony brought together a number dignitaries and business people from the local community, tourist industry, foundations, local clubs and associations.
The ceremony started with a parade of 233 people, from in front of the Thai Hua Museum up Thepkasattri Road heading to the Dragon Park.
On the stage, the Governor received the key from Phuket's seniors, representing that Phuket is a big community of peoples, nationalities and ages. They also sang anthems and commemorative songs. The Governor then granted awards to local youths who won the Phuket history drawing competition. A stage show at the ceremony showed the history of Phuket from the ancient time until the present time.
Keep in contact with The Thaiger by following our
Facebook page
.
Never miss out on future posts by
following The Thaiger
.
Protester slammed for dressing as schoolgirl to highlight sexual harassment in Thai schools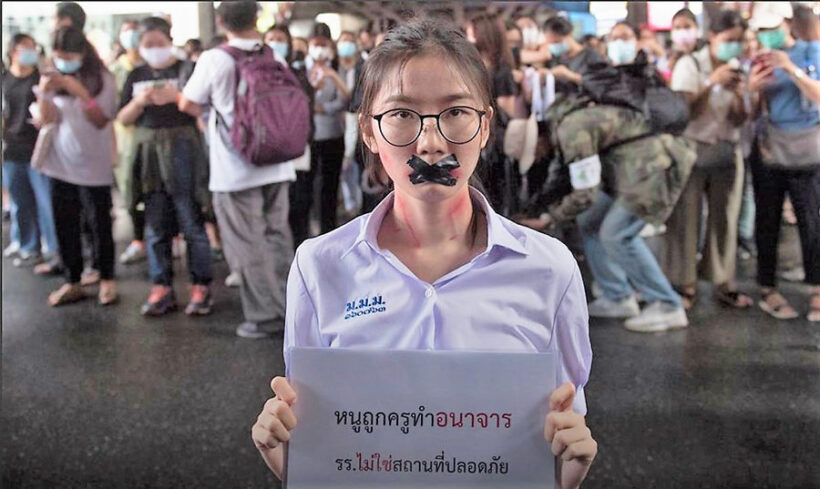 2 government MPs have criticised a member of the "Bad Students" protest movement after she dressed as a schoolgirl to highlight sexual harassment in Thai schools. In an online protest, the activist donned a school uniform and held up a sign condemning sexual harassment in the Thai education system.
Nation Thailand reports that while her actions have generally been supported by netizens, some pro-establishment figures have hit out at the protester. Pareena Kraikupt from the ruling Palang Pracharath Party has filed a police report about the incident, saying the activist is not a school student, but a model and social media influencer. Her complaint is echoed by MP Sira Jenjaka, who says the protester's decision to wear a school uniform will bring Thai schools into disrepute.
His accusation comes as sexual harassment figures from the Office of Basic Education Commission are circulating online, showing hundreds of sexual harassment incidents recorded between 2013 – 2017. Thee Phawangkhanan from OBEC says that in January alone, there were over 700 cases of sexual harassment, adding that many other victims remain too scared to come forward.
SOURCE: Nation Thailand
Keep in contact with The Thaiger by following our
Facebook page
.
Never miss out on future posts by
following The Thaiger
.
Finance Minister says Thailand's GDP will take 2 years to recover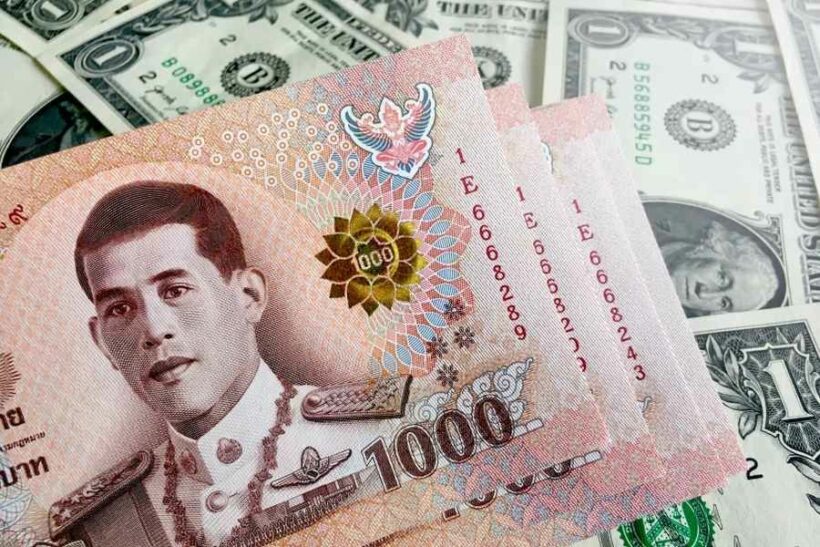 Thailand's finance minister says the countrys GDP will take 2 years to recover the 9% it has lost since the Covid pandemic ravaged the economy. Arkhom Termpittayapaisith, the Finance Minister, says the economy would have expanded by 3% this year if it weren't for the pandemic.
"The pandemic crisis will make the economy contract by around 6% in 2020, therefore there is a 9% gap that needs to be recuperated. If Thailand's GDP growth could arrive at 4% in 2021 and 2022, this would propel the country's economic growth momentum to return to a normal ratio."
The National Economic and Social Development says Thailand's GDP contracted by 6.4% year-on-year in the 3rd quarter, with a yearly economic contraction projected to be 6%. Previously, it was predicted to contract by 7.5%, however, since the global economy is projected to contract by 3.5% and the global trade is expected to decline by 11%, the number has been updated.
The seasonal adjustment saw the economy expand by 6.5% quarter on quarter from the 2nd quarter, with it contracting by 6.7% in the first 9 months. However, the NESDC's projection doesn't account for the impact from political conflicts or a 2nd wave of outbreaks.
Such political conflicts as the protests against the monarchy have seen some authorities, such as the Chief ASEAN economist, saying it won't help Thailand's weak economy recover. But Krisada says the Thai economy is expected to recover gradually, with a possibility of vaccine use and the global economic recovery helping to push forward the recovery next year.
Arkhom says the government reportedly has 30% fiscal space left in its 2021 budget, to help cushion the economic crisis. That percentage is about 980 billion baht worth of capital, which excludes the remaining sum of the 1 trillion baht loan decree.
As for the 2022 budget, he says it is still being designed to support economic growth through public investments in infrastructure and energy, with some projects relying more heavily on help from the private sector.
SOURCE: Bangkok Post
Keep in contact with The Thaiger by following our
Facebook page
.
Never miss out on future posts by
following The Thaiger
.
UPDATE: Coming to Thailand? Check your insurance and ASQ fine print.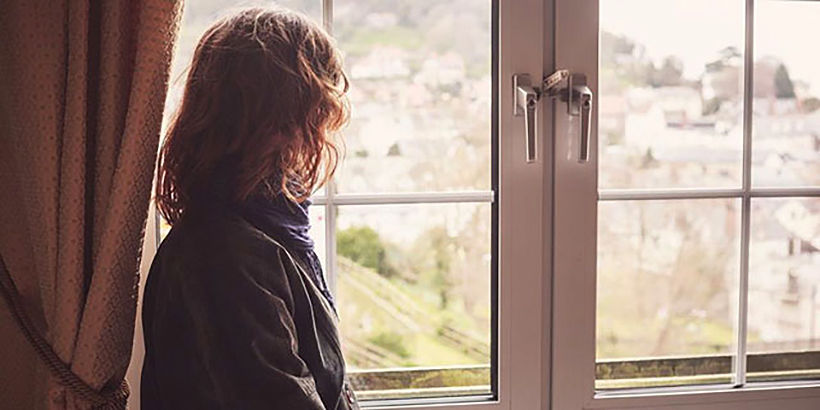 A concerned reader sent us this information, based on his experiences in the ASQ when he arrived in Thailand. We publish them with good faith but would urge everyone to check their insurance situation, whether they're currently in ASQ or might be in the near future, to check your individual circumstances. AXA has also responded to the comment, we provide that information in BOLD.
"Under current Thai ASQ rules, anyone who fails the RT-PCR test in quarantine is sent to hospital, even if they have no symptoms. The ASQ quarantine fee (paid in advance to the hotel) does not cover the hospital costs. So insurance is required.

1. I checked with AXA Thailand, as they offer an insurance policy for US$100,000 to meet the Covid-19 insurance laws. They told me this does NOT cover hospitalisation without symptoms, even after failing the covid-19 tests that are required in quarantine. I believe the odds of anyone who fails the test in quarantine having no symptoms are at least 50% and in this case their insurance will be invalid. The policy is not fit for purpose!

(AXA have responded to this claim… AXA will cover for the hospital expense necessarily incurred if an insured person is tested positive for COVID-19 regardless of the showing of symptoms. The claim payment is subject to the insured person satisfying the other terms and conditions of the policy.)
2. Most UK insurers offer travel insurance cover for "Emergency Medical Care". As being sent to hospital merely for failing a test is not an emergency, then they do not cover being sent to hospital from ASQ.
3. Some UK insurers invalidate all of the medical cover, as any visitor to Thailand is "awaiting tests for an undiagnosed condition", because they require RT-PCR tests."
AXA has further provided this information…
• Meet the 100,000 USD health insurance requirement of application for Certificate of Entry (COE) to Thailand
• Cover 3.5 million THB of medical expense including COVID19 and 1 million THB of Personal Accident, choice of period 30,90,180,270 and up to 365 days
• Coverage starts immediately a‑er clearing immigration in Thailand and include the period of 14-day Alternative
• State Quarantine (ASQ) and Alternative Local State Quarantine (ALSQ)
• No waiting period , no deductible
• Provide insurance certificate including COVID-19
Reference: https://www.axa.co.th/en/axa-sawasdee-thailand-travel-insurance
The bottomline on all this is ASK questions, check your insurance coverage and get everything in writing.
Keep in contact with The Thaiger by following our
Facebook page
.
Never miss out on future posts by
following The Thaiger
.