Shady Business: Phuket beaches kept out of the sun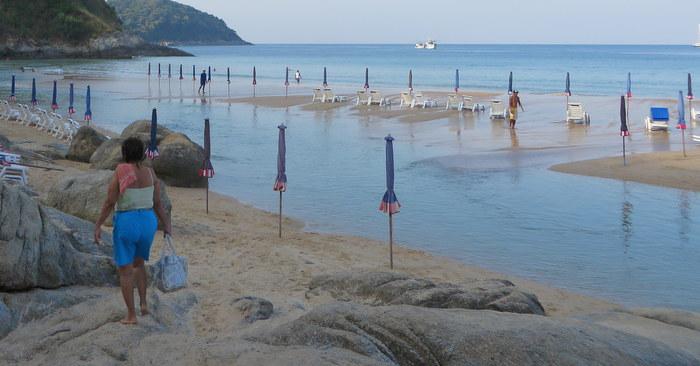 Special Report
Just over a generation ago, there were few chairs or umbrellas on the sands of Phuket. Now, they cover up to 80 per cent of many popular beaches. Last June, the Senate Standing Committee on Tourism said their excessive numbers have a negative impact on tourists' experiences. What's happening, and who's in charge?
The Phuket Gazette's Irfarn Jamdukor and Leslie Porterfield visit seven beaches to report.
PHUKET: Over 9,000 chairs, stacked in rows up to seven deep, were on Patong Beach when the Gazette counted them in mid-February.
The number of chairs, though astonishing, is not a violation of Phuket beach chair regulations, which do not specify a maximum. The number of rows, however, is.
Regulations set forth after the tsunami in 2004 put chair operators under the control of local municipalities and stipulated a maximum of two rows, later modified to allow three in high season. Yet vast areas of Patong and two other beaches have up to eight rows of chairs.
"You have to understand that this is high season. The operators need a chance to make money," Deputy Patong Mayor Chairat Sukban said when told about the additional rows.
"How can I limit the number?" he asked. "Each operator has a different sized area. And if there's a beautiful area and a lot of tourists want to sit there, should I restrict the number of chairs?"
"Tourists demand the chairs. We have to serve the tourists, otherwise they won't come to Phuket."
Despite Mr Chairat's argument that demand is driving the number of chairs being put out, a vendor on the beach in February said that the last several rows of chairs in his area were not used, and a beachgoer on March 6 reported that about 50 per cent of the chairs were unoccupied.
Two other beaches of the seven visited showed the same pattern as Patong: Surin and Nai Harn.
At Surin on a January afternoon, a dense forest of umbrellas shaded the 2,139 beach chairs arranged closely together in rows up to seven deep. As in Patong, many of the chairs were set up cheek by jowl, in violation of another regulation that says each set – an umbrella and two chairs – must be spaced three meters from the next.
"It's terrible what they are doing," said a regular visitor from Austria. "Ten years ago there were just 10 per cent of this many chairs. They only make money and do nothing for the visitors."
At Nai Harn, one January morning, chair operators staked out their turf before beachgoers arrived by setting up umbrellas in the sea before the tide had finished going out.
On February 23, most of the 1,821 chairs were set up in three rows, but a large section near the lagoon had eight rows and areas next to that ran five deep.
The row-rule is flexible in high season Nai Harn Chair Club President Joung Solos said.
As in Patong, municipal officials in Rawai do not know how many chairs are on Nai Harn Beach.
Mr Joung also wasn't sure.
"It's hard to count the number of chairs," he said. "At high tide, it might be only three rows, but at low tide, more."
The Gazette was unable to talk to officials in charge of Surin Beach, as all questions were referred to Cherng Talay Tambon Administration Organization (OrBorTor) President Ma-ann Samran. Mr Ma-ann declined repeated requests for comment, saying that he had been misquoted on a related issue by another publication.
ROW MODELS
Not every municipality lets beach chairs multiply uncontrolled.
Nai Yang and Nai Thon follow the rule for the most part, according to Gazette surveys of the area.
However, at Nai Yang, one hotel had five rows; and under the trees that fringe Nai Thon, one area had three rows of beach chairs and an additional four rows of sun loungers.
Two beaches strictly adhere to the three-row rule: Kata and Karon.
"We insist on only three rows," said Sompong Darbpeth, Deputy Mayor of Karon, who is responsible for both Kata and Karon.
"If all the chairs on the beach are full, we will consider adding another row, but if just one operator is full, we don't allow it. We think it's unfair."
Some beach areas are more popular than others, Mr Sompong explained; for example, those closer to parking.
"If those areas get full first and we add more chairs, it's not fair to the operators who are not as close to parking," he said.
"It's better to let the tourists spill over to other operators. The beach chair representatives do a good job of making sure the three-row rule is followed."
LAISSEZ-FAIRE OVERSIGHT
In contrast, at the beaches most crowded with chairs, officials allow the chair operators to regulate themselves.
"It's up to the operators to know what's suitable or not," Deputy Patong Mayor Chairat explained.
Patong Chair Club President Amorn Srithaweekul said that operators need to use their own judgment when placing chairs.
"They need to be aware of their area, and make sure that at high tide there's space for people to do beach activities. They have to judge the number of chairs they'll need, and they can't try to get rid of people who want to use their area without renting a chair," he said.
Tourists have the right to put their own towels, chairs and umbrellas on the sand and not rent a chair, said Nai Harn Mayor Arun. However, beachgoers do need to leave appropriate room between themselves and the chairs.
Mr Amorn concurred, "Tourists need to be sensitive about appropriate distances."
PUBLIC OR PRIVATE BEACHES?
Sporadically throughout the year, the Gazette receives emails from beachgoers who have been told to move their belongings from sections of Phuket beaches because "they are on private property".
A man who put his towel near a beach club at Surin at high tide was told that the beach belonged to the club and he could not use it. When he returned another day he alleged that a club employee threatened him.
"[He] tried to intimidate me with a big guy he brought with him using a loud voice," the man wrote the Gazette.
Over the years, the Gazette has been urged to ask municipal officers, police, resort staff and a local lawyer whether or not beaches in Thailand are public. The answer has always been the same: Yes, the beaches are public.
PRIVATE USE OF PUBLIC LAND
Though businesses in Phuket are regularly investigated for encroachment – building structures on public land or even removing plants from public beaches – chair operators are permitted to stage their businesses on public property.
"It's part of a policy to help local people. Local people have a right to use public land in their area, but they have to follow the regulations," Mr Arun explained.
However, not every local person has the right, Mr Chairat noted.
"Only those who are already doing it," he said.
In Patong, chair businesses may not be sold; they can only be transferred to close family members.
"I don't know why only family, that's just the rule," said Meena Panun, chief of the Public Health Administration for Patong Municipality.
THE MONEY SIDE
Patong and Nai Harn chair operators do pay several fees in order to run their businesses.
At Nai Harn, fees total 4,000 baht a year: a 1,500 baht membership fee paid to the club, 500 baht to register with the municipality and 2,000 baht for trash collection.
In Patong, operators pay 3,500 baht a year: 500 baht to register with the municipality, and 3,000 baht for trash collection.
Chair club presidents in each location said that there were no other fees paid, though Mr Joung noted that the municipality collected money at times during the year for municipal activities and events.
"It is not like Pattaya, this is Phuket," said Patong's Mr Amorn. "There are no
— Irfarn Jamdukor
Pattaya News
Phuket News

Join the conversation and have your say on Thailand news published on The Thaiger.
Thaiger Talk is our new Thaiger Community where you can join the discussion on everything happening in Thailand right now.
Please note that articles are not posted to the forum instantly and can take up to 20 min before being visible. Click for more information and the Thaiger Talk Guidelines.