Phuket man confesses to Sattahip double murder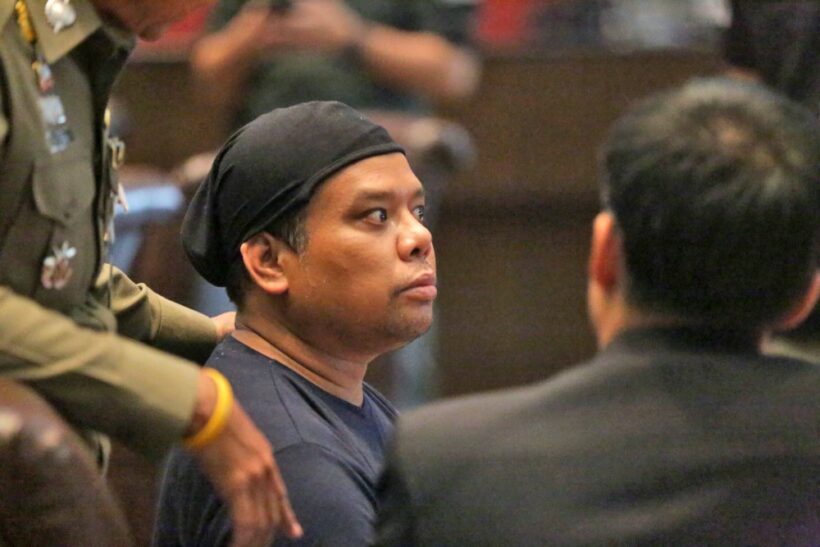 Phuket bar owner Panya "Sia Auan Bangla" Yingdang, extradited from Cambodia on Tuesda, has since confessed to masterminding last month's murder of a former teen beauty queen and her partner in Chon Buri's Sattahip district.
39 year old Panya, the final suspect to be captured in the case, also admitted to reporters while he was being escorted away to perform a crime re-enactment, that he had been spooked by Chakthip's earlier public threat that he would be captured dead or alive.
Chakthip had announced Panya could either keep running until he reached a dead-end and got arrested or face a possible extrajudicial killing. He said he chose the former and therefore fled to Cambodia. He didn't realise until later that the killing had been committed in front of a sacred Buddha image carved into the cliff, Chakthip said.
"When he knew about the Khao Chee Chan or "Buddha Mountain", he was afraid of sacred things. He said the gun wouldn't fire the first 2 or 3 times he pulled the trigger," Chakthip said, adding that Panya seemed to be in a normal state of mind, not suicidal.
Chakthip said police would focus for the moment on prosecuting Panya for the Chon Buri killings and would decide later whether to reopen a previous murder case in Phuket that Panya had allegedly been involved but, according to social media speculation, paid 2 million baht to 'buy his way out of trouble'.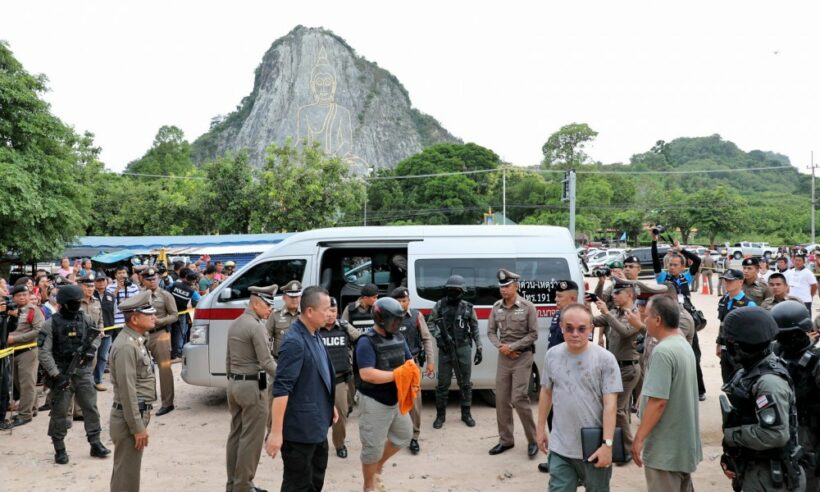 Panya was taken to perform the crime re-enactment at 3pm on Wednesday at five locations in Pattaya and Sattahip, including "Buddha Mountain" where about 30 people gathered to observe proceedings.
Panya, wearing a bulletproof vest and a helmet while being guarded by more than 30 policemen and local administrators, asked for a brief moment to prostrate in front of the Buddha image, apparently to apologise for having offended at the spot.
The two victims' mothers were among those who watched the re-enactment from just 10 metres away. They said they were glad the police had finally arrested the man and hoped he would face the death punishment.
Panya was detained overnight at Jomtien police station ahead of yesterday's hearing at Pattaya Court for the first 12-day detention period.
The court had issued arrest warrants for six suspects involved in the July 29 killing of 20 year old Paweena Namuangrak and her apparent boyfriend, 21 year old Anantachai Jaritrum, in broad daylight at Sattahip district's Khao Chee Chan or "Buddha Mountain".
Panya allegedly masterminded the killing and shot Anantachai. The other suspects were another alleged shooter 22 year old Narong Warintharawet, who is accused of shooting Paweena; 22 year old Krissana Sisuk, who allegedly rented the house where the murder was plotted and spotted the victims; alleged spotters 34 year old Jeerasak Unaiban, 43 year old and Sayan Sisuk, and alleged getaway driver 35 year old Kiattisak Surangsaengoonmee.
The six men directly involved in the killing, now all in custody, face charges of conspiracy to murder, carrying handguns and ammunition in public places and using them without permission.
In addition, the police investigation also found that four other individuals – Niwet Yingdee, Kowan Silpano, Winai Silpano and Phuthorn Singdee – had helped Panya flee to Cambodia, so arrest warrants over a charge of aiding a fugitive to avoid arrest have been issued for them, police said. Those four men are already in police custody.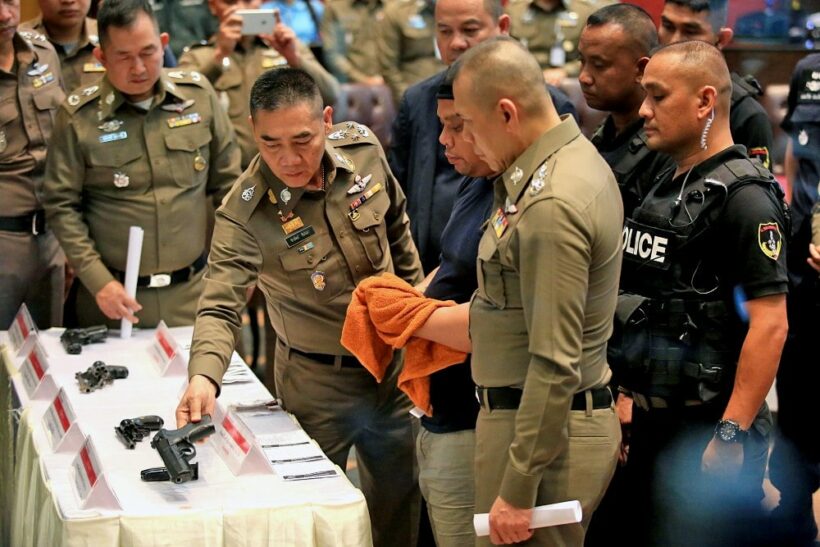 STORY: The Nation
Keep in contact with The Thaiger by following our
Facebook page
.
Torrential rains again wash away parts of Pattaya Beach, more on the way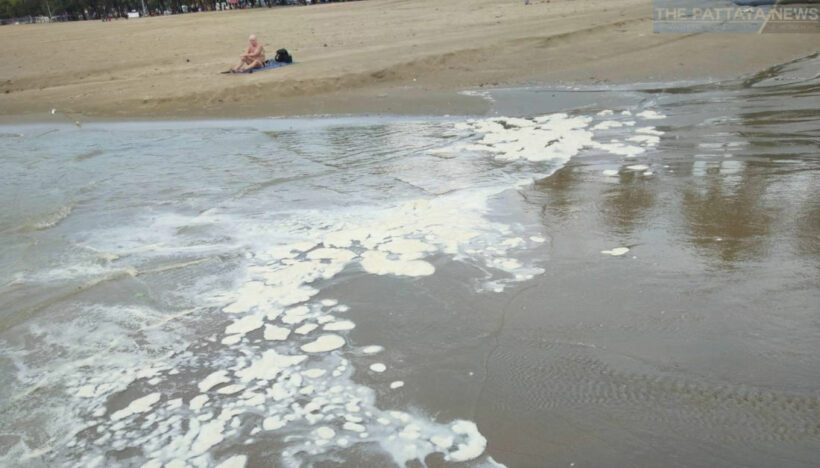 PHOTOS: The Pattaya News
Heavy rains have caused flooding and beach erosion on Pattaya's recently reclaimed beach yesterday afternoon. The torrential rain continued for many hours around Central Pattaya. Heavy rains are also expected again today (forecast below).
Many areas ended up flooded causing local traffic hazards and delays. Water flooded down storm drains and onto Pattaya's beaches and into the sea, literally washing the beach away in some locations.
Tourists and swimmers avoided the water as they saw "an unidentified white substance on the water's surface". The white scum appeared to look like some sort of detergent or foam which had washed down the city's drains.
Last year some 400 million baht was spent re-building some of Pattaya's beaches which end up damaged and washed out to sea any time there are heavy rains.
SOURCE: The Pattaya News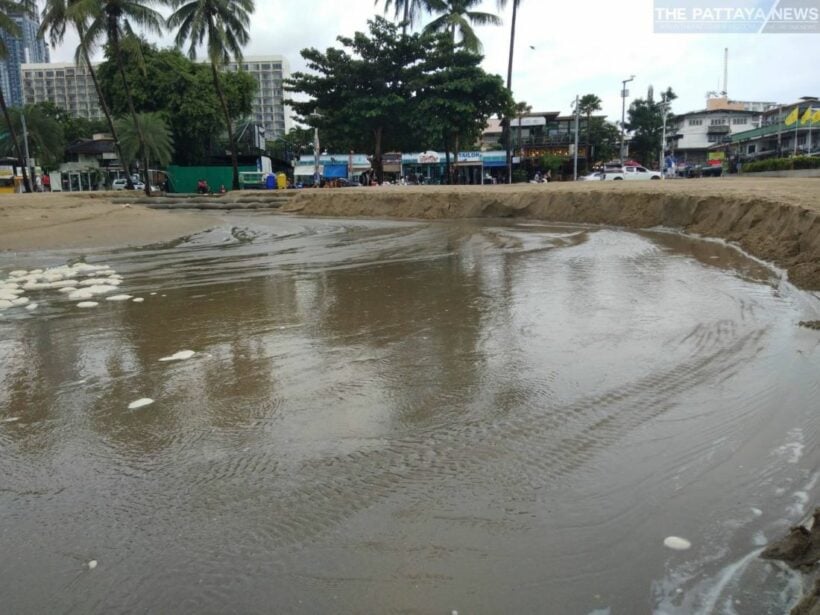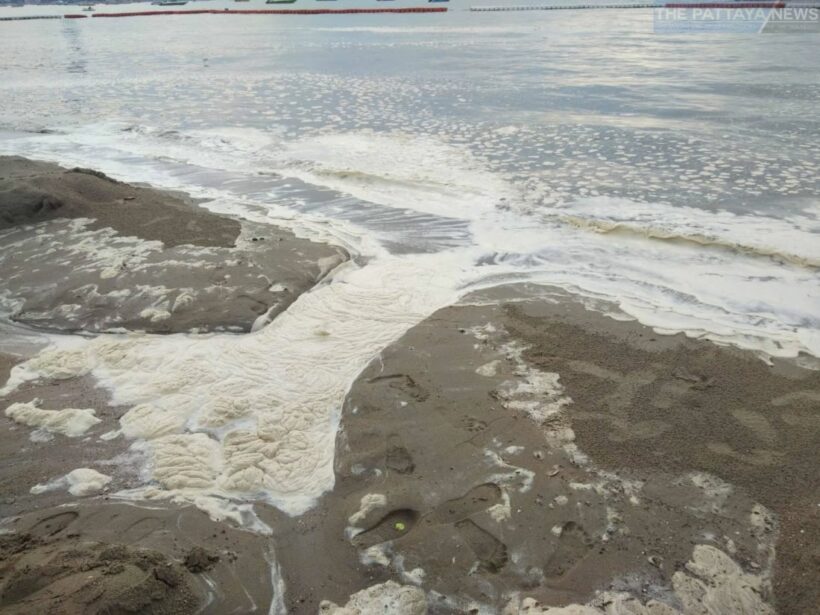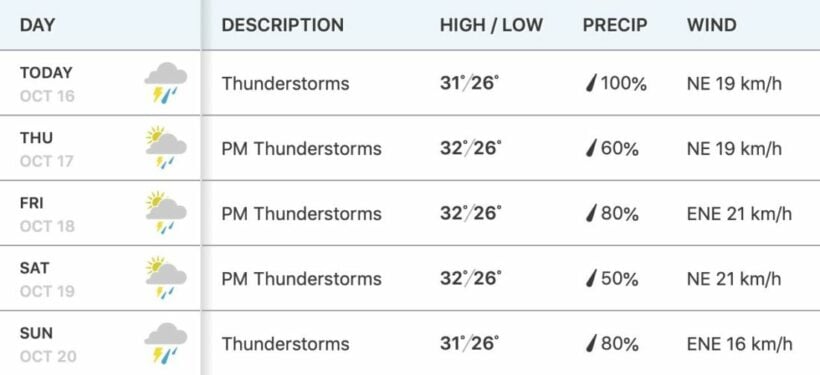 Keep in contact with The Thaiger by following our
Facebook page
.
Thai High Speed Railway linking airports now to be signed off on October 25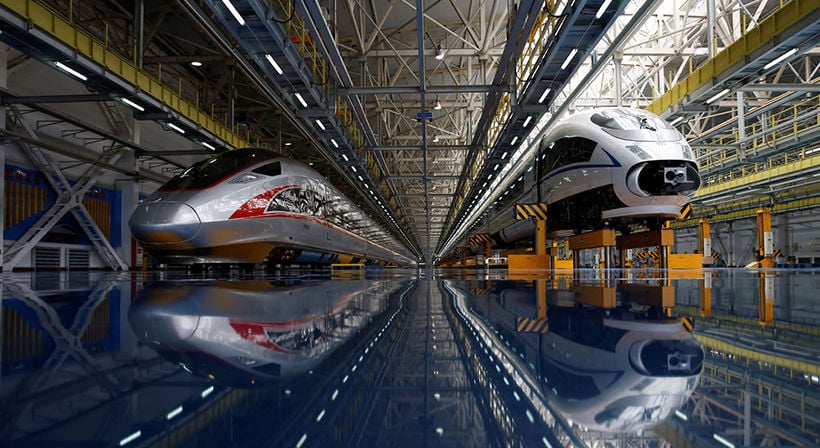 The State Railway of Thailand and the Charoen Pokphand Group-led consortium are putting pen to paper and signing the contract for the high-speed train project on October 25.
The much-discussed high speed railway will link Suvarnabhumi, Don Mueang and U-Tapao international airports. The new SRT board was approved by the Thai cabinet today.
Deputy PM Anutin Charnvirakul says he is confident the contract will now be signed, adding that he has already met with Supachai Chearavanont, CEO of the CP group, and assured him of the government's full cooperation and support.
The Charoen Pokphand-led consortium won the bid to develop the 224-billion baht high-speed train infrastructure as a signature project for the government's flagship Eastern Economic Corridor (EEC) high-tech investment hub. The train service is scheduled to be operational in 2024 (The Thaiger is taking bets now).
Recently, however, the CP-led consortium raised concerns over land expropriation and eviction problems and asked for the government to share the risk on this issue. The Transport Ministry has already rejected the request putting the onus on CP as part of the proposal.
Mr. Anutin explained that, in any large infrastructure project involving expropriation of land, it is usual for the government or state agency not to be able to hand over the land to the contractor all at once. In such cases, the contracted completion date can be moved back.
He said the CP-led consortium should proceed with the high-speed train project without further delay because 70% of the land is ready to be handed over.
Meanwhile, the deputy PM admits that he didn't know why the entire SRT board resigned en masse, delaying the signing of the contract, and denied that he had put pressure on the board to quit. He also denied that Transport Minister Saksayam Chidchob, also of the Bhumjaithai party, objected to the SRT board's mass resignation because the latter wanted the contract to be signed quickly.
SOURCE: Thai PBS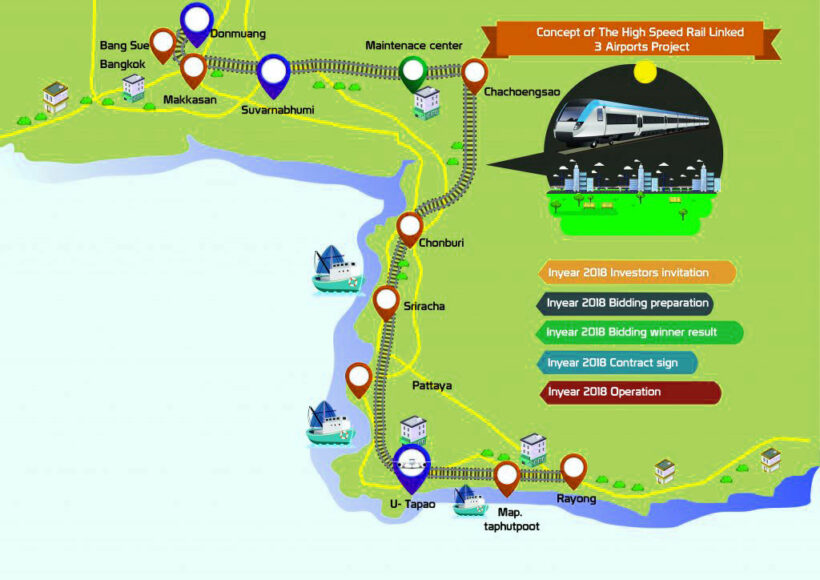 Keep in contact with The Thaiger by following our
Facebook page
.
Toilet break goes wrong when trucks collide in Pattaya, injuring two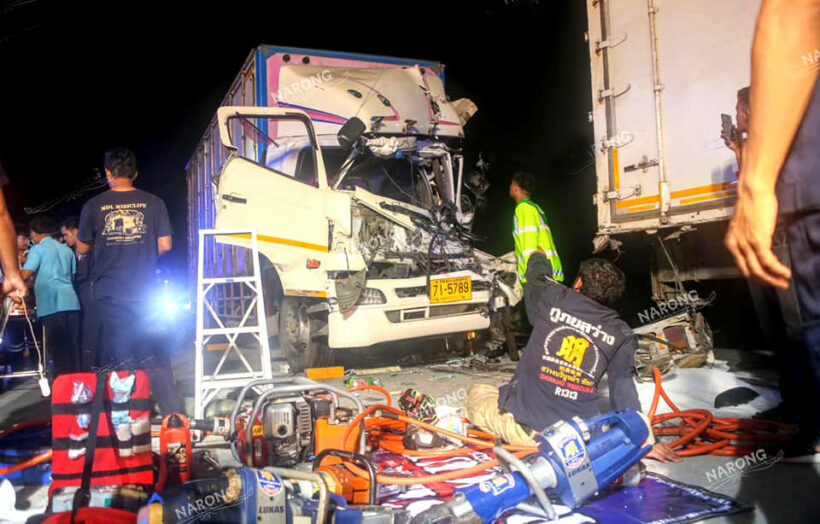 PHOTOS: Pattaya Update News
The driver of a ten-wheeler truck got more than he bargained for after stopping for a toilet break at the side of the road in Pattaya.
Pattaya Update News reports that 57 year old Jirawat parked his truck on the Krathing Rai-Rayong road at about 1.30am over the weekend. While he was away from his vehicle, attending to business, a six-wheeler truck ploughed into the back of his truck.
The driver of the six-wheeler, 42 year old Suthin, suffered head injuries, while his 45 year old wife passenger, Netchanok, sustained a leg injury. Both occupants of the truck had to be cut free by rescue workers before being rushed to hospital.
Meanwhile, Jirawat says the sound of the crash startled him, causing him to fall over and urinate on himself. Returning to his vehicle, he alerted the authorities. It's unclear what, if any, action will be taken by police against either of the drivers.
SOURCE: Pattaya Update News | ThaiVisa
Keep in contact with The Thaiger by following our
Facebook page
.