Lost at sea: Thailand – A study from ISLA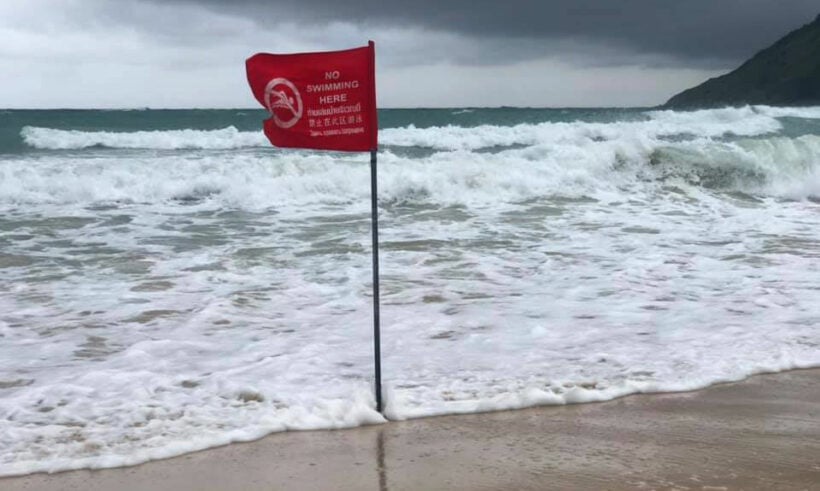 By Daren Jenner, Thailand Section Chief, Marine Safety Officer, International Surf Life Saving Association
The International Surf Lifesaving Association has just released an alarming study it calls "Lost at Sea: Thailand". The study highlights the stark reality of the dangers of the two-faced Andaman Sea that surrounds the famous holiday Island of Phuket, Thailand.
During the dry season (November to April), Phuket's ocean waters are the picture-perfect azure paradise that travellers crave. During the monsoon season (May to October), however, the Andaman Sea becomes an angry and violent wave-generator, and Phuket's west coast beaches change into rip-current-infested danger zones.
In April 2012, the Thai Department of Health stopped publicly releasing drowning figures for Phuket and the surrounding ocean waters. In response, the ISLA has combed available media archives, and compiled a detailed list of documented deaths, along with serious injuries, in the ocean waters surrounding Phuket, including the Greater Phuket area and the gulf of Thailand. The study lists deaths and serious injuries due to drowning and marine accidents from May 2012 to the present (February 5, 2020).
The results of the study are shocking: 253 deaths and 417 serious injuries and non-fatal drownings were documented in the greater Phuket area since May 2012.
Drowning is a Process – Not an Outcome
Q: How can a drowning be non-fatal? Doesn't someone have to die for it to be a 'real' drowning?
A: Drowning is defined by the World Health Organisation as a process.
Once serious respiratory impairment begins due to immersion in liquid, a drowning has occurred. The two main outcomes possible after the drowning process begins are 1) Non-fatal and 2) Fatal. This new way of looking at drowning can be compared to a stroke. With timely medical treatment, stroke patients can survive, but many have severe deficits. The fact the patient survived the stroke does not negate the fact that a stroke occurred. Similarly, drowning patients can survive, and some wind up with severe deficits. The fact that the person survived the drowning does not mean they weren't drowning in the first place.
REMEMBER: Drowning is a process, and can result in death OR be non-fatal.
Reversing the Trend
The big picture is Phuket's ongoing drowning epidemic and the worldwide social media attention it has attracted. The goal was, and still is, to assist local lifeguards to create a unified, professional lifeguard force for the Island. Only then will the grisly drownings, jet-ski accidents, vessel collisions with mass casualties, and snorkelling deaths begin to recede.
Only then, will Phuket's internationally infamous broken marine safety system begin to improve.
On behalf of Phuket's struggling lifeguards, the ISLA is re-sending its urgent call. Please support a fully-funded and internationally certified lifeguard force for Phuket and the surrounding ocean waters. Properly equipped ocean lifeguards are needed 365 days a year, and are crucial to restoring Phuket's tourism safety. The time to act is now.
Daren Jenner
Thailand Section Chief, Marine Safety Officer, ISLA
Keep in contact with The Thaiger by following our
Facebook page
.
Phuket's new cases (Tuesday), all originating from Bangla Road area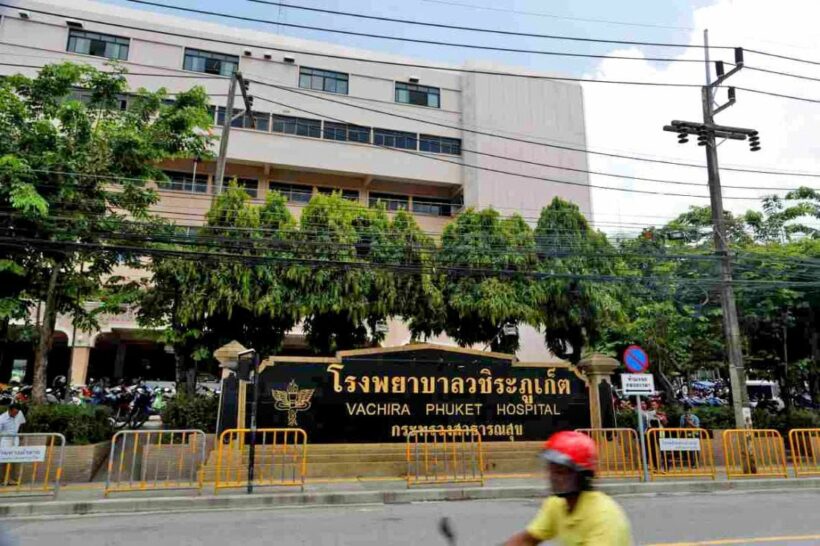 Numbers are out for new cases in Phuket over the past 24 hours.
Case 124: 23 year old Russian women
Case 125: 26 year old Kazakhstan women
Case 126: 28 year old Russian women
All 3 new cases in Phuket had a history of visiting or staying in the Bangla Road entertainment zone for up to a month, and having close contact with tourists. All 3 women were also staying together in an apartment in Patong. All 3 women had shown no symptoms of having the virus and put another 3 people at risk.
There was also another death yesterday – a 25 year old Hungarian man who was in an accident, rushed to Chalong Hospital, and then to Vachira Phuket for surgery, and then doctors finding out that he had been infected with the virus.
In Phuket there are now a total of 126 cases, 1,756 people awaiting test results and considered 'high risk', 1,557 people sent back home after testing or treatment and 110 awaiting blood tests.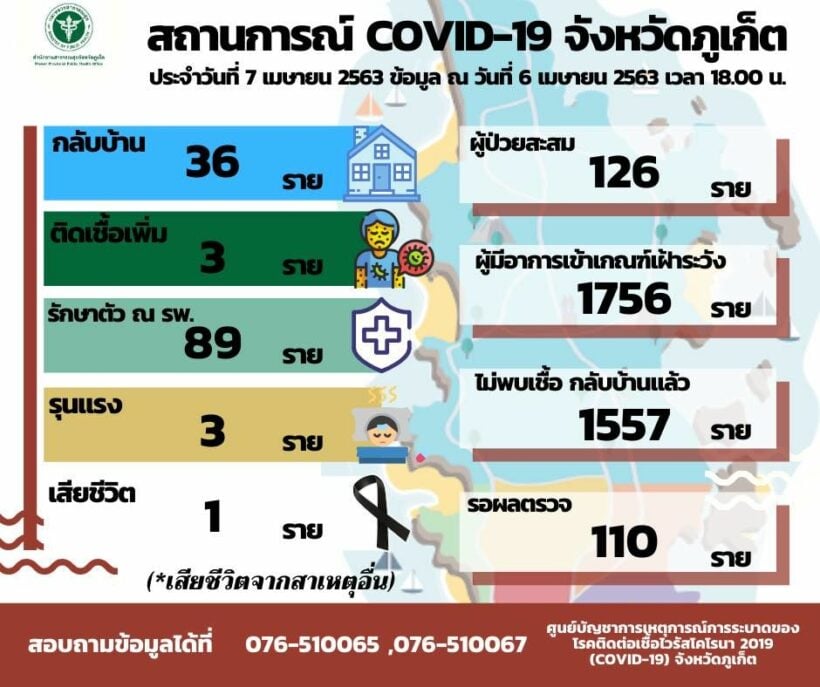 Keep in contact with The Thaiger by following our
Facebook page
.
Hungarian tourist dies in Phuket after failing to reveal Bangla Road visits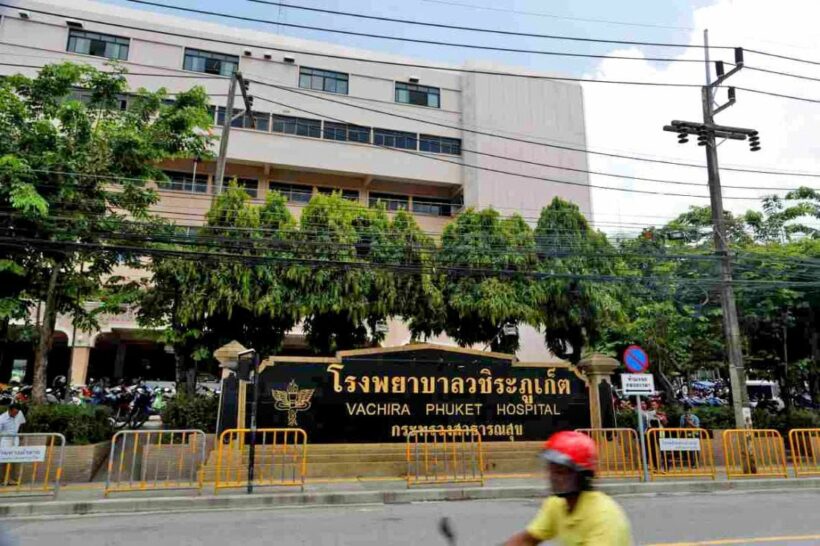 Dr Chalermpong Sukhonthapol, the director of Phuket's Vachira Hospital, has revealed details of a Hungarian tourist who recently died of Covid-19, but had earlier withheld details of his visits to the island's red light district in Bangla Road, Patong.
Bangla Road has been the island's hotzone for new cases of the Covid-19 coronavirus.
The case has resulted in more than 100 medical staff being suspended and placed in quarantine as a precaution. Originally the Hungarian man arrived from Malaysia.
Dr Chalermpong reports that the Hungarian man was involved in a traffic incident on March 25 and was admitted to the Chalong Hospital, then later transferred to Vachira Hospital in Phuket Town.
"The patient had numbness and weakness in all limbs. He could talk, but did not mention his activities had put him at risk of Covid-19 infection though being asked."
He firstly had an operation on his broken neck and spine. He the regained consciousness and was responding well and talking to attending staff.
Then, on March 29, he had a visit from a friend he'd met whilst visiting Bangla Road in Patong.
After some further scrutiny hospital staff found out that the Hungarian had visited Bangla Road and stayed in the area for two weeks. The hospital conducted tests and found the man was infected with the coronavirus.
The Hungarian tourist developed a high fever and breathing difficulties soon after. He died on Friday morning.
"The death of the Hungarian tourist is a shock because he did not report the Covid-19 infection risk in the first place. One hundred and twelve medical personnel who had done their best to save were put at risk because of their contact with him," Dr Chalermpong told Bangkok Post.
112 at-risk staff are now confined to quarantine for 14 days, some are in home quarantine. 94 have tested negative for the disease, 18 were awaiting test results.
SOURCE: Bangkok Post
Keep in contact with The Thaiger by following our
Facebook page
.
10 new coronavirus cases in Phuket today (Sunday)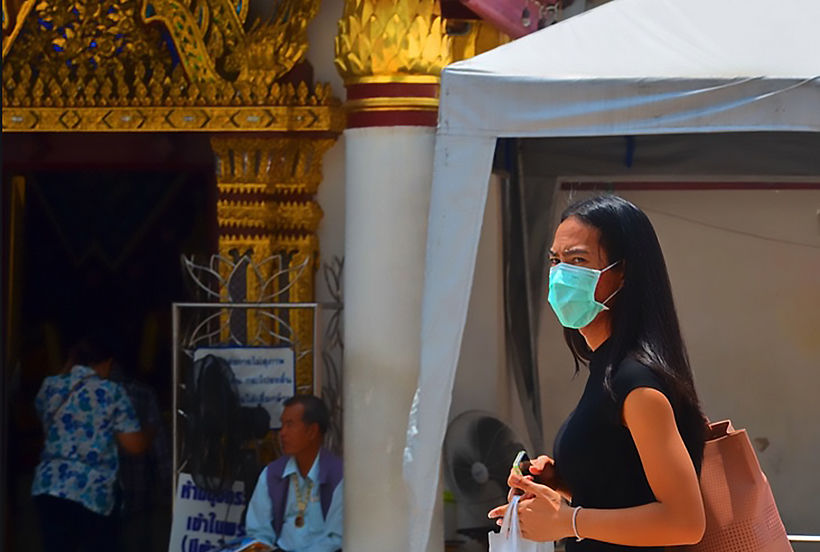 The island of Phuket in Thailand's south has reported 10 new Covid-19 coronavirus cases today (Sunday), bringing the total to 119. Today's new cases aren't all in Patong, as has been the trend over the past week, with new cases being reported in Bang Tao, just north of Surin Beach area.
Among the confirmed cases announced today are six members of the same family that live in the Bang Tao area.
Due to the high number of cases originating in the island's Patong entertainment district, the whole seaside town has now been officially locked down as of today, with checkpoints on all roads going in or out (more info below).
Details of the new case…
Case 110: A 40 year old Swedish man, arrived in Phuket on March 13 with his wife, who was confirmed as case 77 on April 1. 7 people are considered at at high risk and are being sought by authorities (NOTE: There are conflicting reports on this case's age and gender).
Case 111: A 29 year old Thai woman, a maid, the wife of confirmed case 41, an Italian who works in Bangla. She fell sick on April 2, 2 people are considered at high risk.
Case 112: A 55 year old Thai woman, also a maid, the wife of case 94. 2 contacts at high risk.
Case 113: A 29 year old Thai man who works at a Patong hotel, the same hotel where Case 58 was confirmed. He became sick on March 22, 6 people are at high risk.
Case 114: A 23 year old Thai woman who works in the same restaurant as case 92. She fell sick on March 29, 5 are considered at risk.
Case 115: A 38 year old Thai man who works at a Patong shopping mall. He had close contact with case 48, and fell sick on March 25. 9 are at high risk.
Case 116: A 27 year old Thai man, a welder in Bang Tao in Thalang, the son of case 94, also a welder. They work and live together. Though he shows no symptoms, 2 people are considered at high risk.
Case 117: A 32 year old Thai woman who works at a local shop, also in Bang Tao. She's the daughter of case 94, who lives nearby. She became sick on March 30, 4 people are at high risk.
Case 118: A 28 year old Thai woman, a maid, another daughter in law of case 94, with whom she lives. She too shows no symptoms, but 2 people are considered at high risk.
Case 119: A 74 year old Thai woman who works in a local Bang Tao shop, the grandmother of case 94, who also lives nearby. She became sick on April 3, 8 people are considered at high risk.
The current Patong 'lockdown' has been imposed to to control the spread of the Covid-19 virus, according to the directive.
"Therefore we will prohibit people from entering or leaving the area, except for the transportation of essential goods, LPG gas, medical supplies, emergency response teams and ambulances, public servants, parcel deliveries and publications."
The directive is in place from April 5 until notified.
Speaking to a couple of locals this morning they said they hadn't been advised by anyone and were confused about the news. One told us he'd been walking his dogs on the beach this morning and didn't run into any police. A local policeman in the town says he has been lining up for testing at Patong Hospital and that the streets are mostly deserted. Another expat said that they'd heard yesterday there might be a closure of the roads on Tuesday and was surprised to wake up this morning to see the town was in official 'lockdown'.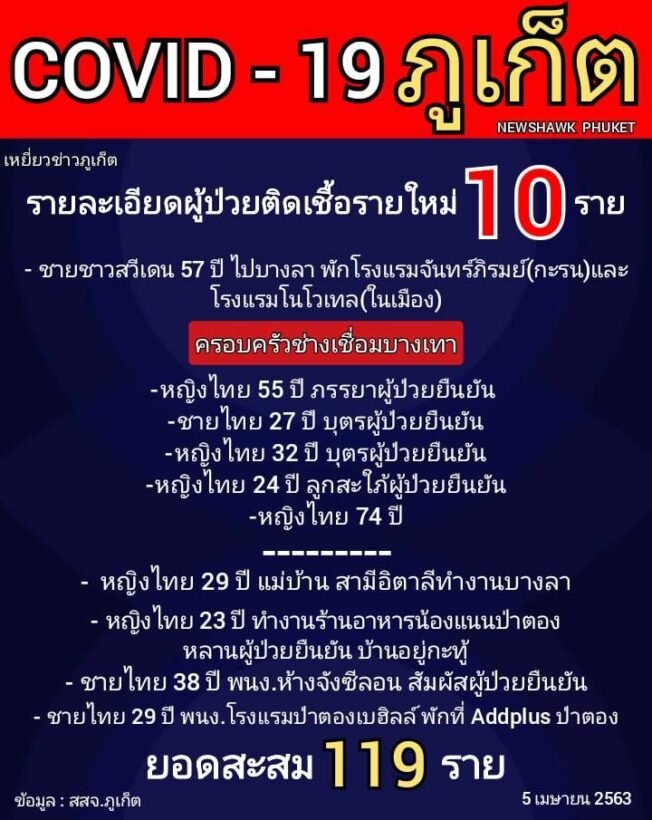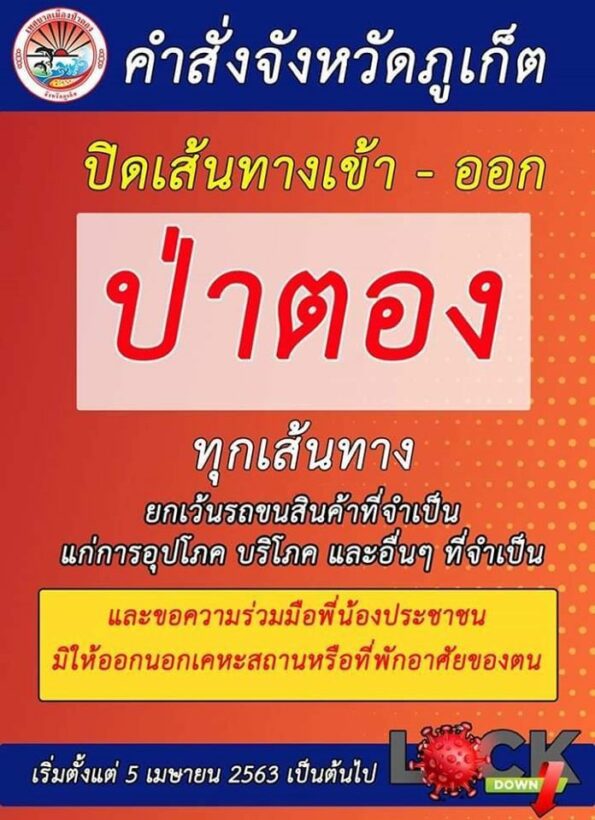 Keep in contact with The Thaiger by following our
Facebook page
.