Phuket
Court orders prison sentence for airline boss after 2007 Phuket crash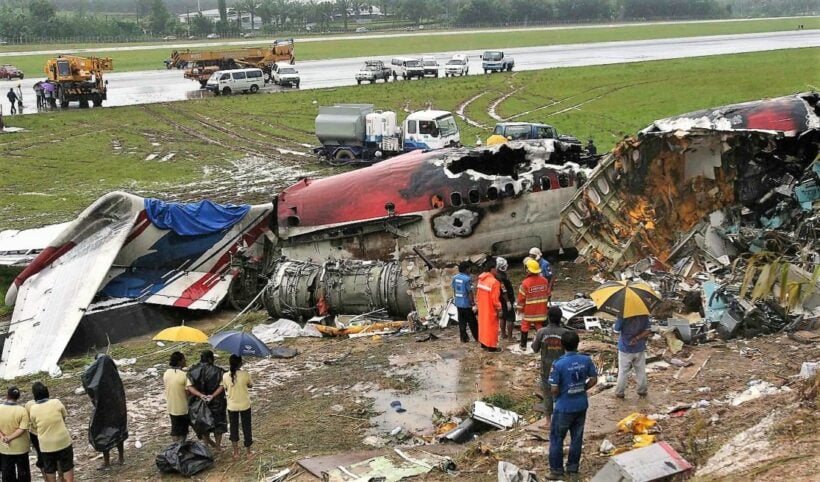 PHOTO: La-croix.com
12 years after a crash at Phuket airport that killed 89 passengers, a Paris court has sentenced the former chief of Thai budget airline One-Two-Go to four years' imprisonment and a fine of 75,000 Euros.
Udom Tantiprasongchai has been found guilty of voluntary manslaughter in a civil suit brought by the families of 9 French victims. However, despite an international warrant being issued for his arrest, the former airline boss has never been detained and did not attend the hearing.
The victims' families claim the accident was, "waiting to happen", and accuse the airline of a subsequent cover up that attempted to hide failings such as overworked pilots and falsified flight logs.
The court found evidence to support the theory of pilot error, but blamed the airline for the crew's fatigue and stress levels.
The crash occurred at Phuket airport on September 16, 2007, as the MD80 twin-engine jet was attempting to land in bad weather.
It was carrying 123 passengers and 7 crew when it skidded off the runway and burst into flames. 33 Thai nationals and 57 foreigners were killed.
A two-year investigation into the accident concluded that both the captain and first officer had exceeded the legal limit on working hours, and that training and safety programmes at the airline were lacking.
A British coroner has also accused the airline of having "a flagrant disregard for passenger safety."
One-Two-Go and its parent company Orient Thai have since ceased operating.
SOURCE: The Phuket News