Brothers arrested for hotel room drug depot shopfront
PHUKET: Two brothers were arrested on drugs charges on Friday, with police suspecting that the siblings were using a hotel room in Cherng Talay to store and sell their wares.
"We received a report from one of our undercover agents about the brothers renting a hotel room to store drugs, and we obtained a warrant to search their house in Baan Bang Tao," Cherng Talay Police Deputy Superintendent Saad Wongwiangjan explained.
"We first came across Natthawut Srisamut, who is 25 years old. We presented the warrant and searched the house," Lt Col Saad told the Phuket Gazette.
"In the bedroom we found Weerawat Srisamut, 27, lying in bed and we found 18.3 grams of marijuana packed in two small plastic bags on the bed," he explained.
The brothers were taken to the police station for questioning.
"The brothers confessed that they were storing some ya bah [methamphetamine] and ya ice [crystal methamphetamine] in a guestroom at the Kanita Hotel to sell to the guests," Lt Col Saad said.
"Police officers took them to the hotel and searched room number 201. We found ya bah packed in three plastic bags, totaling 30 pills. We also found seven plastic bags packed with ya ice, containing 3.08 grams in total," he explained.
Police say drugs paraphernalia was also found in the room.
"Both brothers were charged with possession of a Category 1 drug with intent to sell," said Lt Col Saad.
— Thawit Bilabdullar
Keep in contact with The Thaiger by following our Facebook page.
Never miss out on future posts by following The Thaiger.
Thailand government promotes cannabis as a cash crop at Buriram festival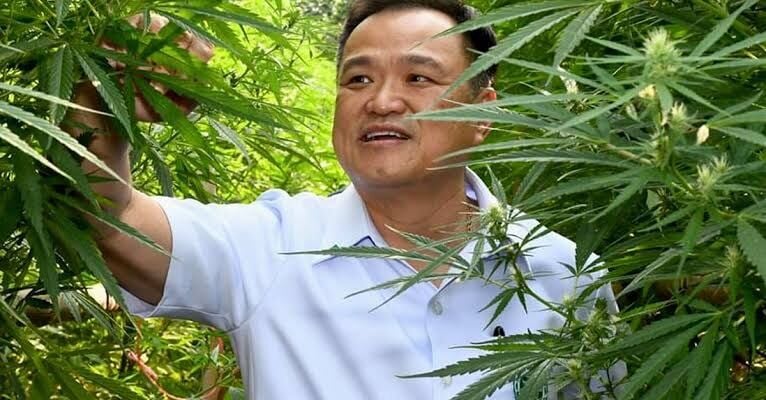 Thailand's government is pushing for cannabis use in all kinds of foods and products, as long as the plant's psychoactive component, which causes the "high," isn't used. Over the weekend, people flocked to the Cannabis 360 festival held by the government in the Isaan province Buriram. Those at the festival could get a cone of hemp soft serve ice cream or taste other food and beverages seasoned with cannabis leaves.
The country's public health minister Anutin Charnvirakul, an avid cannabis and hemp supporter, promoted the event, posting a photo on his Facebook page of himself surrounded by cannabis plants.
The director of the Buriram public health and organiser of the event, Withid Sarideechaikoo, told Reuters that cannabis is "the rising star to bring our good quality of lives and money back in our purses as good (economy) as before and even better."
The festival also promoted growing hemp, a variety of cannabis which has a low concentration of the psychoactive component tetrahydrocannabinol, or THC, and a high concentration of the non-psychoactive component cannabinol, or CBD, which has been used to treat anxiety and muscle pain.
Thailand was the first country in Southeast Asia to legalise medical cannabis back in 2018. Recently, parts of the cannabis plant with low traces of THC were removed from Thailand's narcotics list. The THC-rich buds are still classified as a Category 5 narcotic, carrying fairly hefty penalties for possession and consumption.
SOURCES: Reuters
Keep in contact with The Thaiger by following our Facebook page.
Never miss out on future posts by following The Thaiger.
Cannabis could generate 8 billion baht for Thai pharmaceutical industry by 2025, expert says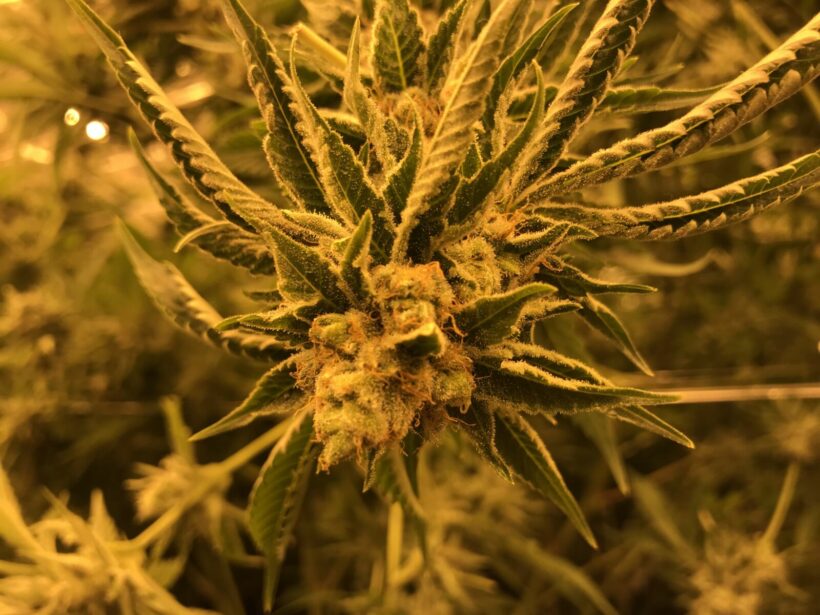 Cannabis could become a major cash crop in Thailand. An expert says the cannabis-based medicinal products could generate up to 8 billion baht for the Thai pharmaceutical industry by 2025. Medical cannabis has been legal in Thailand for the past couple years, but recently the government agreed to allow parts of the plant with very, low traces of the "high-inducing" component tetrahydrocannabinol, or THC, to be in medicinal products and food.
Cannabis-based medicines have been used as palliative treatment for some cancer patients in Thailand. Last year, nearly 1 million patients used cannabis-based medicines, according to an economist at Kasetsart University's Agricultural and Resource Economics Department, Ravissa Suchato.
Around 1.2 billion baht worth of medical cannabis was consumed last year, according to Ravissa, who led a recent study on the economic impact of commercial cannabis cultivation in Thailand. If the average consumption rises as expected, medical cannabis could generate 8 billion baht within the next 5 years.
"We believe marijuana has great potential as a cash crop because more patients will start using marijuana-based drugs soon."
In the past, Thai officials have discussed the opportunity to tap into the global cannabis market by exporting medical cannabis, but Ravissa says Thailand still has a way to go.
"Globally, the recreational use of marijuana has risen a lot faster than pharmaceutical use, so the prospect of exporting marijuana-based medicines from Thailand is still a long way off."
Parts of the cannabis plant that are rich in THC, like the buds, are still illegal and classified as a Category 5 narcotic. Trafficking the plant is still heavily criminalised. Just over the past few days, border patrol police in the Northeastern province Nakhon Pathom seized hundreds of kilograms of dried, compressed cannabis believed to have been trafficked across the Mekong River from Laos and destined for the South, possibly to Malaysia.
SOURCE: Thai PBS
Keep in contact with The Thaiger by following our Facebook page.
Never miss out on future posts by following The Thaiger.
Another drug bust near the Mekong River, 500 kilograms of cannabis seized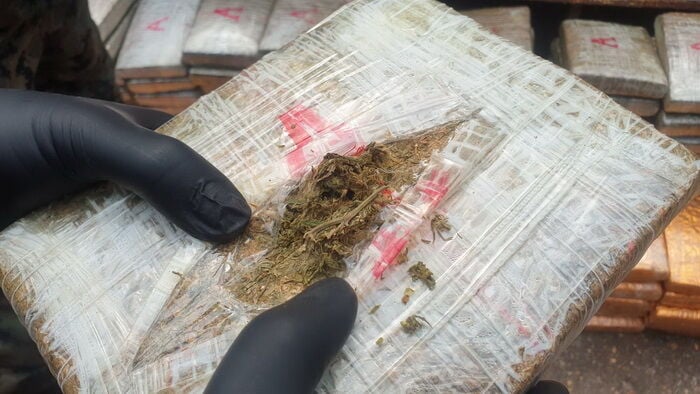 In another drug bust in Northeastern province Nakhon Phanom, police arrested a man and seized 500 kilograms of compressed cannabis. Just yesterday, border patrol police in the province seized 920 kilograms of compressed cannabis from a boat on the Mekong River. In both cases, police suspect the cannabis came from Laos, just across the river.
Police say they searched a black Nissan Navara pickup around 1am in the province's Na Kae district. Police opened the truck's bed cover and found 12 sacks with 500 packages of dried, compacted cannabis. Each package of cannabis weighed 1 kilogram, similar to the previous bust on the river.
28 year old Saravut Butngam was arrested. Saravut previously worked in construction, but has recently been unemployed. He allegedly told police that a man called him with an opportunity to make 50,000 baht. He was told to drive the pickup truck from a petrol station in the Na Kae district to a specified location in the neighbouring province Sakon Nakhon, police say. From there, another driver would take over.
Border police commander Sippanan Sornkhunkaew says he suspects the cannabis seized in the province was trafficked from Laos across the Mekong River. He says he believes the cannabis was planned to be trafficked to Southern Thailand and then smuggled across the border, possibly to Malaysia.
On Sunday morning, police confiscated 920 kilograms of cannabis from a boat on the Mekong River. When police approached the boat, men jumped off onto a smaller boat and fled the scene. The dried, compacted cannabis was wrapped in 1 kilogram packages.
SOURCE: Bangkok Post
Keep in contact with The Thaiger by following our Facebook page.
Never miss out on future posts by following The Thaiger.