Special Report: A year in review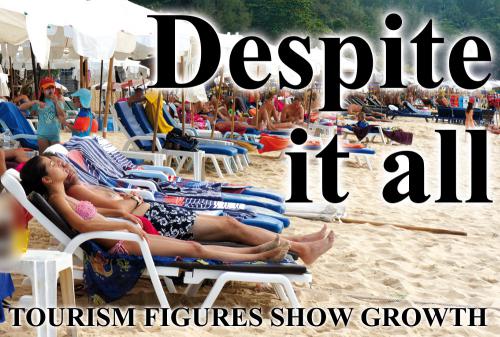 SPECIAL REPORT

PHUKET: With 2013 having drawn to a close, Phuket's top-ranking officials and leading tourism industry figures appear to have avoided a year of stagnant growth, which was almost brought on by the ongoing anti-government protests (click here for our special report) and a slew of other issues that continue to plague the island.

Phuket protesters bring flowers. Photo: Gazette file
Tourism officials in both Phuket and Bangkok reported in late August that the trend in official tourist arrival statistics was on pace to achieve a record-breaking year-end figure: about 26.3 million nationwide, with about one-third of these typically including Phuket in their itineraries.
Reasons for the optimism stemmed from a highly successful 2012, a 12-month span of relative political stability that, not surprisingly, ended up a banner year: 22.4 million international visitors, up 16.2 per cent over 2011.
Few countries are more reliant on foreign tourism as a source of revenue, and no Thai province more so than Phuket – and despite the fallout from the current protests, Phuket seems on track to have another record-breaking year.
"Even though the official 2013 tourist figures for Phuket have yet to be released, I think this year we will break the record," said Santi Pawai, director of the Phuket Office of Tourism and Sports.
"According to last year's tourist statistics, about 10,288,000 people came to Phuket, and our raw data for January to November [2013] shows that over 10.6 million tourists came to Phuket. We think the year end total can reach 12 million people," he said.
RECENT HISTORY
Phuket has faced recurring "high season killers", including the 2004 tsunami disaster, which literally washed away the 2004-2005 high season.
The most recent military coup in mid-September 2006 did nothing to help the industry that year. Subsequent tourism-killing events in the form of tit-for-tat political protests from 2008 to 2010 –burning down shopping malls, closing the main airports, shooting people in the streets, and what have you – were largely confined to the "low seasons" of those years.
Following the last general election in July 2011 that saw Yingluck "Poo" Shinawatra emerge as the new premier, hopes were high that the appearance of political stability would boost the tourism industry to new heights that year.
Those hopes were sadly washed away by the terrible flooding in the Central Plains and Bangkok late that year. Hydrologists confirm that the scale of the flooding stemmed not only from heavy rainfall, but also by decades of poor, some would say non-existent, land use "planning" in the Central Plains.
The floods serve as a reminder that the Central Plains are, in fact, floodplains; covering them over with concrete and bitumen remains always ill advised because, until there is a major change in the laws of physics, water will continue to flow downhill.
WEATHERING THE STORM
However, Phuket saw an increase in domestic tourism and real estate investment by Bangkokians concerned about living in a "water world" in 2011 (story here). That trend continued throughout 2012 and 2013, with numerous new real estate projects continuing to mushroom all over the island – even as many never-occupied units remain up for rent or sale.
The obvious oversupply now has some investors fearing that Phuket could soon experience a "bubble bursting" price correction in many market segments.
Flash flooding last year (story here) continued to be a major source of woe for many, with some of the hardest hit areas not surprisingly in densely built-up commercial areas, such as along Rat-U-Thit 200 Pi Road in Patong (story here) and in parts of Phuket Town (story here), to name just a few.
One area of particular concern for the future is the Samkong Intersection on the bypass road (story here), where several large, new commercial and residential property developments are now underway and work on another underpass project has just begun.
Work on a 21-million-baht project to shore up Klong Bang Yai (story here) – the main drainage path for water from most of Kathu, Phuket Town and parts of Rassada – have been delayed well past the scheduled completion date of December 28, and it will be a race against time to see if the work is completed before the arrival of the next monsoon season. Until the rains come, another problem likely to return to the waterway is pollution.
A relatively late onset to the southwest monsoon in March and April last year resulted in pollution levels high enough to leave many residents of the Samkong area in Phuket Town physically ill (story here).

A villager points at the foul klong. Photo: Gazette file
There were also reports of mass fish deaths from toxic shock in the waterway in 2013. The source of much of the foul inputs was later alleged to be the growth in residential developments to the north along Pracha Uthit Rd, which runs roughly parallel to the bypass road.
Despite Phuket's overwhelming reliance on the natural environment as a selling point to visiting tourists, pollution control devices as simple as Roman era technologies like "grease traps" (story here and here) and septic tanks with leaching fields are still not required on most individual units in such developments.
UNDER THREAT
Beyond doubt, the largest tourist market for Phuket in 2013 was the Chinese market, deriving from the 4.41 million Chinese nationals who visited Thailand between January and November last year.
While the Middle Kingdom is not only the great final frontier of Phuket tourism promotion, it is also a place that takes a markedly different approach to dealing with anti-government protests (story — Somchai Huasaikul

Join the conversation and have your say on Thailand news published on The Thaiger.
Thaiger Talk is our new Thaiger Community where you can join the discussion on everything happening in Thailand right now.
Please note that articles are not posted to the forum instantly and can take up to 20 min before being visible. Click for more information and the Thaiger Talk Guidelines.