Phuket
Phuket speed cameras dish out tickets for holiday season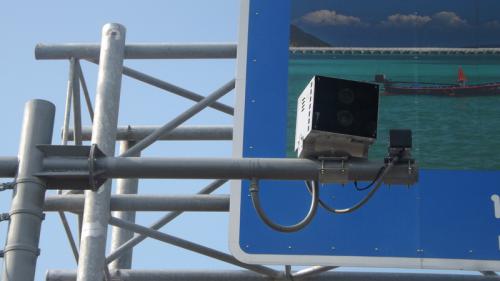 PHUKET: Ten motorists have been ticketed since Phuket's four speed cameras became operational on December 25.

"Anyone travelling over 90km/hr will be fined 500 baht each time they are caught on one of our cameras," Lt Col Rungrit Rattanapagdee of the Phuket City Traffic Police Police told the Phuket Gazette today.

According to Thai traffic law, 90km is the maximum speed limit on non-tollway roads outside of towns.

Though police did not disclose the location of the cameras, Phuket Governor Maitri Inthusut did. They are at the notorious Ko En Curve, the Bang Khu Intersection, on the bypass road and in front of Muang Thalang School.

"Our main purpose is to get people to slow down," said Lt Col Rungrit. "Everyone knows high speeds increase the likelihood of accidents. Even if people know where the cameras are, they will still slow down in order to avoid a ticket."

"Our cameras can photograph the drivers, but we're only using them to photograph license plates," He explained.

The license plate number is then checked in a database to allow police to find the name and address of the owner of the speeding car. At ticket is issued within 15 days.

"However, we still need a little time to make sure we're sending the ticket to the right person," Col Rungrit added.

"It hasn't happened yet, but if we don't find the license in our database, we can always contact the Phuket Land Transport Office," he added.

Every vehicle on the road is subject to speeding laws and is liable to be fined if caught exceeding the limit. By law the maximum fine for speeding is 1,000 baht.

If the 500 baht fine does not deter speeders, it will be increased to 1,000 baht, Col Rungrit said.

"We are doing all this for your safety," Col Rungrit said, urging drivers to drive within the legal speed limit.
— Chutharat Plerin