Special Report: Sudden Death comes knocking at Phuket's door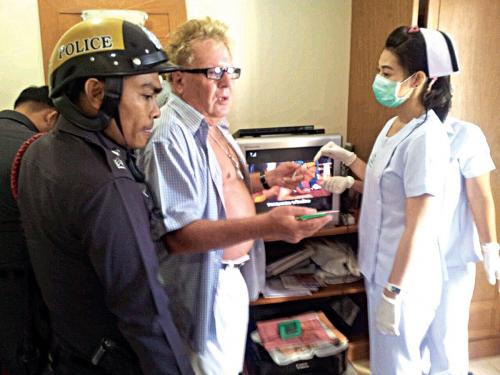 Special Report
Hans Lehner and his Thai partner Pranee Srijaem went out for somtam last Saturday night (story here). The next day Pranee was dead. Stumped for any explanation as to why Pranee, 39, had died, doctors were forced to list the cause of death as 'acute heart failure' as a form of Sudden Unexplained Death Syndrome. The Phuket Gazette's Saran Mitrarat investigates.
PHUKET: The death of Pranee Srijaem last week left many questions unanswered. The case is closed, but the incident raised the chilling specter of the unexplained deaths of Canadian sisters Audrey and Noemi Belanger on Phi Phi Island last year (story here), and that of several tourists at the now-demolished Downtown Inn in Chiang Mai,.
Hans, a 68-year-old Dutchman, explained to police that he and Pranee, 39, went out for somtam at a local restaurant, then stopped off at a Family Mart convenience store before heading back to the apartment last Saturday night.
"When we got back home, Pranee had a bad case of diarrhea before going to sleep," he told police.
"She always woke up at about 7am to make coffee, which we drank together each morning. But on that day, I did not wake up until 9am. I thought it was unusual that she let me sleep so long," he said.
"I reached out and touched her hand, but it was cold. Then I checked, and she had stopped breathing… I was so frightened," said Mr Lehner, visibly shaken.
Capt Patapee Srichai of the Patong Police confirmed that his officers were notified of the death at 9:30am.
"We rushed to the scene with rescue workers from the Kusoldharm Foundation and Patong Hospital medics," he said.
"We found Ms Pranee's body on the bed, covered by a quilt.
"We believe she died about three hours before we arrived. Rescue workers transported her body to Patong Hospital at about 10am," he stated.
"In conducting our initial investigation, we checked her body and the room, but we found no signs of a struggle," Capt Patapee confirmed.
INVISIBLE KILLER
Patong Hospital Director Sirichai Silpa-archa explained that his team of medical officers followed standard procedure in examining Ms Pranee's body, but failed to find evidence of a potential cause of death.
"Our first step was to check for signs of a struggle. In this case, we did not find any bruises or any other signs of injury on the body," said Dr Sirichai.
"After that, we focused on food as a potential cause, so we checked her blood, stomach and intestines. We did not find any harmful contaminants from food and there were no traces of toxins in her body, so we had no reason to suspect that she was poisoned by something she ate or any other contaminant," he said.
However, in examining Ms Pranee's body in order to assist a police investigation, doctors did not check for any signs of whether or not the 39-year-old had been smothered to death.
"We did not check for signs of smothering as we had already found no signs of a struggle," he told the Gazette.
"As her heart had stopped long before she arrived at the hospital – meaning we could not check whether or not she suffered from irregular heartbeat patterns – we had nothing else to check to confirm her cause of death.
"The only thing we could put down as the cause of death was acute heart failure," Dr Sirichai explained.
ACCEPTANCE
At about 7am on Tuesday, Ms Pranee's relatives arrived at Patong Hospital to claim her body. Ms Pranee was originally from Tambon Du Lat, located in Sai Mun District in Yasothon province, in Thailand's Northeast.
"Her relatives accepted the cause of death and did not want any further investigation," said Dr Sirichai, without elaborating on who claimed the body or why the relatives accepted an unexplained heart attack of the 39-year-old as the cause of death.
"If Ms Pranee's relatives wanted us to investigate her death further, we could have sent the body for forensic examination in Bangkok, but the cost of transferring the body and conducting such tests is high," Dr Sirichai said.
CASE CLOSED
Capt Patapee explained that as doctors had given a cause of death, and his officers had not identified a possible violent cause or a motive for Ms Pranee's demise, the case was now closed.
"Because there were no signs of a struggle, either on her body or in the room, we saw no reason to believe she died a violent death," said Capt Patapee.
"There simply was no evidence that she died from unnatural causes," he said.
"Her relatives accepted the death and did not request a further investigation. The case is now closed," he added.
SUDDEN DEATH
Dr Sirichai told the Gazette that the phenomenon Sudden Unexplained Death Syndrome, also known by its acronym "SUDS", is not uncommon in Thailand.
"Of all the people who have died from SUDS in Thailand, most were from the Northeast, with most of the rest coming from Northern Thailand," he said.
"There are theories that those people may have died from SUDS brought on by eating sticky rice, drinking alcohol or consuming a fermented product [somtam often can include fermented fish], but there is no research to support this idea," Dr Sirichai said.
"However, sudden death can happen from something as simple as a chemical imbalance in the body," he explained.
"If you eat a particular food or even stay in an unfamiliar environment, that might cause a chemical imbalance and sudden death may occur.
"For example, as shown by recent cases in Thailand, if you sleep in a car – or leave your baby in a car – with the air conditioning on for a long time, it's possible to die from sudden death," he said.
THE BRUGADA SYNDROME
Doctors listing Ms Pranee's cause of death as acute heart failure coincidentally shone a light on one of the top causes for sudden death: Brugada syndrome.
The syndrome is only one form of SUDS, and is a well-documented genetic disease characterized by bouts of irregular heartbeats, which bring an increased risk of sudden cardiac arrest.
People with Brugada syndrome exhibit abnormal electrocardiogram (ECG) findings. Not having access to any ECG data for Ms Pranee, doctors have no idea whether or not she suffered from any irregularities of the heart.
"We checked her records here at Patong Hospital, and as best we can tell, Ms Pranee had no known previous heart condition," Dr Sirichai said.
HISTORY OF MYSTERY
Dr Bancha Kakhong, chief of the Phuket Provincial Health Office, and hence the top administrator for all government hospitals on the island, said the circumstances of Ms Pranee's death was no cause for alarm.
"We are not overly concerned about sudden death in Phuket, and the cause of death in this instance seems to have been heart failure," he said.
Dr Bancha also pointed out both similarities and differences between the death of Ms Pranee and those of Audrey and Noemi Belanger on Phi Phi Island last year and the unexplained deaths of at least three foreigners at the infamous Downtown Inn in Chiang Mai in 2011.
"The cases are similar in that we have not been able to precisely identify the cause of death, but they do differ in that the deaths in Chiang Mai included men. Men and women have different physiologies, and the effect of undetected chemicals can differ between men and women," Dr Bancha said.
"But I cannot summa
— Saran Mitrarat
Phuket News

Join the conversation and have your say on Thailand news published on The Thaiger.
Thaiger Talk is our new Thaiger Community where you can join the discussion on everything happening in Thailand right now.
Please note that articles are not posted to the forum instantly and can take up to 20 min before being visible. Click for more information and the Thaiger Talk Guidelines.