Phuket
Slew of tourist injuries prompt Phuket cape safety boost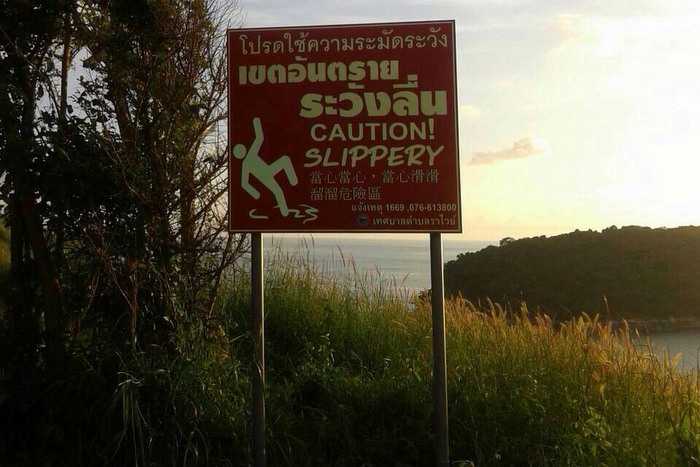 PHUKET: Following a slew of accidents causing injury, and sometimes death, to tourists at Phuket's idyllic Promthep Cape, officials have decided to install fences in the area to enhance safety.
After refusing to post fences on the grounds that it would alter the natural beauty of the landscape (story here), Rawai Mayor Aroon Solos has confirmed that sling wire fences would be installed – pending budget approval – at the end of the year.
"We have come to the decision, after much discussion, that sling wire fences are essential in keeping people safe. They will be placed along the dangerous points of the cape," said Mayor Aroon.
"However, the fences will not affect the beautiful landscape."
Warnings in Chinese have also been added to cautionary signs throughout the area.
"Safety is our top priority, so we wanted to get the signs up as soon as possible – especially with all of the unfortunate accidents that have happened over the past few months," said Mayor Aroon.
"The new signs now include Chinese, along with Thai and English, so that the increasing number of Chinese tourists will be aware of the hazards."
The signs were posted last week at Ya Nui Beach, Khao Daeng viewpoint and the windmill area near Promthep Cape where many accidents have occurred.
Patrolling officers will also be sent down to the cape at dusk each day to check for any tourists who might be lingering in the area.
"We currently have officers patrol the area and provide safety advice to tourists. At 6:30pm, they go down to the cape to bring back any tourists before dark," Mayor Aroon said.
"I encourage everyone to read the warning signs and take what the officers say seriously, not only at Promthep Cape but all over Phuket, for your safety and happiness."
The safety measures follow recent accidents in which three tourists – two Chinese and one Thai – were injured after they slipped and fell from the rocks overlooking the cape (story here).
Earlier this year, Teerawat Prasomsub survived after he slipped drunkenly from the rocks near the cape (story here), but another man was hit by a wave and dragged out to sea while fishing in the area. The body of Somchai Yung-Talay was found two days later (story here).
— Khumpee Prasertphol