Phuket
Police trap outboard motor thief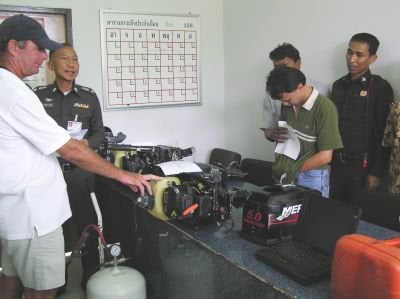 TAH CHAT CHAI: Undercover police yesterday successfully laid a trap for a man who, it is alleged, specialized in stealing outboard motors.

Narongvet Chariew, 30, from Nakhon Ratchasima, was caught in possession of two Mercury outboards, a Yamaha outboard and a fuel tank, after undercover police set up a meeting to "buy" a motor from him.

The Superintendent of Tah Chat Chai Police Station, Pol Lt Col Chakkit Srisuwan, said that the Manager of the Yacht Haven Marina, Nick Wyatt, called police on August 10 to report that an outboard motor had been stolen from one of the boats moored at the marina.

A local fisherman told investigators that a man driving a green Citroen car had been offering secondhand engines for sale at unusually low prices. The man even handed out business cards, one of which was given to the police.

Undercover police called Narongvet, agreed to pay him 15,000 for a Mercury outboard worth around 40,000 baht, and set up a meeting in Baan Tha Noon, just inside Phang Nga province. As Narongvet drove through the Tah Chat Chai checkpoint, police on the lookout for his green Citroen stopped him and made the arrest.

One of the Mercury motors found in his car was identified from its serial number as being the one stolen from Yacht Haven.

Narongvet denied stealing the motors, saying that he had bought them from an acquaintance. He has been charged with theft and with an alternative charge of receiving stolen goods.