Phuket visa runners caught in "cash only' immigration scare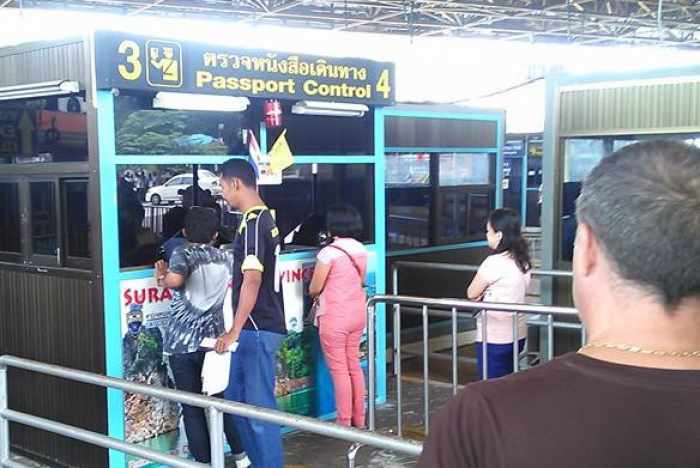 PHUKET: A van full of foreigners returning to Phuket from a visa run to Penang were delayed at the Malaysian border for more than two and a half hours today as Thai immigration officers demanded that they all present large amounts of cash to confirm that they each had enough money to fund their stay in Thailand.
Any foreigners who could not produce the required cash were told that they would not be allowed to enter Thailand and would have to remain on the Malaysian side of the border, the Phuket Gazette was told over the phone by one of the visa runners.
The call was made while the foreigners were standing in the Sadao Immigration Office on the Malaysian border in Songkhla.
Foreigners entering Thailand on a visa-on-arrival stamp issued by immigration officials at the border were required to show 10,000 baht cash, while people entering on a tourist visa issued at the Royal Thai Embassy or Consulate were required to show 20,000 baht cash.
One school teacher on the visa run had to show 40,000 baht cash, as she was entering the country on a non-immigrant B (Business) visa issued at the Royal Thai Consulate in Penang.
"I showed the officers an ATM slip that proved I had the money in a Thai bank account, but the officers would not accept it as proof [of funds]," Phuket expat Steven (last name withheld) told the Gazette.
Steven also showed them the birth certificate for his three-month-old Thai daughter.
"They did not accept that," he said.
Additionally, he showed officers his name entered on his landlord's official Thai house registration document (tabien baan) confirming him as a long-term tenant.
"That was no good either," he added.
Officers started manually recording the serial numbers of all banknotes presented so that they could not be passed to other visa runners to use as evidence of funds, another Phuket expat told the Gazette.
"The officers explained that it was an old rule now being enforced at all checkpoints," said Steven.
That explanation concurred with the crackdown ordered by former Immigration Commissioner Pharnu Kerdlarpphon in May, which targeted foreigners using visa-on-arrival border runs as a way of staying in Thailand to work illegally (story here).
However, the "cash only" requirement did not.
By this afternoon, however, Sadao Immigration Deputy Superintendent Banphot Kittivira told the Gazette that cash was not the only way for foreign arrivals to provide evidence of funds.
"I don't know what happened with those foreigners, but we had a meeting of all officers today to make sure that everyone understood that cash is not the sole way to meet the requirement," said Lt Col Banphot.
Balance slips printed by any of the ATMs at the checkpoint are accepted, but bankbooks are not, he added.
Foreigners conducting the visa run confirmed to the Gazette that after 1pm, all of them were suddenly cleared by immigration – many by presenting only access to funds, not by showing cash.
Col Banphot reiterated that his officers were only enforcing the crackdown on foreigners using visa-exemptions and tourist visas to stay in Thailand and work.
"Foreigners working illegally in Thailand on tourist visas must be stopped," he said.
Col Banphot explained that, in accordance with the long-standing law, foreigners entering Thailand must be able to prove to immigration officials that they have access to the required funds as follows:
• People entering on a tourist visa exemption or visa-on-arrival must show they have access to at least 10,000 baht per person or 20,000 per family.
• People entering on a tourist visa or non-immigrant visa issued at a Royal Thai Embassy or Consulate must show they have access to at least 20,000 baht per person or 40,000 baht per family.
Col Banphot noted that the money requirements did not apply to children under 12 years old, but that all foreigners were required to show immigration officers a return flight or confirmed bus ticket exiting the country when asked.
If cash is presented, officers will manually record the serial numbers so that they cannot be used by other visa runners on the trip, Col Banphot confirmed.
"We welcome all people to live and work in Thailand, but please apply for the right visa to do so legally," Col Banphot said.
The van driver caught in today's "misunderstanding", who asked to be named only as "Mr Gee", said that he had no idea that immigration officers would be demanding that foreigners present cash.
"Normally the border crossing takes 45 minutes for 10 people to clear immigration, but today it took from 10:30am to past 1pm," said Mr Gee, who works for Phuket's well-known Thai Visa Run Company (TVR).
"We knew about the rule, it is nothing new, and we knew that they recently started enforcing it, but we had no idea that the officers were going to ask foreigners to present cash."
Regardless, Mr Gee said he was glad the problem was resolved.
"At least foreigners will not have to carry large sums of money in cash with them on a visa run," he said.
"Our office has been informed of what happened today, and we will make sure all our customers know they need to be able to prove they have the correct amount of funds for their stay before they join the visa run."
Meanwhile, Ranong Immigration Superintendent Aekkorn Butsababodin confirmed to the Gazette that his officers will also not be demanding that foreigners present cash.
"All we require is that the foreigners prove they are genuine tourists," said Col Aekkorn.
"As long as they can show their travel itinerary or means of financial support during their stay, they will be allowed through."
— Chutharat Plerin

Join the conversation and have your say on Thailand news published on The Thaiger.
Thaiger Talk is our new Thaiger Community where you can join the discussion on everything happening in Thailand right now.
Please note that articles are not posted to the forum instantly and can take up to 20 min before being visible. Click for more information and the Thaiger Talk Guidelines.