Phuket on the cards to host Thailand's F1
PHUKET: The Ministry of Tourism and Sports has admitted Phuket could host Thailand's lucrative Formula One race in 2015 due to strong opposition from Bangkok residents.
Bangkok Metropolitan Administration (BMA) put the skids on the F1 race being held in the capital by banning the use of the historic Rattanakosin Island. The move came after residents and business owners complained that they believe that noise and vibrations caused by a F1 race could damage historic landmarks and Buddhist temples in and around the island.
The BMA issued a law on May 16 which prohibits car racing in historic Rattanakosin, where organizers had wanted to locate the F1 circuit. The timing of the law raises a few eyebrows as the agreement to host a lucrative night time floodlit street race was agreed with F1 supremo Bernie Eccelstone last year.
Thailand's tourism and sports minister Somsak Phurisisak believes the race could be postponed or forced out of the capital, possibly to Phuket, Khon Kaen or Nakhon Ratchasima.
Out of the three cities mentioned, Phuket is the only one with the facilities available to accommodate a large influx of visitors to the F1 race. There has been no indication as to where the race would be held if it was to be hosted on Phuket.
Somsak added that efforts to launch a Thailand Formula One Grand Prix would not cease as the committee would look for a new site, focusing their search in the Chaengwattana Government Office Complex and Muang Thong Thani areas of the capital.
"In fact many cities have shown an interest in hosting the race. We have no plans to build a stadium, as the circuit is expected to run through cultural sites,"Somsak said.
Mr Somsak concluded that if the International Automobile Federation (FIA), which is overseeing the event, disagrees with the relocation plan, Thailand may need to postpone the race until further notice.
Keep in contact with The Thaiger by following our Facebook page.
Never miss out on future posts by following The Thaiger.
Police say Phuket school won't be charged for employing foreign teachers without a work permit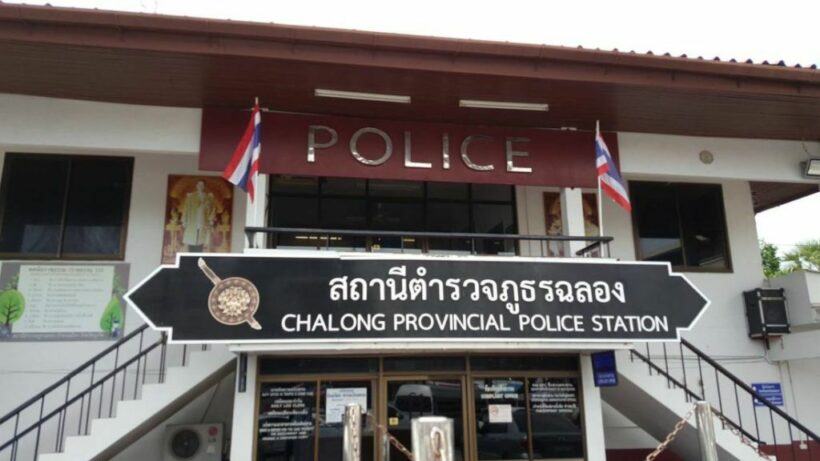 An international school in Phuket is not facing charges for employing foreign teachers without a work permit, police told the Phuket News. Back in November, 2 British nationals were arrested at the Palm House International School in Rawai in a raid by Phuket Immigration officers, acting on a tip that teachers were working at the school without a work permit.
The case was handed over to the Chalong Police. The department was also requested to investigate the school for suspected illegal hiring practices. When pressed by Phuket News reporters, the Chalong Police Chief Sarawut Chuprasit said the school officials are not facing any charges for employing the teachers illegally, without a work permit, and referred reporters to the provincial prosecutor.
"I have no reason to press any charge against the school at all. It is not right to accuse the school."
Many schools in Thailand, especially international schools, obtain work permits for foreign teachers and even pay the fees. It's also fairly common for foreign teachers to work without the proper documents, especially during the pandemic where travel restrictions make border runs nearly impossible.
Phuket News say police will not release the names of the 2 British teachers and will not give any additional information. They add that the provincial prosecutor's office will also not release information without a police case number or suspects' names. In a previous report, Phuket Immigration Deputy Chief also declined to identify the British nationals by name or age.
"Their visa status does not allow them to work or perform any form of business. They were arrested as they are suspected of working without a work permit."
SOURCE: Phuket News
Catch up with the latest daily "Thailand News Today" here on The Thaiger.
Keep in contact with The Thaiger by following our Facebook page.
Never miss out on future posts by following The Thaiger.
Phuket health chief urges "red zone" travellers to abide by quarantine measures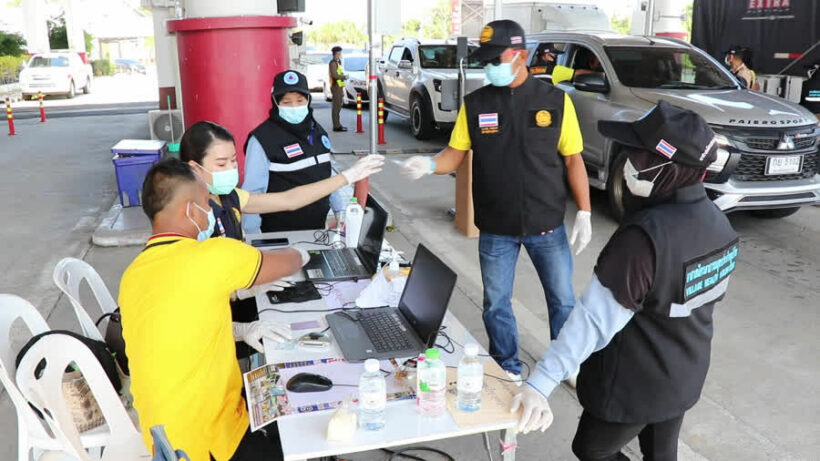 With Phuket's new disease control measures requiring those travelling from high risk areas to quarantine, the province's public health chief is now saying those at alternative state quarantine hotels won't be locked up in their rooms throughout their 14 day stay in isolation. He says guests can wander through certain areas of the hotel to have meals and do other activities.
Those travelling from "red zone" provinces are required to self-quarantine at a hotel or at their home for 14 days. People from areas classified as the "highest risk," including Samut Sakhon, Chonburi, Rayong, Chanthaburi and Trat, must quarantine and undergo a Covid-19 swab test.
The public health chief Thanit Sermkaew says there will be harsh penalties for anyone who violates the new measures and urges travellers to stay at their quarantine location, home or hotel, for 14 days. People who violate the order can be punished under the Disease Control Act, either under Section 51, which carries a fine up to 20,000 baht, or under Section 52, which carries up to a year in jail and a fine up to 100,000 baht.
"It would be great if visitors from the 'red zone' areas stay in their hotels, so we are asking for their cooperation. They do not need to stay only in their room. They are able to do activities within the hotel, such as having meals, swimming, yoga and other activities… Please do not go outside the hotel. That would be a good preventative measure in Phuket province."
Phuket Vice Governor Pichet Panaphong says hotels should "request" that their guests stay inside the hotel.
"Phuket officials have asked for the cooperation from operators to record the travel moments of guests before they arrived at the hotel and to request that their guests stay within the hotel area only, not to go outside of the hotel area."
People who completed quarantine in Bangkok and tested negative for Covid-19 do not need to quarantine in Phuket as long as they travel directly to the island immediately after being released.
SOURCE: Phuket News
Keep in contact with The Thaiger by following our Facebook page.
Never miss out on future posts by following The Thaiger.
Screening measures to enter Phuket, travellers from "red zone" provinces to self-quarantine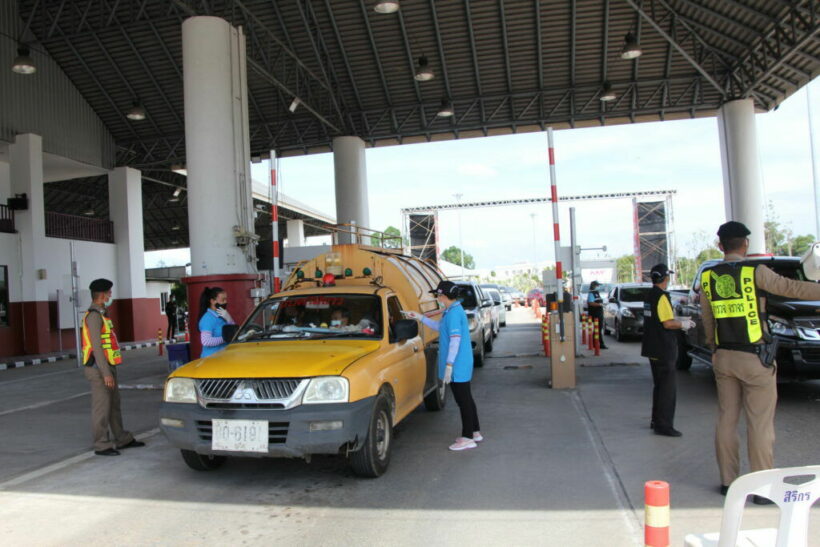 Phuket authorities have announced screening measures for those entering the island province, which includes requiring those travelling from 20 "red zone" provinces to self-quarantine for 14 days. Those travelling from "hotspot" and "high risk" areas are required to do a swab test. While measures were put into effect over the weekend, some people say nothing has changed.
The "required" self-quarantine, which is apparently monitored by the Mor Chana tracking app, might be more of a guideline than a requirement. Arrivees on flights from Bangkok to Phuket Sunday morning, just 24 hours after the new screening measures were imposed, were not required to self-quarantine.
The minimum required for all individuals travelling to Phuket is to 1) download the "Mor Chana" app on their smartphones and display them when the officer calls for inspection, and 2) register online through the website www.gophuget.com to inform officials of the travel details to Phuket.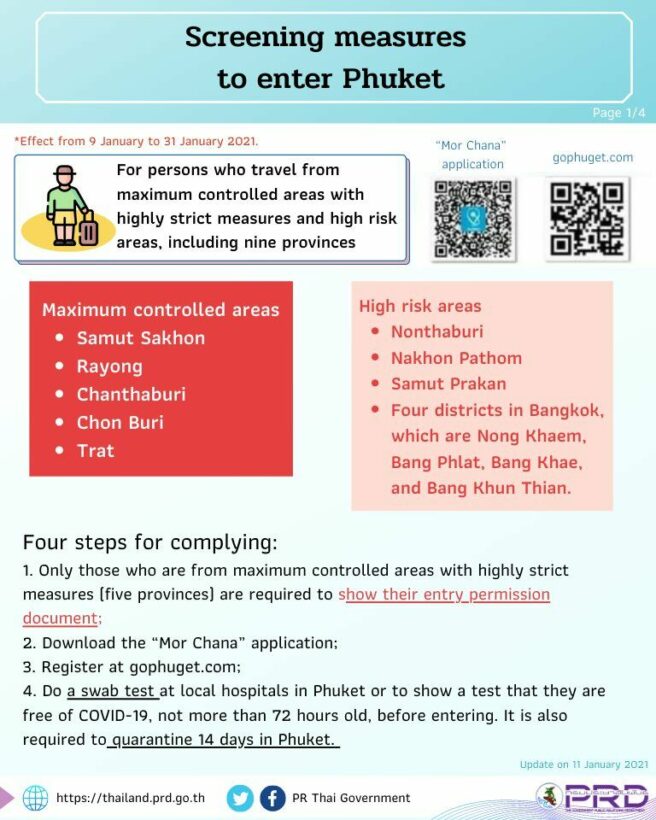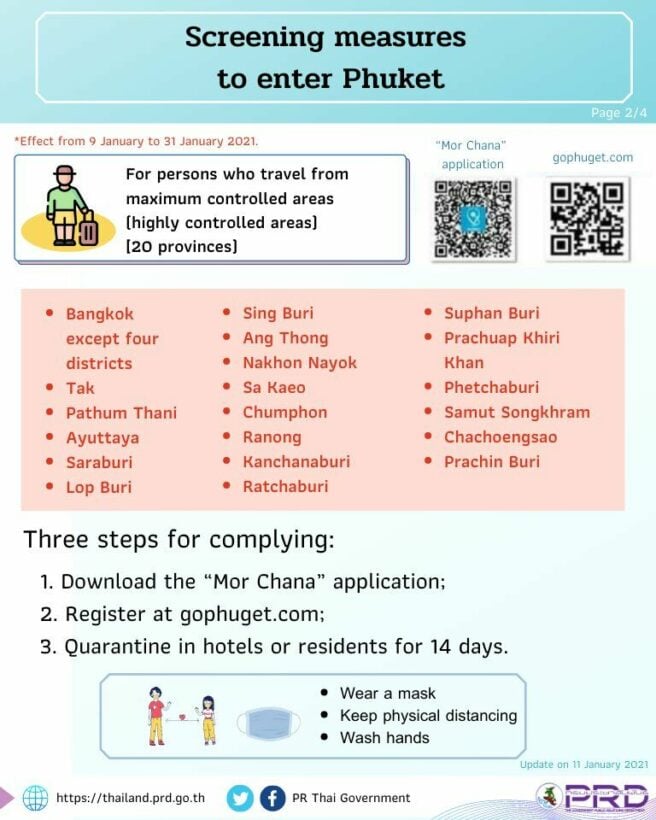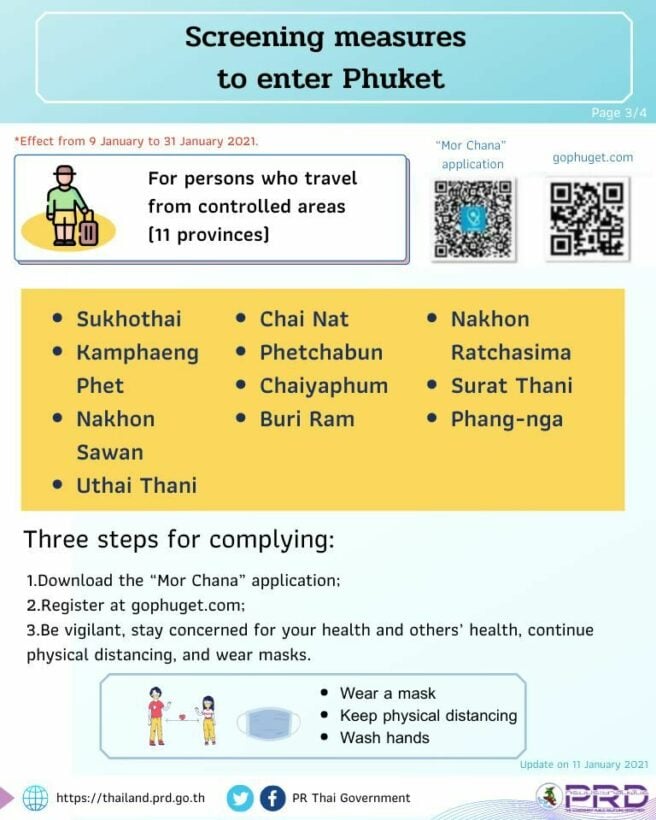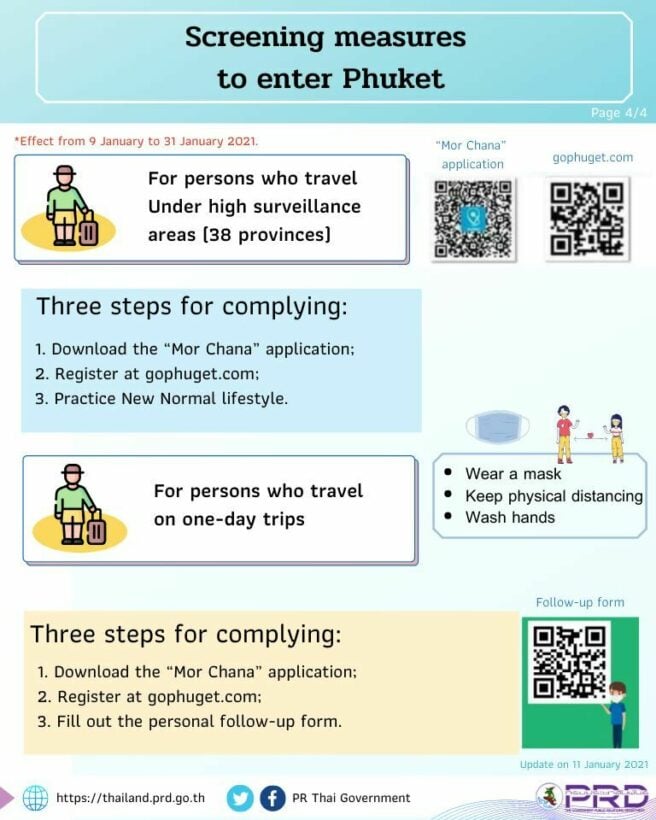 Catch up with the latest daily "Thailand News Today" here on The Thaiger.
Keep in contact with The Thaiger by following our Facebook page.
Never miss out on future posts by following The Thaiger.