Phuket sports: F1 – 6 races, 6 winners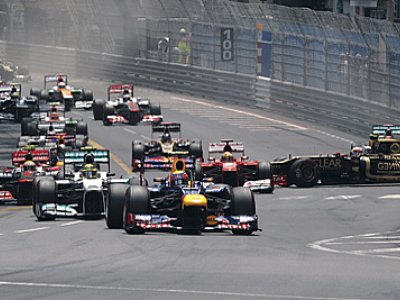 PHUKET: Jackie Stewart famously said, "…qualify on pole and make no mistakes, and Monaco is not a difficult race to win".
Mark Webber qualified on pole, thanks to Michael Schumacher's five place demotion; he made no mistakes, and he won. This is Webber's strength – he is infuriatingly calm and does not make mistakes. He got a clean launch while behind him, thanks to a gyrating Romain Grosjean, turn 1 was turned into bedlam. That called for the "safety car", and Webber contentedly headed a queue.
Red Bull shadowed Nico Rosberg's second place strategy and Webber held everyone back for a classic one stopper. At the end 10 cars had ceased racing and there was only 1.3 seconds between the top three cars, (only 6.1 seconds between the top six). That shows how much Webber could hold up faster cars. Webber is now equal second to Sebastian Vettel in the Driver Championship (DC). It is the first time in F1 that the first six races have produced six unique winners winners.
Vettel sat-out Q3 to save tyres, and then ran a very long first stint on a one stop strategy, which allowed him to climb from 9th to 4th. But he no longer leads the DC.
Ferrari had a good race. Felipe Massa finally found form, and got to 5th from a grid position of 9th, but was overtaken by Vettel in the pits. Fernando Alonso qualified 5th and overtook Lewis Hamilton in the pits to run 3rd for the rest of the race. That's enough to put Alsonso at the head of the DC, about which he will be chortling.
The McLaren pit team now seems to be on the same side as the drivers, and that is the good news. But Hamilton was held up by Webber and Nico Rosberg, and leapfrogged in the pits by Vettel and Alonso. He then stayed 5th, which will not bring a smile to his face. But Jenson Button had a horrible weekend ; qualifying a pitiful 12th, and he could not get past Heikki Kovalainen's Caterham. He eventually made contact trying too hard to pass on the second Swimming Pool chicane, and parked his car. Button is now 7th in the DC, and Hamilton is 4th.
Rosberg started and finished 2nd. He had no way to pass a faultless Webber, but still he is now 5th in the DC. His Mercedes teammate Schumacher qualified on pole, and was demoted to sixth for a Catalunya shunt. He never recovered from this, and was typically voluble in his criticism of the penalty. No one has ever faulted Schumie for being too sporting. He drove an aggressive race which shunted Grosjean out on the first lap. Finally he retired with a fuel pressure problem which robbed him of a likely 7th.
Kimi Räikkönen did at least finish with points for Lotus. He started 8th and ended 9th. He lost places staying out too long on worn tyres waiting for rain to allow him to change to wets and not lose a pit stop. It didn't rain, disappointingly. His teammate Grosjean qualified 4th, but his race only lasted 100 yards before he parked after the incident with Schumacher. Räikkönen is now 6th in the DC, but the more interesting thing about Räikkönen is that he wore a James Hunt tribute helmet. This is not his first homage; he entered and won a snowmobile race in his native Finland under the name James Hunt.
Does Räikkönen admire the lifestyles of 1970s drivers like Hunt the Shunt? The impossibly handsome James Hunt was the life and soul of the party, notorious for his behavior on and off the track, having drugs and sex often minutes before a race. This epitome of the unruly playboy driver was celebrated for his English eccentricity. He was a great womanizer, allegedly delighting over 5,000. One of his cunning stunts was to infest hotels where airline stewardesses spent a stopover. Hunt met them as they checked in and invited them to his suite for a party. It seems it wasn't unusual for him and his second wife to have sex with all of the women, often together. Hunt's first wife was model Suzy Miller, who tired of being married to a heavy drinking womanizer, so she left him for Richard Burton.
For the thirteen years before his death at 45, the mercurial Hunt was a BBC television F1 commentator, as a protagonist with the gentlemanly Murray Walker.
Kimi has either had a sense of humor bypass, or he has such a keenly dry wit that it is missed by most people. I think his James Hunt accolade proves the former.
Meanwhile, back in 2012, Force India scored their second set of double points this year, and Paul di Resta is now 11th in the DC. The team may be doing better than the Kingfisher Airline which promoted them.
Williams had a poor weekend. Pastor Maldonado is not a Monaco Man. He is too aggressive as he has shown before. Starting from the back of the grid, he damaged his car in the first lap, and crashed into the hairpin. Bruno Senna started 13th and finished 10th. He was the last car in the points and only 44 seconds behind the winner.
Heikki Kovalainen kept Caterham still holding 10th place in the Constructors' Championship, the lowest qualifying for a share of the prize money, which is critical for the smaller teams. Kovalainen qualified 17th and finished 13th, successfully keeping Button at bay. His team mate Petrov retired from damage sustained in the first corner.
Sauber, Toro Rosso, HRT and Marussia did not trouble the point scorers.
The next GP is at the Circuit Gilles Villeneuve in Montreal on a man-made island in the St. Lawrence River. It is named after the only Canadian to win the DC, and possibly the greatest F1 driver ever. It was named after him when he was killed in qualifying in the 1982 Belgian GP. It was James Hunt who discovered Gilles Villeneuve, when he was soundly beaten by him in a Formula Atlantic race in 1976. Hunt arranged for Gilles to make his F1 debut with McLaren in 1977, although he is best known as a Ferrari driver.
A particularly famous part of the Montreal circuit is the wall on the outside of the exit of the final chicane before the start/finish straight. The wall has been nicknamed "The Wall of Champions". Michael Schumacher, Jenson Button and Sebastian Vettel have all fallen victim to its magnetic charms. More on that next week.
All F1 races are shown at the Greenman, Chalong, click here for more information.
— The Digby
Phuket News

Join the conversation and have your say on Thailand news published on The Thaiger.
Thaiger Talk is our new Thaiger Community where you can join the discussion on everything happening in Thailand right now.
Please note that articles are not posted to the forum instantly and can take up to 20 min before being visible. Click for more information and the Thaiger Talk Guidelines.