Phuket receives B800k for marine debris management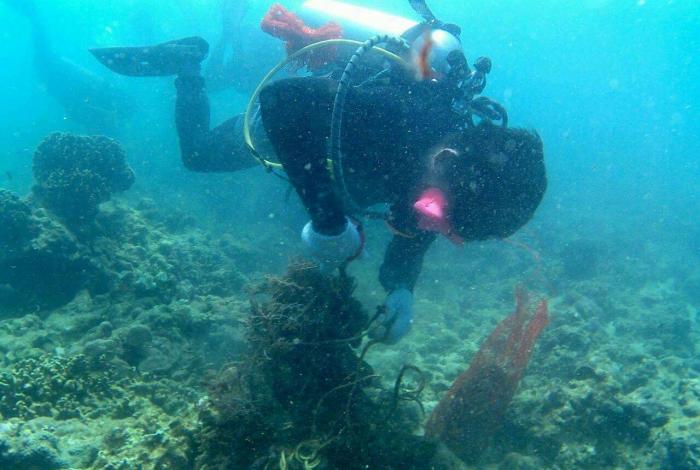 PHUKET: Coastal provinces in Thailand have been given a budget for marine debris management after Thailand was ranked as the sixth worst marine polluter in the world by the United Nations Environment Program (UNEP).
The UNEP is an agency of the United Nations that coordinates its environmental activities and assists developing countries in implementing environmentally sound policies and practices.
Region 6 of the Marine and Coastal Resources Department (DMCR) received an 800,000-baht budget from the Ministry of Natural Resources and Environment for marine trash collection in Phuket, Phang Nga and Ranong.
Laem Sai Beach in Phuket was the first to see action. On Saturday, 156 officers, volunteer divers, local fishermen, hotels, boat operators and students collected nearly 382 kilograms of wood, fishing nets, plastic and other types of trash from the beach (about 100kg) and the rest in the sea.
According to UNEP, about 1,800 tonnes of trash is added to the sea every year, of which 38 percent is plastic. Thailand is believed to contribute at least a ton of marine trash to the worldwide total, of which 66 per cent is generated from man-made activities such as tourism.
"Marine debris affects the whole ecosystem, including marine life and particularly endangered species. Every year, about 2 to 5 per cent of endangered species die from consuming trash," said Suchat Rattanaruengsri, head of DMCR region 6.
"If the sea is polluted, the fish will also be affected. This will lead to a reduction in the number of fish caught and negatively impact the fishing industry.
"Additionally, it impacts tourism – if the sea is not pristine and all the coral is dead, tourists will not want to visit anymore. Thailand generates more than 100 billion baht per year from marine tourism, so this would be a huge loss for the economy," he added.
The environment ministry has announced that all coastal provinces will be provided an annual budget for at least five years, in order to boost enforcement of trash management and improve the dismal status of Thailand as a polluter of the sea.
DMCR Region 6 is currently focusing on two projects. The first is a proactive project to reduce the amount of marine debris by preventing littering, and the second will focus on the collection and proper disposal of marine debris that already exists.
Preventative Activities
The trash reduction project will focus on three islands: Koh Kai Nai, Koh Kai Nok and Koh Kai Nui in Phang Nga.
At present, businesses and visitors at Koh Kai collectively consume 500 foam boxes, 700 plastic bottles, 600 glass bottles, 2,000 plastic cups and 400 cans on a daily basis, weighing about 40kg in total.
"We will start the project with 45 shops and educate them about substituting plastic and other pollutants with more environmentally friendly, reusable materials," said Mr Suchat. "The project will start on Wednesday (March 1). We will closely monitor it and follow up two months later to gauge success and reinforce the rules if need be."
Pru Nai Municipality has issued new laws regarding trash management, with a fine of 1,000-2,000 baht for those who do not comply. A certificate of recognition will be given to those who successfully participate in the project.

Trash Collection
After Saturday's efforts at Laem Sai, the next clean-ups in Phuket, Phang Nga and Ranong are scheduled as follows:
March 9: Koh Racha Noi
March 16: Baan Som Chong Tai, Phang Nga
April 9: Sai Dam Beach, Ranong
— Kongleaphy Keam
- Legacy Phuket Gazette
Dead dolphin washed ashore at Surin Beach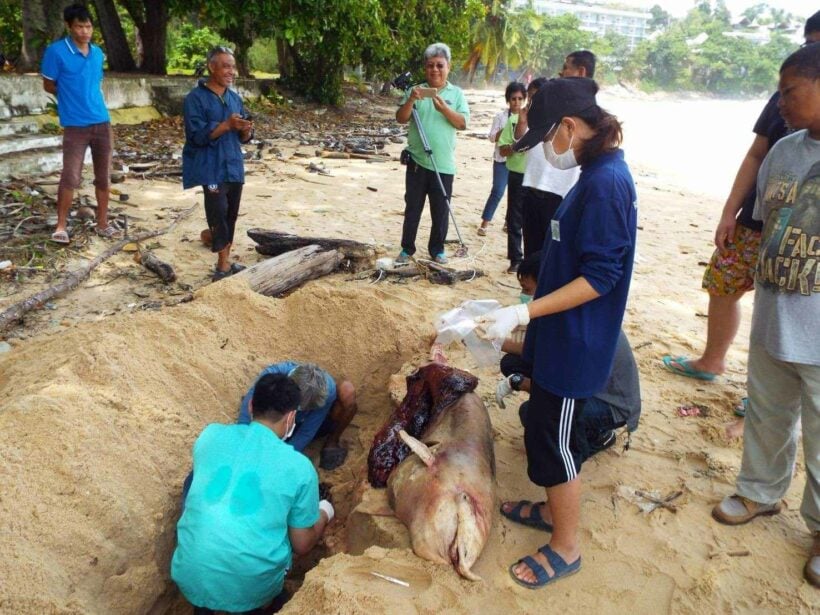 A dead dolphin, 1.26 meters long, has been found on Surin Beach this morning (June 20).
Officials at  Cherng Talay Tambon Administration Organisation (OrBorTor) were notified that the dolphin had been washed up on Surin Beach in Cherng Talay.  MaAnn Samran, chief of the Cherng Talay Tambon Administrative Organisation (OrBorTor) headed to Surin beach to head the inspection with officials.
Khun MaAnn says, "scratches were found on the dolphin's skin. The dolphin also had a very bad smell. Officials at  the Phuket Marine Biological Centre (PMBC) have been notified."
PMBC officials say, "The striped dolphin is 1.26 metres long.  The dolphin was already rotting and starting to decompose. There was no use in taking it back to the centre. We collected some tissue from the dead dolphin to investigate the cause of its death.
The dead dolphin has been buried by staff members of the Cherng Talay OrBorTor."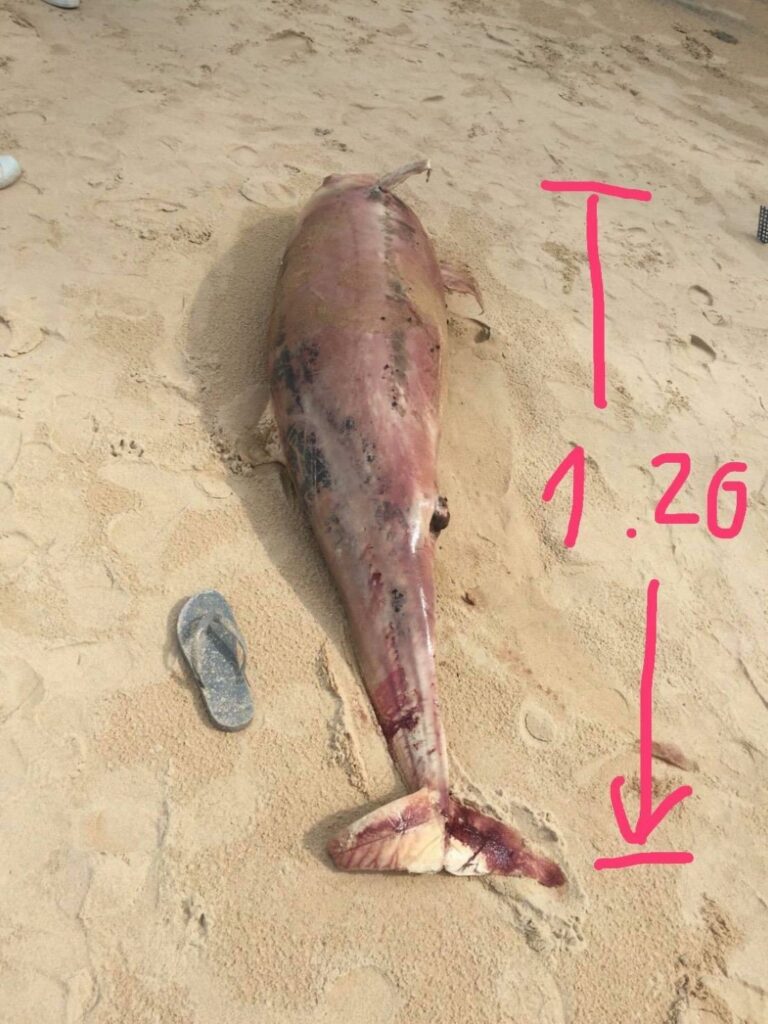 Monkey update: Rassada locals say returned monkeys happy to be home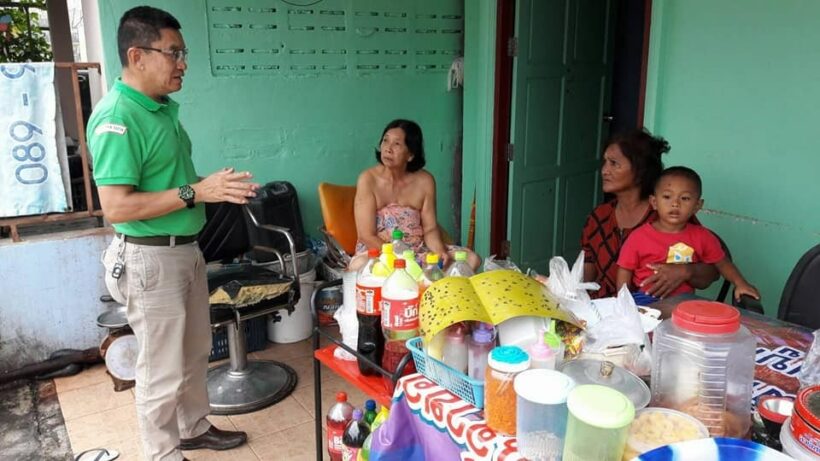 Tha Chin locals in Rassada say they're satisfied with the way the monkeys were captured last Friday (June 15) while locals say sterilised monkeys at Soi King Kaew in Rassada can get back into their groups now that they're been released into their area.
Yesterday (June 19) Pongchart Chouehorm, the Director of the Natural and Wildlife Education Centre at Khao Phra Thaew Non-Hunting Area in Thalang visited locals at Soi Tha Chin in Rassada after 38 long-tailed macaques were caught at Soi Tha Chin in Rassada last Friday (June 15).
Read more HERE.
Khun Pongchart says, "There are some monkeys in the mangrove forests which haven't been captured. We spoke to locals about garbage management, especially what they're doing with leftover food. This garbage has to be kept away from the monkeys."
"Also they mustn't offer food to those monkeys. This is to prevent monkeys learning to wait for food from humans which might cause more trouble in the future. "
"Locals at Soi King Kaew in Rassada says that the sterilised monkeys were released back to Soi King Kaew in Rassada on Monday (June 18) and are back to their groups and settling in well."
Read more HERE.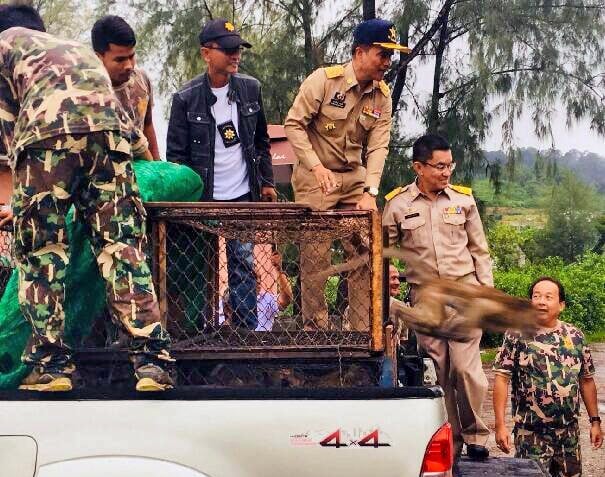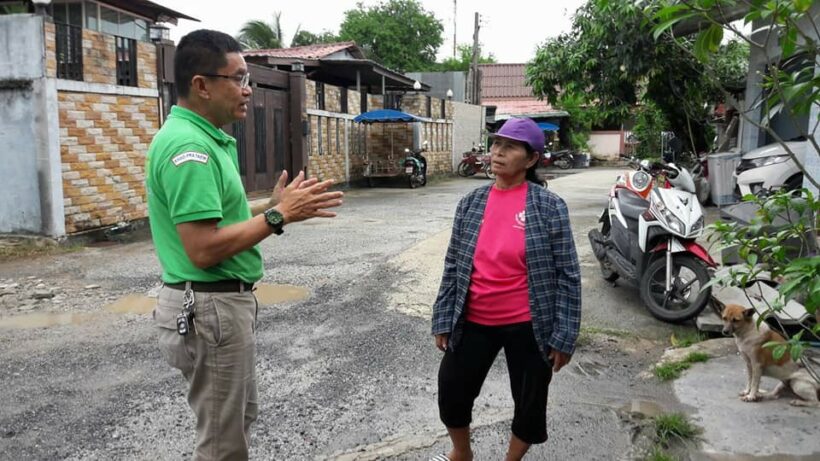 French expat rescued off Phuket, jet-ski and parasail ban remains in force today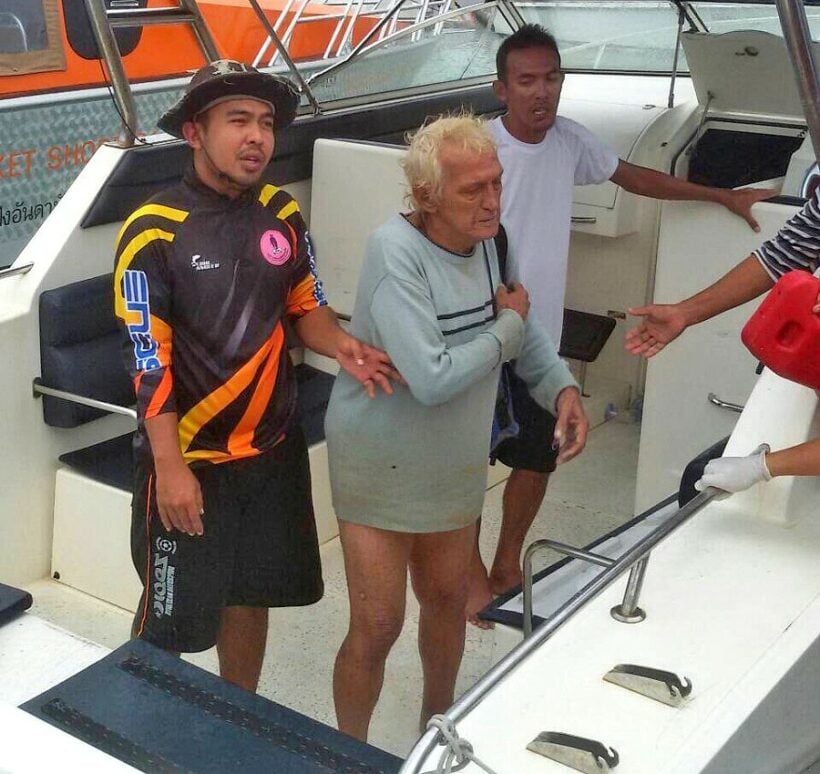 A French expat on a dinghy has been rescued in Ao Yon, Wichit yesterday (June 19) while the Phuket Marine Office has announced that jet-skis and parasails will remain beached until today (June 20).
Maj Eakkachai Siri of the Phuket Tourist Police was notified at 1.30pm yesterday that a French man, 78 year old Claude Gasca, had been rescued off the coast of Cape Panwa.
Maj Eakkachai says, "Mr Gasca disappeared after took off from Chalong  Pier on a dinghy on Monday (June 18) night heading to his sailboat name 'Striana' which was moored off Ao Yon beach. "
"Yesterday (June 19) his Thai wife,  Montatip Tongkhao, said she was unable to contact him. So she called the police. The search was lunched by the Royal Thai Navy Third Area Command (NAC3)."
"At 5.30pm yesterday, we were notified that Mr Gasca had been found safe by a friend and taken back to Chalong Pier. He was taken to the Mission Hospital as he was very weak."
"Mr Gasca told us that after he had retired, he lived in Phuket with his Thai wife. Every day he travels in his dinghy to his sailboat in the sea. On Monday night there were very strong winds and waves. The dinghy was washed ashore and got stuck in a mangrove forest."
"His friend, who was on another boat, had rescued him. His mobile phone was soaking with water. So he cannot contact his wife."
The chief of the Phuket Marine Office has ordered authorities at all ports and piers, as well as the boat operators, to be careful heading out to sea, including today (June 20).
Read more HERE.
However some Jet-skis and parasail operators still operated their services during the inclement weather. The Phuket Maine Office has announced a ban of jet-ski and parasails rides from yesterday until today.
"Legal action will be taken against anyone who breaks the law", says the Chief.