Phuket named best Asian yachting capital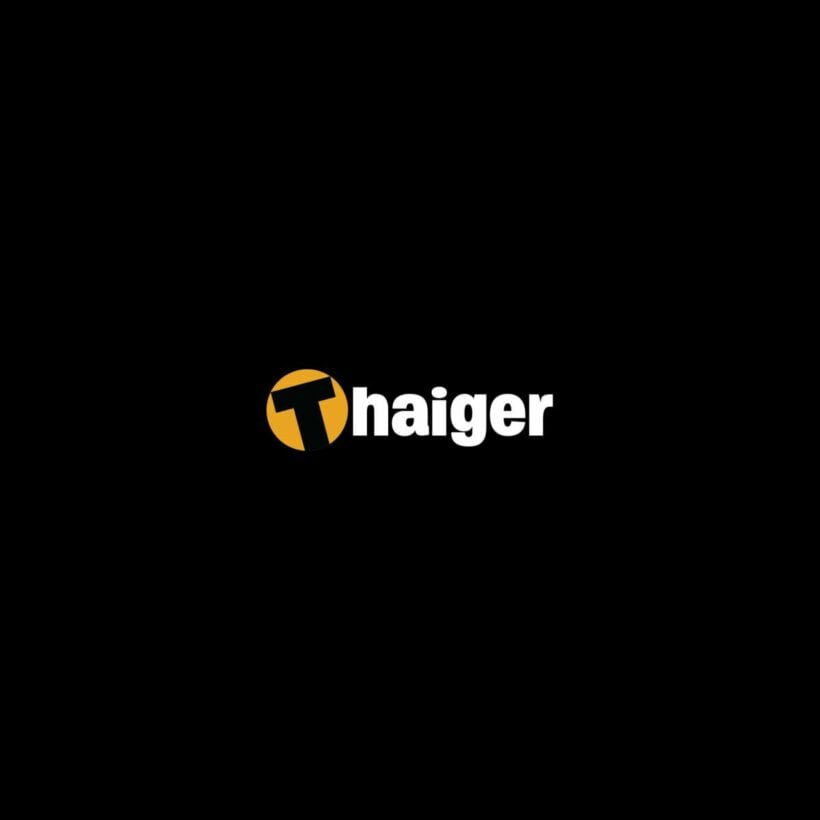 Phuket NEWS Hound
– A daily digest of news from around the world compiled by Gazette editors for Phuket's international community. World Cup? Get instantaneous scores and news updates right here on the Gazette Online (fed directly from FIFA).
PHUKET: Phuket, voted as the Best Asian Maritime Capital 2010 in May, will bring in US$306 million in revenue from boating tourists this year, and the number will continue to rise, according to Bangornrat Shinaprayoon, head of the Phuket office of the Tourism Authority of Thailand (TAT).
He said Phuket is also deemed Asia's best centre for ocean travel, surpassing rivals Hong Kong, Singapore and Italy, according to the Thai News Agency on Friday.
And Bernama reports that statistics from the TAT show growing numbers of affluent maritime travelers with personal yachts visiting the resort province dubbed as the 'Pearl of the Andaman'.
Phuket Amateur Golf Week
PR.com
Players and spectators from all over the world are expected to show up for Phuket Amateur Golf Week later this month.
The seven day tournament takes place July 24-30 on four of Thailand's best championship courses: Blue Canyon Country Club, Loch Palm Golf Club, Phuket Country Club, and the stunning Red Mountain Golf Club.
Both groups and single golfers are welcome to register, and handicap divisions will be determined in the days leading up to the tournament.
Competitors will enjoy private airport transportation as well as private transfers to and from tournament sites.
Caddies and carts will be provided at most tournament venues. Also included is an English speaking hostess for all groups.
Daily prizes will be given, as well as an overall winner announced and awards presented in various categories at the close of the event.
Tournament organizers have also announced a full slate of entertainment throughout the week for golfers and spectators.
Further details available here.
The Pavillions Phuket raises the bar
Travel News Gazette
The Pavilions in Phuket is reported to be setting new standards in luxury resort living with its latest expansion.
Opening November 2010, the all-new development comprises 24 pool villas, each one with its own private, fully-equipped spa.
Measuring a spacious 60m², the private spa is an extension of the villa and overlooks an oriental-themed courtyard, complete with a water feature and lush, densely-packed bamboo plants.
The in-villa spa also includes a separate steam shower room.
This latest expansion adds to the existing 25 private retreats now available at The Pavilions Phuket. Built on a former rubber plantation, the 24 new villas comprise six Plantation Pool Penthouses and 18 Plantation Pool Pavilions.
Access to the villas will be by a cable-driven funicular with panoramic views over Phuket.
New school director at Phuket International Academy
PRlog.org
The Phuket International Academy (PIA) Day School has recently appointed Kanittha Suksawaschon as the Director of School Operations.
Ms Kanittha holds a Bachelors Degree in Education and a Masters in Educational Administration.
Prior to her current appointment, Ms Kanittha was a Thai teacher for bi-lingual and foreign students for two years.
During her 13 years of experience in four international schools, she has held the position of Executive Secretary to the Headmaster, Thai Principal, Deputy Head, and Head of Academic Administration.
She also was an exchange teacher with AFS in North Carolina, USA for 1 year.
She is certified by ISAT and approved by the Teachers Council of Thailand to be an instructor in the Thai Culture and Professional Ethics Course for International School Teachers.
Take government out of media reform
The Nation
The government should play little or no role in reform of the mass media, but should support self- and co-regulation, a symposium was told yesterday.
"Is [media reform] a role supposed to be played by the state? How about allowing society to help out instead? It's very dangerous [to allow the government to join in the process] because the government has a stake in it and is a party to the conflicts," said Vicharn Uen-ok, a representative from the National Federation of Community Radio.
Over the past months under the emergency decree, the Centre for Resolution of the Emergency Situation had gathered a bumper crop of broadcasting equipment from community radio stations after falsely claiming that some of them relayed audio from red-shirt or yellow-shirt television stations, he said.
Vicharn said he was neither a red nor a yellow shirt, but that after listening to some red-shirt broadcasts from Rajdamnoen Avenue and the Rajprasong intersection, he now understood the plight of the red shirts and poor people better.
Thepchai Yong, director of TPBS and former group editor at The Nation, said he thought the red-shirt media were not genuine mass media because they incite violence and hatred.
Nevertheless, Thepchai agreed with Vicharn that the government should stay as far away as possible from trying to reform the media.
Media co-regulation, involving consumers and independent organisations, could help restore the trust that the mainstream media had lostm he said.
"The mass media always says 'we speak for society', so we must allow society to play a part in regulating us," Thepchai said.
Media reformist Supinya Klangnarong expressed concern at the growing number of websites blocked by the government and asked whether Thailand was following the Chinese model of Internet censorship.
With more and more Thais gaining access to the Internet every day, it would become impossible to put tens of thousands of people behind bars for allegedly posting something online that is a 'threat to national security', the usual excuse invoked by successive Thai governments for blocking websites whose content might pose a potential threat to the government itself.
— Gazette Editors
📱 Download our app on Android or iOS for instant updates on your mobile
📧 Subscribe to our daily email newsletter
👍 Like/Follow us on Facebook
🔔 Subscribe to or Join our YouTube channel for daily video updates
Expats condemn Phuket's "xenophobic" rapid-test payment policy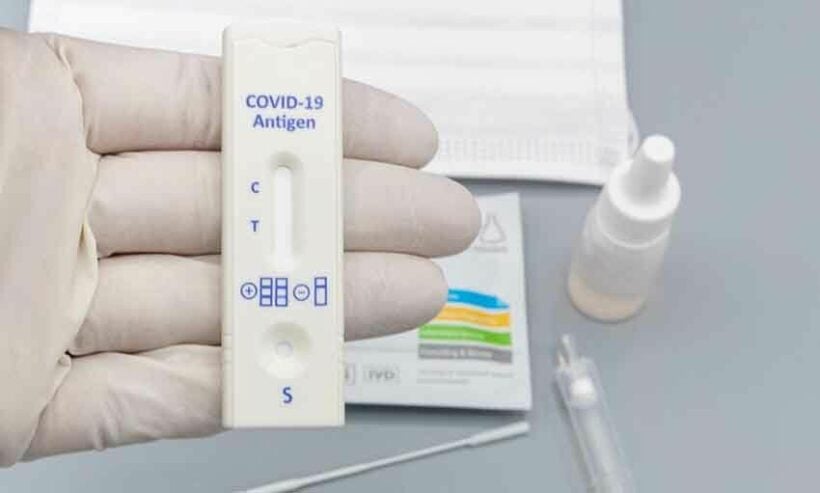 Expats living in Thailand are up in arms after Phuket officials confirmed that foreigners arriving on the island would have to pay for a rapid Covid-19 test that is free for Thais. The testing requirement is part of new restrictions now in force to combat the spread of the virus. However, it is not the cost of the test – 500 baht – that has angered so many expats, but the fact that officials see nothing wrong with charging people based on their nationality.
On Monday it was announced that EVERYONE arriving in Phuket would have to pay 300 baht if they needed the 'rapid covid test'. But that was amended the next day. Now we have the latest example of 2-tier pricing in Thailand (below).
The news was shared by travel blogger Richard Barrow on his Facebook page and has so far generated over 430 comments (and still growing), most of them furious…
"Unbelievable. I know Thailand is xenophobic, but for the authorities to do that is an absolute disgrace. They can piss off. I'll take my business elsewhere in future."
"I pay Thai taxes, I have for 16 years! am happy to bring my money elsewhere then!"
"Phuketians: "Tourists please come back." Also Phuketians: "500b khap."
It was not just foreigners commenting however, with at least one Thai person condemning the policy…
"I feel so so ashamed of how my country (or its government) so desperately wants more money to continue their corruption. Any possible ways they can rip you off – they will do shamelessly."
Effective yesterday, anyone flying in to Phuket from elsewhere in the country must take a rapid Covid-19 test, unless they have taken a negative PCR test within the last 72 hours or can prove they've received both doses of a Covid-19 vaccine. With less than 1% of the country vaccinated – almost none of them foreigners – the second requirement is unlikely to be met by many.
Foreigners who have to take the rapid test, regardless of whether they are tax-paying work permit holders or retirees contributing to the economy, long-term residents or married to a Thai, will have to pay 500 baht. For Thais, it is free. The focus of expat anger is not the cost, but the principle, which is being roundly condemned as xenophobic.
Foreigners employed in the Kingdom in particular, are angered, given that they have been paying tax for years and have social security coverage. In response, Phuket health officials have issued an "explanation" – that manages to explain very little.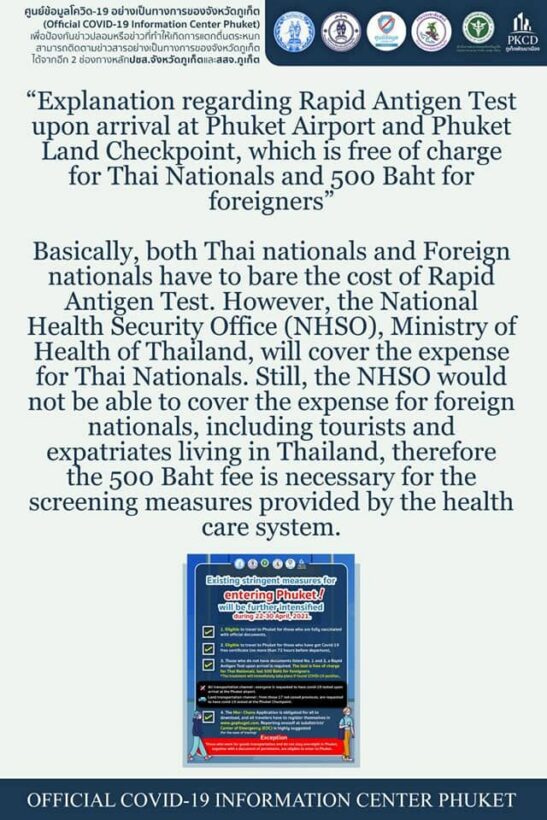 Meanwhile, while the new restrictions apply to everyone arriving by air, for those arriving by road, only people coming from the high-risk "red" provinces need to meet the entry requirements.
And, just as a footnote, if your rapid covid test conducted by airport officials happens to come back positive you will be whisked away to a Phuket field hospital for a 14 day stay.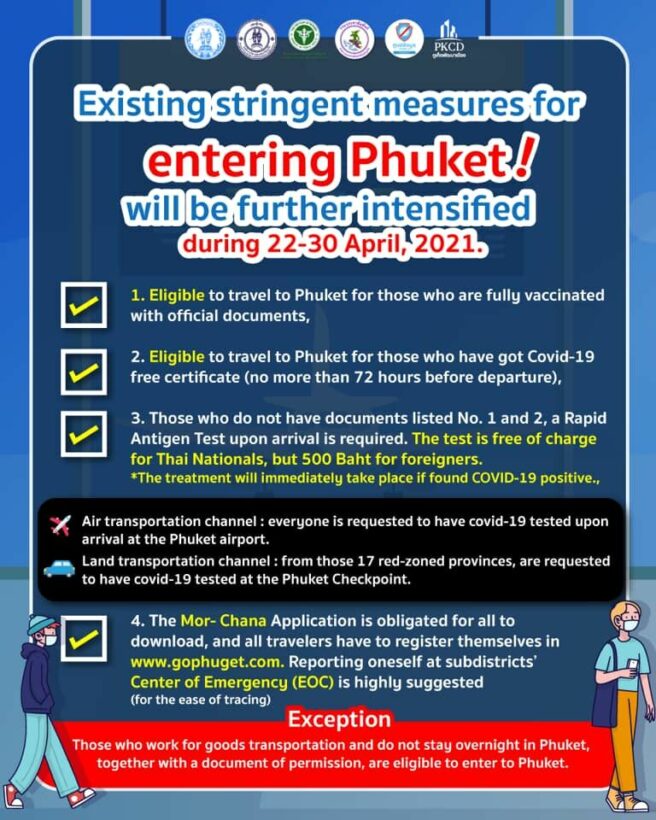 SOURCE: TPN
📱 Download our app on Android or iOS for instant updates on your mobile
📧 Subscribe to our daily email newsletter
👍 Like/Follow us on Facebook
🔔 Subscribe to or Join our YouTube channel for daily video updates
Thailand's covid vaccine passport – will it only be used for travel?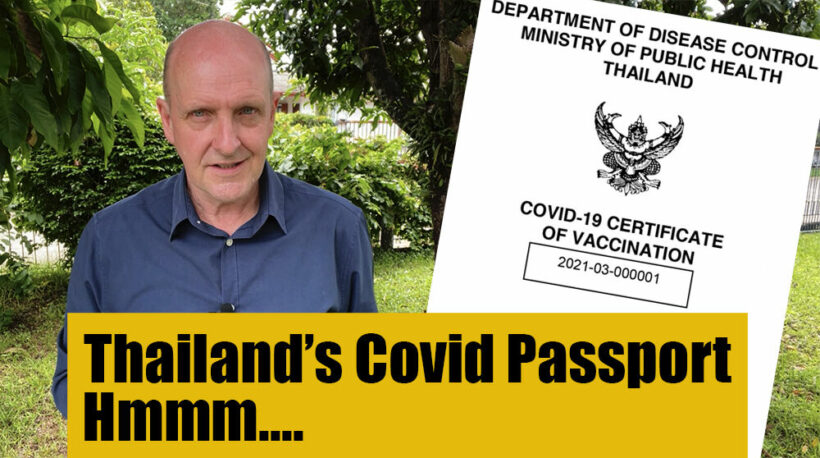 Hi. Im Tim Newton. Just upfront saying that these are my personal opinions and don't necessarily reflect that of The Thaiger.
So today the Thai Government now has officially announced vaccine passports. The documents are going to be the next big thing in the long and winding Covid road. Firstly, before some comments, the details that we actually know.
This Covid passport legislation has now been announced in the Royal Gazette, so it's not being considered, it's actually law. According to media info, the vaccine passport will be an official document which can be used by vaccinated people travelling abroad.
I fear this Covid passport will end up as just another victim of the unintended consequences. The benefits, mostly intended for international travellers, will be used as another way of whittling away our remaining privacies and adding another layer of little annoyances to life and work in the Land of Smiles.
Look at the vaccine roll out in Thailand. Usually a business should try and under-promise and then over deliver. In this case the Thai government have done the exact opposite. Timelines for vaccination are not being met and the ordering of vaccines appears chaotic and, at best, just slow in getting to the startline.
The PM has rushed to assure the citizenry that the delays have been caused by an abundance of caution. And unfortunately the 2 horses they've backed in the vaccination race are having a few bad PR days and neither may be a long term solution to the latest variants of Covid-19 spreading around Thailand. But I'll let the scientists sort that out… certainly not the legion of instant vaccine experts that have now infected the internet.
I'm all for trying to get the country open again, as soon as practicable, and safe to do so. But I'm starting to think the best course of action is to lock my gate and resort to an online worklife and Food Panda… the mad foreign guy locked up in his house with his 3 cats.
Here in Phuket we now have an arrival regime that demands either proof of vaccine, a negative Covid test, or a 300 baht rapid Covid test at the airport. The chances of me subjecting myself to an airport officials sticking a swap up my admittedly large nose in the vague hope it will probably come back negative, is zero. Again, on a daily basis we get emails from foreigners who say they've been whisked away to hospitals, and more recently field hospitals, with no recourse or means of appeal, or even the chance to get a second test.
Here's one from this morning…
I can't call the embassy as I don't have a SIM card, I also have been told to order outside food as they won't feed me. They won't provide me with my test results and told me that I'd need to stay 14 days here in quarantine, but the doctor I talked with yesterday said 5 more days. I'm so confused as to what to do next.
Now, stripping all this back to basics, I'll concede that we're all in this mess together at the moment, and that we may have to forego a few personal freedoms for the greater good. I have no issue wearing a mask in public. I have no worries leaving my phone number at the door when entering premises. I will do my best to stay socially distant when in public.
But all these restrictions are easy to ramp up and much harder to wind back. And, at a deeper level, our trust in institutions, governments, and medical officials is being eroded. And that's not good as we stumble forward in trying to get the world open again.
Will I get a vaccine passport? Probably. And I'll also expect to have to carry it everywhere I go as it's used as just another reminder that I'm just a guest in this country and I better just get used to it.
📱 Download our app on Android or iOS for instant updates on your mobile
📧 Subscribe to our daily email newsletter
👍 Like/Follow us on Facebook
🔔 Subscribe to or Join our YouTube channel for daily video updates
Phuket requires Covid-19 vaccination or 72-hour test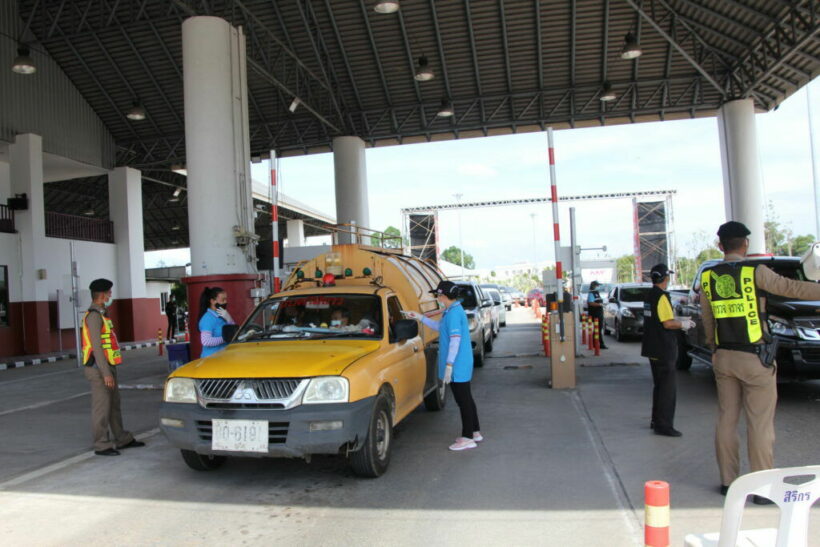 To help wrangle the spread of the Covid-19 outbreak in Phuket, strict controls for everyone entering the island go into effect today until the end of April. The provincial communicable disease committee approved the measures in an effort to stop the proliferation of Covid-19 in the province.
The new regulations state that only people who have received both doses of the Covid-19 vaccine or have tested to be Coronavirus-free within 3 days of arrival, will be allowed to enter Phuket. Proper certification or documentation must be presented to verify this information – either a Covid-19 vaccination certificate or the results of a recent negative Covid-19 test.
Anyone attempting to enter Phuket without the full vaccine doses, or a negative Covid-19 test within the last 72 hours, will be charged 500 baht for a rapid antigen test at their port of entry. For Thais, the cost is free. The 2-tier price policy has been slammed by expats and other foreigners in the country. Read HERE.
These tests generate results in about 15 minutes and then negative-tested visitors will be allowed to proceed. If a person receives the test and is diagnosed positive for Covid-19 they will be sent to medical facilities immediately for treatment.
All entrants to Phuket are also required to use the Mor Chana Covid-19 contact tracing app to check in and record their travel timelines. That mobile app is available at gophuget.com.
The new restrictions apply to local and foreign travellers except for people making deliveries that are not staying overnight. Those people will get a special certification from their companies to present at the checkpoint entrance to the island.
Phuket is now classified as a Red Zone province, one of 19 provinces throughout Thailand where infections are on the rise. 208 current Covid-19 infections were registered at the start of this week in Phuket.
In response to the increasing Covid-19 infections in Phuket, Surat Thani has made special restrictions for anyone travelling from Phuket to Surat Thani. Those people will be required to scan and register their trip through the "Save Surat" website before being quarantined for 14 days.
SOURCE: Thai PBS World
📱 Download our app on Android or iOS for instant updates on your mobile
📧 Subscribe to our daily email newsletter
👍 Like/Follow us on Facebook
🔔 Subscribe to or Join our YouTube channel for daily video updates