Phuket
Phuket hospitals defend fractured pricing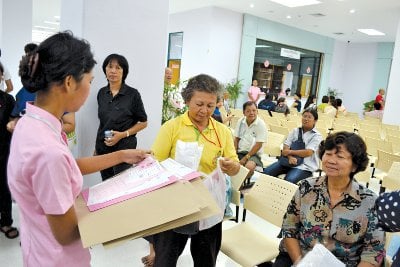 SPECIAL REPORT
PHUKET: Top officials at the recently opened Phuket Provincial Hospital this week defended the facility's practice of charging foreigners greatly inflated fees compared to its prices for Thais.
The Phuket Gazette spoke to Phuket Provincial Administrative Organization (PPAO) Vice President Chawalit Na Nakorn, who is also on the Provincial Hospital's board of directors, about the large gap between charges for Thai and foreign patients.
"Our hospital aims to provide efficient health care for people and attempts to cover everyone. This is why we have different kinds of patient payment schemes, such as social security patients, the 30-baht health insurance policy patients, patients who are government employees, self-payment patients and patients with private health insurance," Mr Chawalit explained.
"Every hospital, even those that are government-owned and operated by the Ministry of Public Health, have different medical treatment rates for Thai and foreign patients. Our rates for foreign patients are partly based on the range of prices as set by the Ministry of Public Health.
"However, our hospital management committee, after considering the issue, decided to adjust the prices for foreigners," he said.
The "decision" included inputs from the Thonburi Hospital management group, which provides the medical staff and services. It also used the range of fees that the government-run Vachira Phuket Hospital charges foreigners as a base.
"Foreigners use our services and we do not have the funding to provide the needed treatment at the same prices that we can offer Thais. Most Thais are covered by either the 30-baht national health scheme or by the mandatory social security coverage that must be provided for any persons working, or they are government employees. That is not including Thais who are covered by their own private health insurance.
"For patients under all these categories, the hospital receives some form of reimbursement for providing treatment," Mr Chawalit said.
Any foreigners who have been issued a social security number, which is mandatory for foreigners working in the Kingdom, are eligible for the same discounted rates offered to Thais claiming medical treatment under the same system, he noted.
Mr Chawalit added that Phuket contributed much of the national income generated by tourism to the central government.
"But when the central government allocates its annual budget, most of it goes to government hospitals," he said.
"We do not receive a formal budget from central government to operate the hospital, although they do partially support the 30-baht health insurance policy by paying us on average 1,900 to 2,000 baht per person per year. However, that is not enough to cover the actual treatment fees," he added.
"As we are not funded by the Ministry of Public Health, we receive our funding directly from the PPAO. This is one of the reasons that we have to charge foreign patients more than Thai patients," he said.
As the PPAO owns the hospital, he added, any profits made by the facility will be used in PPAO projects to the benefit of Phuket taxpayers.
"If any foreign patient wants to know the cost of treatment beforehand, they can check with the staff at the international department before the treatment begins. However, the price will be approximate as it depends on how severe their malady is and what type of treatment they will receive.
"If any foreign patients need help, or has questions or thinks he is being overcharged, the staff at the international department are available to help," Mr Chawalit said.
STANDARD PRACTICE
A senior officer at the Vachira Phuket Hospital's international department confirmed to the Gazette that this government facility, too, does impose higher charges against foreigners than Thais.
"The rates for foreign patients are set by the hospital management committee, based on the range of medical treatment costs as set by the Ministry of Public Health and the Medical Council of Thailand," the officer explained.
"For a doctor's visit of less than 10 minutes, the cost is 200 baht; between 10 and 30 minutes, 300 baht; and more than 30 minutes, 500 baht," she said.
"We do not charge a hospital fee as that is included in the doctor's appointment fee, and an administrative fee is charged if the patient has private health insurance because hospital staff will have to contact the overseas insurance company.
"We charge for the international calling costs and service. The cost will be 500 to 1,000 baht."
A physician evaluation or management fee will not be charged if the patient does not undergo an operation, and the prices of the medicines and treatment for foreign patients, except for operations, are the same as for Thai patients.
"Foreigners covered by the social security health care scheme, if they are registered at the hospital, will receive treatment free or at the same cost as Thai nationals," the officer added.
A reader writes:
I went yesterday to the Phuket Provincial Hospital for a doctor's visit that was only five minutes as there was nothing wrong with me.
After that, I sat waiting in a special section for 30 minutes while staff made out a bill for 1,100 baht for that five minutes with the doctor. A physician valuation/management fee of 500 baht; a hospital fee of 200 baht, and an administrative fee of a further 400 baht.
That is more than I pay at Bangkok Hospital Phuket or at the Phuket International Hospital.
I asked them why it was so expensive, to which I was told they had different prices for foreigners. I left with a bad feeling as I don't expect to be ripped off by a decent hospital.
If they want to charge fees like that they should at least make us aware of it beforehand.

– Gazette reader
(Click here to see our reader's hospital receipt)
This report appears also in the current (October 20) issue of the hard-copy Phuket Gazette.
— Orawin Narabal

Join the conversation and have your say on Thailand news published on The Thaiger.
Thaiger Talk is our new Thaiger Community where you can join the discussion on everything happening in Thailand right now.
Please note that articles are not posted to the forum instantly and can take up to 20 min before being visible. Click for more information and the Thaiger Talk Guidelines.