Patong CCTV nabs Phuket gold thief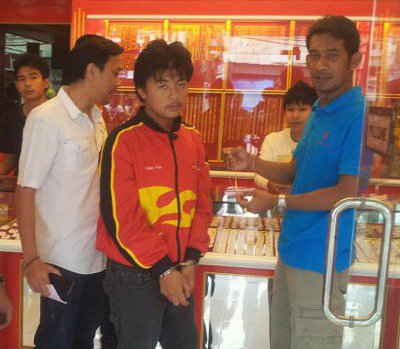 PHUKET: As the Patong Safety Zone and its mass of CCTV cameras continue to be networked, Phuket Police on Thursday arrested a teenage man for stealing a gold necklace worth about 25,000 baht after the license plate on his getaway motorbike was caught on a shop camera.
Patong Police officers led by Lt Col Somsak Thongglieng and Sub Lt Chusak Tassanaphum yesterday brought Jakklit Jantanon, a 19-year-old local resident of Patong, to re-enact the crime, staged at the Sakuna gold shop on Sainamyen Road.
Col Somsak told the press he received a report from 25-year-old sales assistant Sudaporn Saiklieng at about 7pm on Thursday.
"A teenage man walked into the shop and pretended that he was interested in buying a gold necklace. Miss Sudaporn, who works for the shop, took out a couple of necklaces for him to choose from," Col Somsak explained.
"Then Mr Jakklit told Miss Sudaporn that he wanted to put it on to check whether the necklace was too long or too short. Once the necklace was on, he ran out of the shop and jumped on his black Honda Wave motorcycle.
"He sped off toward Hasip Pee [50 Year] Road," he added.
Luckily for the gold shop owner, the license plate number on the motorcycle was caught on one of the gold shop's CCTV cameras, leading police to Mr Jakklit's registered address.
"It took us only two hours to find him. We checked the registration number on his bike and found the address. So we went to the address in the registration details and found him at his home," Col Somsak explained.
"He still had the gold necklace, that was worth about 25,000 baht," he added.
— Kritsada Muenhawong
📱 Download our app on Android or iOS for instant updates on your mobile
📧 Subscribe to our daily email newsletter
👍 Like/Follow us on Facebook
🔔 Subscribe to or Join our YouTube channel for daily video updates
Covid-19 screening kicks off at Phuket arrival points
Officials on the southern island of Phuket have begun an extensive screening process of all arrivals from elsewhere in the Kingdom. The new checks are aimed at curbing the spread of Covid-19 on the island, which has already recorded over 250 cases in the latest wave. The checks will be in place until at least the end of the month.
Anyone arriving from one of the high-risk "red" provinces must have proof they have received 2 doses of a Covid-19 vaccine, or evidence of a negative PCR test, taken with 72 hours of their arrival. Those who cannot satisfy either of those requirements will need to take an antigen rapid test. The test is free of charge for Thai nationals, but 500 baht for foreigners, regardless of whether they pay tax and have social security coverage in the Kingdom or not.
The Bangkok Post reports that, in order to take the test, passengers arriving by land must exit their vehicle and present their ID. They will then receive a nasal swab test, with the results confirmed in around 45 minutes. If negative, they will be issued with a Covid-free certificate, which is valid for 72 hours. They will also be required to download the Mor Chana tracking app and register on the track and trace website www.gophuget.com.
Of course, if they test positive, they will be whisked off to a hospital – most likely of the field variety.
The screening measures are in place at Phuket airport and the Tha Chatchai checkpoint at the north of the island, where all overland traffic will arrive. Phuket governor Narong Woonciew visited the checkpoint for an inspection yesterday. He says while there were some teething problems in the initial stages, things are running more smoothly now.
The governor says that while around 10,000 people visited Phuket every day over the Songkran holiday, that number has now dropped to around 3,000.
SOURCE: Bangkok Post
📱 Download our app on Android or iOS for instant updates on your mobile
📧 Subscribe to our daily email newsletter
👍 Like/Follow us on Facebook
🔔 Subscribe to or Join our YouTube channel for daily video updates
Expats condemn Phuket's "xenophobic" rapid-test payment policy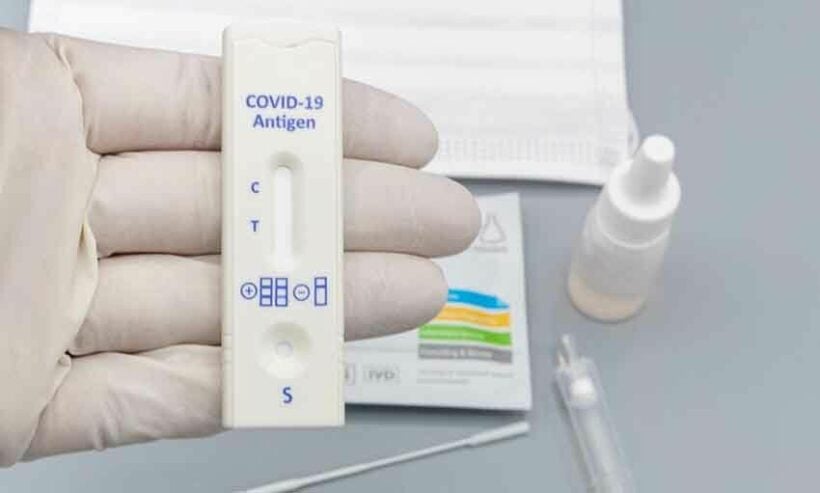 Expats living in Thailand are up in arms after Phuket officials confirmed that foreigners arriving on the island would have to pay for a rapid Covid-19 test that is free for Thais. The testing requirement is part of new restrictions now in force to combat the spread of the virus. However, it is not the cost of the test – 500 baht – that has angered so many expats, but the fact that officials see nothing wrong with charging people based on their nationality.
On Monday it was announced that EVERYONE arriving in Phuket would have to pay 300 baht if they needed the 'rapid covid test'. But that was amended the next day. Now we have the latest example of 2-tier pricing in Thailand (below).
The news was shared by travel blogger Richard Barrow on his Facebook page and has so far generated over 430 comments (and still growing), most of them furious…
"Unbelievable. I know Thailand is xenophobic, but for the authorities to do that is an absolute disgrace. They can piss off. I'll take my business elsewhere in future."
"I pay Thai taxes, I have for 16 years! am happy to bring my money elsewhere then!"
"Phuketians: "Tourists please come back." Also Phuketians: "500b khap."
It was not just foreigners commenting however, with at least one Thai person condemning the policy…
"I feel so so ashamed of how my country (or its government) so desperately wants more money to continue their corruption. Any possible ways they can rip you off – they will do shamelessly."
Effective yesterday, anyone flying in to Phuket from elsewhere in the country must take a rapid Covid-19 test, unless they have taken a negative PCR test within the last 72 hours or can prove they've received both doses of a Covid-19 vaccine. With less than 1% of the country vaccinated – almost none of them foreigners – the second requirement is unlikely to be met by many.
Foreigners who have to take the rapid test, regardless of whether they are tax-paying work permit holders or retirees contributing to the economy, long-term residents or married to a Thai, will have to pay 500 baht. For Thais, it is free. The focus of expat anger is not the cost, but the principle, which is being roundly condemned as xenophobic.
Foreigners employed in the Kingdom in particular, are angered, given that they have been paying tax for years and have social security coverage. In response, Phuket health officials have issued an "explanation" – that manages to explain very little.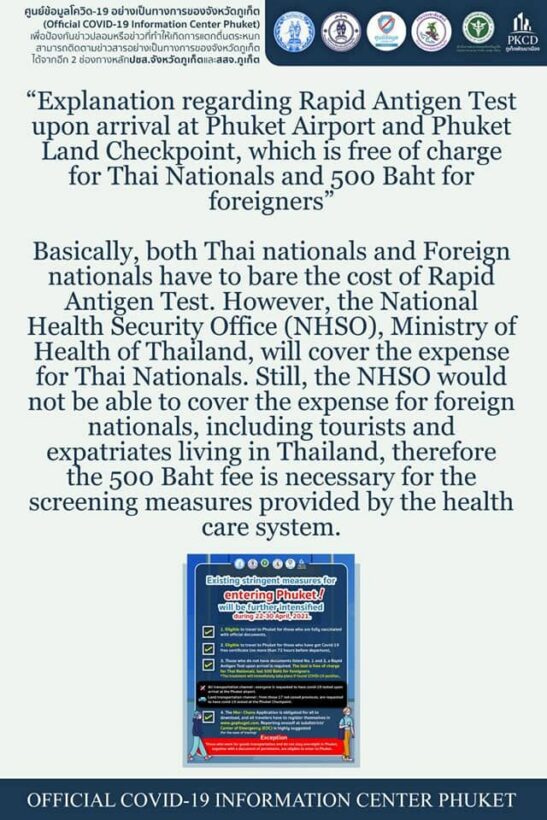 Meanwhile, while the new restrictions apply to everyone arriving by air, for those arriving by road, only people coming from the high-risk "red" provinces need to meet the entry requirements.
And, just as a footnote, if your rapid covid test conducted by airport officials happens to come back positive you will be whisked away to a Phuket field hospital for a 14 day stay.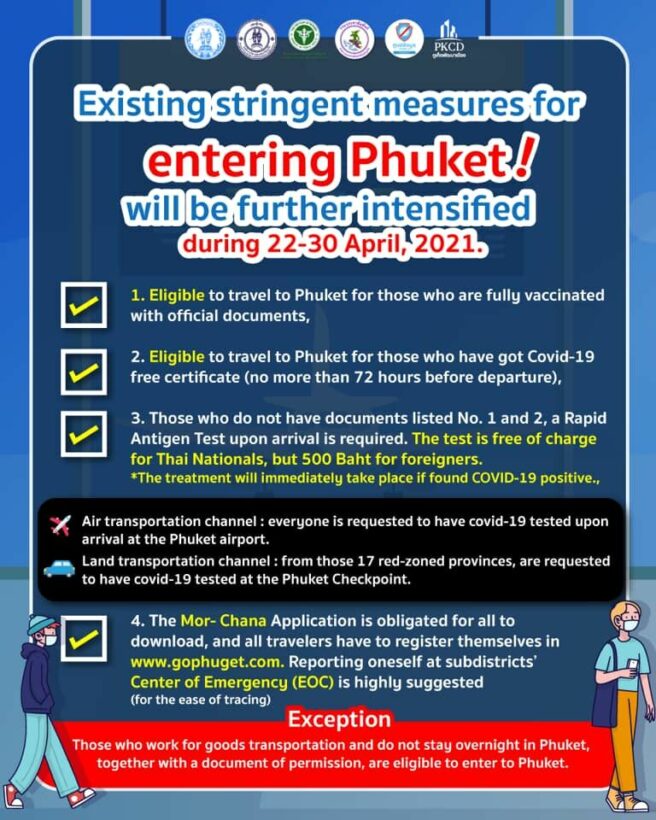 SOURCE: TPN
📱 Download our app on Android or iOS for instant updates on your mobile
📧 Subscribe to our daily email newsletter
👍 Like/Follow us on Facebook
🔔 Subscribe to or Join our YouTube channel for daily video updates
Thailand's covid vaccine passport – will it only be used for travel?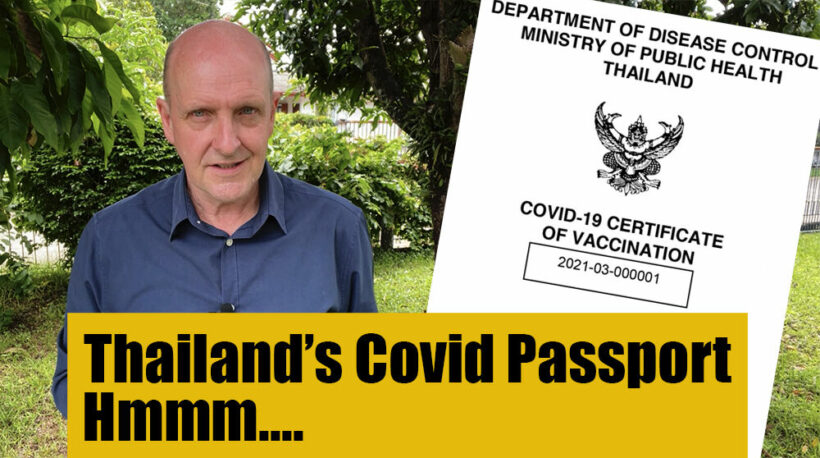 Hi. Im Tim Newton. Just upfront saying that these are my personal opinions and don't necessarily reflect that of The Thaiger.
So today the Thai Government now has officially announced vaccine passports. The documents are going to be the next big thing in the long and winding Covid road. Firstly, before some comments, the details that we actually know.
This Covid passport legislation has now been announced in the Royal Gazette, so it's not being considered, it's actually law. According to media info, the vaccine passport will be an official document which can be used by vaccinated people travelling abroad.
I fear this Covid passport will end up as just another victim of the unintended consequences. The benefits, mostly intended for international travellers, will be used as another way of whittling away our remaining privacies and adding another layer of little annoyances to life and work in the Land of Smiles.
Look at the vaccine roll out in Thailand. Usually a business should try and under-promise and then over deliver. In this case the Thai government have done the exact opposite. Timelines for vaccination are not being met and the ordering of vaccines appears chaotic and, at best, just slow in getting to the startline.
The PM has rushed to assure the citizenry that the delays have been caused by an abundance of caution. And unfortunately the 2 horses they've backed in the vaccination race are having a few bad PR days and neither may be a long term solution to the latest variants of Covid-19 spreading around Thailand. But I'll let the scientists sort that out… certainly not the legion of instant vaccine experts that have now infected the internet.
I'm all for trying to get the country open again, as soon as practicable, and safe to do so. But I'm starting to think the best course of action is to lock my gate and resort to an online worklife and Food Panda… the mad foreign guy locked up in his house with his 3 cats.
Here in Phuket we now have an arrival regime that demands either proof of vaccine, a negative Covid test, or a 300 baht rapid Covid test at the airport. The chances of me subjecting myself to an airport officials sticking a swap up my admittedly large nose in the vague hope it will probably come back negative, is zero. Again, on a daily basis we get emails from foreigners who say they've been whisked away to hospitals, and more recently field hospitals, with no recourse or means of appeal, or even the chance to get a second test.
Here's one from this morning…
I can't call the embassy as I don't have a SIM card, I also have been told to order outside food as they won't feed me. They won't provide me with my test results and told me that I'd need to stay 14 days here in quarantine, but the doctor I talked with yesterday said 5 more days. I'm so confused as to what to do next.
Now, stripping all this back to basics, I'll concede that we're all in this mess together at the moment, and that we may have to forego a few personal freedoms for the greater good. I have no issue wearing a mask in public. I have no worries leaving my phone number at the door when entering premises. I will do my best to stay socially distant when in public.
But all these restrictions are easy to ramp up and much harder to wind back. And, at a deeper level, our trust in institutions, governments, and medical officials is being eroded. And that's not good as we stumble forward in trying to get the world open again.
Will I get a vaccine passport? Probably. And I'll also expect to have to carry it everywhere I go as it's used as just another reminder that I'm just a guest in this country and I better just get used to it.
📱 Download our app on Android or iOS for instant updates on your mobile
📧 Subscribe to our daily email newsletter
👍 Like/Follow us on Facebook
🔔 Subscribe to or Join our YouTube channel for daily video updates