Phuket
Phuket gov to reconsider poor communities' land issue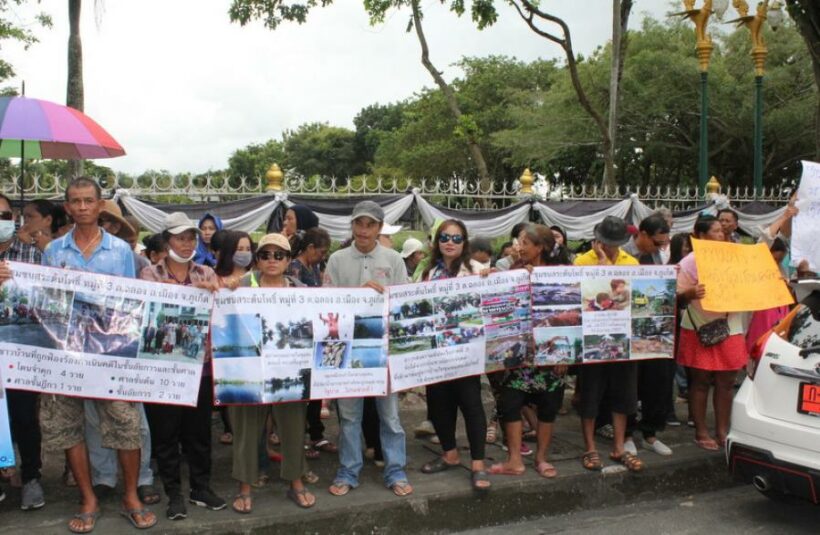 PHUKET: Hundreds of people from poor communities in Phuket gathered outside Phuket Provincial Hall yesterday morning to protest an official announcement disqualifying them from attaining 'community' status.
The sit-in was organized by the '23 Communities Network', which comprises of poor and marginalized communities in Phuket. As an officially-labeled 'community' the group would be entitled to the use of communal land granted to them by the government.
Seksan Sukneuk, the leader of the network, spoke at the protest on behalf of his group and urged the governor to look into the matter.
"The Department of Marine and Coastal Resources has determined that six pioneer communities of Phuket do not fulfill the criteria of being qualified as a community," said Mr Seksan.
"The reason they provided was that we live too close to town and are expanding quickly. It is also alleged that some of the land provided to us is being used for personal, rather than community use and that some of it overlaps with other people's land. However, we came to live here long before the others did," he added.
The communities in question are Tasak, Bangrakmai, Koh Pee, Tanitturakijruamsin, Aoyob and Honsaithong.
"I have discussed this issue with the community leaders and will urge the Ministry of Natural Resources and Environment to reconsider their case," said Phuket Governor Norraphat Plodthong.
"We will invite all six communities to meet with us again in order to work out a solution. As for the rest, we will prioritize the launch of 'community chanotes' to solve their ongoing land issues," he added.
The Land Administration Division and the Department of Marine and Coastal Resources are also working to determine if the land currently occupied by these communities overlaps preserved forest area.
— Kritsada Mueanhawong