Phuket gets another toy library from the Phuket Community Foundation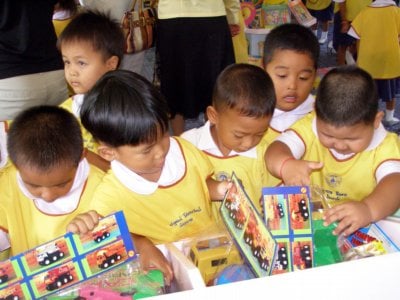 Community Foundations (CFs) are a powerful force for doing good in society. They are also financial powerhouses. For example, Rotary has total worldwide assets – that is, investments from which Rotary clubs draw an income – of around US$700 million. In contrast, the Tulsa Community Foundation alone has assets of US$3.l7 billion, and the top 10 in the US have assets totaling around US$18 billion.

Yet in Thailand, few have heard of CFs or know how they work. CFs are different from conventional charities. In the conventional model, donors give to the charity whose agenda is closest to their heart, and the members of the charity then apply the funds to that agenda.

There are several charities in Phuket that already do very valuable work, such as helping stray animals, assisting with children's education, housing orphans and underprivileged children and preserving culture.

Their contribution can never be overvalued. But there are huge gaps, huge needs, that are not addressed by charities, or by national or local government. It is these needs that the PCF was set up to address.

The foundation has a sweeping remit. Its stated mission is "To help maintain or improve the quality of life in Phuket for everyone – regardless of their origins, their beliefs, or their social or financial status – with particular emphasis on poverty alleviation; preserving the environment; education (of both children and adults); promoting art and culture; preserving the island's architectural and historical heritage; improving public safety; and boosting public health."

How on earth is the PCF going to do all of this? It isn't. To use an analogy, the PCF is to charitable or community work what a bank is to industry. Banks make nothing.

They do not own factories, hire workers or turn steel into cars. What they do instead is support these activities through funding, through expert advice and by providing transparency.

In much the same way, the PCF, of which the Phuket Gazette is a founding sponsor, was established to support community organizations and charities (including those already mentioned) by helping to source funds, by providing expert advice or volunteers and by giving social projects the transparency that is otherwise often lacking.

The PCF does, in fact, have a couple of projects of its own. Although we believe these are valuable to society in general, they are also designed to act as a "shop window", to demonstrate what can happen when a variety of elements of society can be drawn together to achieve an aim.

The first of these projects is the Motorcycle Back Light Project. Anyone who has driven on a dark road at night will know the heart-stopping experience of having a motorcycle with no rear light appear right in front. Rear-light bulbs cost just 20 baht, yet a straw poll suggests that as many as one in four of all motorbikes on Phuket don't have a working rear light.

The PCF has drawn a variety of people and organizations together to address this problem. Motorcycle dealers donated bulbs, the Kusondharm Foundation lent a tent and chairs are borrowed from a nearby temple. Students from the Vocational College give up a couple of days of their free time to change bulbs. The PCF designed and made posters, which bike owners can read while their bulbs are changed, explaining why a rear light can save the rider's life. The total cost to the PCF of the first session, during which we made 150 motorbikes safer, was about 7,000 baht.

Our other current project is to establish toy libraries in different parts of the island. Toys are an important element in developing children's imaginations and, when with other children, their social skills. Yet many families on the island simply cannot afford them. One toy library, from which children will be able to borrow toys to take home, has already opened at Wat Thepnimit on Chao Fa East Road and another at Hongyok Bamrung School in Mai Khao. We have earmarked two other schools for action.

Again, the libraries are a demonstration of what can be achieved when different people are brought together. At Hongyok Bamrung School, Bt200,000 was given by the Phuket Direct Fund Association of Zurich to pay for toys and furniture to store them in. Bamrung Sampaorat, Chairman of the Islamic Committee of Phuket, paid from his own pocket for the painting of the room, which was done in a single morning by sailors and marines from the USS Boxer (organized by Brad Kenny of the Patong Rotary). Additional toys came from private donors, including primary students at the British International School. The library will be run by the school itself. At the opening, the Phuket International Hospital gave free health check-ups, and put on a puppet show.

As can be seen, the PCF is capable of pulling together a variety of good-hearted people to complete a project. But there must be thousands of ideas for projects out there. We can offer help and advice, and ensure financial transparency, but we can't manage them all.

This is why we are now compiling a database of people who have ideas and are willing to put in the time to make them happen; potential donors (in cash or kind); experts willing to give free advice; and volunteers who want to spend time doing something worthwhile.

If you fit into any of these categories, we would very much like to hear from you. You can contact me by email at alasdair@phuketcharity.org or, if you prefer to write in Thai, email Roongprakai Sang-in at manager@phuketcharity.org. The PCF website – which has just undergone a thorough revamp – is at www.phuketcharity.org.
— Alasdair Forbes
Keep in contact with The Thaiger by following our
Facebook page
.
Never miss out on future posts by
following The Thaiger
.
Phuket's annual Vegetarian Festival lowers flags, spirits return to the heavens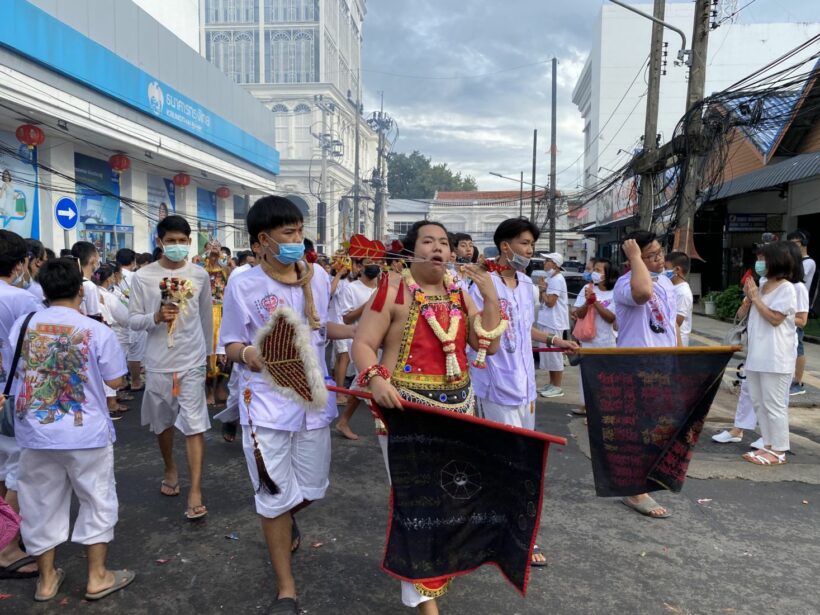 WARNING! Content below contains photos of self-mutilation that some may find disturbing.
The flags on Go Teng poles were lowered on Monday, ending Phuket's annual Vegetarian Festival and symbolising that the spirits have returned the heavens. The flags are raised at the start of the festivities each year at participating shrines, calling on the spirits to descend from the heavens.
This year, 2 men were electrocuted while taking down the festival flags. A steel pole with the flag touched a power pole, electrocuting and burning the workers as they were trying to lower the flags. They were taken to the hospital.
During the festival's street processions and ceremonies so-called "mah songs" channel the descended spirits. They enter a trance-like state and many practice self-mutilation to channel the spirits. "Mah" means horse in Thai, and some say the mah song acts as a horse for the spirit to ride.
Some mah song pierce their cheeks and other parts of their body with steel spikes and sometimes swords or other bizarre choices (we've seen petrol pumps, javelins, samurai swords and kitchen utensils). During the street procession, they walk for hours with the self-inflicted piercings, seemingly posessed by 'spirits' and muttering all sort of strange chants, verging on mild cases of Tourette syndrome. A team of devotees for each mah song wipe away blood and keep the wounds clean. Some mah songs even slice their tongue for the street procession. Blood drips on their chest and the ground. Waiting bystanders line the streets hoping for the blessing of a passing mah song. Some mah songs carry a black flag.
The event is an annual spiritual 'cleansing' for those in watching the processions. Onlookers lining the street bow their heads and place their hands in the "wai" position as the mah song waves flags and banners over their heads. Businesses along the procession route often set up an altar outside their shop and mah songs stop at each one to do a short ritual.
The Phuket government gave the festival organisers the "okay" to hold this years event with hopes that it would increase domestic tourism and generate much-needed revenue after the Thai government's response to the Covid-19 pandemic crippled Phuket's tourist economy. Before this year's festival, Phuket City Mayor Somjai Suwansupana asked that the mah songs "limit the level of torturing." He also called for a limit on the number of people at ceremonies to prevent the spread of the coronavirus.
His calls were largely ignored.
The spirits will again return in 2021 to Phuket again cleanse the island's large Thai-Chinese community.
Photos of the 2020 Vegetarian Festival by Marina Krasnopolska.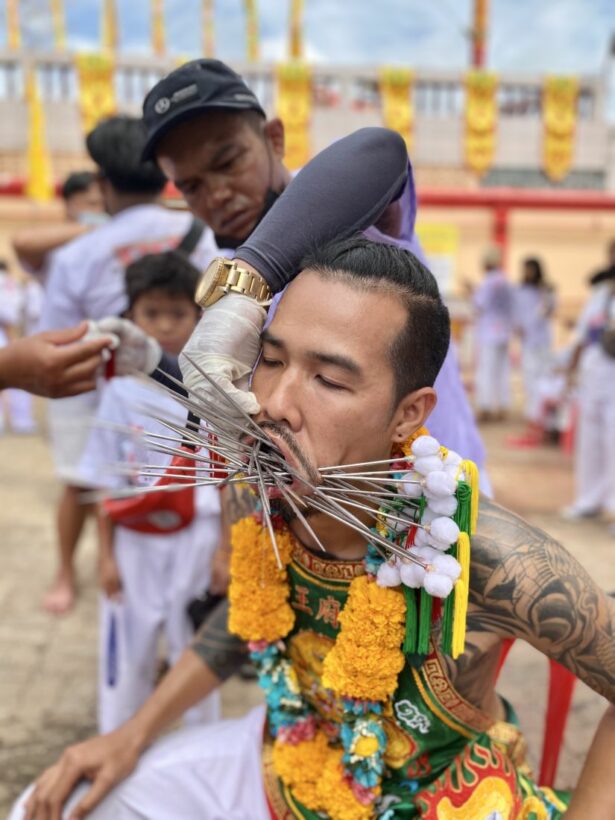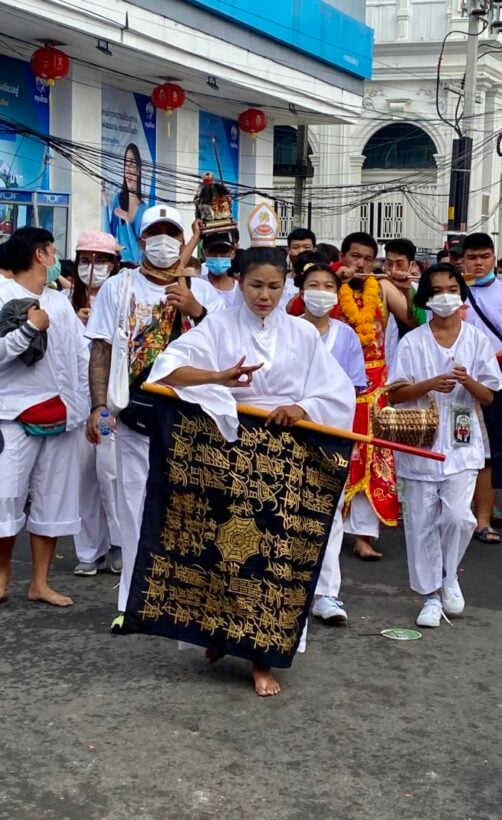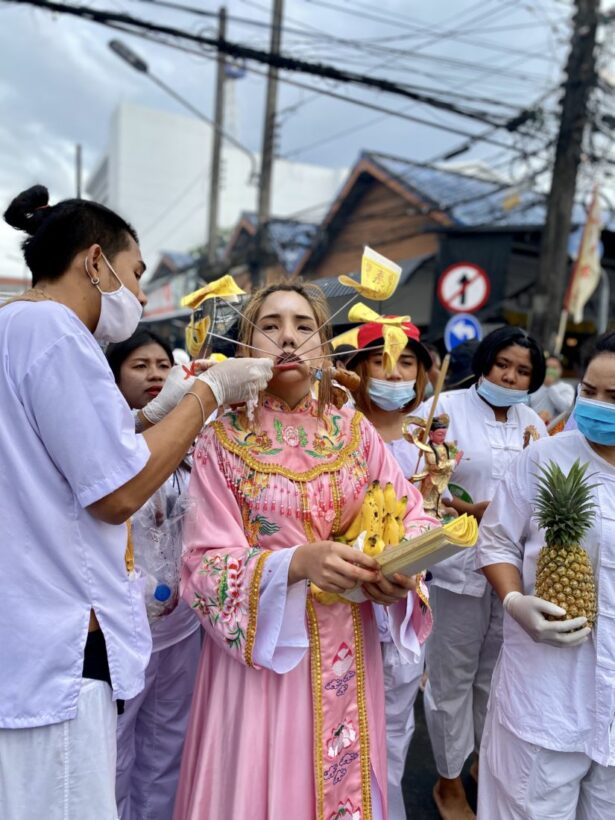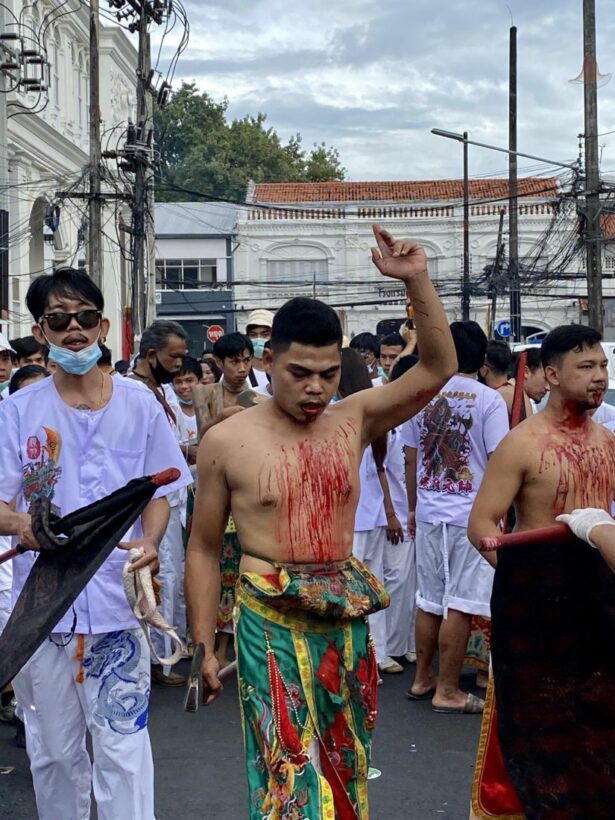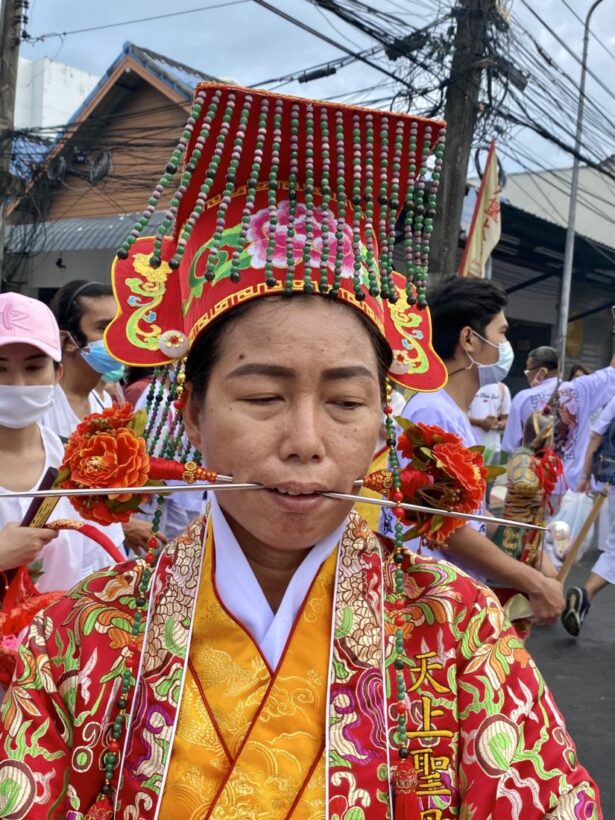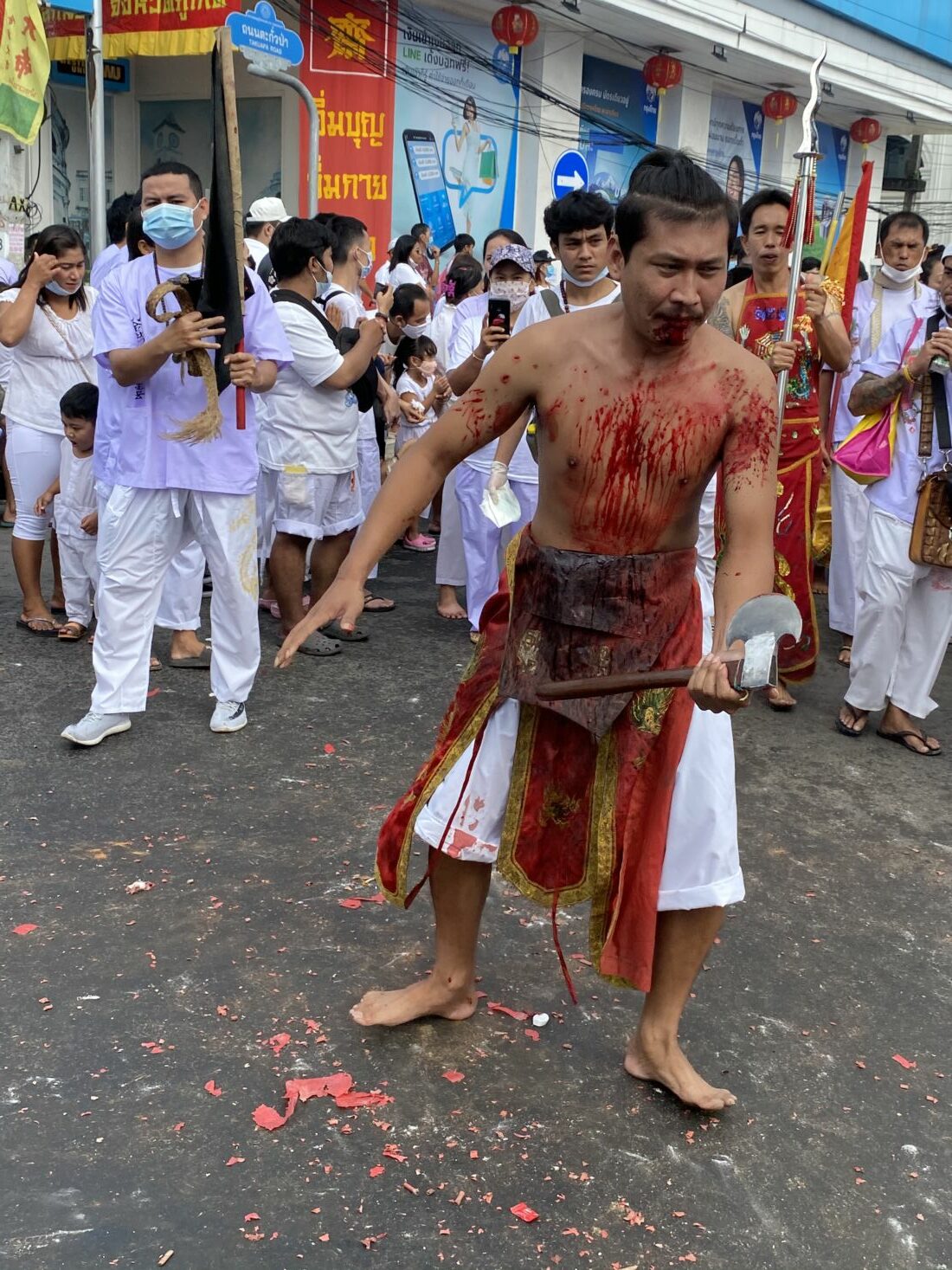 SOURCE: Phuket News
Catch up with the latest daily "Thailand News Today" here on The Thaiger.
Keep in contact with The Thaiger by following our
Facebook page
.
Never miss out on future posts by
following The Thaiger
.
Phuket told to prepare "response plan" in case of second Covid-19 outbreak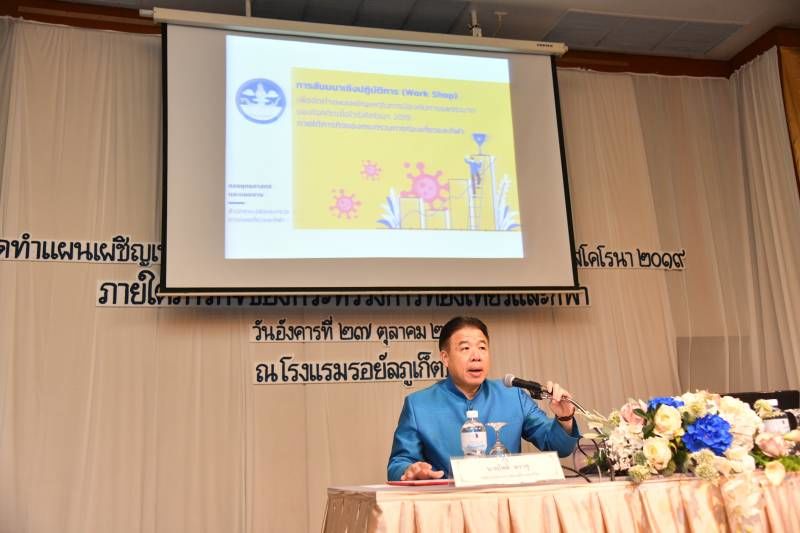 As Phuket awaits foreign tourists, city officials are told to prepare a "response plan" in case of a second wave of Covid-19. An official from the Ministry of Tourism and Sports held a workshop in Phuket today to discuss the risk of another outbreak as the country opens up to those on the Special Tourist Visa.
The ministry's permanent secretary Chote Trachu says now that the country is allowing tourists (who are required to quarantine upon arrival) an infection "may somehow slip through." He says a response plan needs to be in place in case this happens, adding that there should be corporation from the Ministry of Public Health and Ministry of Defense.
"If any tourists are found to be infected, the disease must not be allowed to spread among the people. There should be no panic, and public health officers will investigate the case. Tourist Police will track down the suspected person in an investigation with the Ministry of Public Health."
Chote says all provinces – not just Phuket – should have a response plan. Although tourists must go through a mandatory 14 day quarantine upon arrival, Chote says there are some cases where the incubation period for Covid-19 is longer than 14 days.
"There are a variety of cases. Sometimes, the infection does not show after 14 days, or even 15 or 16 days. Each situation is different."
Recently, a woman in Koh Samui tested positive for the coronavirus 5 days after she was released from a Samut Prakan quarantine facility. Traces of the virus were found on gym equipment the woman used at the quarantine, leading health officials to suspect she was infected before arriving to the island.
"We urge Thai people to not let their guard down. Everyone must wear masks, wash their hands and take care of personal hygiene. This will help prevent them from contracting the disease."
SOURCE: Phuket News
Keep in contact with The Thaiger by following our
Facebook page
.
Never miss out on future posts by
following The Thaiger
.
Approval sought for multi-billion-baht Phuket medical hub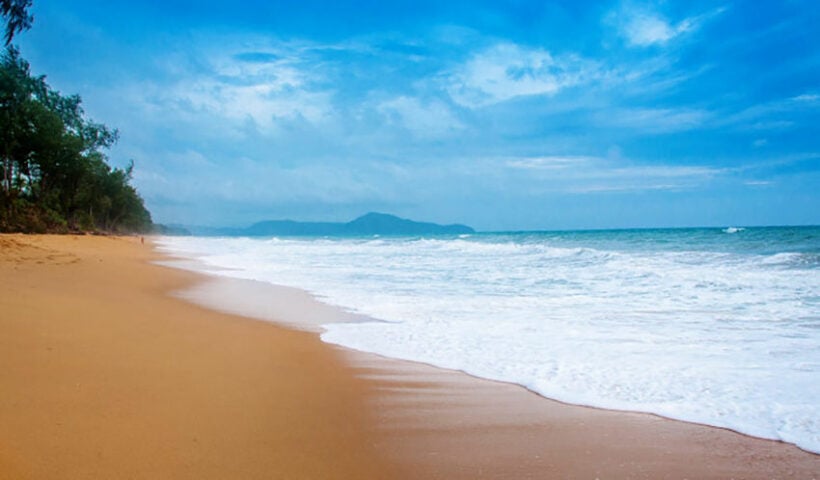 Industry officials are seeking the go-ahead for a project to transform over 140 rai of government land in Phuket into a world-leading medical hub. The project is budgeted at 3 – 4 billion baht, depending on which report you read. Kitkong Tantijaraswarodom, from the Federation of Thai Industries, believes the development of a medical and wellness hub in the sub-district of Mai Khao, north Phuket, will help revive the southern island's battered economy. Phuket has become increasingly reliant on a steady flow of tourists over the past 2 decades.
The southern division of the FTI covers Phuket, Krabi, Phang Nga, Nakhon Si Thammarat, Trang, Patthalung, Surat Thani, Ranong, Satun, Chumphon, and Songkhla.
"The FTI will ask the government to green-light the project during the scheduled mobile cabinet meeting on the island on November 3."
Kitkong says businesspeople in the south are anxious for the government to approve the project, which will provide both locals and foreign medical tourists with state-of-the-art medical care. The facility is expected to include long-term care, hospice and rehabilitation services, in addition to a dental hospital, sports therapy centre, and a medical training school for doctors, nurses, pharmacists and medical laboratory scientists.
The chair of the FTI's southern chapter is also calling on officials to provide small and medium-sized businesses with additional support, in the form of access to loans, in order to deal with cash shortages.
"In the short term, the FTI wants the government to help SMEs, especially those in the tourism sector."
SOURCE: Bangkok Post
Keep in contact with The Thaiger by following our
Facebook page
.
Never miss out on future posts by
following The Thaiger
.