Phuket
Phuket says farewell to Steve Swan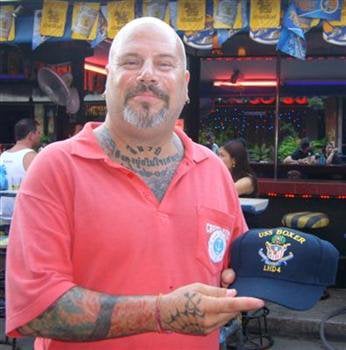 PATONG, PHUKET: A cremation ceremony was held last week for US serviceman Steve Swan, who survived for three weeks following a motorcycle accident on April 30 but died from complications on May 22.
The following obituary is provided by Lee Thayer, also a retired US Navy serviceman and, together with Steve, an owner of the Crow's Nest Bar on Soi Sea Dragon in Patong.
Describing Steve as "my closest friend", Mr Thayer writes:
"Steven Paul Swan was a resident of Hot Springs, Arkansas, USA but had lived in Phuket since 2004. As owner of the Crow's Nest Bar on Soi Sea Dragon, off Soi Bangla, he was perhaps best known for his many tattoos and outgoing, friendly personality.
"Steve passed away on May 22 due to complications from severe bone damage he received in an accident on April 30. Temple services were held at Wat Tai in Chalong from May 29 to 31 May, with the cremation on June 1.
"Some of Steve's ashes were returned to his parents in the US, while the remainder were scattered at sea in Chalong Bay by his friends here in Phuket.
"Steve is survived by his parents, Lloyd and Sheri Swan of Hot Springs, Arkansas, and his two sisters Staycee J (Swan) Hynes of Illinois and Shannon Swan of Hot Springs, Arkansas.
"Steve served 22 years in the US Navy, reaching the rank of Senior Chief. He served aboard many naval vessels throughout the 7th Fleet, finally retiring aboard the USS Cowpens CG-63 that was forward deployed in Yokosuka, Japan.
Steve participated in several armed conflicts in the Persian Gulf and earned numerous medals and awards throughout his tenure in the Navy.
Steve will be missed by his family, hundreds of friends in the US, hundreds of friends in Thailand and the thousands of US Navy and Marines throughout the world."
"You were better than the best.
Stayed a notch above the rest.
It was raining in heaven when you went down.
Fair winds and following seas my friend."
The Crow's Nest was understandably closed for several days during Steve's funeral services but has now re-opened for business.
— Stephen Fein