Phuket
Phuket convention center project gets Cabinet extension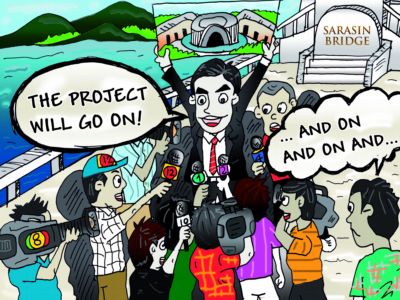 PHUKET: Following a Cabinet meeting in Bangkok yesterday, the Finance Ministry has been given more time to build a world-class convention center in Phuket.
The Treasury Department, which is responsible for bringing the decades-old dream to reality, now has until 2014 to sign a construction contract for the mega-project.
Prior to yesterday's extension, the Treasury Department had expressed mounting concern that the deadline to sign a contract with the project contractor was fast approaching its July 2012 deadline.
Failure to meet the deadline would require the project's 2.6 billion baht in funding to be returned to state coffers.
The project plan has yet to gain Environmental Impact Assessment approval from the Office of Natural Resources and Environmental Policy and Planning, which rejected the initial application citing environmental and economic problems.
The Cabinet also approved several financial measures for flood rehabilitation yesterday
The government will give 4.4bn baht to the Bank for Agriculture and Agricultural Cooperatives (BAAC) as compensation for lost interest income in helping customers, mainly farmers, to recover from the unprecedented flooding, as proposed by the Finance Ministry.
The BAAC's flood-relief support for individual farmers will be extended to cover cooperatives, community-based enterprises and village and community funds, as well as certain other groups. Under the scheme, the bank will grant a debt moratorium for three years starting this year, with zero interest.
New three-year loans will be charged only 4 per cent or the minimum lending rate minus 1 percentage point.
The bank reported that 127,373 farm households that had been affected by floods held outstanding loans totaling 12.6bn baht.
— News editor