Phuket Sports: Twenty20 season opener sees old rivalries resumed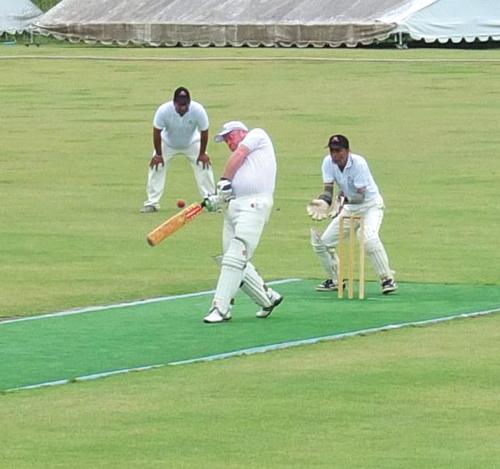 PHUKET: THE Outrigger T20 league kicked off at the ACG cricket ground last Sunday with an action-packed double header.
In the first match, The Village took on last season's finalists Island Cricket Club (ICC) while the second match saw defending champions Laguna take on arch rivals Patong.
After a disappointing showing in the recently completed senior league season, the Village team had been hard at practice, keen to prove themselves. After being put into bat, all the hard work seemed to pay dividends, with the Village posting 176-6 from their 20 overs. Openers Martin Foster (30) and captain Paul Stamp (69) posted an impressive 99 run partnership, with Stamp particularly punishing, smashing five sixes and five fours from just 42 balls.
The momentum slowed shortly after this, with ICC fighting back to claim several more wickets cheaply until Diwan Mydeen (28 not out from 14 balls) came into the middle to bring the innings home. The hard-to-beat total of 176 runs was aided by some wayward bowling from ICC which included 20 wides.
After the break, ICC knew a run-rate of more than eight runs per over was going to be a difficult but not impossible task. However, they got off to a shaky start, losing opener Ravi Naik (7) in just the third over with the score at 15. Stalwart Surender Kumar (19) and Vikram Sharma (26) steadied the innings until Kumar fell.
Apart from Deepak Mehra (13) and A Mushtaq (10) no other ICC batsmen managed to reach double figures and could only manage 122-9 in return, with Diwan Mydeen and Craig Murphy both claiming a treble of wickets each. The Village claimed a decisive victory.
In the afternoon session, Patong took on defending champions Laguna, keen to redeem themselves from their loss to Laguna in the JLL Hotels league final.
After winning the toss, Patong elected to bat first hoping to set a high-scoring total to defend. They got off to a solid start with openers Mike Khan (17) and Seemant Raju (37) putting on a 38 run partnership before Khan fell in the seventh over.
However, none of the remaining Patong batsmen managed to reach double figures as they limped to post a total of 100-9 from their 20 overs. This was mainly due to an impressive bowling display from Sami Ullah (four wickets for eight runs), who was well supported by the other Laguna bowlers which was also backed up in the field.
When Laguna took to the crease, they got off to a quick start with openers Darren Shaw (26) and captain Stuart Reading (20) scoring at 10 runs an over until Reading fell with the score on 44 in the fifth over.
Roly Cooper (18) also looked impressive until he was bowled by Raju with the score on 80. Val Guiraud (10 not out) and Damian Clowes (nine not out) then guided the innings home to reach 101-4 in 16.1 overs.
Tomorrow (July 14) sees another double-header of T20 cricketing action with the Village taking on Patong and ICC taking on the Phuket youth team mainly comprising young Thai cricketing talent.
Play commences at 10:30 am and all are welcome to come along. For more information please click here.
Keep checking the Phuket Gazette's sports pages, join our Facebook fan page or follow us on Twitter for the latest local, national and international sporting news.
Keep in contact with The Thaiger by following our
Facebook page
.
82 year old Frenchman killed in motorbike crash with ATV in Phuket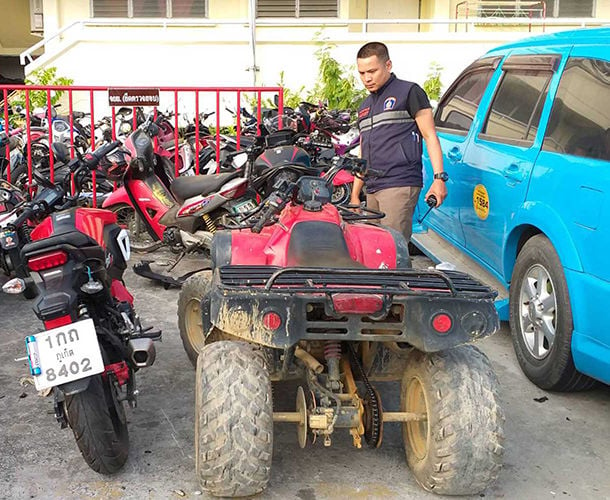 An elderly French man has died after an American woman lost control of her all-terrain vehicle (ATV) and crashed into his motorcycle in Chalong, southern Phuket. The woman was seriously injured. Police say the incident occurred on Soi Klum Yang in Chalong around 4pm on Thursday.
The crash involved a red ATV, and a black motorcycle ridden by the 82 year old Frenchman Robert Geoffray.
The woman, identified as 39 year old American Onome Alero Adeosun, suffered a broken right arm, leg and collarbone. Emergency workers found the elderly Frenchman lying unconscious on the road with serious head injuries. Medics performed CPR before sending both to Chalong Hospital, where the man was later pronounced dead.
His body was taken to Vachira Phuket Hospital for autopsy. The woman was transferred to Siriroj Hospital and is currently helping police with their investigation.
SOURCE: Bangkok Post
Keep in contact with The Thaiger by following our
Facebook page
.
Salty tap water and dirty air – Bangkok's environmental woes continue today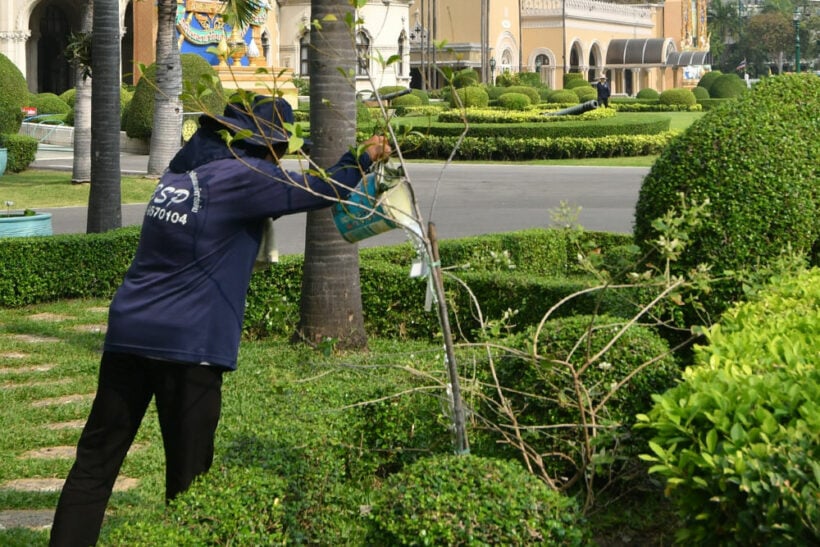 Brackish tap water, with increased salinity caused by seawater back-flowing into the Chao Phraya River, is threatening the gardens in and around the Government House compound. Government House officials are seeking assistance from the Agriculture Department.
Several small tree species – Lamduan, Chor Sumalee, Rachavadi, Nom Maew and Hom Muenlee – are more vulnerable to brackish tap water. The gardens are watered from a supply pumped in from the Chao Phraya.
It's been noted tha the saline level was around 400 milligrams per litre, still within the 1,000 mg/litre standard, but some of the species were already intolerant to the rising salinity.
Officials are seeking advice from the Agriculture Department about long-term measures to replant with species which would be more tolerant to the rising salinity of the water – situation they acknowledge will need to be managed in the short to medium term.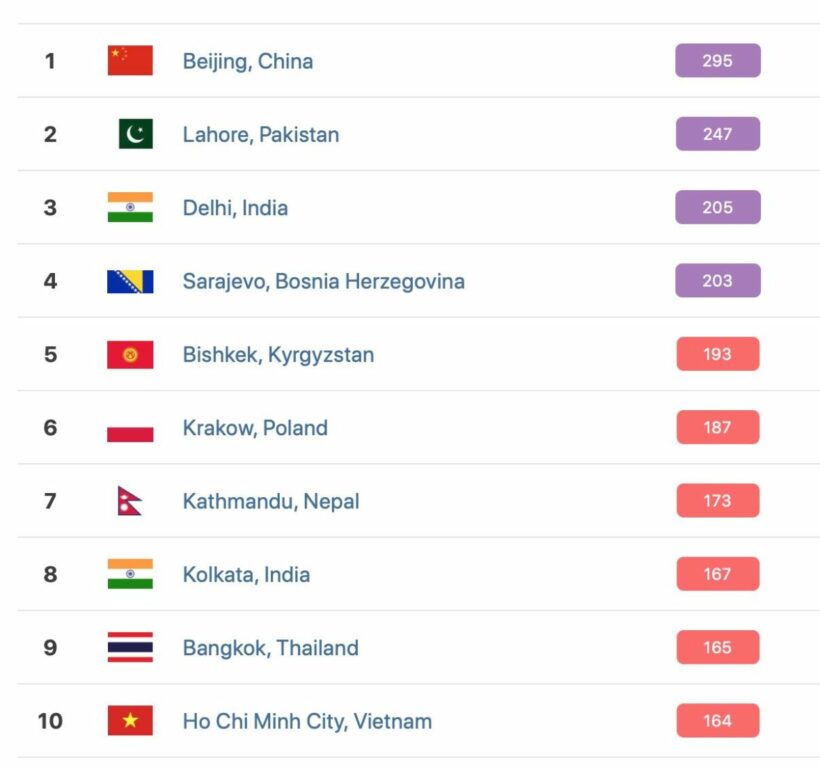 SCREENGRAB: Air Visual
Meanwhile, air around the capital today continues to be universally poor to very poor with readings as high as 187 near Suvarnabhumi Airport. Light airs, dust problems from northern-easter provinces and hot continental air flowing across the capital, continue to haunt Bangkok. Even with many factories closed today, and traffic lighter than weekdays, Bangkok's air has been recorded as the ninth worst city in the world for air pollution.
Right across the city the air quality readings are into the 'unhealthy' zone.
Chiang Mai, Lampang and Central Thailand are fairing no better – all with readings at least 3 times the Thai upper safe limit of 50 microns of 2.5micron particulate per cubic metre. The World Health Organisation sets its limit even lower at 25.
Pattaya has air quality readings today of 162, whilst even Phuket, in the south, is registering readings between 100 and 145 with reduced visibility today.
SOURCE: Thai PBS World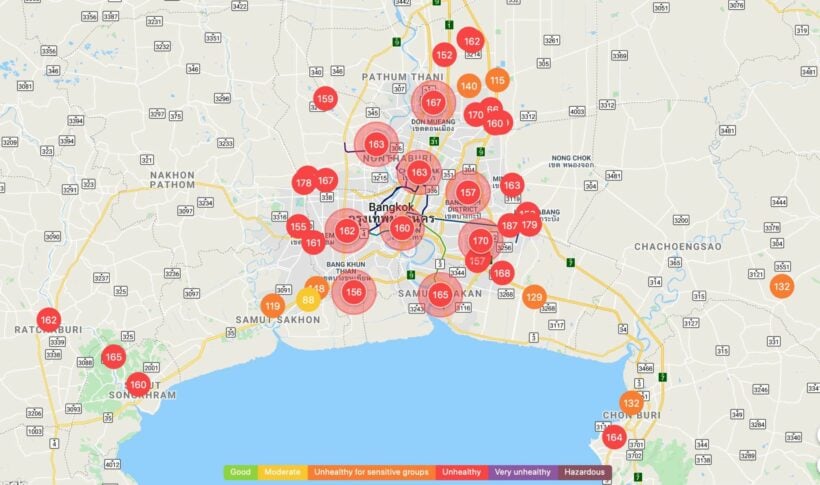 Keep in contact with The Thaiger by following our
Facebook page
.
Three massive condo developments along Phuket's up-market Layan Beach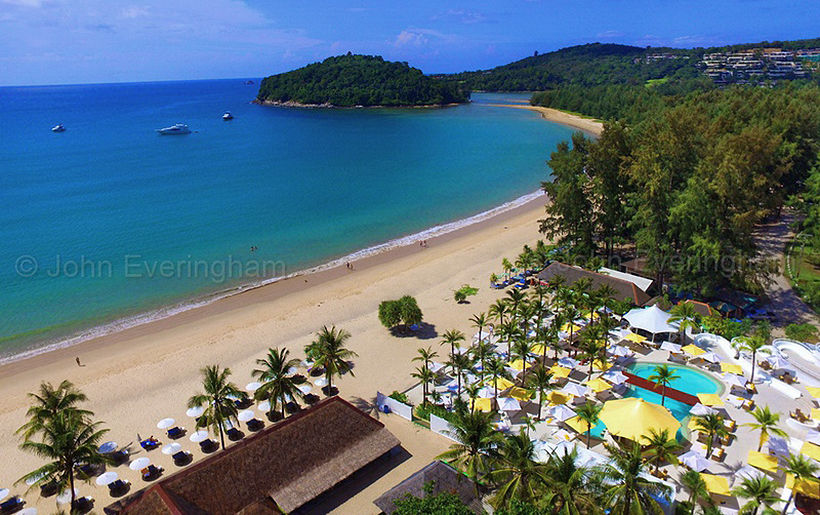 by Bill Barnett – c9hotelworks.com
Two new condo developments are going ahead in the Layan Beach area of Phuket's up-market west-coast beach strip. And there's another one underway next to the Dream Beach Club at the northern end of the Layan beach strip. All in all, another 1,200+ keys added to the available rooms along the Bang Tao/Layan Beach area.
On the northern side of Bangtao Beach, next to Maan Tawan and nearby Banyan Tree Phuket is the upcoming Sunshine Beach development. With a plan for 771 hotel and residences units on 12.6 rai, the high-density project is targeting Mainland Chinese buyers with pricing points reportedly starting from 4 million baht. Construction is expected to start in June of this year and complete in 2022.
From our discussion with sales staff the developer has claimed they have reached an agreement with the government for beach fronting facilities in the National Park strip in front of the project.
While in Layan next to Lotus Gardens is the upcoming 400 unit Layan Green Park. Pricing points run from 2.5 million baht. Unit configurations will range from studio, to one, two and three bedrooms. Guaranteed returns of 10% for a period of 10 years are being promoted.
Phuket's Layan area is seeing a surge in new real estate led projects and rising land values. At the same time as these two projects are underway, next to the Dream Beach is an oceanfront luxury project promoting sales of Grand Beach Villa and Ocean View Suites tagged as 'N5'. The developer of the project is VIP Thailand who have another project in Rawai.
Based on our research the primary source market tragets of these three projects are mainland Chinese and Russian buyers. Local concerns in the Cherngtalay area over mounting traffic, water shortages and strain on municipal infrastructure are becoming issues.
Traffic in and around the central Cherngtalay shopping district is becoming increasingly clogged with little hope for respite other than improved traffic management.
SOURCE: C9Hotelworks.com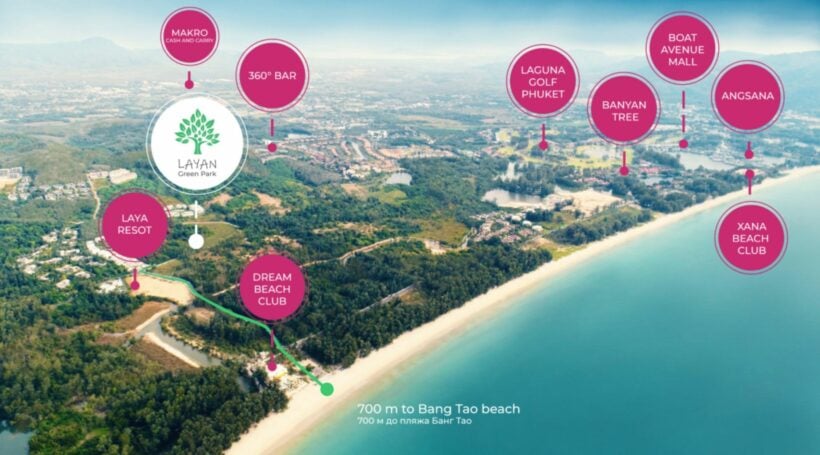 Keep in contact with The Thaiger by following our
Facebook page
.