Phuket Sports: F1 – A quick look back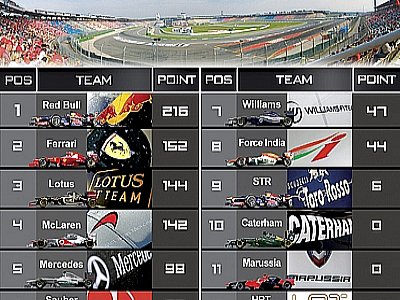 PHUKET: The next race will be at the Hockenheimring and will mark the half way point of the F1 season, so it's a good time to sit back and review where everyone is.
At the start of the season, McLaren looked unbeatable except by error. They seemed exhausted by Silverstone.
Why? Because Ferrari and Red Bull had upgraded their aerodynamics, and the sheer power of the Mercedes engine was not enough for McLaren. It's about down-force, and Silverstone is one of the fastest tracks of the year, and notoriously destructive of tyres, which is why Pirelli brought their new hard tyres to the GP.
Red Bull introduced refinements at Valencia, and at Silverstone had a new exhaust pipe mantle, while Ferrari had a whole new wing design. Some say that McLaren erred in designing a car with a lower nose than their rivals, as the higher chassis give more opportunity for aerodynamic development.
And, while Lotus, Red Bull and Ferrari seem to have tamed the neurotic Pirelli tyres, McLaren is still struggling. Jenson Button, in particular, cannot get his front tyres to temperature.
The drivers' title looks likely to be between the Red Bulls and Fernando Alonso.
For McLaren to challenge they need to show real development and soon.
They have an upgrade for Hockenheim. Let's hope, because McLaren has a mountain to climb.
Red Bull is on a roll, but they desperately want their golden haired Sebastian Vettel to win, not dispensable Mark Webber with his annual contracts. The team just announced that Webber's contract has been extended for yet another year, and rumor says he drove an irritatingly hard bargain.
Ferrari is looking much better, and Massa seems to have recovered form. Lotus is the 'nearly' team. They came 5th and 6th at Silverstone, and are now third in the Constructors Championship. We are still waiting for them to win.
McLaren is down to the realm where it is only just possible to recover. Mercedes cannot be happy with their showing.
Sauber has been unlucky, and Kamui Kobayashi mowing down his Silverstone pit crew was a poor moment.
Williams is having mixed fortunes; Pastor Maldonado keeps hitting other drivers, but Bruno Senna is racking up a few points.
Force India is stronger than their unlucky Silverstone result shows, and they probably feel good.
Toro Rosso is going nowhere.
None of the other teams have scored any points yet. Silverstone showed how slow the Caterham is, but HRT is at least creative, putting Pedro de la Rosa on a one stop strategy at Silverstone .
But our hearts must go out to Marussia who did admirably at Silverstone after their test driver Maria de Villota's awful accident. Maria had what seems to be a horrible freak accident in routine testing. She has lost her right eye, and is undergoing extensive reconstructive surgery.
Hockenheimring is next. It is a technical track. The surface is slippery, making tyre choice important. Depending on the weather, it can be treacherous. There are good straights, so teams will opt for a medium down-force setting. Overtaking is difficult, with the best opportunities at the first corner and the hairpin turn.
That first corner is notorious for ending drivers' races at the start.
— The Digby
Keep in contact with The Thaiger by following our Facebook page.
Never miss out on future posts by following The Thaiger.
Travellers undergoing yacht quarantine to wear wristbands to track location and monitor health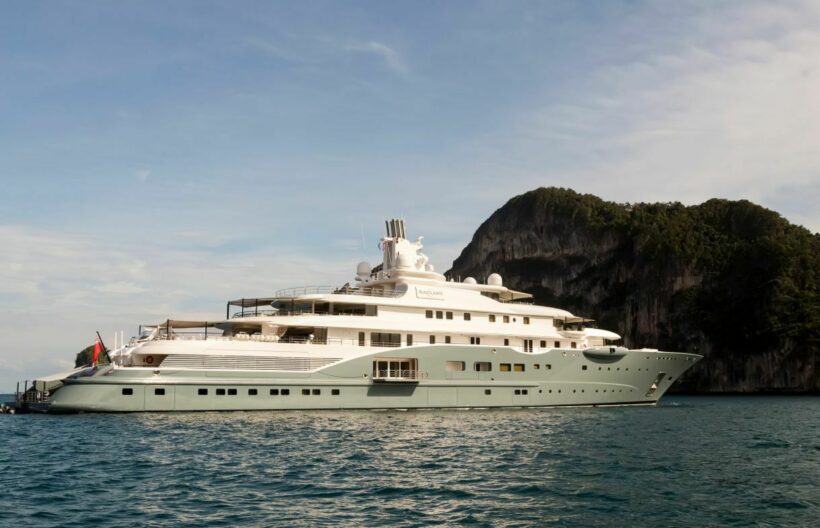 Foreign tourists travelling to Thailand by yacht and undergoing the mandatory quarantine period onboard the vessel will be asked to wear a smart wristband to monitor their health and track their location. The Digital Economy Promotion Agency teamed up with Advanced Info Service, known as AIS, and Phuket tourism operators to launch the so-called "Digital Yacht Quarantine" programme.
Apparently, tourist disappearances aren't that uncommon and the digital tracking wristbands will help make sure tourists are safe. Here's what the Bangkok Post wrote:
The use of the wristband also ensures the safety of tourists as about two tourists disappear from Phuket each month while travelling and it costs 4-5 million baht to search for each person.
Along with tracking location, the smart wristbands also monitor pulse, blood pressure and body temperature. If there is an emergency, an alert will be sent to authorities.
The yacht quarantine is expected to bring in 1.8 billion baht in tourism revenue, according to the Bangkok Post. About 100 yachts set to dock in Thailand with around 300 to 500 tourists are expected to undergo the onboard quarantine.
Since restrictions were imposed last year on international travel, tourism officials have been brainstorming ways to bring in foreign travellers safely, without risking the spread of the coronavirus, to help revive tourism dependent areas. Last year, Phuket lost 320 billion baht in revenue and the number of tourists on the island dropped from 40,000 to 50,000 visitors per day to just hundreds, according to the Post.
The agency's president and chief executive Nuttapon Nimmanphatcharin says the island province is a "magnet" tourist attraction.
"Tourism is a key sector where technology can be used to address the problem and boost travel."
SOURCE: Bangkok Post
Keep in contact with The Thaiger by following our Facebook page.
Never miss out on future posts by following The Thaiger.
The Area Hotel Quarantine – tweaking Thailand's arrival options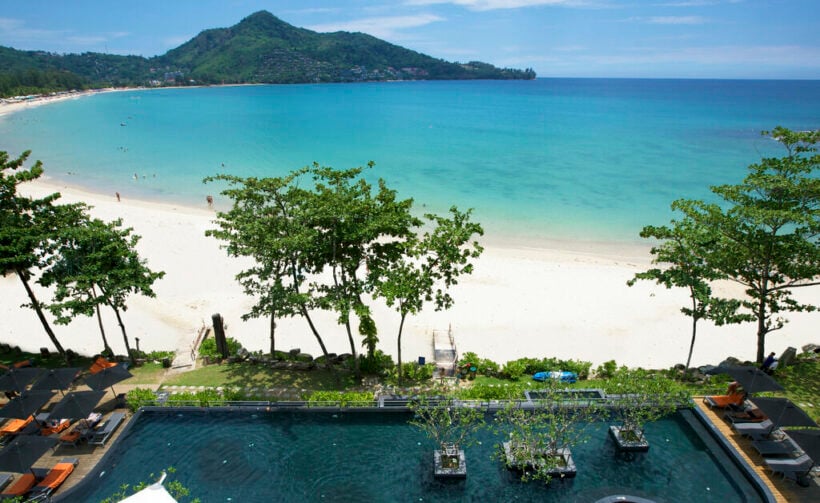 We spoke about the new proposal for an Area Hotel Quarantine last Friday and in Thailand News Today. The mandatory 14 day quarantine (magically extended a couple of days at many facilities at the foreigner's cost) remains the key sticking point for the return of tourists or travellers, in any significant or useful numbers. A number of visas and quarantine programs has done little to increase the numbers of foreign arrivals to Thailand.
The proposal, leaked out as a 'discussion' pending cabinet talks and a final decision, has not received much support from the overseas community that are trying to travel to Thailand, or former expats that are trying to get back. Many of the comments believe the 14 days, even restricted to a larger set of walls, is still too restrictive, costly and inconvenient.
"It would also be nice if the two weeks quarantine was not part of the visa! You get a two month visa minus the two weeks."
"It's still a prison if you can't get out. Voting with my feet"
"There's just not going to be any tourism until Thailand stops this 14-day quarantine nonsense."
The proposal allows guests to leave their hotel rooms after the first 3 days of a 14 day stay. The proposal is on the agenda for the next CCSA weekly meeting. The proposal was mooted at a meeting last Thursday and chaired by Thailand's Tourism and Sports Minister Phiphat Ratchakitprakarn.
After the first 3 days, guests would have another swab test before being able to spend the remaining 11 days meandering around the rest of the hotel complex (so, suddenly, REALLY large hotels in great locations become much more attractive). But they wouldn't be able to leave the hotel property.
The Area Hotel Quarantine is being seen as an accommodation for the hardest hit tourist zones in Thailand – Chiang Mai, Phuket, Krabi, Surat Thani (the 3 islands of Koh Samui, Koh Pha Ngan and Koh Tao) and Chon Buri (Pattaya). In all cases the key tourist zones are desperate for the government to ease restrictions or do something… anything… to help boost travel to the battered tourist economies that rely, mostly, on the visits from tourists.
After the 14 day AHQ the visitor will be free to travel anywhere around Thailand.
Last Thursday's conference call says that Ministers are trying to come up with ways to start re-opening up Thailand to more travellers from next month by expanding the options and slowly easing restriction.. They also want to re-open talks with neighbouring countries and other countries deemed 'low risk', or with high vaccination uptake, with travel bubble options, hopefully by May.
About vaccinations, the government is also considering plans to have a no-quarantine option for visitors to come to Thailand as long as they've been vaccinated. But the Public Health Ministers says they are looking at the lead from the World Health Organisation about how to administer this sort of 'vaccine passport' access as there needs to be a greater body of knowledge about the efficacy of various vaccines. The International Air Transport Association is also in discussion with airlines and governments about restricting access to international travel for people who have been vaccinated.
It was also disclosed this week that some foreigners in the first batch of golf quarantine, where they have to stay in their room for 3 days then can roam around the golf course and play golf, have tested positive for the coronavirus after the test on the third day of their stay. Another batch of Villa Quarantine tourists, visiting Phuket at the end of February, have all returned negative test results.
SOURCE: Bangkok Post
(The hotel depicted in the main photo may, or may not, be associated with the Area Hotel Quarantine program)
Keep in contact with The Thaiger by following our Facebook page.
Never miss out on future posts by following The Thaiger.
2 Phuket Town nightclubs shut down after allegedly violating multiple laws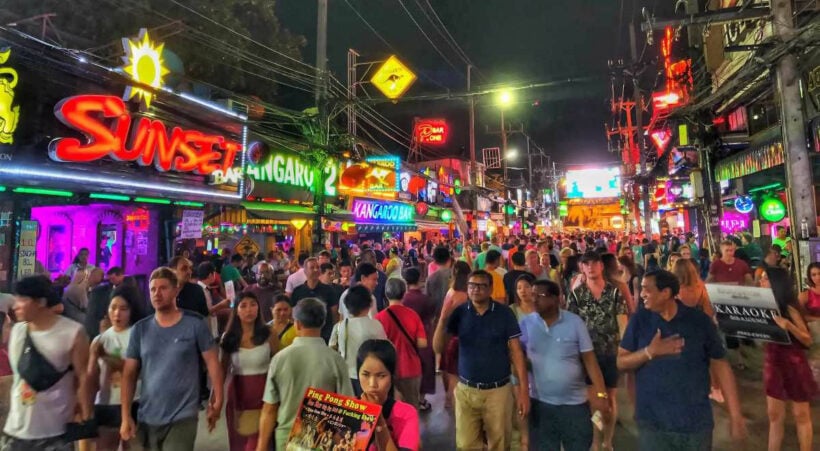 2 Phuket Town nightclubs are shutting down after allegedly violating multiple laws. The Maldives and H20 on Lim Sui Ju Road, on the south end of Phuket Town were ordered by the Phuket Governor to close immediately, with the Maldives being ordered to close for 5 years.
The order comes after the Phuket City Police inspected the Maldives club, arresting the manager for operating an entertainment venue without a permit, allowing people under 20 years old to work or "use services in the venue," and for selling alcohol without a permit.
Governor Narong cited his authority under Section 4 of NCPO order 22/2558 to order the Maldives nightclub to be closed for 5 years, from March 5, 2021 to March 4, 2026.
The order also prohibits the operators from opening any other entertainment venues during the same period. The H20 nightclub was ordered to close by a provincial order after Phuket City Police say they inspected the venue and charged the operator for selling or providing shisha, or baraku, without permission.
The owner was also accused of operating an entertainment venue without a permit and violating the provincial order for enforcing Covid-19 safety measures. But it is unknown what penalties were handed down to the operator of the H20 nightclub, unlike the Maldives operator, who received a penalty.
Instead, the governor cited the Revolution Council announcement of 1959, to shut down the establishment for 30 days from March 5, 2021 to April 3, 2021. The orders noted that both operators of the clubs have the right to appeal the closures, having 15 days to file an appeal directly with the Phuket Governor.
Meanwhile, Phuket is set to open its doors to vaccinated, international tourists by October, pending the government's approval. The local government's initiative, named Phuket First October, proposes vaccinating a majority of its population over 18 years of age in time for the high season.
The move would allow thousands of vaccinated Europeans to enter Thailand, while locals would be protected from the virus symptoms.
SOURCE: The Phuket News
Keep in contact with The Thaiger by following our Facebook page.
Never miss out on future posts by following The Thaiger.