Phuket
Phuket Sports: Expecting the unexpected – NFL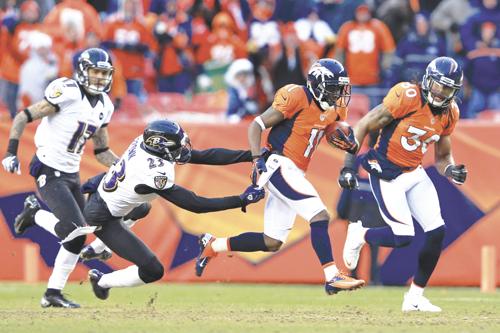 PHUKET: After a regular season filled with the unforeseen, I decided to expect the unexpected while watching the Division Playoffs – and that's exactly what I got. Predicting exactly how it would play out was not part of the equation, foreseeing that I would continue to bare witness to the amazement of the NFL's 2012 season was a guarantee.

Baltimore beating the #1 seed Denver Broncos, and Las Vegas's 9 point favorites, 38-35 on a 47-yard field goal in double over time (yeah, go ahead and try to tell me your uncle in Oxford, Maryland, predicted a Ravens' win), was astonishing. Denver's All-Pro starting quarterback Peyton Manning (who will also most likely pick up NFL MVP and Comeback Player of the Year awards) was, well you guessed it, mediocre at best.

This was foreseen. Manning has never been "great" in playoff games, he's tied with Brett Favre on 11 losses (9-11). He fumbled, threw two interceptions (one a 39-yard pick by the Ravens' Corey Graham, the other in overtime setting up Baltimore's rookie kicker, Justin Tucker, to split the uprights from 47 yards in double overtime for the win) and simply had no answer against the oldest starting defense in the NFL.

Expected? Not really.

Not after what Manning did during the regular season and not with Joe Flacco and a Ravens' offense who only five weeks ago fired their offensive coordinator. You want unpredictable? How about this: Denver stayed alive in this game and forced overtime when 165cm Trinden Holliday returned a kickoff and a punt each for a touchdown in the same game.

Yup, never been done before, a new NFL record. How about Joe Flacco? Surely you pegged him for 331 yards and three touchdowns without an interception? No?

Of course, you must have had Tory Smith beating All World Cornerback Champ Bailey, twice, for touchdowns, right? It would have been three if not for Flacco's errant pass. The Ravens deserved this win, whether you predicted it or not. And I know you didn't.

How about Atlanta allowing Rookie of the Year candidate Russell Wilson to lead his Seattle Seahawks to fight back from a 20-0 half-time deficit and hold on to win, right? Wrong.

Atlanta did not fall apart in the closing moments and captured their first playoff win since 2004, with Matty "Ice" Ryan completing passes to the ageless Tony Gonzalez to set up a Matt Bryant field goal with 0:08 seconds left. Yes, shockingly, the Falcons held on to win this battle of the birds 30-28. But you predicted that, right?

Let's move on to San Francisco and discuss Alex Smith. You remember him? The same starting quarterback whose head coach, Jim Harbaugh, told him: "No son, you won't lose your job for suffering a concussion." Yes, you guessed it, he remained on the bench and the starter from week 9, rookie Colin Kaepernick, was under center. Here's the part you did not predict correctly:

Kaepernick would go on to run wild like Roger Craig, picking up 181 yards rushing (two touchdowns, including one for 56 yards untouched) and pass the ball as well as, yup… heard it here first, Steve Young.

The 49ers decimated the healthy again Green Bay Packers 45-31, perfect spiral after perfect spiral beating the Packer defense. Michael Crabtree hauled in nine passes for 119 yards and two touchdowns. Kaepernick finished the day with 444 yards of total offense, four touchdowns and a tattoo that says "I'm the Man". The 49ers defense was stout. Aaron Rogers did double check after double check to find an open receiver and oh, that old running back that lost a step, Frank Gore, punished the Packer defenders and picked up 5.2 yards per carry, 119 total yards and a touchdown. I won a zillion dollars on a four-baht bet in Vegas picking Kaepernick to perform as well as he did. You didn't?

How about them Patriots? My friend thought I was crazy, but I had Rob Gronkowski to re-break his arm on the 7th play of the game. In fact, he called me nuts when I predicted Danny Woodhead would go down after the first play of the game. He laughed uncontrollably when I told him Shane Vareen, the third-string running back on the depth chart would step in for both players and score three touchdowns. The South Boston native told me to "jump in my cah, go to the liquoh stohe and buy anotheh beeh".

Arguably, the worst defense remaining in the playoffs held All Pro Arian Foster and the NFL's # 8 rushing attack to a measly 91 yards. The Swiss cheese New England secondary held the Houston passing attack to two garbage time touchdown receptions. This game was over by the end of the 3rd quarter. JJ Watt, candidate for the NFL's Defensive Player of the Year had half a sack. He hit Tom Brady once. He deflected one pass. Now New England can stay right in Foxboro after this 41-28 victory, and wait for Sunday's rematch of last years AFC Championship with Ray Lewis and the Ravens. Yeah, you definitely predicted that.

So, lets look ahead. We've got the 49ers visiting Atlanta. Baltimore heading to New England. I'll go on the record as saying this: Bill Bellichick will line up next to Vince Wilfork in the 4-3 and sack Tyrod Taylor twice. Ray Lewis will return a punt for a touchdown and shoot himself in the foot while wrestling away a musket from the Minute Men Militia. In the NFC, I like Atlanta honoring Joe Montana at halftime and the Falcons actually going to the Super Bowl. Yes, the unexpected is all we as fans can expect from this year's NFL season. This fan would not want it any other way.

Any of this expected? Russell Wilson, Coach of the Year Candidate Pete Carroll (my vote), the Seattle Seahawks defense, a team that beat the best all year (Packers, 49ers, Patriots, Bears) however, somehow lost a game they were favored to win, in Atlanta.

NFL and AFC Play-offs and Super Bowl schedule
NFC Championship Game
Sunday, January 20 – 3 pm ET, FOX (Phuket: Monday 3am)
San Francisco 49ers at Atlanta Falcons
Georgia Dome, Atlanta, GA.

AFC Championship Game
Sunday, January 20 – 6:30pm ET, CBS (Phuket: Monday 6:30am)
Baltimore Ravens at New England Patriots
Gillette Stadium, Foxborough, MA.

Super Bowl XLVII
Sunday, February 3, 2013 – 6:30pm ET, CBS (Phuket: Monday, February 3, 6:30am)
AFC AFC Champion vs. NFC Champion
Mercedes-Benz Superdome, New Orleans, LA.
— Mark Reynolds

Join the conversation and have your say on Thailand news published on The Thaiger.
Thaiger Talk is our new Thaiger Community where you can join the discussion on everything happening in Thailand right now.
Please note that articles are not posted to the forum instantly and can take up to 20 min before being visible. Click for more information and the Thaiger Talk Guidelines.