Phuket Live Wire:Where is True going with its Ultra hi-speed internet?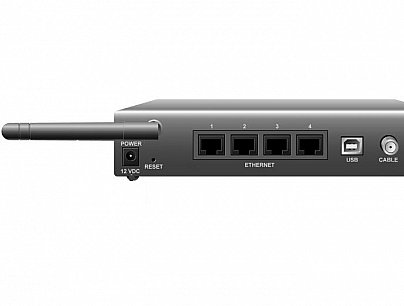 PHUKET: After looking at True's new Cable TV-technology internet connections last week, this week True's plans are becoming more clear, and the results are interesting – even exciting – if True ever gets the kinks worked out of its system.
True is running cable, probably fiber, to various places on the island. The cable is attached to black box switches on top of telephone poles called Digital Subscriber Line Access Multiplexer (DSLAM) and coax cable comes out of the switches. A picture of one of the cables was featured in last week's Live Wire.
True then feeds the coax cable to houses, precisely the same way a cable TV company would. The end of the coax cable goes into a router called a "cable modem gateway".
If you ask for WiFi, True apparently supplies a Motorola-branded Cisco ECP/DPR 2325, which is an older-generation cable TV box.
As best I can tell, the DPR 2325 uses a technique known as DOCSIS (data over cable service interface specification), as opposed to ADSL (asymmetric digital subscriber line), to deliver internet signals to your house. I've seen reference to VDSL2 (very high-bit-rate digital subscriber line), but I think True's system is, in fact, DOCSIS. If you know more, please drop me a line.
The practical point is that you can't put your own router on the end of the line, as you might be tempted to do with an ordinary ADSL line. The cable TV coax that's pulled into your house plugs directly into the back of the DPR 2325. From the DPR 2325 you get four regular LAN ports and a WiFi antenna, which, by the way, doesn't work with the latest 802.11n WiFi equipment.
So far, the international download speeds we've seen posted for this new True service on phuketinternetspeed.com have been excellent. The nominal 10Mbps line currently runs 1.9 to 7.7Mbps on international downloads, which makes it almost as fast as the TOT Fiber to the Home (FTTH) service.
The 20Mbps line has been clocked between 2.2 and 21Mbps, which is very impressive. But there have also been several tales of broken connections: the lines stay up most of the time, but they can kick out. If it's any help, the situation seems to be getting better.
Just as impressive as the speed is the price. A nominal 10Mbps/1Mbps line runs just 699 baht per month. That's an amazing bargain. The nominal 20Mbps/2Mbps line costs 1,299 baht.
True says they have lines in Patong, and I'm trying to get one now. They definitely have lines in Land & House, Chalong, and in Rawai. The best way to get a line is to ask at the True office in downtown Phuket, next to Robinson.
For more information, there's an ongoing discussion about this new True DOCSIS system – which has appeared in many cities all over Thailand – on Thaivisa.com. To access this discussion, simply type the following into your web browser's address bar: is.gd/PJvVxe
Calling all iPhone and iPad users
Join Sitthichai "Mr X" Laoveerakul, director of PhuketSchool.com, for a wide-ranging discussion of iOS 5, the next version of iPhone and iPad operating system software. Apple promises you'll be able to install iOS 5 on your iPhone 4 or iPad 2. But do you want it? What will it do? Can your current system handle it? Should you wait to buy an iPhone 5 or iPad 3, just for the software?
Mr X will hold the free seminar, in English, on Saturday, July 9, from 10am to noon at Sandwich Shoppe Laguna (near the entrance to the Laguna complex). Seating is limited, and by reservation only. Reserve a seat by emailing Sitthichai@exbiz.com . The seminar is sponsored by Khun Woody's Sandwich Shoppes, the Phuket Gazette and PhuketSchool.com.
Live Wire is Phuket Gazette columnist Woody Leonhard's weekly snapshot of all things internet in Phuket. Woody is Senior Contributing Editor at InfoWorld and Senior Editor at Windows Secrets Newsletter. He's written more than 40 computer books including, most recently, Windows 7 All-In-One For Dummies.
To see what Woody's up to in the international press, and to keep on top of the latest patches and problems with Windows and Office, drop by AskWoody.com. Follow Woody on Twitter: @PhuketPC.
— Woody Leonhard
Phuket News

Join the conversation and have your say on Thailand news published on The Thaiger.
Thaiger Talk is our new Thaiger Community where you can join the discussion on everything happening in Thailand right now.
Please note that articles are not posted to the forum instantly and can take up to 20 min before being visible. Click for more information and the Thaiger Talk Guidelines.