Phuket Live Wire: Shutter island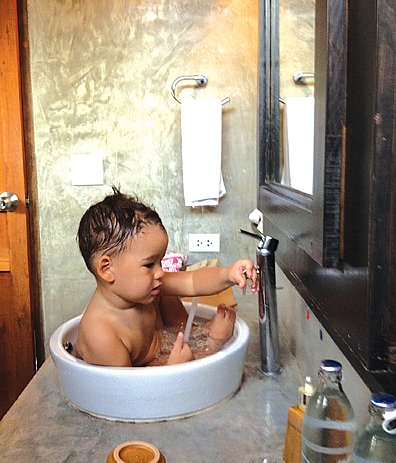 PHUKET: I'm going to change topic a bit. At the Computer Clinics we used to talk about all sorts of technology, including TVs, tablet computers, cameras and phones – much to the chagrin of several Windows die-hards.
The simple fact is that all of the technology is converging, with more-powerful and more-mobile computer chips making all sorts of magic possible. This year will see a stunning array of new devices, including Windows 8 running on tablets – real tablets, thin ones, without fans, the kind that work with finger gestures and sell for less than US$500, (maybe less).
How fast is the technology changing? Let me give you an example. I had a chance to take a day trip to Khao Karos, a little-known, but spectacular mangrove forest with soaring karsts, caves, wildlife, and prehistoric paintings. It's near Krabi, about an hour from the north end of Phuket – if you can find it. We took a long-tail boat – and three cameras: my trusty Canon IXUS 870 IS Point & Shoot, a Flip MinoHD video camera, and my wife's new camera, which I'll discuss later.
Three years ago, the Canon IXUS 870 IS was one of the top rated Point & Shoots according to trustedreviews.com, November 2008, "the new Digital IXUS 870 IS, a slim and stylish 10.0-megapixel, 4x zoom ultra-compact with optical image stabilization and a 28mm wide-angle lens… a superbly well made and very attractive luxury ultra-compact with excellent performance, a useful zoom range, an outstandingly good LCD monitor and superb image quality… The only downsides are its slightly awkward handling, an underpowered flash and the relatively high price." I bought it in Hong Kong for about US$300.
About 18 months ago, with a new baby on the way, I decided to get a video camera. I settled on the Cisco Flip MinoHD with 8 GB of memory. PC Mag.com had this to say in September, 2010: "Very good video quality. Thin, light design. Easy to operate. Simple software for managing videos. HDMI output for watching videos on an HDTV." I bought it in the States for US$230 and had it shipped out here.
All three of the phones take videos. The Flip doesn't take stills, but you can easily "grab" a high definition frame from any of the videos.
I've been taking photos with all three cameras, but never really had an opportunity to compare them. This time was different.
The trip to Khao Karos proved an excellent testing ground for the cameras. Shooting videos from a long-tail boat tests the living daylights out of image stabilization. Taking stills in various lighting conditions (see the shot on this page) showed me color balance, and fill flash (not on the Flip) helped compensate for high contrast situations. Out on the water, we moved in and out of caves, often crossing from very dark regions to bright sunlight in a matter of seconds.
In the end, looking at the results, there's absolutely no question that my wife has the best camera of the bunch. The autofocus and image stabilization on the 8MP camera work a treat. It takes full HD (1080p) videos, and the detail is simply breathtaking. Changing the focus point only takes a touch. When you take a shot, the screen's back and ready for action in a fraction of a second. For both stills and videos, my wife's camera came out on top, time and time again. Of course, it costs a bit more than the other cameras,
By now you may have guessed that my wife's camera comes with a few other features that you don't normally associate with a camera. Like, oh, I don't know, a telephone and 3G internet, email, Facebook, free long distance phone calls and SMSs, a music player, a video player, and full access to the Apple AppStore. Her camera is an iPhone 4S, and I'd put the camera quality up against just about any moderately-priced camera on the market.
I'm not the only one. Geek.com has a convincing side-by-side comparison between an iPhone 4S and a 21 MP Canon EOS 5D Mark II (US$3,200 or so depending on lens; is.gd/ziFuUP). Ars Technica has a lengthy comparison between an iPhone 4S, a Samsung Galaxy SII, a Canon 20D and an Olympus XZ-1.
Don't get me wrong. The iPhone 4S isn't in the same league as a full-bore Canon EOS 5D, or a Hasselblad but it's a very capable camera – ignoring the phone for the moment – that's easy to carry around and a treat to use.
The price? If you get it in Thailand with either TrueMove or AIS service, the iPhone 4S currently lists at 16,900 baht (roughly US$550). Last week, TrueMove announced that it was cutting prices "up to 50%" for people who want to buy new iPhones, if they are currently True Visions (satellite TV, formerly known as UBC) or True Online (ADSL, DOCSIS) customers. You have to pay for seven months of service up front, and commit to paying for TrueMove service for 18 months (at 899 baht per month), but the price of the iPhone 4S has dropped to 13,500 baht, or US$445.
If I sound like an irrepressible Apple ad copywriter, I apologize. That wasn't my intent with this article. What I'm trying to do is convince you that times are changing, rapidly, and it's in your own best interest to stay on top of the changes. The camera business has changed irreversibly.
Do increasingly capable cameras on iPhones and Android phones – not to mention tablets – mean that the Point & Shoot camera market is dead? Not necessarily. But the major camera manufacturers have cut back on the number of new models. Last November, the number of Point & Shoot cameras sold declined by 18 per cent, year-to-year.
Keep an eye on where the technology's headed. The baht you save may be your own.
With Woody hunkered down writing a book, the weekly Computer Clinics are taking a new turn. Until Woody emerges with an 860-page copy of "Windows 8 All-In-One For Dummies" under his arm, around May or June, Seth Bareiss will hold computer sessions every-other Wednesday afternoon, from 1 to 3pm. If you have a Windows problem that needs to be solved, drop by one of Seth's free afternoon sessions at the Sandwich Shoppes. Details in the Phuket Gazette Events Calendar.
The sessions are sponsored by the Phuket Gazette and Khun Woody's Sandwich Shoppes.
Live Wire is Gazette columnist Woody Leonhard's weekly snapshot of all things internet in Phuket.
Follow him on Twitter: @PhuketLiveWire; "like" pages at facebook.com/SandwichShoppe; and facebook.com/phuketgazette.net.
— Woody Leonhard

Join the conversation and have your say on Thailand news published on The Thaiger.
Thaiger Talk is our new Thaiger Community where you can join the discussion on everything happening in Thailand right now.
Please note that articles are not posted to the forum instantly and can take up to 20 min before being visible. Click for more information and the Thaiger Talk Guidelines.