Phuket
Patong's bowling puts them on top against ICC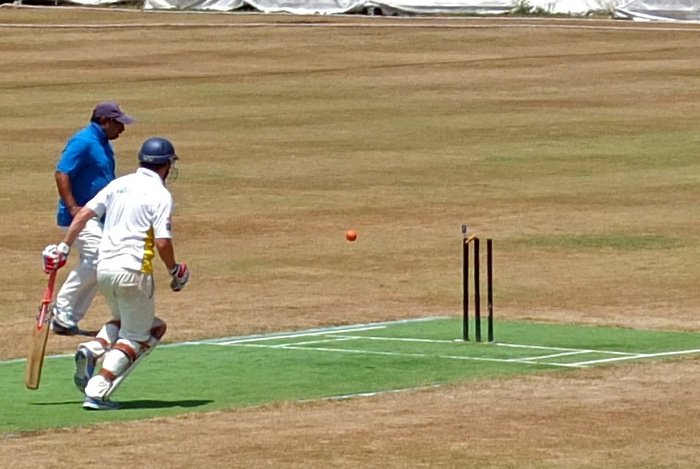 PHUKET: Island Cricket Club (ICC) hosted Patong Cricket Club (PCC) at the Alan Cooke Ground (ACG) in Thalang last Sunday, kicking off the first game of March. ICC won the toss and sent Patong into bat, in playing conditions that were unexpectedly warm and dry – unusual for this time of year in Phuket.
Patong openers Imtiyaz Mustaq and Waseem Bhatt (50) compiled 95 runs in the first 16 overs until Mustaq was dismissed by Divan Mydeen, leg before wicket (LBW) for 36 runs. The second wicket fell 10 runs later when Bhatt was dismissed spooning an easy catch to Borker at mid wicket.
Justin Swart and Patrick Morton formed another solid partnership until Swart departed, bowled by the ICC captain Anand Chand, who also took out Bhatt in the earlier wicket.
Yudi Ventrapatt chimed in, dismissing Stuart Hamilton (12) and the Patong Capt Raju Seemant (6). Paddy Morton was looking good until he was run out by Paresh Borker for 22.
Neil Quail (30) and Anthony Van Blerk (34) made an 80-run stand to finish the Patong 1st Innings undefeated after 40 overs, amassing 246 with a loss of 6 wickets. Sundries scored the second highest total of 46, of which 35 were wides, with many reaching the boundary rope, giving Patong 5 runs on each occasion.
ICC started strongly with D (Vicky) Mehra and J Mohammad opening. Mehra (4) went out in the sixth over with the wicket falling at 39. The following over Mohammad was dismissed for 33 leaving the ICC Capt. Anand Chand at the crease to steady the run chase.
Patong Capt. Seemant collected the next three ICC wickets of Chand (14), Shah Ullah (9) and Ravi Naik (38). With Naik having made a valuable 45 run partnership with D Vaiganker, ICC were suddenly only 6 wickets down for 166 after only 25 overs.
Surinder Kumah (11) was retired from the game after being hit in the face by a spinning ball that came off the bowling of Seemant. He was taken to hospital with a serious nose injury. (It seems that Surinder's modeling career is now in doubt, but we all wish him a speedy recovery).
The rest of the ICC batsmen fell cheaply with the first innings' closing at 9/166. Patong were therefore awarded the 1st Innings points.
Patong enforced the follow on, sending ICC back to the crease, with the goal of claiming 6 wickets in 11 overs for an outright win, ICC 2nd Innings ended at 2/40.
The best of the ICC bowlers was the skipper Chand, 7 overs, 2/30 and A Virdiker, 8 overs, 0/29.
It was an excellent bowling display by Patong, with the pick of their bunch being W. Bhatt, 6.3 overs, 3/29, R. Seeman, 8 overs, 3/54 and Justin Swart, 2 overs, 2/8. The two wickets of the ICC 2nd Innings were taken by Imtiyaz Mustaq bowling 4 overs of spin, 2/20.
— Owen Pringle