Myanmar rushes headlong into brave new world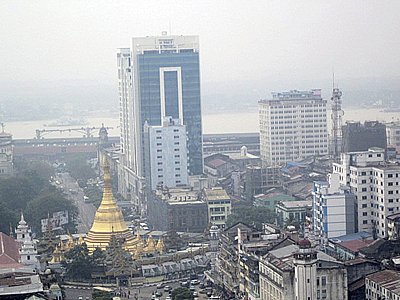 SPECIAL REPORT

PHUKET: The Japanese salary-man's blue suit brushed past the backpacker's Bob Marley t-shirt as they passed in the guest house hallway.

"No rooms. Fully booked," said the desk clerk.

The Japanese man was on his way to shore up a lease on a garment factory and the Irish backpacker was here in Myanmar to see the wonders of Inle Lake and the golden Shwedagon Paya pagoda.

Yangon is buzzing with opportunists, now able to stay longer, start up businesses and travel more freely within the country. Ask anyone there. Myanmar is poised on the launch pad.

There are few available hotel rooms and domestic flights are often full.

However, nearly everyone's trip to Myanmar starts in Bangkok at the embassy, where you spend most of the morning in a queue outside. Then you return to collect your visa in the afternoon.

Ironically and against this tide of transformation, there are no longer visas issued on arrival and direct flights from Phuket have been canceled indefinitely, according to staff at Bagan Airways.



With
tourists
on the way the traditional is unlikely to disappear as Myanmar catches up with the world.
The only other flights to Myanmar from
Thailand
are from
Chiang Mai
, twice a week.
All sectors of the Myanmar economy are on a tear and despite varying and range-bound GDP statistics from the
government
, the World Bank and the Asian Development Bank, it is clear to see minivans, restaurants and travel agencies full of foreigners.
Arrivals through Yangon International Airport rose by 22 per cent in 2011 to nearly 360,000, according to tourism ministry statistics.
"Arrivals numbers are increasing by 20 to 30 per cent every year," Zai Wai Mang of Unique Asia Travel said. "It means we need to build more hotels, expand airlines and develop our infrastructure so we can offer a better level of service to visitors."
Preparations are also underway for hosting the 2013 Southeast Asian (SEA) Games, with launches of as many as 50 new hotels across the country.
After 50 years of military rule, the country staged an election in 2010 that installed a new government in Myanmar's new capital city Nay Pyi Taw. Since then President U Thein Sein has provided the impetus required to carry the nation past the backstage of human rights abuses and subsequent trade sanctions.
Many hundreds of political prisoners remain behind bars, but recent visits to the country by foreign secretaries Hillary Clinton and William Hague have resulted in increased releases in October and again last month alongside sanction-suspension talks.
The government has also made efforts to reduce conflicts with armed ethnic groups including the Mon and Shan states. Although Rohingya keep plying their way past Phuket shores, the "boat people" from the southern Tanintharyi region have not been spotted on the beaches of southern Thailand or Malaysia for some time now.
It is hoped the president will also announce soon that he will allow international observers to monitor the election when Myanmar voters go to the polls on April 1 this year.

T-shirts proclaiming a different point of view on open display.
Although it would be nigh impossible for the government to be overthrown, as one quarter of the lower-house seats are reserved for the military, parliament is still seen as ready to make sweeping changes to the
business
and property laws.
Today, foreigners may neither own nor lease land. They must conduct business as a joint-venture partner in a locally-owned majority 51-49 per cent structure. Also, like Thailand, the 30-year lease is the new buzz word.
Land prices in Yangon, Mandalay and the most popular beach town, Ngapali, have spiked over the past 12 months, according to U Zaw Zaw of Unity Real Estate Agency.
"It got very crazy last year but we have seen prices come back down to more sensible levels to where property has generally increased by double over the past couple of years as opposed to tripling and even more," he said. "New investors are still committed and are now simply waiting for elections. Prices will stabilize and then are expected to rise again."
Building costs have gone hand-in-hand. Everything is imported from either Korea or China and both quality retail and commercial space are as rare as hen's teeth.
However, many new hotels and residential developments are breaking through the five-story ceiling of the old Rangoon. In fact, the new Shangri-la is being borne out of an abandoned project stranded by the US and EU trade sanctions some years ago.
There are no international legal or accounting firms registered in Myanmar. This also set to change.
"These policies need change. Foreigners want stability signs from the government and parliament is keen on change," said Yangon lawyer U Min Sen. "We will need to work hard to provide foreign companies with assured representation."
A new law being introduced next month will apparently allow foreign firms to set up joint-ventures with the local partner owning less than 30 per cent and receive tax-free status for the initial five years, possibly extended for another three years (depending on the nature and location of the venture).
Also being discussed is the notion of a foreign company alone leasing land for an initial 30 years with two 15-year extensions.
These would effectively operate within prescribed "special economic zones", as China experimented with in the 1980s.
Local exporters are calling on the capital to clarify whether current six-month old tax cuts due to expire this month will be extended. The tax cuts, ranging from 2% to 9%, were introduced to boost exports of fishery goods, agricultural produce and garments. This has also helped serve to increase legal remittances from abroad.
A visit to the Myanmar Securities Exchange was like entering a Monty Python skit. There are only two publicly listed companies: Myanmar Citizen's Bank and Forest Products JV Corp. Neither of the two companies' stock traded that day or the day before.
"We trade very low volumes of shares at present, but I met with investors Jim Rogers and George Soros recently and they were very interested in opportunities in Myanmar," said Inami Shigeto, managing director of the Myanmar Stock Exchange.
The fledgling "exchange" is basically funded by a think-tank arm of Nomura Securities, but the promise is there. Many Chinese firms have expressed interest in participating in its expansion.

GOOD FOR BUSINESS: with more international visitors Yangon's smaller businesses and street vendors' fortunes are looking up. Photo: Takeshi Kimi
This is another important point in Myanmar wishing to attract western investment. Quietly, but surely, China has become Myanmar's largest investor by far, surpassing Thailand some time ago. The middle kingdom now has a naval base in Myanmar to access the Indian Ocean.
Key to obtaining increased varied commitments also lies in the hopes Myanmar will break military ties with
North Korea
as well as create laws to ensure its citizens have improved human rights.
Last month, BBC South East Asian correspondent, Rach
— John Gold
Phuket News

Join the conversation and have your say on Thailand news published on The Thaiger.
Thaiger Talk is our new Thaiger Community where you can join the discussion on everything happening in Thailand right now.
Please note that articles are not posted to the forum instantly and can take up to 20 min before being visible. Click for more information and the Thaiger Talk Guidelines.