Phuket
Loy Krathong festivities muted in Phuket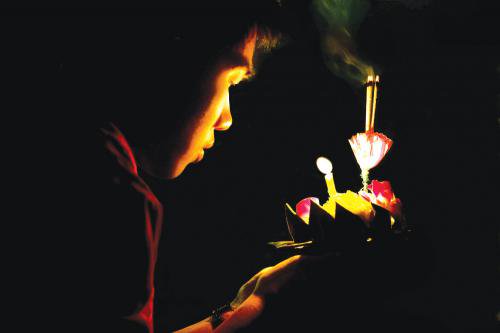 PHUKET: There will be muted celebrations for one of Thailand's largest holidays, Loy Krathong, the "Festival of Light", tomorrow in respect of the recent passing of His Holiness the Supreme Patriarch Somdet Phra Nyanasamvara Somdet Phra Sangharaja.

Traditionally, thousands of people across the nation release krathong, lotus-shaped floats traditionally made of banana leaves, with a small offerings of food, flowers, joss sticks and/or candles, into the waters of Thailand.

This annual festival takes place on the full moon of the 12th lunar month of the year, falling on November 17, well within the within the 30 days of mourning for the Supreme Patriarch of Thailand, who died on October 24.

The Phuket Provincial Administrative Organization (PPAO) announced that quiet, respectful celebrations will be held on the island tomorrow, a move that is at odds with the Tourism Authority of Thailand (TAT), which has announced a postponement of the celebrations.

"We still mark Loy Krathong without any delay, despite the TAT announcing the festival being postponed until November 23," said a PPAO tourism department officer.

Phuket has moved forward with the celebrations due to the holiday being a key tourist attraction, both domestically and internationally.

"The festival will be quiet this year. There will be no fireworks, staged live music, beauty pageants, parades or 'Nong Noppamas' pageants," the officer said.

An offering of alms will be made at Chalong Pier tomorrow morning, followed that night by the release of krathong at beaches and canals across the island.

Unlike many municipalities on the island planning low-key Loy Krathong celebrations, Patong has vowed to hold no formal event.

"We will have no activities in celebration of Loy Krathong this year, due to the festival falling within the period of the nation's mourning of the Supreme Patriarch of Thailand passing away," Deputy Mayor Chairat Sukban said.

People are still welcome to release their krathong at the beach, he added.

In drastic contrast to Patong's stance is Karon Municipality, which has festivities, including stage performances and Thai folk band performances, planned to run late into the night.