Living With The Tiger: film fights HIV stigma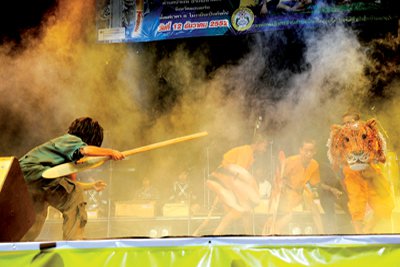 PHUKET: Attitudes are changing as Phuket gets screenings of an acclaimed documentary about the children of Baan Gerda, an orphanage for HIV-infected kids cast out by their communities and families.
What do you do when stuck alone in a small boat with a big, hungry tiger? In the novel The Life of Pi, the protagonist, Pi, comes to form a relationship of mutual respect and understanding with the tiger in his lifeboat, ultimately proving that by understanding the nature of the beast, his fear disappears.
In Living With The Tiger, a full-length feature documentary by rookie filmmaker Mike Thomas, Pi's dilemma is explored in the everyday lives of children living at Baan Gerda village in Lop Buri province. The tiger in this real-life drama: HIV.
Most of the 85 children living at Baan Gerda were born infected with HIV to parents who have since died as a result of the disease, leaving them orphaned and unwanted by their extended families.
With his film, Thomas aims to attack the stigma attached to HIV by taking the message on the road with screenings in New York, Singapore, Bangkok, and most recently, Phuket.
A group of students at Prince of Songkla University (PSU) Phuket saw the film and were so impressed that they set to the task of organizing a local screening on their campus. Their work paid off on November 9 with a private viewing for PSU students and another, open to the public, scheduled for December 7.
"This was a project that two of our lecturers suggested to us, and we found it very interesting because it's not just another university project – we are actually helping the community by showing that HIV-infected people are still people," said Sikander Langner, leader of the student group who organized the events.
Bla is a 17-year-old resident of Baan Gerda whose parents died when he was young, leaving him with an extended family who were unwilling to care for him. As the oldest resident of the village, the film focuses on his story as he tells it – as he lives it – with confidence and an unmistakably sanguine acceptance of his lot in life.
"I was invited to this screening for students in Phuket, and getting here was one of the greatest experiences in my life – it was my first time on an airplane," an excited Bla said after the first screening on November 9.
"I began to understand HIV when I was about five years old. I started taking antiretroviral drugs and I'm still taking the same medicine. I'm strong and I never really get sick," Bla said.
Buddhists believe in karma – that what people did in past lives will affect their reincarnation.
"I don't know what I did in my previous life," Bla said, "But I believe it must have been something really bad. That's why I was born with this disease.
"Personally, I think it's better to be born with the disease than to get it when I'm older. At least I know I didn't do anything that I'll regret later.
"I used to think about what I wanted to be – I dreamt of being a soldier, but now I realize that was just a dream and it always will be. It's difficult to plan for anything when I know I have HIV.
"Most careers, including being a soldier, require a blood test. Even if I have all the knowledge and all the potential they want, they won't accept me.
"I have no expectations. I won't plan my future that far ahead. I don't know how long I will live. I've grown up seeing people I love dying all the time – I don't fear the future or death, I just try to make every minute of my life worth living," Bla said.
"My aunts and uncles [now say they] are happy to have me back, but they are worried about how other people in the village will treat me. There are a lot of people who have no understanding of HIV and how it is spread. I don't really care how other people think of me, I just want to go back and farm my father's land, where we used to live together. That would make me very happy," he said.
Hundreds of students attended the two afternoon screenings at PSU. As they made their way into the auditorium, they slowly took their seats and thumbed through books, tapped on smartphones, and appeared with the tired lack of enthusiasm to be expected after a morning of attending classes.
Less than two minutes into the film – yes, less than two – all eyes were forward, books closed, phones in pockets as they were drawn in by the cast of characters at Baan Gerda.
The film is a roller-coaster ride that follows Bla and his "brothers and sisters", as he calls them, through daily life, and rehearsals and performances of an opera based on the novel The Life of Pi.
As the lights came on, many in the audience had their tissues out, wiping away tears as Bla and Mike – much to the surprise of the students – came in front and center to field questions.
Auttawan "Kaew" Sang-karat and Pitchanan "Pitch" Patcharin, seniors at PSU, said they came to see the film purely for entertainment purposes, but came away with much more.
"I came to watch the film because we had a free period, so I expected nothing. Now I can say I was wrong – this isn't a typical film you see in a film festival. The story is great and meaningful and it has totally changed my attitude toward HIV-infected people," said Pitch.
"I know what HIV is and I know how to prevent myself from getting it, but I didn't know that we can't get infected by sharing a glass of water or swimming in the same pool. I also didn't know that people with HIV can live as long as us if they take good care of themselves and take antiretroviral medicine," she said.
"I felt bad for Bla and the other kids who appeared in the film. From now on I will think of them when I'm feeling lazy or planning to skip a class – there are a lot of people who want to study but don't have a chance like us. I am grateful and fortunate to be able to do what I want to do," Kaew added.
Worakunya Jinpol, said that she felt bad about how others were unfair to the children.
"They're just like the rest of us. I think HIV patients are not the ones with the problem, it's those who don't understand or lack knowledge about the disease that have the problem," she said.
"I cried so many times [during the film], not because they are infected with HIV, but because they don't have equal opportunities. I wish they could earn a living by doing something they want to do without restrictions. Blood screenings for school and work is the most discriminatory process. I wish our society were more open about this," she said.
The results of a survey administered by the student organizers plainly show the film's effectiveness.
More than 91 per cent of the 323 people surveyed said they learned something new about HIV while more than 69 per cent said they were "more accepting" of HIV-infected people after viewing the film.
And what may be the most telling statistic? More than 79 per cent said they would be "more willing to interact" with someone who had HIV.
"I know he's [Bla] having an impact – people watch the film and they feel like they have this bond with him. They know him because he speaks so openly and they're not expecting him to come out and talk after the film," Thomas said.
"Coming from Bla, it's much better than coming from me. Our aim is to always tackle the issue of stigma, because we want to provide a better future for the children – a future in which they can go back to their communities and extended families and be accepted; to be able to live and work in society in a way that anybody else can. At the moment, that is not possible," he said.
"There are 10,000 to 20,000 children in the same situation," he said, adding that HIV rates are on the increase, especially in the 15 to 24 age group. Current statistics from the Bureau of Epidemiology show that there are 372,874 HIV-infected pe
— N Altstadt & C Yongcharoenchai
Phuket News

Join the conversation and have your say on Thailand news published on The Thaiger.
Thaiger Talk is our new Thaiger Community where you can join the discussion on everything happening in Thailand right now.
Please note that articles are not posted to the forum instantly and can take up to 20 min before being visible. Click for more information and the Thaiger Talk Guidelines.