Phuket
Letters from Abu Dhabi: It's the F1 pits and a flying circus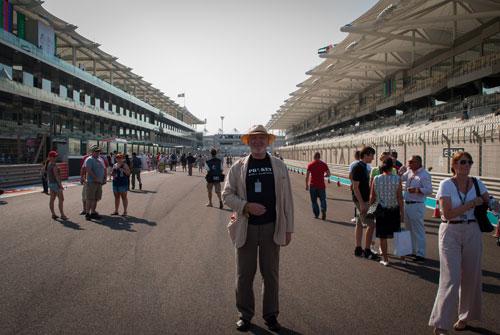 Abu Dhabi: The motorway to the Yas Marina Circuit hops from Abu Dhabi onto Sadiyaat Island, en-route they are building a Guggenheim Museum, a Louvre, and lots of expensive housing. Right now Sadiyaat Island it is a flat naked barren sun-blasted atoll interspersed with cranes, but when Abu Dhabi has a will, there is a way.
Then we crossed onto a lush verdant Yas Island, grown green from desalinated water and transplanted flora. We passed the Yas Water Park famed for its 360° Liwa Loop slide, and Ferrari World boasting the fastest Roller Coaster on Earth. I noted that I should avoid both. There are several hotels by the track, and we knew we were close as we passed them.
It's a 35km 8 lane motorway just to reach the island that houses the F1 track. Then it's into the car parks, onto shuttle buses, and we are there. It's easier than getting to the Hilton in Phuket.
There was a lot of security with big men in black T-shirts, scanners etc, but there were also dolly-birds handing out free water from time to time, so getting in was not all bad. ID cards were scanned in good humour and advice dispensed, some of which was quite useful.
The circuit's chosen theme colour is aquamarine, and surprisingly fresh and pleasant it is.
When you get to the pit lane you will be surprised at how it separates plebeians from the patricians. The crews pick themselves by the diligence with which they focus closely on trivial tasks to avoid the attentions of the spectator whose son's girlfriend has a mother who works for the team's PR Company.
But it is the pits themselves that choose best. They start at the Caterham and Marussia end with the lowest ranked teams, and move up towards the superstar zone. The first half of the pit-lane was filled with many men doing very basic things with decals that involve glue and chewing gum. Down here in the plebeian Section, not much had yet been achieved, and the pit wall was so far a naked skeleton bereft of equipment. As we moved to the patrician pits, everything changed. Here unhurried crews were checking in a leisurely fashion. They already had their tyres in warmers, and the pit wall was already fully operational, and the cars were raised from the ground on computerised life support systems.
The only driver in evidence was Mark Webber, chatting with his crew. It would be so nice if he did well this weekend. It's such a pity that spectators are not allowed lead "curses" any more; I could bring-in one or two for Sebastian Vettel, but I'm sure security would be awkward about it.
Then it's on to the parc fermé and scrutineering, leading up to the podium. After that I inspected the track – the going will be hard by the way. The beer garden is most well-appointed. The beer is suitably chilled for the thirsty work of spectating. Somewhere nearby Lewis Hamilton and Nico Rosberg were signing autographs, but somehow I did not get around to queuing for that event; there was just so much else to do, and Stella was seductive in her icy charms.
And here in the beer tent are the delicious rumours: Kimi has had a row with Lotus, Lotus would like a Grosjean win, and McLaren has a rabbit to pull out of the hat here. There is also a rumour about next year. It seems that FIA regulations for next year have reduced the size of petrol tanks too much, because of incorrect data from Renault's testing. This means that cars will be unable to finish a race with a tow from team-mates, and that in turn means F1 will be back to refuelling next year. Well, it will add to the spectacle if it's true.
There is still a lot to play for.
Letter from Abu Dhabi – Chapter Three: The Flying Circus
We had arrived at the track for the practice. Spectators were milling, and below us marshals were misbehaving, taking photos, and playing with flags. Pickups came by, dragging cleaning frames down the track. Finally the marshals lined-up on the trackside, and the safety car crawled by to inspect them and demonstrate how flags are waved.
In the grandstand there was a lot of annoying shouting that crept inexorably towards us. It was, it transpired, staff giving away free "Golden Ring" Tickets for Jay Z to those that could scream the loudest. Someone told me Jay Z is a rapper and Beyoncé's husband. Rapper? Beyoncé? Well, I didn't shout, so I will not be inside Jay Z's Golden Ring. But thankfully I had little time to reflect upon this loss, as officials waved us into our seats, prior to the cars appearing for the second practice.
A sound from across the track grew steadily brassier. They were coming. The sound people recall in a GP is that of angry hornets, and it is true. But if you are up close and near a corner, what you hear mostly sounds like machine-gun bursts.
"Immediately there came the sound of machine guns as the triplane had spun with them. Clearly the other pilot was an old hand, keeping behind so the agent could not fire though Biggles, the prop and the wings at him. But Biggles was an old hand too and executed one of his expert flips, bringing the triplane into direct range of the mobile machine gun."

The Red Bull and the Mercedes battling through the corners echoed in my mind like those imagined from the books I had read under the blankets by torchlight. Biggles' Vickers spits venom and the Flying Circus's spandaus reply with spatters of fire. The two teams trigger burst after burst as they approach the chicane, and continue through it, so that the experience is one of being in a sustained firefight. They seem to use quantum mechanics to straighten out the chicane so that they can straight-line it with a sustained speed.
The Lotus sounds completely different. Instead of machine guns, the sound is of a slow jackhammer, and much less prolonged; then there is no more explosive sound as the machine wends through the chicane but six different changes of engine note, including a two low pitched moans. Red Bulls and Mercedes managed with just two, so something is different with the Lotus. But the Lotus looks majestic.
McLaren, Force India and Ferrari fire much fewer bullets but negotiate the chicane with such liquid smoothness that they demand admiration. The Williams makes almost no explosive sounds, but quietly twitches through the corners; it's obviously harder to drive. The Marussia's trademark is a series of high voltage cracks that seems to ripple into spectators, and other cars make metallic coughs. But the sound is magnificent. Earplugs would ruin the glorious exciting reverberating experience.
Like a great wine, F1 has a trademark bouquet. It's hard to pin down; ozone, detergent and nail-polish remover are all there, and when tyres lock, there is a hint of rubber.
The brakes glow red-hot, not on all cars, but on many. Lotus is Highly Commended for its deep red heat, but the winner is Marussia, whose wheels glow like the coals of hell, deep crimson and bright ruby, with spots of white heat; magnificent.
We are so close we can see the illumination on each car's cockpit display. We can sense when the drivers are really trying and when they are coasting. It is obvious that the teams at the back approach the corners more cautiously. They all start gently, slowly wind-up the tension, and finally start to play with each other at the corner. It is a taste and promise of things to come.
My seat is in the front row of the south grandstand, at the end of Sector 2 and the second DRS zone, right before turn 11, and behind the marshals station No. 20. Look for a lithe fashionable cultured chap in a nice hat; that would be me.
Keep checking our online Phuket Sports pages, join our — The Digby

Join the conversation and have your say on Thailand news published on The Thaiger.
Thaiger Talk is our new Thaiger Community where you can join the discussion on everything happening in Thailand right now.
Please note that articles are not posted to the forum instantly and can take up to 20 min before being visible. Click for more information and the Thaiger Talk Guidelines.