Glimpse into the mind of Phuket's Row2Rio adventurer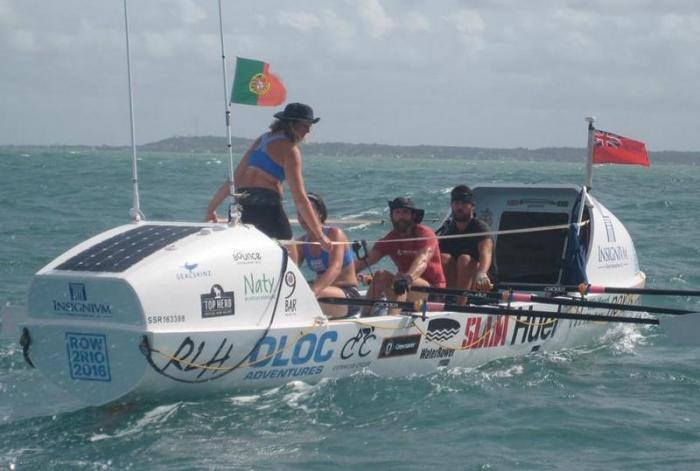 PHUKET: Australian head coach at Phuket's Unit 27, Luke Richmond, sat down in an exclusive interview with the Phuket Gazette after completing a world-record setting rowboat journey from Portugal to Brazil.
Divided into three legs, Row2Rio honors the Olympics as the Olympic stadium moved from London to Rio de Janeiro. The test of endurance began with a cycling trek setting off from the Olympic Park in London to Lagos through France, Spain and Portugal. The second leg was the 3,400 mile row to Brazil, and then back in the saddle to cycle to Rio de Janeiro.
Mr Richmond – already in peak condition from incorporating a NeuroPhysics training program from Ken Ware into his weekly schedule of CrossFit, climbing and adventure training – was invited to join the Row2Rio challenge after one of the team members was struck with appendicitis just a few weeks from their scheduled departure at the end of February. Without hesitation, Mr Richmond jumped on a plane to meet with Susannah Cass from Ireland, Mel Parker from the UK, and Jake Heath, also from the UK.
After 3,400 miles and 55 days at sea the team landed 35 miles north of Recife, Brazil.
Gazette: In the past five years, you have climbed the biggest mountains on six continents, been held captive in West Papua and has endured many 'suffer-fests' on expeditions around the world. Why was this the toughest adventure so far?
Richmond: This was the toughest adventure so far simply due to the fact it was one continuous cycle. I have had tougher single days in the mountains, but being on a cycle of two hours work and two hour rest is a mental and physical test of endurance.

Gazette: What ended up being the most difficult part?
Richmond: The most difficult part was the final two weeks. Our auto tiller had failed, so we were manually steering; we were encountering strong head winds – it was a brutal slog to stay on course.
Gazette: How has this extraordinary experience changed your outlook on life?
Richmond: This experience hasn't changed my outlook on life at all – it has solidified it. I already believed that life is for living and have shaped my life around being able to drop everything a go on adventures just like this one. I took the call and a week later I was getting on a boat, that's what life is about, not your job or mortgage.
Gazette: A total of 55 days is a lot of time with anyone. Were there ever any tense moments on the boat?
Richmond: Of course there were tense moments, I don't think you can ever have four strangers thrown together and their not be. However, no matter what the issue was, it was always quickly resolved, and it was back to business as usual. It was too tough an ordeal to hold grudges; we had to work as a team to get the job done.
Gazette: How does it feel to set a world record? [Record, still to be confirmed, was for the ocean route pioneered by the mixed-gender rowing team.]
Richmond: The world record never really entered my mind, the journey itself gave me the biggest sense of achievement. The record would never be enough motivation to go through what we did you have to enjoy and cherish the hard times and the journey itself. But hey, it always looks great on the CV.
Gazette: Having never rowed a boat more than a few hundred meters before joining the Row2Rio adventure, Did anything in Phuket prepare you for what you for the undertaking?
Richmond: Phuket most definitely prepared me for this. I coach CrossFit at Unit 27 and our entire philosophy is to gain a fitness level that makes you ready for anything. This is achievable for everybody, it just takes hard work and some lifestyle changes. I was ready to row the Atlantic even though I didn't train for that task specifically.
Gazette: The physical, mental and emotional toll of two hours working, two hours resting must have taken a massive toll on your body. By the end of the trip, how had your body changed?
Richmond: My poor body. I've lost 15 kilograms of body weight and have worn my body out to within and inch of breaking, but he got me through to the end.
Out on the ocean, we didn't have time to recover. Now that I'm on shore, it is trying to repair and I'm in a fair amount of pain. It will be a long road back to full strength, but this is what life is about, not looking good and walking around in a gym, but putting your body and mind to the ultimate tests – that's how we grow.
Gazette: What was the emotional impact of the journey?
Richmond: I had to keep some emotional control while out on the water, but once I hit land it all overtook me and I cried like a baby: all the pain, stress and hardship came out of me. Having my family at the finish was also amazing and we all had a little cry together.
Gazette: What made you decided to propose to your girlfriend from the middle of the Atlantic?
Richmond: Throughout the journey I was making a series of videos for the beautiful Elise, culminating in a marriage proposal from the middle of the Atlantic as I was being towed behind our boat on a rope like a human lure. I thought it would be an unique and beautiful way to go.
She said yes, so we are off to a flying start.
Gazette: The Row2Rio challenge was also to raise funds for Macmillan Cancer Support. How much money did the Row2Rio team raise?
Richmond: So far, the Row2Rio team have raised close to 80,000 pounds. Once the adventure is finished, the boat will be put up for sale and that money too will be donated to Macmillan Cancer support. [Ms Cass, Ms Parker and Mr Heath have the final cycling leg of the journey still to complete.]
Gazette: Will you be coming to back to Phuket?
Richmond: I'm definitely coming back to Phuket, we are upgrading our entire Unit27 CrossFit Phuket facility and I'll be running the show throughout the coming high season.
Gazette: Is there anything else you'd like to add?
Richmond: That's about it mate. Just want to give a big 'thank you' to all my supporters in Phuket. I hope I see you all for training at the Unit in the high season.
— Isaac Stone Simonelli


Read more headlines, reports & breaking news in Phuket. Or catch up on your Thailand news.
Power outage in parts of Chalong tomorrow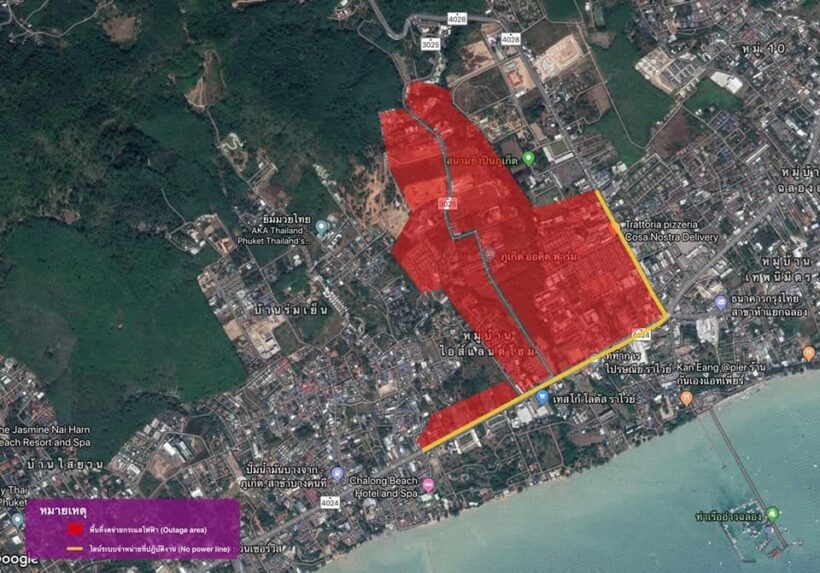 PHOTO: PEA
Residents of Chalong should be aware that there is a scheduled power outage from 9am to 4.30pm tomorrow (Tuesday) as the Provincial Electricity Authority (PEA) continues its work on high power voltage systems in the area.
The blackouts will affect the areas from the Shell petrol station on Patak Road to Bayshore law office opposite Chalong Beach Hotel on Wiset Road.
As always, the PEA apologises for the inconvenience.
For more information contact the Operations and Maintenance Department of the Provincial Electricity Authority on 07 652 1099 (24 hr)
Free water schedules for residents in Patong and Rassada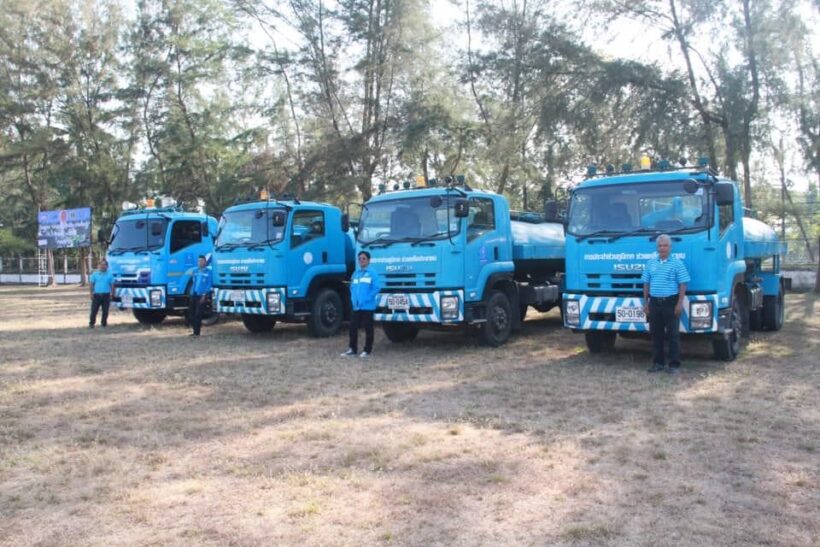 PHOTOS: PWA
Authorities have announced schedules of free water distribution for residents in Patong and Rassada.
In Rassada by the Phuket Waterworks Authority (PWA)
Koh Siray, from 8pm to midnight every day at Supitcha housing estate
Soi Kingkaew and Soi Honsaithong, from 9am to 3pm every day.
Nattakamon housing estate, one time per three days.
Thep Buri housing estate, one time per three days.
Sri Suchart 2 housing estate , Rock Garden housing estate and Kietsin hosuing estate, one time per three days.
In Patong by Patong Municipality
Free water is available on Phra Baree Road, Phisit Koranee Road and Nanai Road on Monday, Wednesday and Friday from 10am, onward starting today.
Residents are told they need to bring water buckets.
Alleged Greek murderer of Phuket beautician remains at large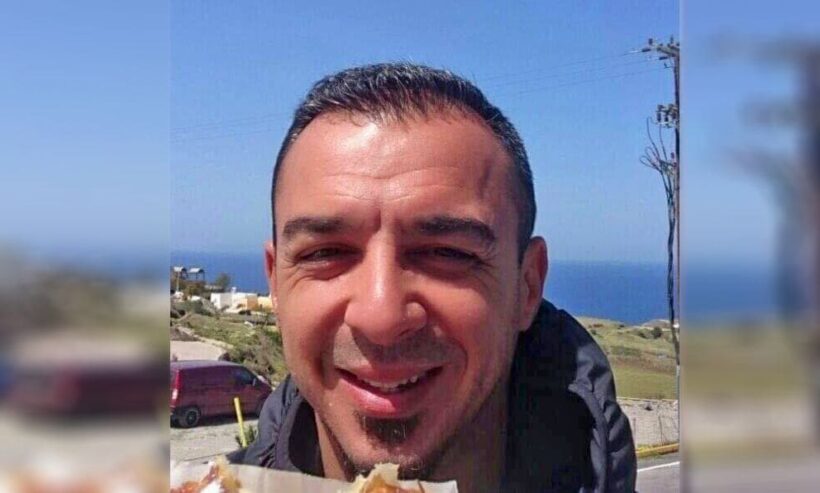 PHOTO: Dimitrios 'Dim' Chairopoulo, wanted and believed to be living in Greece
Local Phuket police are yet be informed of the latest in an international hunt for a Greek alleged murderer Dimitrios Chairopoulos. He remains wanted as a suspect in the murder of local beautician 43 year old Niramon 'Bea' Aewkaew in Phuket during February.
Cherng Talay police say they want an Interpol Red Notice issued so that they can track down and arrest 42 year old Dimitrios 'Dim' Chairopoulos, wanted for the murder. Bea and Dim were seen leaving their accommodation on February 11. It was the last time Bea would be seen alive.
Mr Chairopoulos was recorded as clearing Immigration at Phuket International Airport to board a flight to Dubai in the hours after Ms Niramon was last seen alive. He boarded an Emirates flight EK0379 to Dubai, departing Phuket at 2am. Police also confirmed that he arrived in Dubai on the same day.
"If he comes back to Thailand he will be arrested," said Chief Col Sen Kwannimit of the Cherng Talay Police.
A request for a Red Notice was submitted with the Foreign Affairs Division of the Royal Thai Police on February 19 but, for now, no formal international's notice has been published..
Cherng Talay Police confirmed that Dim was seen leaving the room at a guesthouse in Bang Tao where Ms Niramon's body was found on Saturday, February 16.
In the days leading up to her murder her family had been desperately trying to contact her.
'Bea' was the eldest of 5 children from Phatthalung province and had been working in Phuket as a beautician at the time.
One of her sisters, May' was contacted on February 15 by one of Bea's workmates trying to locate her.
Neither May or Bea's other sisters, relatives or friends were able to contact her. Bea had just moved to a new house so nobody knew where she was living. Another sister, Pichy, spoke to friends and was able, using Google Maps, to locate the guesthouse she was staying.
The owner of the room told the family that the air-conditioning was on in the room but there was no response. When the owner returned with a key he informed the family that Bea was found on the bed with a black cloth stuffed in her mouth and her hands and feet bound.
CCTV footage shows the couple leaving the room in the afternoon of February 11, the last time that Bea was seen alive.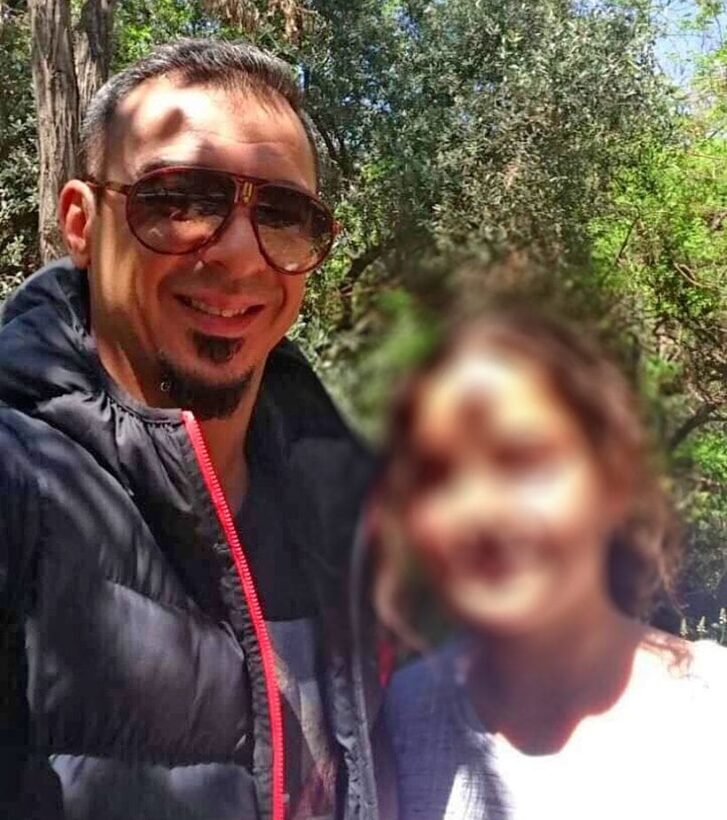 Dimitrios 'Dim' Chairopoulos with his daughter from another relationship
What we know about the alleged murderer?
Dimitrios 'Dim' Chairopoulos, who remains at large and thought to be in Greece, worked as security in a night club in Athens. He already had a daughter to another woman in Greece.
During his relationship and marriage with Bea he was said to be 'controlling' and 'jealous' by members of Bea's family. A close family friend told The Thaiger that the family had concerns for Bea's safety and were 'uncomfortable' with her ongoing relationship and marriage with Dim.
"We tried to get to know him at family functions but he was not easy to know and seemed very possessive of Bea," said one of the close family members who asked not to be named.
"He did threaten to kill her if she ever left him and Oh, another of her sisters, went with Bea to file a report of the threats at the Cherng Talay police station at the time," they explained.
That report was made to police in 2016. A year later the pair married and were still married at the time of the murder.
"He would drive past the beauty shops that Bea worked at and spy on her."
The family claim that, apart from his own possessions, he also stole Bea's phone before he headed to the Phuket International Airport on the evening of the murder.
So where is Dimitrios Chairopoulo?
At this stage the Greek Embassy has made no comment about the case or followed up with Greek Police about the pursuit for the fugitive man.
There are currently approximately 58,000 valid Red Notices worldwide of which only 7,000 are public. An Interpol Red Notice has not been issued to alert international police or Immigration officials to be on the look-out for Dim.
For now, the alleged murderer of Bea – an innocent Phuket beautician, beloved sister and family member – remains at large, most probably in Greece.
If anyone has any information about Dimitrios 'Dim' Chairopoulo's whereabouts or information that may lead police to arrest him, please send a confidential message to The Thaiger.