Phuket
Giant crab nips at Krabi villagers' emotions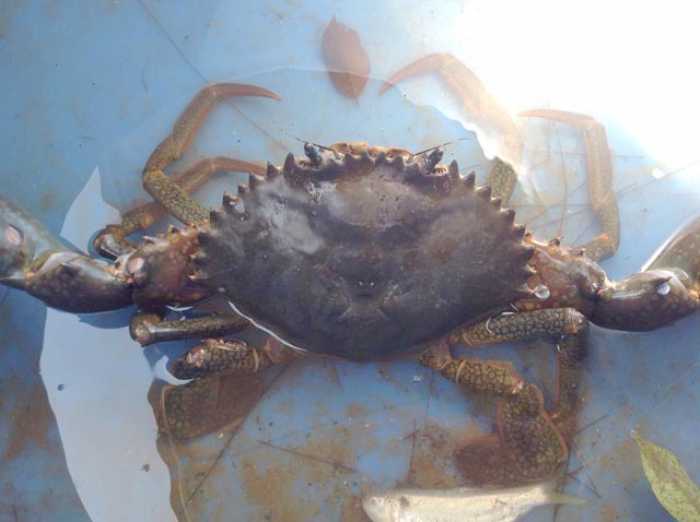 PHUKET: A huge mud crab caught by accident in a canal has stirred a veritable pot of emotions among local villagers in the mangrove-rich Klong Prasong area south of Krabi Town.
Sompong Klongrouw, a 33-year-old local fisherman, landed the giant crab last week and brought it home so he could show his neighbors.
By Friday, some locals were in a state of fearful anxiety after peeking into the barrel where Mr Sompong kept the crab, thinking that the markings on the crustacean's back, known as the carapace, resembled those of an angry monkey's face.
Others were simply in awe of the crab's size.
Even Mr Sompong was impressed: "I caught it by accident while fishing in Klong Talu. I wondered what it was, as it is the largest crab I've ever seen."
The answer came in simple terms – the giant crab is nothing more than a large version of a Scylla Serrata, called Poo Thonglang in Thai. The specimen in Mr Sompong's barrel is a male, weighing about 2.3 kilograms.
Pradit Janthong, head of the Klong Prasong Administration Organization (OrBorTor), said that this type of crab used to be common in Krabi rivers in years past.
"We found one in May, but it was smaller than this. This is the biggest we've found," he explained.
Mr Pradit considered the huge crab to be a good omen.
"We believe that these crabs are getting bigger because the rivers are getting cleaner," he said. "We started a campaign a few years ago to encourage local people to help preserve our local rivers, and this could be the benefit we are receiving in return."
— Kritsada Mueanhawong