From Phuket to California by kayak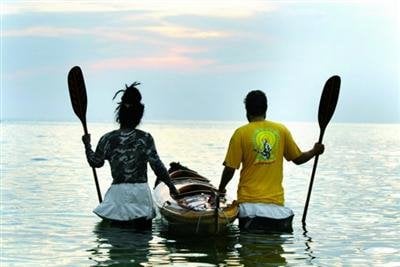 PHUKET: Two Phuket kayakers are getting ready for a spot of exercise: the world's longest paddling expedition, a 14,000-mile voyage from Phuket to California in a 20-foot wooden boat.
American Ryan Doran, 26, and Phatum Thani born Piya 'Mr X' Sukunthai, 28, plan to leave Nai Harn Beach on March 10 – and they won't be back for a while.
During their paddle, which they expect to take 20 months, they will pass through Indonesia, Malaysia, the Philippines, Taiwan, Japan and Russia before braving a 217-mile leg across the Bering Sea, one of the world's most treacherous expanses of ocean.
If they successfully make the crossing, they will continue on to Alaska and Canada, and the lower 48 US States.
If all goes according to plan, the pair will port in Ryan's home city of San Francisco, California, a few pounds lighter and just in time for Christmas next year.
Their own parents have branded their trip 'crazy and dangerous beyond belief', but for Ryan and Mr X the adventure is a life-long dream.
Currently in training, they can be seen most days paddling off Nai Harn Beach, and Promthep Cape in their Phuket-made kayak, Say-Lee (liberty).
Some sea kayakers have paddled sections of Ryan and Mr X's planned voyage – but no one has ever gone the full way.
Hypothermia and huge waves will be their main concern when navigating through the South China and Bering seas.
The first to paddle across the Bering Sea was Jon Turk and his team, who completed the feat in 2000.
Turk's team had to contend with 20-foot waves, navigate through ice shelves and withstand nine long days of sub-zero temperatures and zero visibility shrouded in a blanket of fog. They survived and the crossing is still heralded today as one of the world's greatest-ever kayaking expeditions.
Ryan and Mr X claim they will be able to paddle the 217 miles through the Bering Sea in under two weeks' time. A safety boat will tail them on this leg of their voyage.
"If we capsize in those conditions it will be extremely difficult to flip it back over, and huge waves and hypothermia are a very real threat," Ryan said.
But he added: "If anyone can do it, it's us."
Ryan said the pair are paddling for themselves; not to break records, but to quench their appetite for the ultimate adventure.
"People wanna hear like, 'oh you're paddling for breast cancer or you're paddling for Aids,' and the reason we we're paddling is, we're paddling for us."
"This is our adventure, and it's what we want to do with our lives," Ryan said.
Expecting to paddling anywhere from 20 to 50 miles a day, the pair will sleep in shifts. They say they can store enough food for one hundred days and enough water to last two weeks.
Food supplies of pasta, rice, and Spam will be used as a last resort, he said.
"We will fish every day for crabs, squid and other morsels," Ryan said.
"Mr X is also bringing his slingshot in case any bird lands on our kayak….we'll bring a spear gun too."
The pair have been planning the trip for two years. Relying on internet maps, they say they have '90 percent' of their landing points mapped and have been tirelessly studying advance weather forecasts.
International visa applications, organizing a support vessel for the Bering Sea leg, raising money for their two GPS and marine radios has all taken time.
Earlier this month, the pair dispatched winter clothing and equipment needed to their 'land support' contacts in Japan and the Philippines.
They arrived in Phuket four months ago in preparation for their 20-month paddle.
Ryan, who has been kayaking since he was nine-years-old, arrived in Rayong Province in 2005.
Working there as a tour guide and wake board instructor, he met and became close friends with Mr X.
Mr X , an avid kayaker since the age of 14, said pirates and huge waves were a concern, but not a deterrent.
"We will not give up on our journey, no matter what," he said.
Their kayak Say-Lee, cost US$7,000 and was handmade in Phuket by a Hawaiian craftsman.
"Say-Lee is durable and light yet strong," Ryan said of the 38-kilogram vessel.
"Fiberglass would be 15 to 20 pounds heavier and we don't need excess anything on our trip."
As their departure date draws closer, Ryan and Mr X are preparing themselves both mentally and physically for the trip: Meditating, paddling 15 miles a day and rounding up supplies and a sail rigging system to aid them on their incredible journey.
Ryan and Mr X are still looking for additional sponsors for their trip. So far, John Harris from Chesapeake Light Craft (CLC) Boats and Bennet Bar from the NRS Kayaking Team are official sponsors. The Phuket Gazette is a media sponsor.
— Fraser Morton
Want more from the Thaiger family?
📱 Download our app on Android or iOS for instant updates on your mobile
📧 Subscribe to our daily email newsletter
👍 Like/Follow us on Facebook
🔔 Subscribe to or Join our YouTube channel for daily video updates
Americans in Thailand urge US to provide Covid-19 vaccines to citizens overseas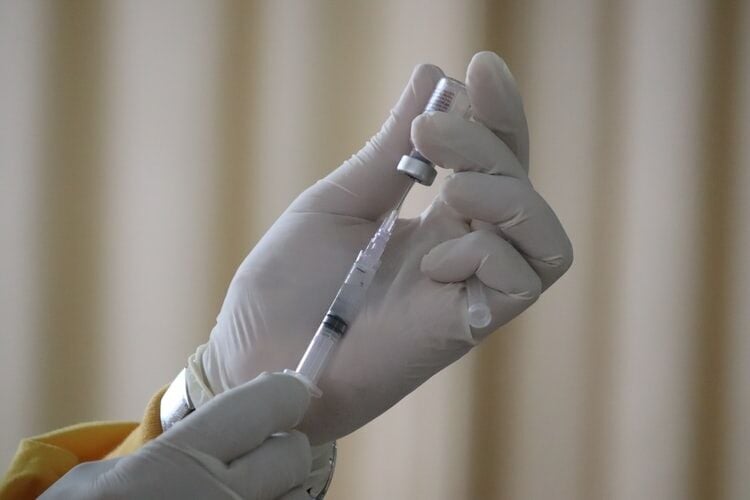 Thai officials say expats living in Thailand will be included in the government's mass Covid-19 vaccination plan, but exactly when that will be is still up in the air. With foreign embassies in Thailand clearly stating that they will not assist with providing citizens living overseas with vaccines, expats are relying on the Thai government.
A number of Americans are now urging the US government to provide Covid-19 vaccines to citizens living in Thailand. And with the recent outbreak linked to the more contagious variant of the virus, getting a vaccine in Thailand has become more pressing.
A "Covid-19 Vaccine Task Force" of Democrats Abroad Thailand members, as well as those from American organisations based in Thailand, is calling on the US government to deliver vaccines to citizens living in Thailand, chairperson of Democrats Abroad Thailand and a United Nations consultant, Paul Risley, told VOA.
"Americans who live abroad need to be vaccinated for the same reasons that Americans who live in the United States need to be vaccinated… Because it's the only way to stop Covid-19."
If an American were to travel back to the US for a vaccine, they would still need to stay in a hotel or certified facility for a 14-day quarantine at their own expense when re-entering Thailand. Along with getting together the required paperwork, they would need to go through numerous Covid-19 tests including before the flight, upon arrival and before being released from quarantine. The flights to and from the US can end up being more than 20 hours per trip and add up to thousands of dollars in travel costs.
For the vast majority of Americans in Thailand, flying back to the US is the only way to get vaccinated at the moment. The US Embassy in Bangkok says vaccines will not be provided for US citizens living overseas.
The Department of State does not provide direct medical care, including vaccinations, to private U.S. citizens abroad. We are committed to providing all possible consular assistance to U.S. citizens in need overseas, including by providing information on local medical resources when appropriate. Please follow host country developments and guidelines for COVID-19 vaccination.
At a recent Centre for Covid-19 Situation Administration meeting, a spokesperson for the Ministry of Foreign Affairs said "all people who reside in Thailand, regardless of their nationality, are eligible to receive the vaccine under the government's plan."
Mass vaccination campaigns are being rolled out in high-risk areas, such as Bangkok's Khlong Toey slum where a cluster of infections was reported, as well as Phuket and Koh Samui, tourist islands that are said to be of "economic significance." Health officials are trying to hit herd immunity on the 2 islands to reopen to foreign tourists.
Expats in Phuket who have a valid work permit can now register for a state Covid-19 vaccine. The registration must be under the company name and expats are told to have the company's human resources staff assist with the registration process.
While no official announcement has been made regarding expats in Koh Samui, some foreigners who work as English teachers on the island say they have received both doses of the Chinese-made Sinovac vaccine. Schools apparently helped with the registration process, but some teachers say they told to keep quiet about getting the vaccine. Some did not receive a vaccine certificate or any other documentation confirming that they are vaccinated against the coronavirus.
SOURCE: VOA
Want more from the Thaiger family?
📱 Download our app on Android or iOS for instant updates on your mobile
📧 Subscribe to our daily email newsletter
👍 Like/Follow us on Facebook
🔔 Subscribe to or Join our YouTube channel for daily video updates
ICU beds for Covid-19 patients in Phuket are close to a "critical" low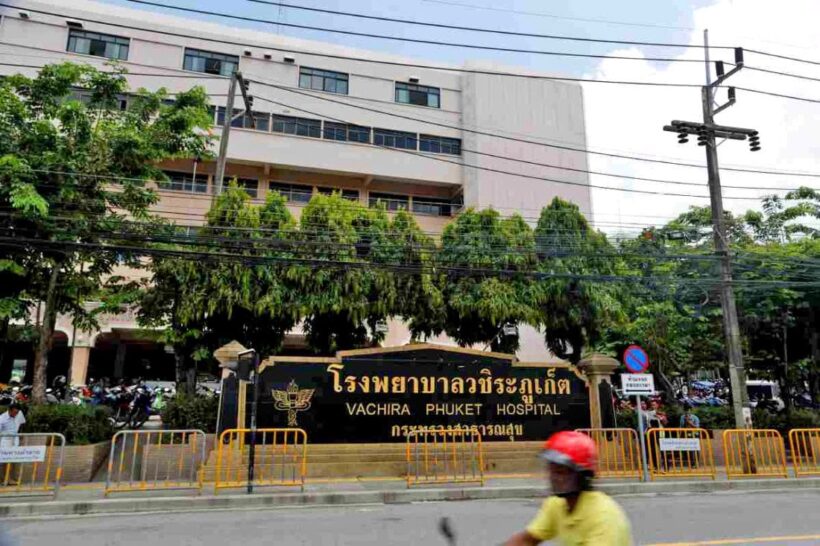 Covid-19 patients in severe condition may have to been transferred from a government hospital in Phuket to a private hospital as the number of available hospital beds at public intensive care units in Phuket is close to a "critical" low, according to Vachira Phuket Hospital Director Chalermpong Sukontapol.
There are 9 ICU rooms at the Vachira Phuket Hospital. 5 are being used for Covid-19 patients with severe symptoms while the other 4 rooms are for those with mild symptoms and are under observation before being moved to another bed.
"If the 9 rooms are full of severe symptom cases, that will be a big critical stage. We may need to transfer our patients to other provinces or private hospitals, which may involve additional costs."
He says 50% of the Covid-19 patients in Phuket are asymptomatic while 30% have mild symptoms and 10% have severe symptoms. For most of those with severe symptoms, the virus has moved to their lungs and they are in need of special equipment, like ventilators, to help them breathe and Charlempong says those patients need to be under close observation.
SOURCE: Phuket News
Want more from the Thaiger family?
📱 Download our app on Android or iOS for instant updates on your mobile
📧 Subscribe to our daily email newsletter
👍 Like/Follow us on Facebook
🔔 Subscribe to or Join our YouTube channel for daily video updates
For travellers to Phuket, testing is out, quarantine is in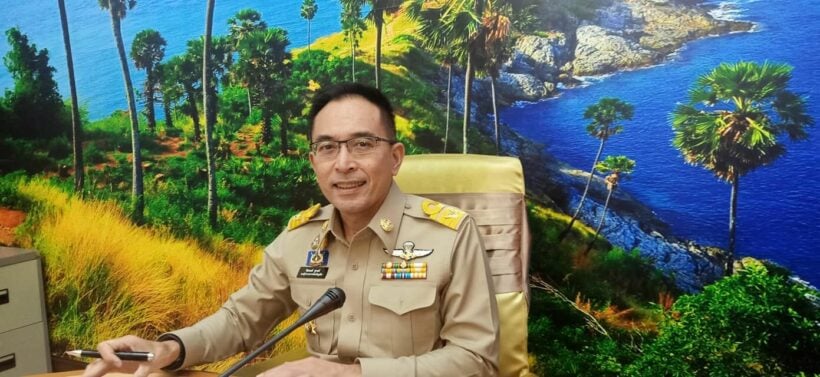 The on-again-off-again plans for testing people for Covid-19 as they arrive in Phuket will be replaced by quarantine after May 15, according to Vice Governor Piyapong Choowong's latest announcement. In an online video broadcast last night, the vice governor confirmed the new scheme after Phuket Governor Narong Woonciew first mentioned it in an executive meeting at Phuket Provincial Hall yesterday.
There are now 25 provinces on the Phuket red zone list that they instated on April 22, with anyone arriving from those places required to have proof that they are either fully vaccinated or tested negative for Covid-19 within the last 72 hours. Without proof, people have to take a rapid antigen test to confirm they did not have Covid-19 before they would be allowed on the island. The test was first set to be 300 baht for everyone, and later controversially made free for Thai people and 500 baht for foreigners.
There had been some back and forth with budget concerns of being able to provide the mass testing and who would pay how much for continued testing. Perhaps requiring people to quarantine in Phuket is cheaper than testing them when they arrive (cheaper for Phuket officials anyway).
The original scheme was set to expire May 15, and announcements were made about extending the plan and stopping testing right away. For now, this debate seems to have settled on replacing the testing with a mandatory quarantine upon entering Phuket.
The vice-governor explained that the rapid antigen test will continue through May 14, and then starting May 15, anyone who arrives without a vaccine or a negative Covid-19 test within 72 hours of arriving in Phuket will be required to quarantine for 14 days. They set a goal of zero new infections by the end of the next two weeks. And he stated they are committed to doing whatever it takes as "Phuket cannot continue with this risk".
Speaking to The Phuket News… "We want to send a sign to the country that we are cleaning up our province. The 3 vice governors [in Phuket] have been ordered to take care of each district by cooperating with local administration officers as well as community leaders to do proactive screening,"
After announcing the quarantine plan for Phuket, the vice governor spoke confidently that in the near future the island will have enough jabs to vaccinate every person on the island. Religious leaders from any faith are currently being vaccinated because of their general proximity to people during religious ceremonies and practices.
Vice Governor Piyapong pled with people with the people of Phuket who were on the fence about Covid-19 vaccinations, anti-vaxxers, or those otherwise resisting getting the jabs needed to reach herd immunity.
"If you are still deciding whether or not to get vaccinated, please come to get vaccinated"
SOURCE: The Phuket News
Want more from the Thaiger family?
📱 Download our app on Android or iOS for instant updates on your mobile
📧 Subscribe to our daily email newsletter
👍 Like/Follow us on Facebook
🔔 Subscribe to or Join our YouTube channel for daily video updates