British expat pleads guilty to North Korean meth smuggling charges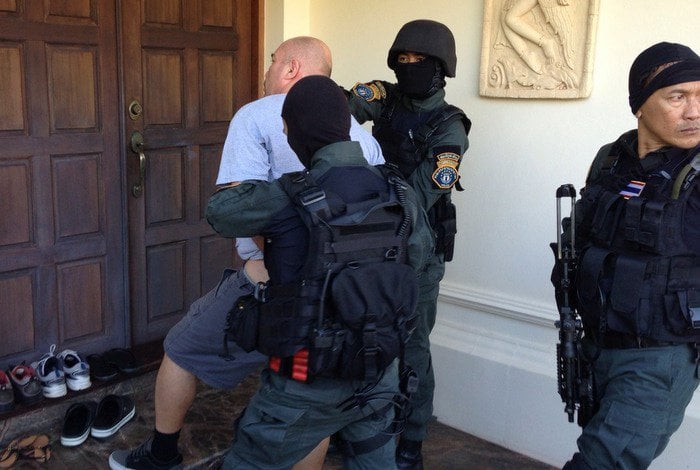 PHUKET: A former Phuket resident involved in an international plot to move enormous stockpiles of North Korean drugs through Thailand and into the United States pleaded guilty to charges of possession with intent to distribute more than 500 grams of methamphetamine.
British national Scott Stammers, 46, was arrested in Phuket with four other foreigners in September 2013 as they prepared to flood the streets of New York and surrounding areas in the United States with 100 kilograms of meth.
Mr Stammers faces 10 years to life in prison when he is sentenced by a US judge. Three of the other defendants; Chinese national Lim Ye Tiong Tan, 53; Philippines national Kelly Allan Reyes Peralta, 41; and Slovakian national Alexander Lnu, 43, entered guilty pleas earlier this month.
Long-term island resident Mr Lnu, self-described as the 'sergeant at arms' of the Outlaw Motorcycle Club (OMC) in Thailand, was to be the 'ground commander' for the operation. He was 'the person principally responsible for the arrangement' of security and storage in Thailand by supervising an armed crew of OMC members.
"We can bring the sailboat directly into the marina," Mr Lnu said while discussing the logistics for the operation, pointing out that an open-water transfer would risk discovery from nearby United States military facilities, stated a United States District Court document.
The fifth man accused of involvement in the plan is British national Philip Shackels, 32. Mr Shackles is scheduled to go on trial in New York on Sept 21.
A law enforcement source, who spoke to NBC on condition of anonymity, said the arrests of the five men in 2013 related to a case brought against former US Army Sgt Joseph 'Rambo' Hunter, 48, who was arrested in Phuket September 2013 for allegedly leading a ring of globe-trotting contract killers who worked for drug traffickers.
Mr Hunter originally denied the 'death squad' charges against him (story here and special report here), but later changed his plea to guilty for recruiting an international team of military-trained snipers to carry out contract killings, reported Reuters (story here). Mr Hunter 'has acted as a 'contract killer… he succeeded in arranging for the murder of a number of people', stated a United States District Court document.
"Like many international criminal networks, these drug traffickers have no respect for borders, and no regard for either the rule of law or who they harm as a result of their criminal endeavors," US Drug Enforcement Agency Administrator Michele M Leonhart said when the extradition of the men from Thailand to the US was confirmed. "This investigation continued to highlight the emergence of North Korea as a significant source of methamphetamine in the global drug trade. I wish to thank the Thai Government for their outstanding efforts and partnership in completely dismantling this sophisticated and dangerous international criminal enterprise."
The case against Stammers and his associates first details Mr Lim and Mr Reyes Peralta – members of the Hong-Kong-based Triad criminal organization – selling more than 30 kilograms of 99% pure meth from North Korea. The drugs were later seized by law enforcement agents in Thailand and the Philippines.
In 2013, Mr Lim and Mr Reyes Peralta met with an individual who represented himself as a narcotics trafficker, but was in fact a US DEA confidential source.
During the meeting Mr Lim confirmed that they would send a test run of one kilogram of North Korean methamphetamine.
"Comes from the NK [North Korea] place… My boss only gets from the original source," Mr Lim said, noting that his drug-trafficking organization was the only one able to procure meth from North Korea. "Because before, there were eight. But now, only us. We have the NK product."
However, Mr Lim refused to bring the source to the meth lab.
"We, we can't go to North Korea… We take it out. We don't talk Korean language, they'll have suspicions. The NK government already burned all the labs. Only our labs are not closed… To show the Americans that they are not selling it any more, they burned it. Then they transfer to another base."
The sample kilo to be sent to New York by commercial carrier and labeled 'parts, auto parts' was priced at US$65,000. However, it was later decided that it was too risky to be shipped and that it should be picked up. Eventually, two samples testing at more than 96% pure and 98% pure were sent to an African country to be moved to the United States.
Following the sample's delivery, the US government sources were put in contact with Phuket resident, Mr Lnu and Mr Lim agreed to supply an initial transaction of 60kg at a price of US$60,000 per kilo.
It was then agreed to bump the purchased amount to 100kg of North Korean meth.
"My friends, can you do the sixty, a little bit, a little more, like one hundred if we're doing the same risk," Mr Reyes Peralta said.
With things heating up between North Korea, South Korea, Japan and the United States, the narcotic cartel was unable to continue to move goods directly out of North Korea, but had stockpiled them in the Philippines in anticipation of the problem.
Next, the crew conducted a test run with 4,700kg of tea, which sailed through without issues.
The plan was to sneak the 100kg of meth onto a sailboat under the guise of a photo shoot at ;the marina'. Court documents do not indicate specifically which marina was to be used.
The five men were quickly scooped up in a joint operation in Phuket and taken to Bangkok's Khlong Prem Prison before being extradited (story here).
Following the trial, US attorney Preet Bharara thanked authorities in Liberia, Romania and Thailand for assisting with the US investigation.
"Stammers' scheme ended not with the North Korean methamphetamine flooding American streets as he had intended, but rather with a guilty plea in a Manhattan federal court," Mr Bharara said.
— Isaac Stone Simonelli
Keep in contact with The Thaiger by following our
Facebook page
.
Never miss out on future posts by
following The Thaiger
.
Happy Loy Krathong Phuket. Where to launch your krathong tonight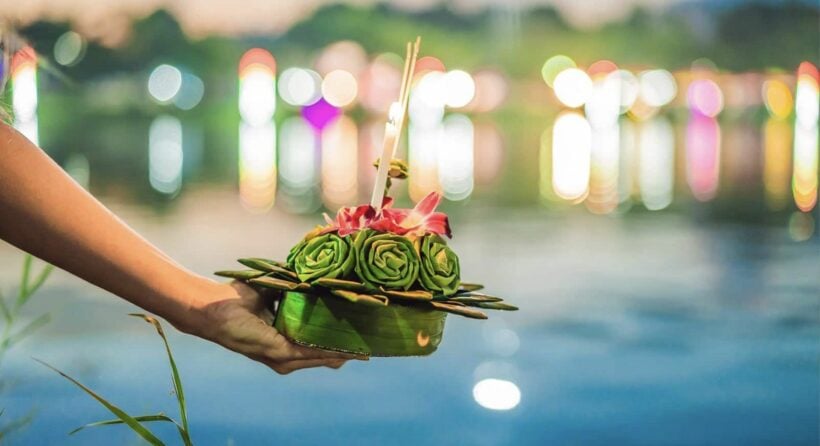 Happy Loy Krathong Phuket. But this year authorities are saying 'only floating Krathongs thanks'. No polystyrene, no steel pins – keep it natural and plant-based please. This year Loy Krathong in Thailand co-incides with the annual Halloween celebrations on October 31.
Authorities are also urging people to choose, or make, their krathongs using natural materials only. The latest craze for "edible" krathongs is also causing problems. Read about that HERE.
Loy Krathong is a festival celebrated annually throughout Thailand The name could be translated as "to float a basket", and comes from the tradition of making krathong or buoyant, decorated baskets, which are then floated on a river. Loi Krathong takes place on the evening of the full moon of the 12th month in the traditional Thai lunar calendar so the exact date of the festival changes every year.
In Phuket, the Provincial Office says fireworks, fire crackers and sky lanterns are prohibited "for people's safety" (but be assured there will still be a few sky lanterns seen flying off the islands beaches this evening).

Loy Krathong is celebrated at many of the island's popular waterways and at many of the beaches. Many hotels also host their own celebrations for their tourist customers. Here are a few of the locations you will be able to launch your own Krathong or buy one on site and watch families and couples launching Krathongs.
Popular locations in Phuket include…
• Saphan Hin Park Lake, Phuket Town
• Suan Luang Park (off Naka Market Road)
• Bang Wad Dam, Kathu
• The recreation lake near Ket Ho Temple in Kathu (The Thaiger 'local')
• Tin Mine Museum Lake on the Kathu back road, near BIS International School
• Nai Harn Lake and Nai Harn Beach
• Bang Maruam near the Alan Cooke Cricket Ground in Thalang
• Laguna (the main lake just inside the entrance)
• Just about anywhere along Patong Beach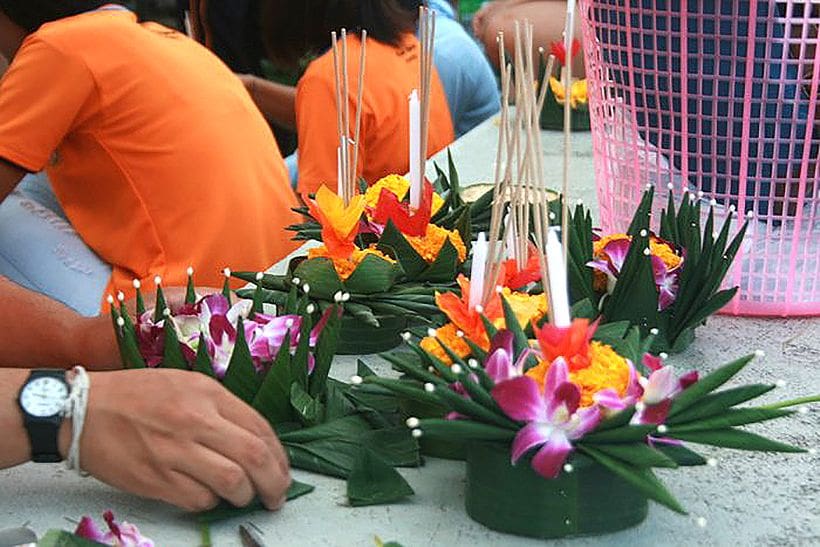 On the night of the full moon, Thais launch their krathong on a river, canal or a pond, making a wish as they do so. The festival may originate from an ancient ritual paying respect to the water spirits.
We would urge people to consider the environment if you're making your own Krathong or try and select Krathongs that are made from natural products. Many of the 'commercial' Krathongs use polystyrene and pins that end up scattered along our waterways and provide a hazard on the island's beaches when the Krathongs eventually wash ashore and disintegrate.
Same goes for the new fad of bread and "edible" krathongs. Officials say these can be dangerous for the fish and cause long term problems for water catchments.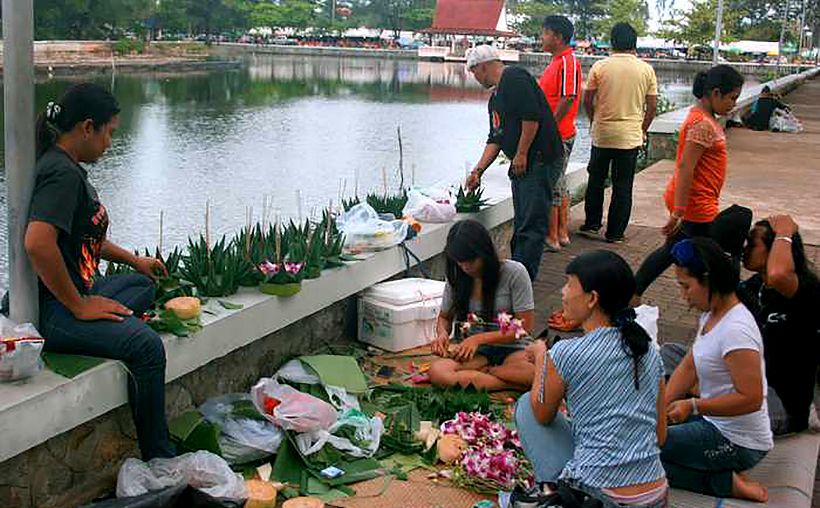 If you'd like to make a krathong, here's a very quick guide…
If you want the easy way out, you will find hundreds of stalls on the way or near any waterway around the island that is participating in the event. Try and pick ones that appear to be made from natural materials.
Happy Loy Krathong Phuket!
Keep in contact with The Thaiger by following our
Facebook page
.
Never miss out on future posts by
following The Thaiger
.
Phuket tops travel destination list of cheapest hotel prices – Dertour 2020 Price Index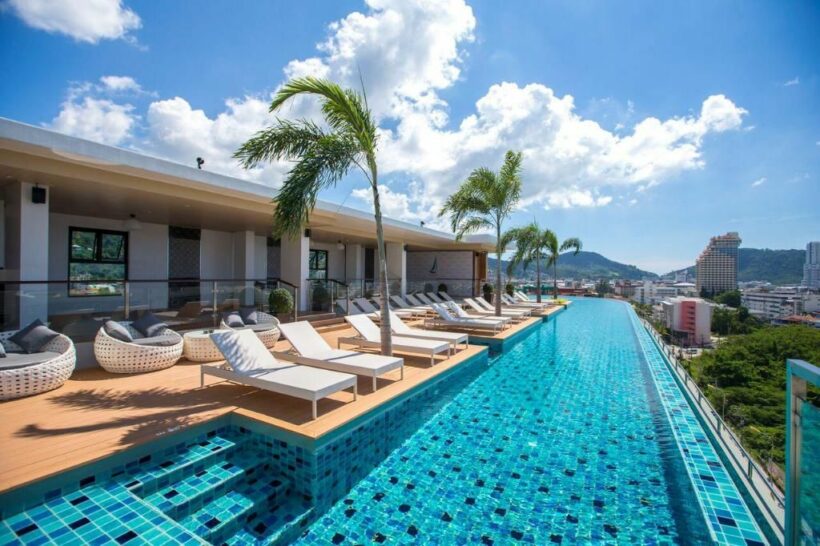 Phuket tops a list of the cheapest travel destinations with a 1 night stay at a hotel costing on average less than $30 USD, according to a study by the German travel company Dertour. Phuket is going through what some say is a "crisis", certainly a current tourist vacuum. The island province largely relies on income from foreign tourists, but with travel bans over the last 7 months, hotels and other businesses in the tourism industry have been at a loss.
For domestic tourists, Phuket currently offers a serene, peaceful tropical stay where you'll have a lot of the island to yourself. There are plenty of daily flights to the island, but all from domestic locations at this stage – the international terminal remains closed.
Along with being listed as hotels with the lowest price, Phuket also made the top 5 cities with the largest price drop from 2019 to 2020, according to Dertour's 2020 Accommodation Price Index. The company studied hotel prices for 75 popular tourist destinations around the world. Bangkok was just above Phuket at the fourth city with the largest hotel price drop. Bangkok hotel prices dropped by 34.6% while Phuket's hotel prices dropped by 33.8%.
Prices will continue to be low, CEO DER Touristik Central Europe Ingo Burmester says…
"Travel itself will be cheap in 2021… Although it has been a challenging period, we have seen a great deal of interest in domestic travel. We also predict a major catch-up effect for Mediterranean destinations, European trips and long-haul routes in 2021 as soon as travel restrictions are lifted."
Phuket ranks as the destination with the cheapest accommodation prices at an average price of $29 USD, according to the list. Average prices for 3-star hotels are $26 USD and an average of $54 USD for 5-star hotels.
Bangkok followed, ranking fifth on the list of cities with the lowest hotel price at an average of $43 USD per night. 3-star hotels in Bangkok average at $30 per night and 5-star hotels average at $93 USD.
Top 5 destinations with the lowest price in accommodation
Phuket: Average of $29 USD per night
Delhi: Average of $34 USD per night
Kuala Lumpur: Average of $36 USD per night
Bali: Average of $36 USD per night
Bangkok: Average of $43 USD per night
Top 5 destinations with the largest price drop in accommodation
Amsterdam: Dropped by 51.6%
San Francisco: Dropped by 39.2%
Vancouver: Dropped by 37.1%
Bangkok: Dropped by 34.6%
Phuket: Dropped by 33.8%
To read Dertour's full report, click HERE.
Catch up with the latest daily "Thailand News Today" here on The Thaiger.
Keep in contact with The Thaiger by following our
Facebook page
.
Never miss out on future posts by
following The Thaiger
.
Man arrested after allegedly slicing a man's face with sickle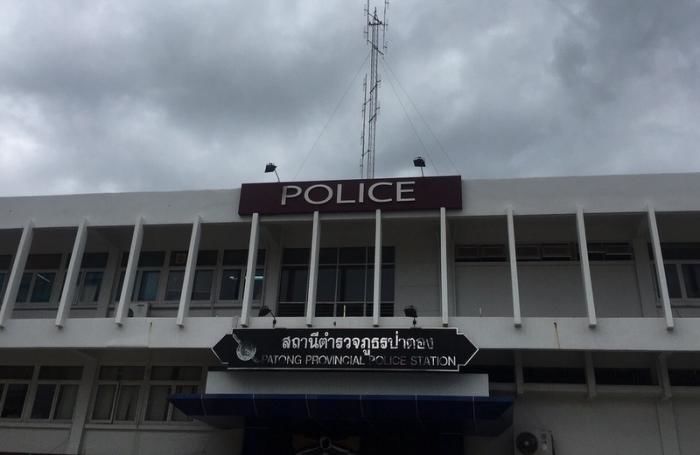 A man was arrested on charges of grievous bodily harm after he allegedly sliced his friend's face with a sickle, causing a gash about 25 centimetres long.
3 men, identified as Saeng, Ta and Rop, had been drinking at a shanty in Phuket's Rassada district where Rop lived. An argument broke out over money. A bank transfer was apparently made, but no one received any money, according to Rop as he related the story to police.
The men didn't come to an agreement and ended up going to bed. Ta stayed awake and slapped Saeng twice while he was falling asleep, Rop says. Saeng then got up, grabbed the sickle and swung the hooked blade across Ta's cheek, Rop says.
Reports don't go into detail about Ta's condition, but photos of the scene by the Phuket News show a significant amount of blood on the concrete floor.
SOURCE: Phuket News
Catch up with the latest daily "Thailand News Today" here on The Thaiger.
Keep in contact with The Thaiger by following our
Facebook page
.
Never miss out on future posts by
following The Thaiger
.