British expat pleads guilty to North Korean meth smuggling charges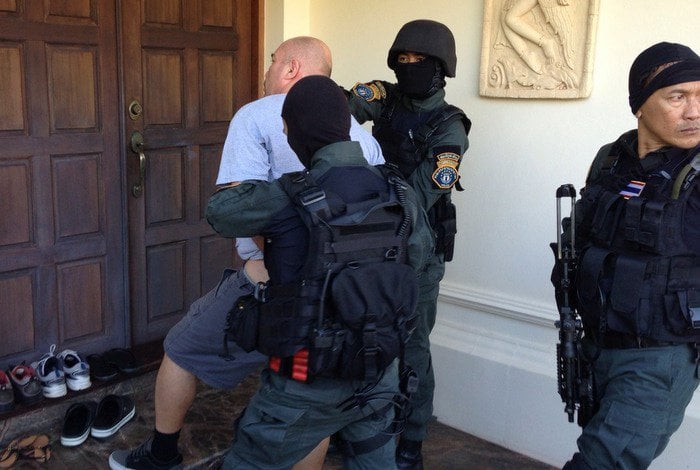 PHUKET: A former Phuket resident involved in an international plot to move enormous stockpiles of North Korean drugs through Thailand and into the United States pleaded guilty to charges of possession with intent to distribute more than 500 grams of methamphetamine.
British national Scott Stammers, 46, was arrested in Phuket with four other foreigners in September 2013 as they prepared to flood the streets of New York and surrounding areas in the United States with 100 kilograms of meth.
Mr Stammers faces 10 years to life in prison when he is sentenced by a US judge. Three of the other defendants; Chinese national Lim Ye Tiong Tan, 53; Philippines national Kelly Allan Reyes Peralta, 41; and Slovakian national Alexander Lnu, 43, entered guilty pleas earlier this month.
Long-term island resident Mr Lnu, self-described as the 'sergeant at arms' of the Outlaw Motorcycle Club (OMC) in Thailand, was to be the 'ground commander' for the operation. He was 'the person principally responsible for the arrangement' of security and storage in Thailand by supervising an armed crew of OMC members.
"We can bring the sailboat directly into the marina," Mr Lnu said while discussing the logistics for the operation, pointing out that an open-water transfer would risk discovery from nearby United States military facilities, stated a United States District Court document.
The fifth man accused of involvement in the plan is British national Philip Shackels, 32. Mr Shackles is scheduled to go on trial in New York on Sept 21.
A law enforcement source, who spoke to NBC on condition of anonymity, said the arrests of the five men in 2013 related to a case brought against former US Army Sgt Joseph 'Rambo' Hunter, 48, who was arrested in Phuket September 2013 for allegedly leading a ring of globe-trotting contract killers who worked for drug traffickers.
Mr Hunter originally denied the 'death squad' charges against him (story here and special report here), but later changed his plea to guilty for recruiting an international team of military-trained snipers to carry out contract killings, reported Reuters (story here). Mr Hunter 'has acted as a 'contract killer… he succeeded in arranging for the murder of a number of people', stated a United States District Court document.
"Like many international criminal networks, these drug traffickers have no respect for borders, and no regard for either the rule of law or who they harm as a result of their criminal endeavors," US Drug Enforcement Agency Administrator Michele M Leonhart said when the extradition of the men from Thailand to the US was confirmed. "This investigation continued to highlight the emergence of North Korea as a significant source of methamphetamine in the global drug trade. I wish to thank the Thai Government for their outstanding efforts and partnership in completely dismantling this sophisticated and dangerous international criminal enterprise."
The case against Stammers and his associates first details Mr Lim and Mr Reyes Peralta – members of the Hong-Kong-based Triad criminal organization – selling more than 30 kilograms of 99% pure meth from North Korea. The drugs were later seized by law enforcement agents in Thailand and the Philippines.
In 2013, Mr Lim and Mr Reyes Peralta met with an individual who represented himself as a narcotics trafficker, but was in fact a US DEA confidential source.
During the meeting Mr Lim confirmed that they would send a test run of one kilogram of North Korean methamphetamine.
"Comes from the NK [North Korea] place… My boss only gets from the original source," Mr Lim said, noting that his drug-trafficking organization was the only one able to procure meth from North Korea. "Because before, there were eight. But now, only us. We have the NK product."
However, Mr Lim refused to bring the source to the meth lab.
"We, we can't go to North Korea… We take it out. We don't talk Korean language, they'll have suspicions. The NK government already burned all the labs. Only our labs are not closed… To show the Americans that they are not selling it any more, they burned it. Then they transfer to another base."
The sample kilo to be sent to New York by commercial carrier and labeled 'parts, auto parts' was priced at US$65,000. However, it was later decided that it was too risky to be shipped and that it should be picked up. Eventually, two samples testing at more than 96% pure and 98% pure were sent to an African country to be moved to the United States.
Following the sample's delivery, the US government sources were put in contact with Phuket resident, Mr Lnu and Mr Lim agreed to supply an initial transaction of 60kg at a price of US$60,000 per kilo.
It was then agreed to bump the purchased amount to 100kg of North Korean meth.
"My friends, can you do the sixty, a little bit, a little more, like one hundred if we're doing the same risk," Mr Reyes Peralta said.
With things heating up between North Korea, South Korea, Japan and the United States, the narcotic cartel was unable to continue to move goods directly out of North Korea, but had stockpiled them in the Philippines in anticipation of the problem.
Next, the crew conducted a test run with 4,700kg of tea, which sailed through without issues.
The plan was to sneak the 100kg of meth onto a sailboat under the guise of a photo shoot at ;the marina'. Court documents do not indicate specifically which marina was to be used.
The five men were quickly scooped up in a joint operation in Phuket and taken to Bangkok's Khlong Prem Prison before being extradited (story here).
Following the trial, US attorney Preet Bharara thanked authorities in Liberia, Romania and Thailand for assisting with the US investigation.
"Stammers' scheme ended not with the North Korean methamphetamine flooding American streets as he had intended, but rather with a guilty plea in a Manhattan federal court," Mr Bharara said.
— Isaac Stone Simonelli
Phuket News

Join the conversation and have your say on Thailand news published on The Thaiger.
Thaiger Talk is our new Thaiger Community where you can join the discussion on everything happening in Thailand right now.
Please note that articles are not posted to the forum instantly and can take up to 20 min before being visible. Click for more information and the Thaiger Talk Guidelines.