Australian world triathalon champs to go head-to-head at Challenge Laguna Phuket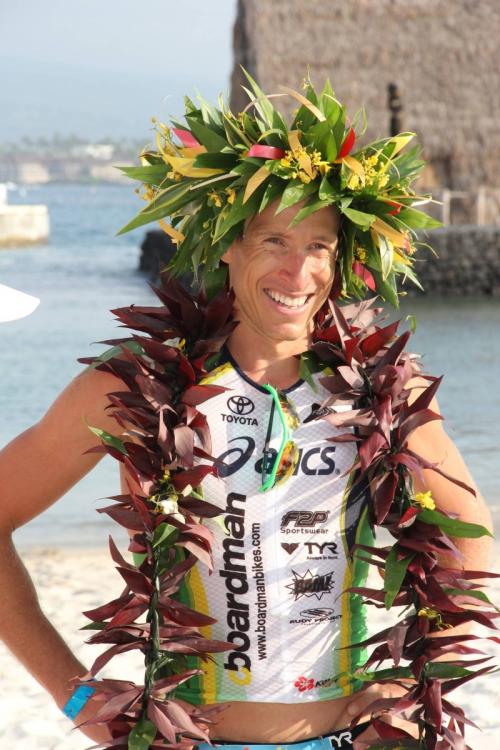 PHUKET: Reigning World Champion Pete 'PJ' Jacobs has confirmed he will race the inaugural Challenge Laguna Phuket half distance triathlon on December 1 – setting up an intriguing contest with fellow Australian Chris 'Macca' McCormack, the defending title-holder and two-time World Champion, for a slice of the race's 25,000 euro prize purse.

The elite pair will compete at Challenge Laguna Phuket less than two months after the 2013 World Championships in Kona, Hawaii, where they're expected to be among the top athletes vying for the coveted honour, with McCormack bidding for a third title to cement his legendary status and Jacobs defending his 2012 crown.

At Challenge Laguna Phuket they are among a pro field that also boasts World Champion and defending Laguna Phuket women's champion Melissa Hauschildt, together with her 2012 Phuket podium finishers Radka Vodickova and Belinda Granger.

Jacobs is making his debut in Phuket and his duel with McCormack may see him at a disadvantage – McCormack is familiar with the testing course and will also have raced the Laguna Phuket Triathlon a week earlier on November 24, the 20th edition of the legendary race that launches the week-long Challenge Laguna Phuket Tri-Fest.

But Jacobs, a three-time top ten finisher at the World Championships before he lifted his 2012 crown, has a record of posting top swim and run times.

At 31, he's almost 10 years younger than McCormack and is relishing the prospect of racing against him on Phuket's tropical paradise course.

"I'm definitely going to be motivated to stay healthy and in good shape after Kona to race against Macca in Phuket," Jacobs said.

"Competing in Phuket – in such a wonderful location alongside some of the best triathletes in the world – is an amazing opportunity for me to cap off my year with some adventure and adrenaline.

"I've heard for so many years about how good Phuket's race, accommodation, food, and after party are. This year I'll be putting in extra effort after Kona to be in Phuket ready to race."

McCormack said: "It's great to have PJ join the pro start list for Phuket. He's an amazing talent and as current World Champion will be the major favourite for this race.

"PJ's biggest skill is his ability to race so well in hot and humid conditions, so this course in Phuket is perfect for him. He's a good friend of mine and a young athlete that I admire a lot – it's great to have him joining all of us in Phuket."

Debbie Dionysius, Assistant Vice President of Destination Marketing, Laguna Phuket, said: "We couldn't ask for a better contest in our inaugural Challenge Laguna Phuket.

"It's going to be fantastic watching PJ and Macca battling it out – and with the calibre of the other pros expected to race there's always the prospect of an upset!"

The Challenge Laguna Phuket Tri-Fest has drawn worldwide interest with more than 600 athletes now signed up for the 20th anniversary edition of the Laguna Phuket Triathlon, and keen demand for the Challenge Laguna Phuket half distance triathlon. Fields in excess of 1,000 athletes are expected for each race.

The Laguna Phuket Triathlon on November 24 will be contested over a 1.8k swim, 55k bike ride and 12k run. The Challenge Laguna Phuket half distance triathlon on December 1 features a 1.9k swim followed by a 90k bike and half marathon 21k run.

Both swim courses are across two bodies of water – a sea course followed by beach run-over to a freshwater lagoon – and the half distance bike course features a mandatory dismount across a pedestrian road bridge.

Pros will compete for a total Challenge Laguna Phuket Tri-Fest prize purse of

US$ 57,000, with US$15,000 on offer in the Laguna Phuket Triathlon; 25,000 euro in Challenge Laguna Phuket – and a bonus US$ 10,000 for the top fastest combined times in both events.

The week-long Challenge Laguna Phuket Tri-Fest staged between the races will this year feature a host of family-friendly triathlon training and social activities around the Laguna Phuket resort, together with charity fund-raising events for local schools and communities.

More information, click here.


Read more headlines, reports & breaking news in Phuket. Or catch up on your Thailand news.
Alleged Greek murderer of Phuket beautician remains at large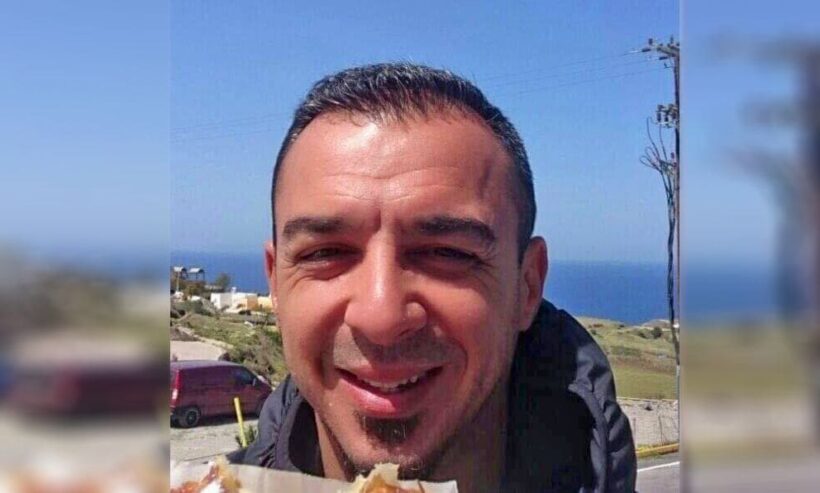 PHOTO: Dimitrios 'Dim' Chairopoulo, wanted and believed to be living in Greece
Local Phuket police are yet be informed of the latest in an international hunt for a Greek alleged murderer Dimitrios Chairopoulos. He remains wanted as a suspect in the murder of local beautician 43 year old Niramon 'Bea' Aewkaew in Phuket during February.
Cherng Talay police say they want an Interpol Red Notice issued so that they can track down and arrest 42 year old Dimitrios 'Dim' Chairopoulos, wanted for the murder. Bea and Dim were seen leaving their accommodation on February 11. It was the last time Bea would be seen alive.
Mr Chairopoulos was recorded as clearing Immigration at Phuket International Airport to board a flight to Dubai in the hours after Ms Niramon was last seen alive. He boarded an Emirates flight EK0379 to Dubai, departing Phuket at 2am. Police also confirmed that he arrived in Dubai on the same day.
"If he comes back to Thailand he will be arrested," said Chief Col Sen Kwannimit of the Cherng Talay Police.
A request for a Red Notice was submitted with the Foreign Affairs Division of the Royal Thai Police on February 19 but, for now, no formal international's notice has been published..
Cherng Talay Police confirmed that Dim was seen leaving the room at a guesthouse in Bang Tao where Ms Niramon's body was found on Saturday, February 16.
In the days leading up to her murder her family had been desperately trying to contact her.
'Bea' was the eldest of 5 children from Phatthalung province and had been working in Phuket as a beautician at the time.
One of her sisters, May' was contacted on February 15 by one of Bea's workmates trying to locate her.
Neither May or Bea's other sisters, relatives or friends were able to contact her. Bea had just moved to a new house so nobody knew where she was living. Another sister, Pichy, spoke to friends and was able, using Google Maps, to locate the guesthouse she was staying.
The owner of the room told the family that the air-conditioning was on in the room but there was no response. When the owner returned with a key he informed the family that Bea was found on the bed with a black cloth stuffed in her mouth and her hands and feet bound.
CCTV footage shows the couple leaving the room in the afternoon of February 11, the last time that Bea was seen alive.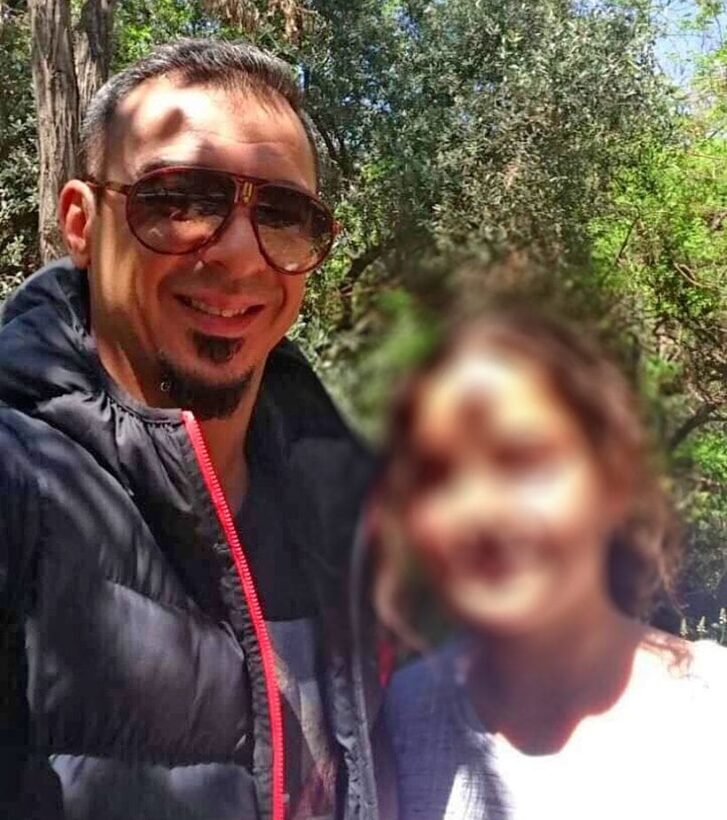 Dimitrios 'Dim' Chairopoulos with his daughter from another relationship
What we know about the alleged murderer?
Dimitrios 'Dim' Chairopoulos, who remains at large and thought to be in Greece, worked as security in a night club in Athens. He already had a daughter to another woman in Greece.
During his relationship and marriage with Bea he was said to be 'controlling' and 'jealous' by members of Bea's family. A close family friend told The Thaiger that the family had concerns for Bea's safety and were 'uncomfortable' with her ongoing relationship and marriage with Dim.
"We tried to get to know him at family functions but he was not easy to know and seemed very possessive of Bea," said one of the close family members who asked not to be named.
"He did threaten to kill her if she ever left him and Oh, another of her sisters, went with Bea to file a report of the threats at the Cherng Talay police station at the time," they explained.
That report was made to police in 2016. A year later the pair married and were still married at the time of the murder.
"He would drive past the beauty shops that Bea worked at and spy on her."
The family claim that, apart from his own possessions, he also stole Bea's phone before he headed to the Phuket International Airport on the evening of the murder.
So where is Dimitrios Chairopoulo?
At this stage the Greek Embassy has made no comment about the case or followed up with Greek Police about the pursuit for the fugitive man.
There are currently approximately 58,000 valid Red Notices worldwide of which only 7,000 are public. An Interpol Red Notice has not been issued to alert international police or Immigration officials to be on the look-out for Dim.
For now, the alleged murderer of Bea – an innocent Phuket beautician, beloved sister and family member – remains at large, most probably in Greece.
If anyone has any information about Dimitrios 'Dim' Chairopoulo's whereabouts or information that may lead police to arrest him, please send a confidential message to The Thaiger.
Democrats toppled in Phuket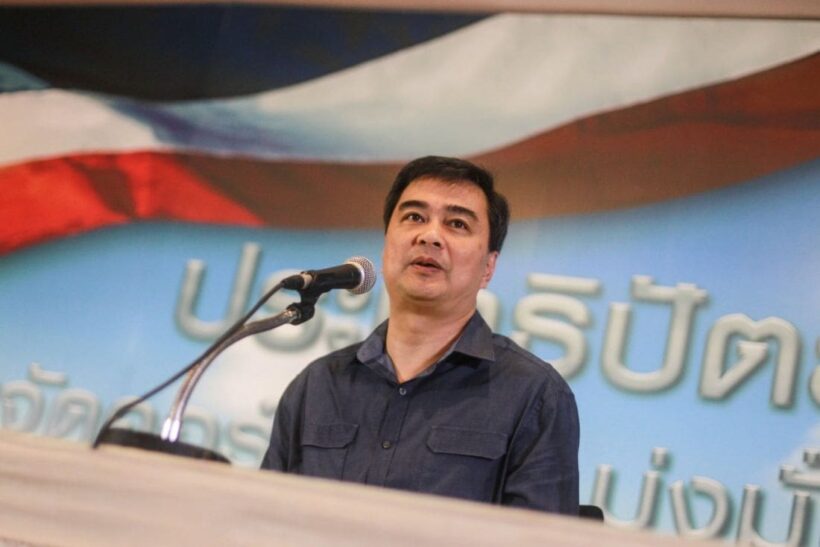 PHOTO: Democrat Party leader Abhisit Vejjajiva resigned the leadership position last night amid dismal polls around the country
The Democrat Party in Phuket, once a reliable strong-hold of Democrat votes, has yielded its customary monopoly, ceding two House seats to the junta-aligned Phalang Pracharat Party.
The unofficial tally, as of late last night, gave Phalang Pracharat's Sutha Prateep na Thalang the victory in Constituency 1 with 32,338 votes.
He beat Democrat Rewat Areerob, who got 25,198 votes.
The voter turnout was 70.80 per cent.
In Constituency 2, Natthee Thinsakhu of Phalang Pracharat beat Democrat Chaiyos Panyawai, 26,787 votes to 23,492.
Voter turnout was 72.57 per cent.
Guyanese arrested over 'magic' bank note scam in Phuket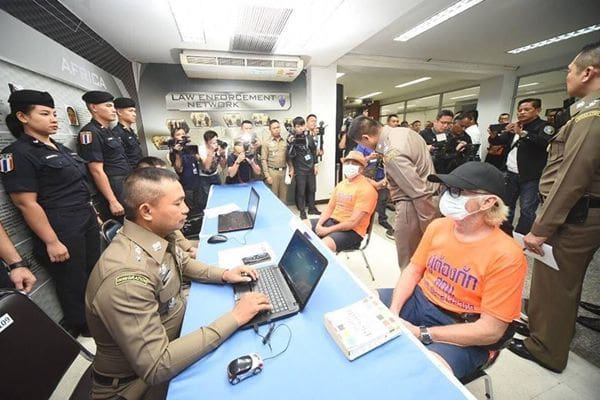 PHOTOS: Surachete Hakparn
A Guyanese man has been arrested in Phuket after the owner of a local language school reported a money scammer with an unusual scam.
The Immigration Bureau Chief Lt Gen Surachate Hakparn reports that they have arrested the Guyanese man named Abdul Kalam Azad Sattaur at a mansion in Phuket Town last Friday.
The arrest follows a Thai woman, the owner of a language school in Phuket, filing a report to the Thalang Police that a suspect used a fake Facebook and LINE account and claimed that he was an American man who had worked in Syria.
He told the woman that he will send a security box which contained blank papers and a special liquid that would turn the blank paper into bank notes when she added the special liquid.
He claimed that the total money was 650,000 US dollar, about 20 million baht.
He said that the woman had to pay him an amount before he would send the security box. The victim had transferred money to the man's bank account 10 times, a total of about 9 million baht.
Beware of magic bank notes!