The rise of ASEAN football

PHUKET: The sport of football is considered by many to be the most popular game on the planet. While it has been a mainstay in the European and South American nations for decades, increased access to matches and a youthful fan base have now allowed this exciting sport to reach the far corners of the globe.
A notable example of this widespread popularity can be seen in the increasing recognition received by what is known as the ASEAN Football Federation (an acronym for Association of Southeast Asian Nations).
As a greater number of fans are attracted to this arena each day, many are now choosing to use electronic sportsbook services to obtain the latest information about individual players and recent team performances.
The unmistakable rise of Southeast Asian football

One of the fundamental factors that has contributed to the unprecedented popularity of this sport is the fact that in Southeast Asia alone, nearly 600 million residents are quite in love with this game. Although the teams in this region are still in their relative infant stages, this area already boasts diehard fans of both the English Premier League as well as some of the German teams that have proven themselves powerhouses in Europe. It can only be imagined that during this match, plenty of Thai fans were on the edge of their seats.
Another contributing factor to the massive presence of football in Southeast Asia has to do with outside investment. A large number of casinos and other gaming establishments have been created throughout the growing urban centers, so it should come as no surprise that sports betting has quickly followed. Football is as much as sociological phenomenon as it is a pastime, so now we are witnessing the youth of this region becoming world-class players.
One excellent example of such a stellar rise is the recent prowess exhibited by striker Teerasil Dangda; purported to be the best striker in all of Southeast Asia. The prospects for this young man are indeed considerable and many believe that the only logical next step would to be his introduction to the European football arena. Many analysts predict that a portion of the best online sportsbook services will begin to pay close attention to this striker and others emerging from this area.
Also, let us not forget that the majority of rising stars have based their training and motivation off of proven European and British teams. Thus, they will bring a tenacity and mental preparedness to the game that is rarely seen outside of the western world. This is due in no small part to the increasing access of high speed internet and the daily updates such as this recent recap of the match between Wigan Athletic and Arsenal. following such high calibre teams and players will only breed native talent of a similar quality.
Finally, the rise of ASEAN football is important from an economic point of view. Should southeast Asia eventually develop a strong team, local and international wagering will increase along with the sheer number of travelers to observe in far eastern matches. This influx is all but essential for continued regional growth and to help Southeast Asia capitalize on their known talent. It is well known that fans will pay a substantial amount of money to watch games.
While this is important for domestic residents, southeast Asia enjoys the unique benefit of having a currency that it profoundly undervalued in comparison to the dollar, the Euro and in particular, the Pound Sterling. Although many involved in sports betting may not recognize the significance, foreign currency will travel much further in this region. This will result in increased tourism if and when this region comes into its own.
Simply stated, although some reputable football organizations may still be concerned with happenings closer to home, the odds are that this attitude will change as more raw talent is seen circulating from southeast Asia and more specifically, Thailand. Most avid fans and players alike see such movements as nothing more than a natural progression; simply untapped talent waiting to be discovered. It will indeed be interesting to see what legends may emerge out of this "dark horse" region in the near future.
Keep checking our online Phuket Sports pages, join our Facebook fan page or follow us on Twitter for the latest local, national and international sporting news.
— bosports


Read more headlines, reports & breaking news in Phuket. Or catch up on your Thailand news.
Alleged Greek murderer of Phuket beautician remains at large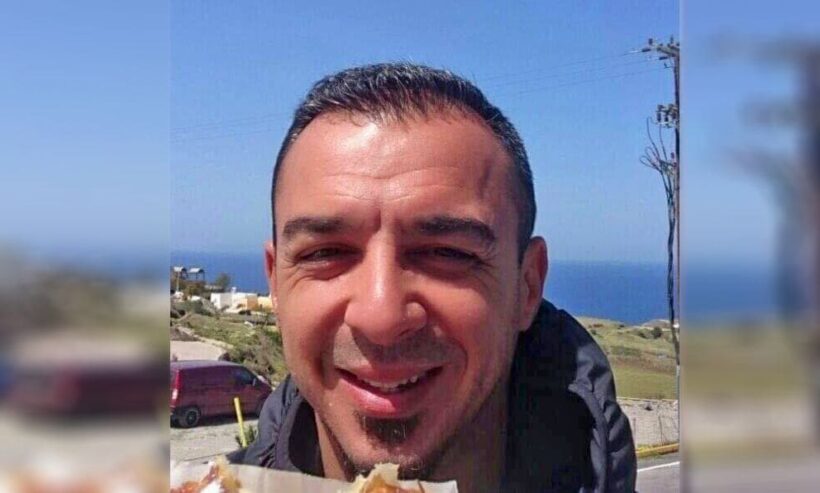 PHOTO: Dimitrios 'Dim' Chairopoulo, wanted and believed to be living in Greece
Local Phuket police are yet be informed of the latest in an international hunt for a Greek alleged murderer Dimitrios Chairopoulos. He remains wanted as a suspect in the murder of local beautician 43 year old Niramon 'Bea' Aewkaew in Phuket during February.
Cherng Talay police say they want an Interpol Red Notice issued so that they can track down and arrest 42 year old Dimitrios 'Dim' Chairopoulos, wanted for the murder. Bea and Dim were seen leaving their accommodation on February 11. It was the last time Bea would be seen alive.
Mr Chairopoulos was recorded as clearing Immigration at Phuket International Airport to board a flight to Dubai in the hours after Ms Niramon was last seen alive. He boarded an Emirates flight EK0379 to Dubai, departing Phuket at 2am. Police also confirmed that he arrived in Dubai on the same day.
"If he comes back to Thailand he will be arrested," said Chief Col Sen Kwannimit of the Cherng Talay Police.
A request for a Red Notice was submitted with the Foreign Affairs Division of the Royal Thai Police on February 19 but, for now, no formal international's notice has been published..
Cherng Talay Police confirmed that Dim was seen leaving the room at a guesthouse in Bang Tao where Ms Niramon's body was found on Saturday, February 16.
In the days leading up to her murder her family had been desperately trying to contact her.
'Bea' was the eldest of 5 children from Phatthalung province and had been working in Phuket as a beautician at the time.
One of her sisters, May' was contacted on February 15 by one of Bea's workmates trying to locate her.
Neither May or Bea's other sisters, relatives or friends were able to contact her. Bea had just moved to a new house so nobody knew where she was living. Another sister, Pichy, spoke to friends and was able, using Google Maps, to locate the guesthouse she was staying.
The owner of the room told the family that the air-conditioning was on in the room but there was no response. When the owner returned with a key he informed the family that Bea was found on the bed with a black cloth stuffed in her mouth and her hands and feet bound.
CCTV footage shows the couple leaving the room in the afternoon of February 11, the last time that Bea was seen alive.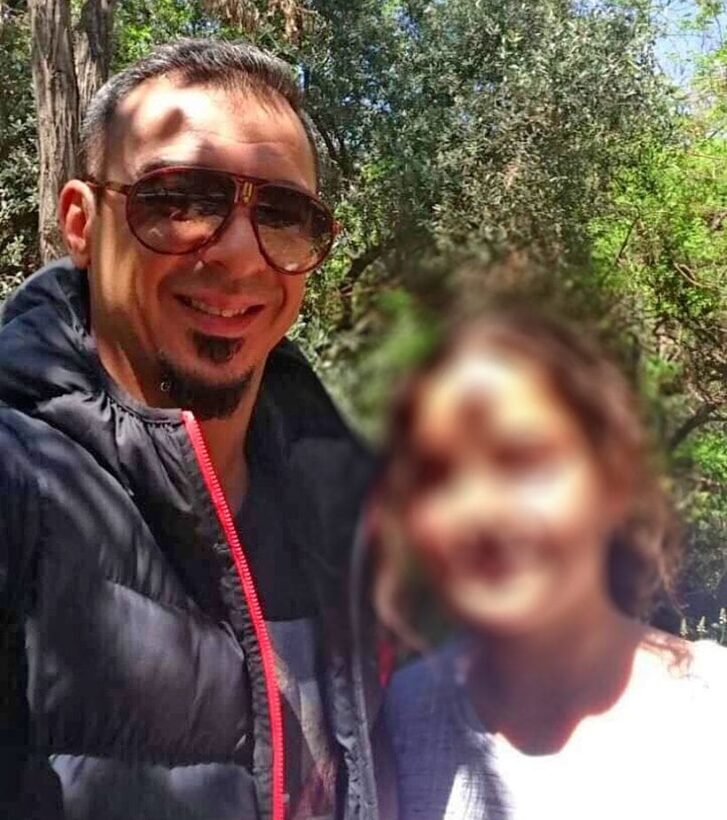 Dimitrios 'Dim' Chairopoulos with his daughter from another relationship
What we know about the alleged murderer?
Dimitrios 'Dim' Chairopoulos, who remains at large and thought to be in Greece, worked as security in a night club in Athens. He already had a daughter to another woman in Greece.
During his relationship and marriage with Bea he was said to be 'controlling' and 'jealous' by members of Bea's family. A close family friend told The Thaiger that the family had concerns for Bea's safety and were 'uncomfortable' with her ongoing relationship and marriage with Dim.
"We tried to get to know him at family functions but he was not easy to know and seemed very possessive of Bea," said one of the close family members who asked not to be named.
"He did threaten to kill her if she ever left him and Oh, another of her sisters, went with Bea to file a report of the threats at the Cherng Talay police station at the time," they explained.
That report was made to police in 2016. A year later the pair married and were still married at the time of the murder.
"He would drive past the beauty shops that Bea worked at and spy on her."
The family claim that, apart from his own possessions, he also stole Bea's phone before he headed to the Phuket International Airport on the evening of the murder.
So where is Dimitrios Chairopoulo?
At this stage the Greek Embassy has made no comment about the case or followed up with Greek Police about the pursuit for the fugitive man.
There are currently approximately 58,000 valid Red Notices worldwide of which only 7,000 are public. An Interpol Red Notice has not been issued to alert international police or Immigration officials to be on the look-out for Dim.
For now, the alleged murderer of Bea – an innocent Phuket beautician, beloved sister and family member – remains at large, most probably in Greece.
If anyone has any information about Dimitrios 'Dim' Chairopoulo's whereabouts or information that may lead police to arrest him, please send a confidential message to The Thaiger.
Democrats toppled in Phuket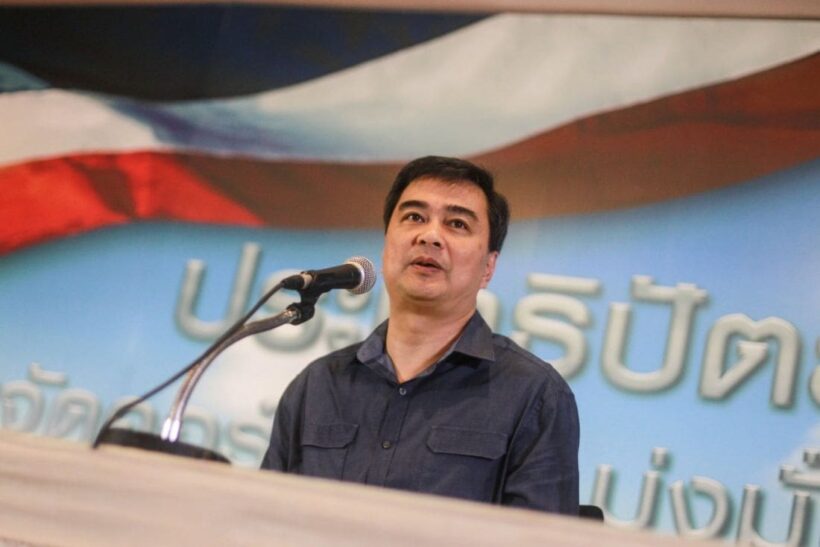 PHOTO: Democrat Party leader Abhisit Vejjajiva resigned the leadership position last night amid dismal polls around the country
The Democrat Party in Phuket, once a reliable strong-hold of Democrat votes, has yielded its customary monopoly, ceding two House seats to the junta-aligned Phalang Pracharat Party.
The unofficial tally, as of late last night, gave Phalang Pracharat's Sutha Prateep na Thalang the victory in Constituency 1 with 32,338 votes.
He beat Democrat Rewat Areerob, who got 25,198 votes.
The voter turnout was 70.80 per cent.
In Constituency 2, Natthee Thinsakhu of Phalang Pracharat beat Democrat Chaiyos Panyawai, 26,787 votes to 23,492.
Voter turnout was 72.57 per cent.
Guyanese arrested over 'magic' bank note scam in Phuket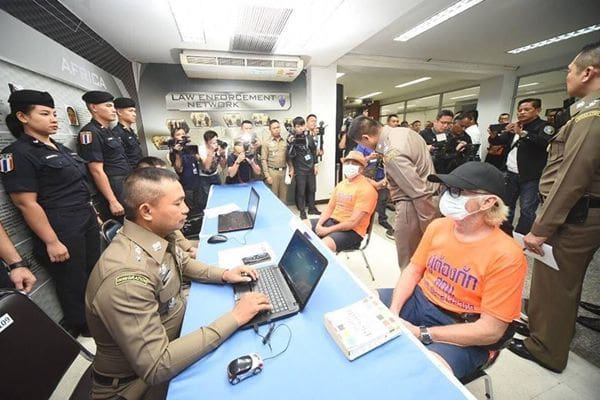 PHOTOS: Surachete Hakparn
A Guyanese man has been arrested in Phuket after the owner of a local language school reported a money scammer with an unusual scam.
The Immigration Bureau Chief Lt Gen Surachate Hakparn reports that they have arrested the Guyanese man named Abdul Kalam Azad Sattaur at a mansion in Phuket Town last Friday.
The arrest follows a Thai woman, the owner of a language school in Phuket, filing a report to the Thalang Police that a suspect used a fake Facebook and LINE account and claimed that he was an American man who had worked in Syria.
He told the woman that he will send a security box which contained blank papers and a special liquid that would turn the blank paper into bank notes when she added the special liquid.
He claimed that the total money was 650,000 US dollar, about 20 million baht.
He said that the woman had to pay him an amount before he would send the security box. The victim had transferred money to the man's bank account 10 times, a total of about 9 million baht.
Beware of magic bank notes!