Phuket
Adrenaline opens Phuket yacht race series with a bullet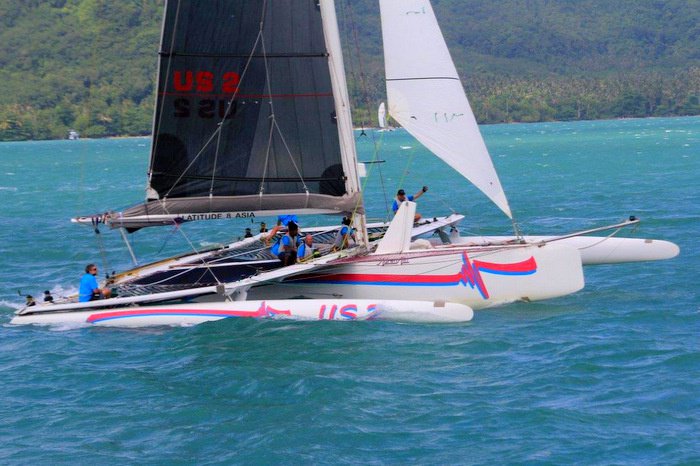 PHUKET: Mark Horwood and his crew on Adrenaline opened their campaign in the Ao Chalong Yacht Club (ACYC) Keelboat and Multihull Race Series for the year with a bullet in the first race, held on Chalong Bay last Sunday.
The Formula 40 trimaran, famed for its "rocking outer hulls" (wonky training wheels), outpaced Kirill Stashevskiy's Stealth Cat Galeforce, which placed second on the day.
Defending ACYC multihulls class champions Grenville Fordham and Bob Mott's Nina, which also recently won the multihulls division at the Royal Langkawi International Regatta, placed third.
ACYC Race Officer Alan Carwardine gave special mention to the newly revamped 52-foot aluminum catamaran Fluke 10 out of the Kan Eang seafood restaurant at Chalong Pier.
"They had an all-Thai crew on board, who sailed well. It's a big catamaran, but they managed to race it with some pace. We hope to see them do well in the race series this year," Carwardine told the Phuket Gazette.
Defending champion Patinyakorn "Ging" Buranrom on Sansiri Windstar placed first in the Monohulls Division, with visiting boat Rusalka skippered by Kevan Perrins closing the day second.
ACYC regular racer Mig Wehrie placed third on his Hunter 280 Aqua.
The next race in the series will be on April 5.
"We had only a small fleet on Sunday, but we are looking forward to more yachts joining the fleet as the year progresses," Carwardine told the Gazette.
All are welcome to join the Sunday racing series.
Breakfast is available at the club from 8am.
"Anyone wishing to sail but don't have a boat are advised to to turn up before 8:30am and we will do our best to get you on a vessel," said ACYC Commodore Mick Kealy.
The series is open to all keel yachts and multihulls with a length overall of greater than six meters. Eligible boats may enter by completing an entry form on each race day and by paying the racing nomination fee to the Race Officer or the appointed ACYC representative.
There is no entry fee for boats. Crew fees are 150 baht for members, 300 baht for non-members.
Crew fees are applicable to all participating crew.
The course set each racing Sunday includes Chalong Bay and the surrounding area – often heading out to the safe water mark off Baan Nit and beyond, and rounding Koh Lon if the wind is steady enough.
Individual prizes are awarded to podium finishers on race day pending the number of entries.
Race briefing is at 9:05am, ahead of the 11am preparatory signal for a 11:05am race start.
Each participating boat must be insured with valid third-party insurance to the value of 20 million baht, or the equivalent, for all races entered.
For more information about the ACYC, its race series and other events, visit the official website (click here).
— Chris Husted