Second fire takes hold at luxury home destroyed in Pattaya blaze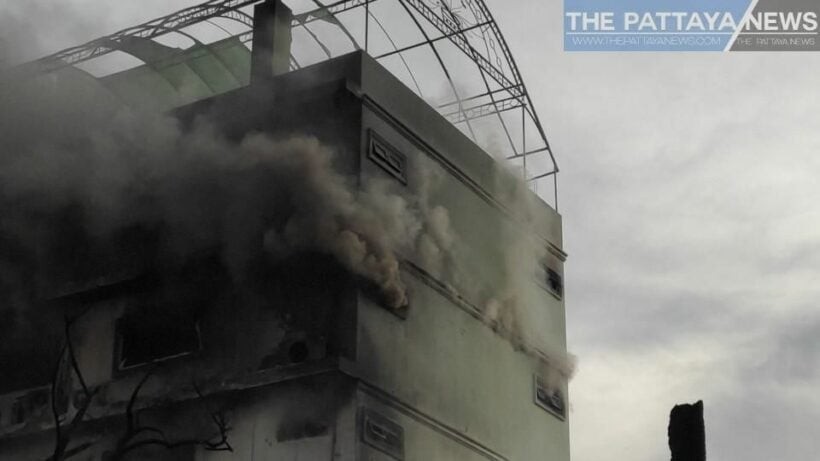 A secondary fire has broken out in the remains of a 6 storey luxury property destroyed in a huge fire in north Pattaya. The original blaze broke out at around 1am on Tuesday morning, gutting the home and an adjacent warehouse used to sell and store antique furniture.
The Pattaya News reports that at around 6.00pm yesterday, smoke could be seen coming from one of the upper floors of the property, with firefighters called to the scene once again. While it took over 6 hours and 10 fire trucks to extinguish the original blaze, firefighters were able to quickly control the second outbreak before it spread any further.
Officials have issued a warning that the building may be structurally unsafe and at risk of collapse. Workers and investigators are not currently permitted to enter until engineers confirm it is safe to do so.
A similar second fire happened at a famous Pattaya tourist attraction in July. Sukhawadee House caught fire, the fire was extinguished in the afternoon, then re-ignited again the next morning.
Major Pattaya tourist attraction Sukhawadee House gutted by fire
SOURCE: The Pattaya News
📱 Download our app on Android or iOS for instant updates on your mobile
📧 Subscribe to our daily email newsletter
👍 Like/Follow us on Facebook
🔔 Subscribe to or Join our YouTube channel for daily video updates
Pattaya area man severely injured after pet pit bull attacked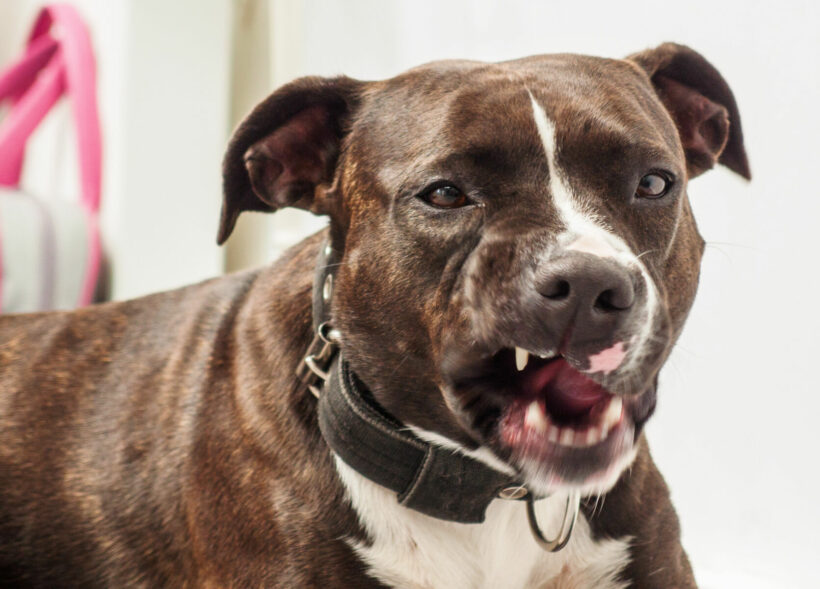 A Pattaya area man sustained severe injuries when his pet pit bull attacked him in the early hours of the morning. The incident took place in Bang Lamung with authorities being called to the scene near Soi Bang Lamung Temple.
The victim, 56 year old Wisit Sanguan, had been bitten by his own pet dog and was bleeding profusely from multiple bite wounds. The pit bull had bitten Wisit on the neck and the injuries were described as severe. The man was rushed to the nearest hospital for treatment.
Wisit's wife told reporters that they had the pit bull for nearly 2 years, raising him since he was a 3 month old puppy. They had named him Giant. His wife reported that the man and the dog had both been sleeping for about an hour. The pit bull woke up and attacked the sleeping man, according to his son who witnessed the whole thing. The spooked dog took about 30 minutes to subdue enough to pull Wisit away, with the pit bull attacking with aggression anyone who tried to help the poor man.
The pit bull was still agitated when emergency assistance and family members arrived and eventually the Chon Buri Pit Bull Club had to be called to aid in controlling the dog. They arrived at around 10:30 am and ended up subdue the dog using anaesthetics provided by the local livestock office. They chained the dog up and were able to remove him from the premises.
Wisit is being treated for severe bite wounds, and Giant the pit bull will remain in the custody of the Chon Buri Pit Bull Club as the family does not want the dog after this incident. Pit bulls have often been the focus of controversy as they have been known to viciously attack, sometimes with deadly results.
NOTE: In an earlier version of this story we referred to a "rabid dog". This was incorrect and we apologise for the error.
SOURCE: The Pattaya News
📱 Download our app on Android or iOS for instant updates on your mobile
📧 Subscribe to our daily email newsletter
👍 Like/Follow us on Facebook
🔔 Subscribe to or Join our YouTube channel for daily video updates
Bang Lamung Hospital is full, province using field hospitals and ASQ hotels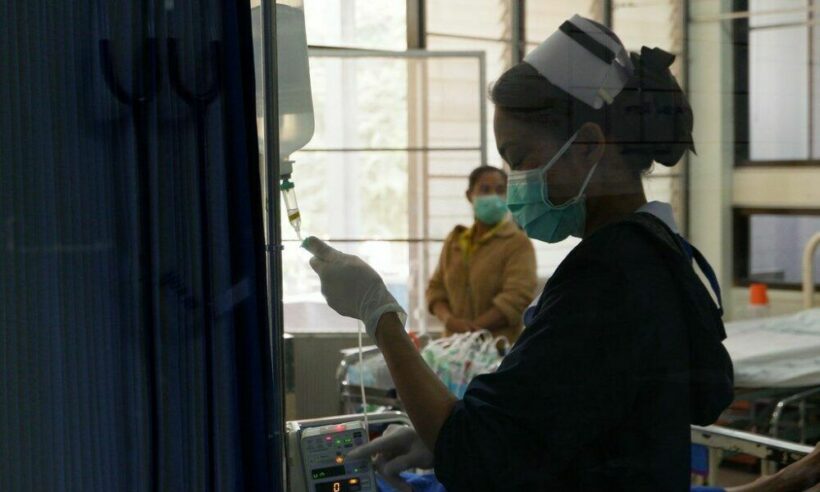 A spokesperson from the Bang Lamung Hospital in Pattaya says that all the beds put aside for Covid patients are now full and doctors are now having to refer newly infected people to Sattahip where the Navy have set up a field hospital. They're also referring some patients to ASQ hotels.
The hospital said they had put aside 30 ward beds and 12 private rooms for Covid-infected patients but the beds had already been taken up following up to 500 people seeking tests at the hospital each day.
Chin Buri has reported another 97 infections today, about the same as the rest of this week. That makes the total in the province to 807 since the start of the month.
Confirmed by the government earlier this week, Thailand hospitalises everyone who tests positive. Or, alternatively they are sent to a field hospital or the government's quarantine facilities where Thais were given free quarantine when they repatriated back to Thailand over the past year.
But the current upsurge of new infections being discovered in Chon Buri, and the rest of the country, is putting a strain on facilities. Some people who have tested positive are even being sent to ASQ hotels where the hospitals had used up their quota of available beds.
Public health officials in Chon Buri are currently urging people who are not considered 'at risk' to avoid hospitals at this time to allow faster processing of people who are considered at risk.
📱 Download our app on Android or iOS for instant updates on your mobile
📧 Subscribe to our daily email newsletter
👍 Like/Follow us on Facebook
🔔 Subscribe to or Join our YouTube channel for daily video updates
Officials confirm Koh Larn will remain open to domestic visitors for now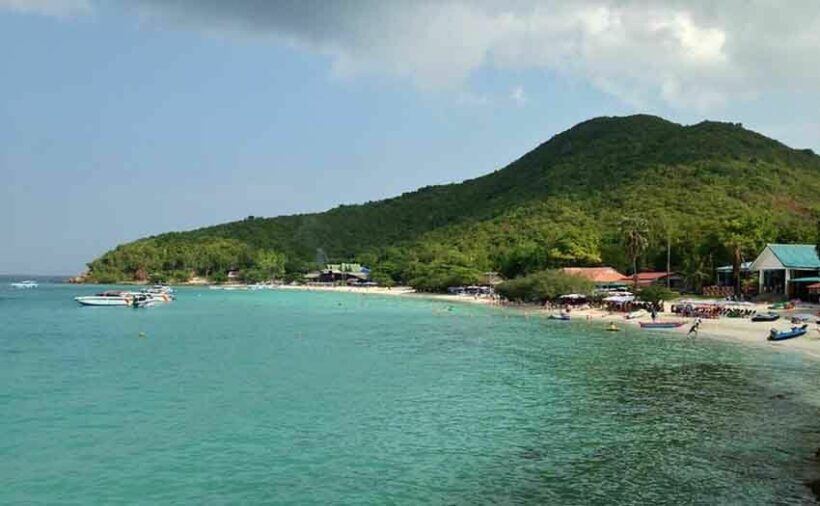 Officials in Pattaya and Koh Larn say there are currently no plans to close the island to visitors despite a man who worked briefly at a local restaurant testing positive for Covid-19. It's understood the worker was employed from April 3 to April 6, before quitting. During his short employment stint, he visited a number of nightlife venues in Pattaya during the course of one evening, before returning to the island. The name of the restaurant where he worked has not been released.
The man was later contacted by contact-tracers and subsequently tested positive for the virus. The Pattaya News reports that the restaurant on Koh Larn was closed for 3 days, with officials testing several people the man had come into contact with. It's understood all have tested negative but are self-isolating for 14 days.
No other infections have been recorded on the island, with officials confirming it can remain open to domestic tourists, with strict disease prevention measures in place, including mandatory use of the contact-tracing MorChana app. Officials have also urged people to comply with mask-wearing regulations, saying a small minority – mostly foreigners – are failing to do so.
There is currently no planned lockdown for the island, with high-risk venues such as bars and clubs already temporarily closed. Restaurants and hotels remain open to domestic tourists and outdoor activities such as boat tours and diving can still go ahead until such time as the Centre for Covid-19 Situation Administration deems otherwise. The province of Chon Buri currently does not have any restrictions in place for those entering or leaving.
SOURCE: The Pattaya News
📱 Download our app on Android or iOS for instant updates on your mobile
📧 Subscribe to our daily email newsletter
👍 Like/Follow us on Facebook
🔔 Subscribe to or Join our YouTube channel for daily video updates