Interpol red-list Russian nabbed in Pattaya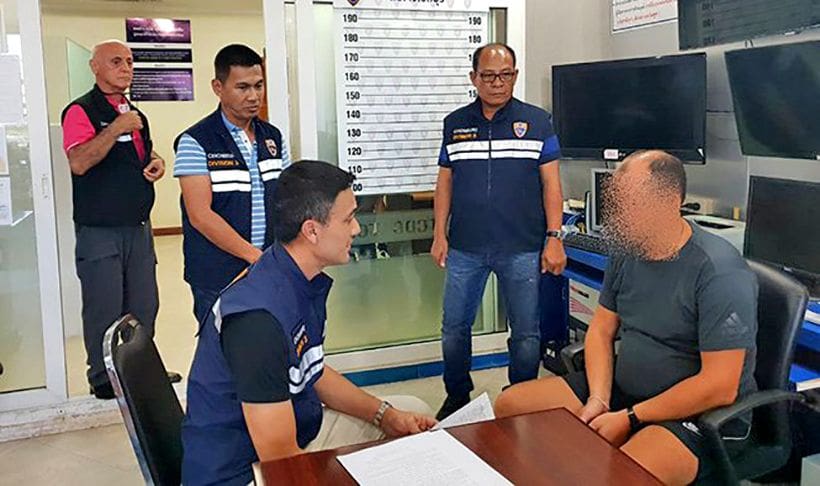 PHOTO: Manager Online
A Russian man, wanted on an Interpol red warrant, is now in custody after police caught up with him in Pattaya yesterday.
The arrest was made after the Chon Buri police head office received a request from the Russian embassy to locate Vitalil Trofimov, who is wanted in Russia on drug trafficking charges.
Police checked records and found Trofimov was living in Pattaya on a business visa. He was detained at the Immigration Bureau pending extradition.
STORY: The Nation

Pattaya's hotel performance rebounds as EEC drives positive market sentiment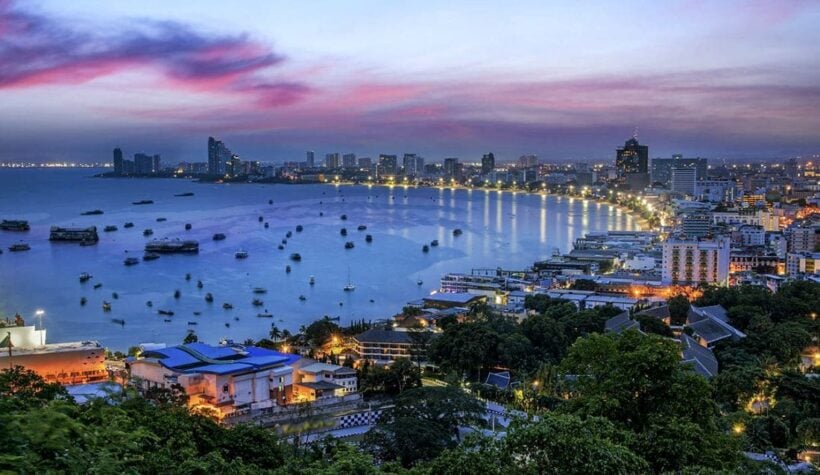 Domestic tourism growth outshines Mainland China and Russia source business
Thailand's second largest tourism market, Pattaya has pushed through the glass ceiling from the volatility hangover of the 2014 era, with its hotel sector now showing strong signs of rising stability. According to the latest available data, strong demand from the Thai domestic sector accounted for 38% of hotel guests at Chonburi province accommodation establishments.
Greater Pattaya's expanding gateway aviation hub U-Tapao International Airport has been a critical stimulator of demand, where passenger arrivals over a three-year period rose at a compound annual growth rate (CAGR) of 79% according to a new report from consulting group C9 Hotelworks.
One key infrastructure investments in the area has the Thai government finalising plans for high-speed rail links between U-Tapao and Bangkok's two airports, Suvarnabhumi and Don Mueang, which is undoubtedly a game changer for the Eastern Seaboard area. New international routes into U-Tapao grew dramatically through the past three years as airlift arrivals increased significantly with a CAGR of 59%.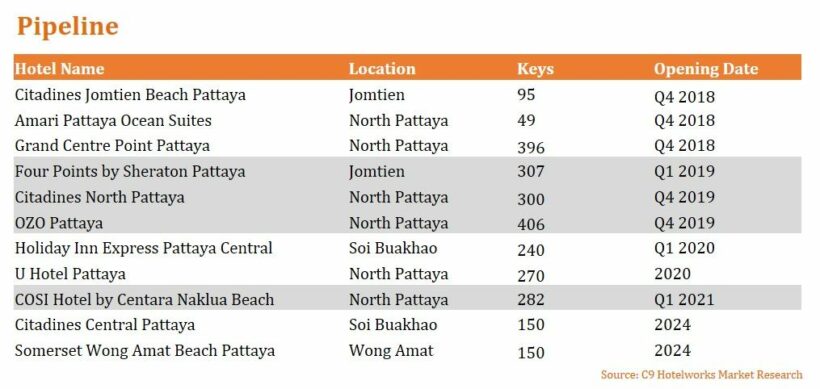 Translating airlift into hotel metrics, global data provider STR recorded an 8.7% year-on-year spike in key indicator RevPAR at the end of 2017.  By mid-2018, market-wide occupancy hit 77.9%. While the current number of accommodation establishments in Chonburi province is 1,046 with 81,607 keys, most of the growth is centered in Greater Pattaya.  C9 Hotelworks report shows 11 new hotels in the development pipeline which accounts for 2,645 additional rooms.
Speaking about the incoming supply, C9's Managing Director Bill Barnett said "there is a substantial influx of branded select service and economy hotels including Holiday Inn Express, OZO, COSI and Citadines which are targeted at not only Mainland China and India but regional Southeast Asian markets.
The impact of this new supply in the short to medium period will take time to absorb and likely create rate issues in the economy and midscale tiers, until such time as the EEC (Eastern Economic Corridor) development becomes more pronounced. Though at the same time, Chonburi province last year racked up more than 16,000,000 hotel guests at accommodation establishments and there is little doubt that Greater Pattaya is moving into a broader tourism platform."
To download and read C9 Hotelwork's Pattaya Hotel Market Update 2018 click HERE.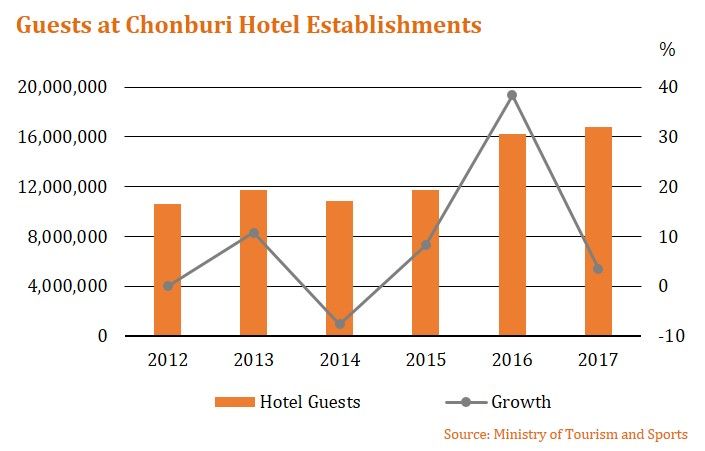 'Don't break the law in Pattaya, or else" – Pattaya police chief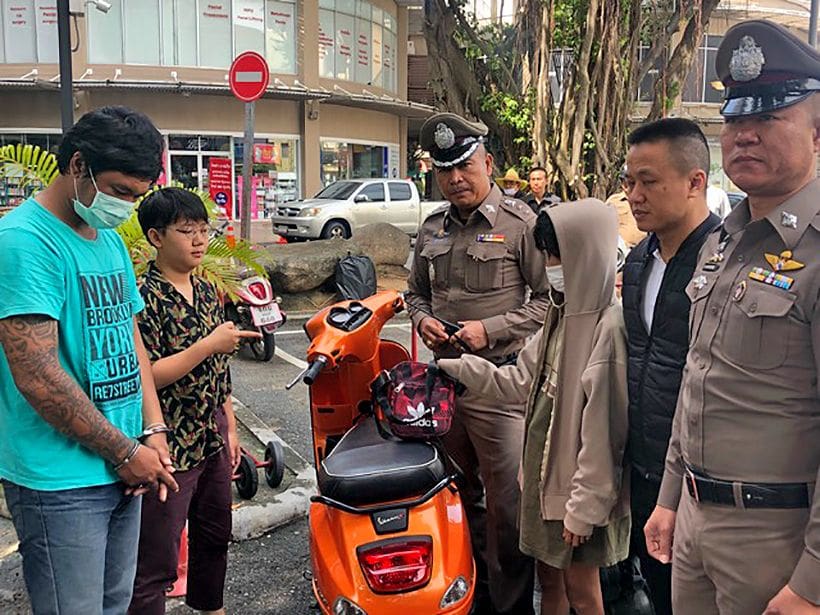 Pattaya's police chief Pol Col Apichai Krobpetch has a clear warning directed at criminals intent on committing crime against tourists in the infamous coastal city.
"We will arrest you. You can be sure of that."
The chief had his photo taken with a tourist who had the seat of her scooted forced open by two Thais who stole a bag and a wallet. The motorbike had been parked at the Avenue shopping centre.
Two suspects were soon in custody, according to Manager Online. They were a husband and wife team, Kittichai "M" Saowarot and Thassanee "Kung" Sutthikun, both 34and from neighboring Rayong.
Pol Col Apichai said that Thassanee was also arrested for drugs and prostitution back in 2013. He said crime against tourists, whether they be foreigners or Thais, will always be investigated on his turf.
He gave a stern warning to criminals not to break the law in Pattaya.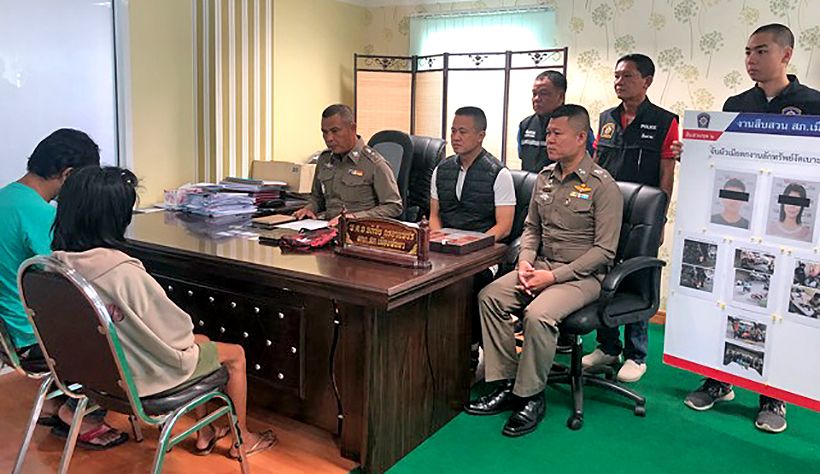 STORY: Manager Online
Pattaya gambling raid finds dice, money. And sex drugs.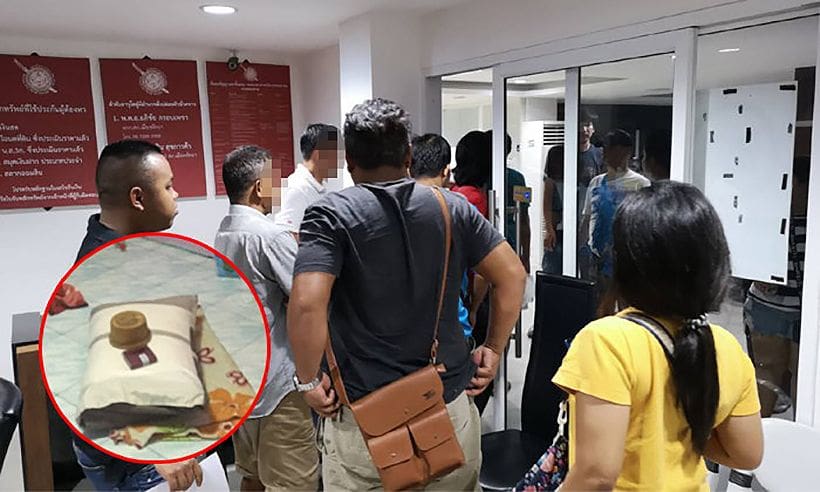 PHOTOS: Sanook
Police raiding yet another suspected gambling den. Expect to find gamblers and gambling paraphernalia. Right?
Pattaya police were conducting a routine raid on a noisy gambling den when they found more than just gamblers and cards.
Apart from the usual dice, note pads and money, police turned up 317 large packets of 'sex drugs' in both gel and tablet form.  They found only nine gamblers playing Hi Lo. The raid was conducted at 3am this morning.
Police took everybody back to the police station, including the unexpected evidence, after the raid in Soi Jai Dee, Nong Prue, Bang Lamung.
Police were acting on complaints from neighbours  that the gamblers were making a lot of 'unwelcome noise'. A description of the actual 'noise' was not forthcoming.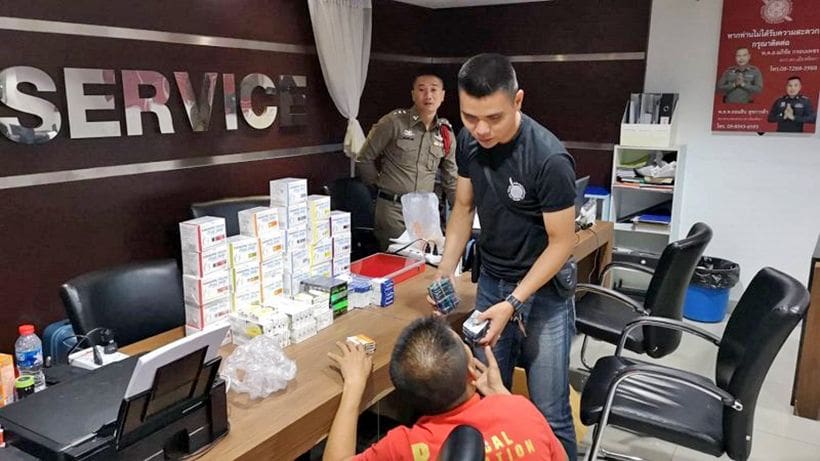 PHOTO: STV Pattaya
SOURCE: Sanook