Indian and Pakistani rob foreigner on road trip to Pattaya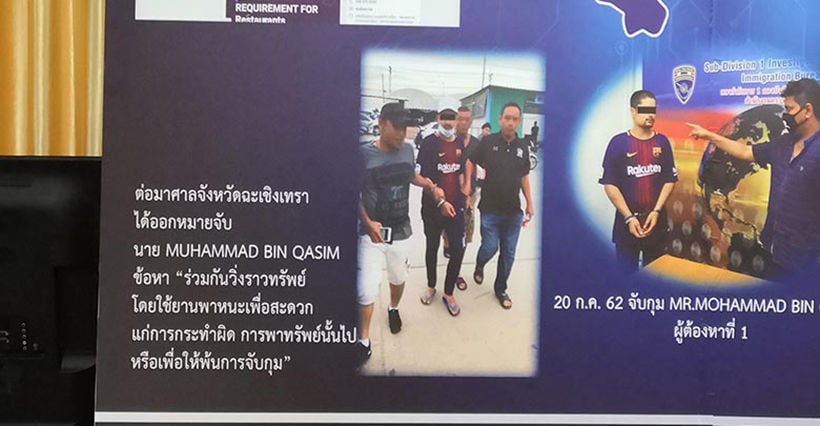 PHOTOS; INN News
The Immigration Police have arrested a pair of foreign criminals after robbing a fellow foreigner on a road trip to Pattaya from Bangkok. The two men made friendly contacts with their victims before arranging to meet and robbing them.
Mohammad, a man from Pakistan, and Kuldip, a man from India, have been charged with robbery. In this case the victim was another Indian who wanted to work in Thailand.
The traveller from India asked for help on a Facebook Page called Tesco Man Power PVT Ltd Thailand. This page aims to assist Indian citizens in Thailand and is a go-to blog for Indians working, retired or looking to work in Thailand.
The victim was contacted by the 2 suspects who made friendly overtures. After talking online for a while the man decided to travel to Thailand on June 25. The three met on Sukhumvit Road and agreed to travel together to Pattaya.
Things started turning sour during the road-trip. The suspects forced the victim to hand over his phone, and cash worth 100,000 baht. After they robbed him, they threw his luggage and passport out the car window before kicking him out of the car. The suspects then drove away leaving the man stranded in Nong Nan sub-district in Chachoengsao Province, basically the middle of nowhere.
Immigration Police contacted the Nong Nan Police to help investigate the case after the victim came in and reported what had happened to him. They eventually arrested Mohammad in a village in Samut Prakarn, south of Bangkok.
After arresting Mohammad, he told police more information that led to the arrest of Kuldip at a condo at Lad Krabang, Bangkok.
The pair will be prosecuted and deported back to their countries. Police suspect that the current victim wasn't their first victim falling for the same plan and ending up stranded somewhere between Bangkok and Pattaya.
SOURCE: INN News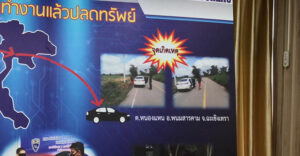 Keep in contact with The Thaiger by following our
Facebook page
.
Two British men arrested for dealing drugs in Thailand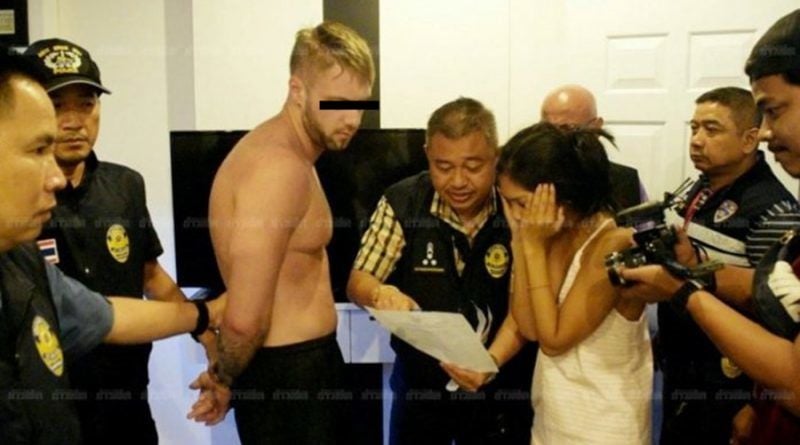 PHOTO: Sanook
On August 20, more than 20 police officers used a warrant to search a home in Chonburi, eastern Thailand, seizing nearly 5 grams of cocaine.
Police also seized the home itself, worth about 6 million baht, a car and motorbike, along with 3 bank books and some jewellery items.
The house was occupied by British man Luke Timmins, 28, already wanted for drug offences under an international arrest warrant issued by the UK , and a 24 year old Thai woman known only as Cherman.
Both tested positive for cocaine, with Timmins claiming he purchased the drug for 2,500 baht a gram from a Thai man on Pattaya's Walking Street .
Luke Timmins' father, Michael, was previously jailed for 6 years for smuggling mephredrone into the UK. The drug was used to make 30 kilos of bath salts, as known as the zombie drug.
At the same time, in Mahasarakham province, another team of officers arrested fellow Englishman Daniel Wood, 29, on charges of drug dealing. At the time of his arrest, he was taking his wife to the temple.
While Wood was not in possession of any illegal substances, he was found to have overstayed his Thai visa since October 17, 2016, and also had a warrant out for his arrest in the UK on charges of smuggling drugs into the country.
He had flown to Thailand, married a Thai woman, and worked with Luke Timmins selling drugs in Pattaya.
Both men were found to be connected to Adrian Matthews, who has gang connections in Pattaya, and was stopped by Customs officials in New Zealand in possession of methamphetamine (ice) worth about 17 million US dollars, in October 2017.
Source: Thai Residents
Keep in contact with The Thaiger by following our
Facebook page
.
Thief steals from a Pattaya bar's merit money tree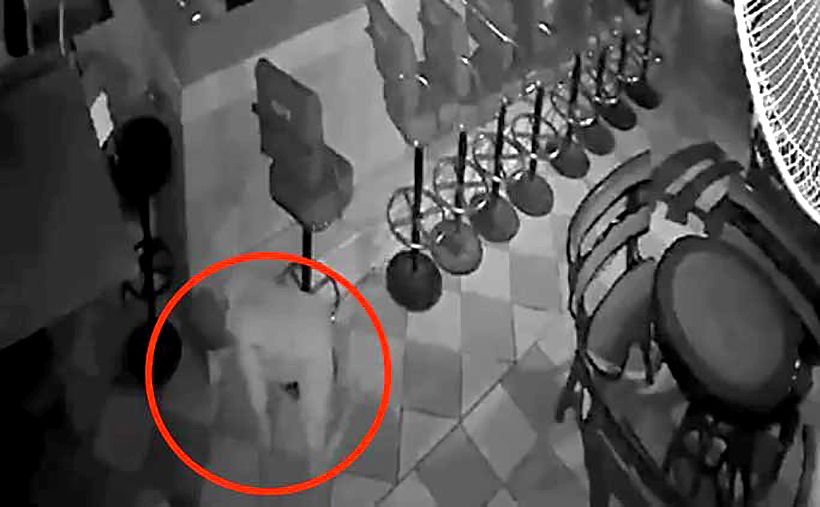 CCTV surveillance footage from the Bart Navy Bar on Pattaya Beach Road reveals a thief crawling in and stealing from the merit making money tree in the bar.
The We Love Pattaya Facebook page describes the thief as a "sinner".
#พัทยาเตือนภัย โจรใจบาป ขโมยเงินทำบุญ เกลิ้ยง !! กล้องวงจรปิดบันทึกภาพ โจรใจบาปแอบคลานเข้ามาในร้านบาร์เบิรด์เนวี่บาร์…

Posted by เรารักพัทยา on Monday, 19 August 2019
The time stamp indicates that the"sinner" was operational around 4.30am yesterday (Monday) morning.
The bar in Soi 7 Pattaya is well situated about 200 metres from the Pattaya police station.
Merit trees are set up in many bars to collect donations for "tham bun" (merit making) which are then donated to local temples and charities.
SOURCE: ThaiVisa
Keep in contact with The Thaiger by following our
Facebook page
.
Scrap metal merchant arrested over stolen rail track pins causing train derailment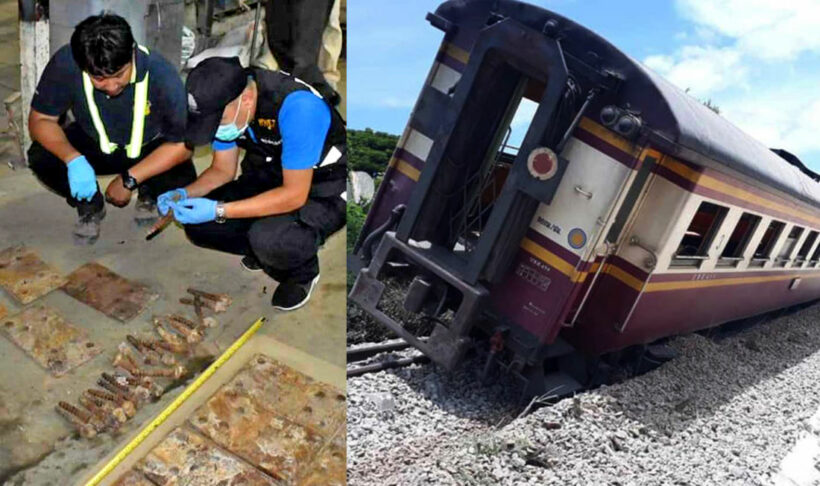 PHOTOS: Twitter@pr.railway 
A scrap metal shop owner has been arrested for stealing rail track 'pins' that were responsible for the derailment of a railway carriages heading south from Bangkok to Chumpon province yesterday. The derailment happened in the Phetchaburi province.
The incident happened yesterday (Monday) just after midday and took the rest of the day and evening to lift the carriage back onto the tracks, and inspect the railways lines and missing pins (that hold the railway tracks onto the timber sleepers).
Read the story HERE.
The State Railway of Thailand reports that train #255 from Thonburi to Lang Suan station in Chumphon province became derailed at 12.04pm after departing the Huay Sai Tai station in Cha-am.
They confirmed that six carriages had jumped off the rails. They believed that the theft of steel nails used to fix the tracks to the sleepers had been stolen. Railway teams and cranes went to the scene to lift the carriages back on the tracks and assess the damage.
The acting State Railway governor says inspectors found 168 rail fastening screws and 40 track base plates were missing, along with 340 wooden sleepers damaged over a distance of 350 metres.
Police and railway officials raided the Rungcharoen scrap metal shop in Cha-am district last night. They found 25 rail base plates and 66 rail track pins on the premises.
Keep in contact with The Thaiger by following our
Facebook page
.
The owner, Supachai Padsri, was arrested for theft and receiving stolen items. He is denying the charges claiming that a person had deposited the items at his shop a few days ago.