French man arrested stealing mobile phone in Pattaya – VIDEO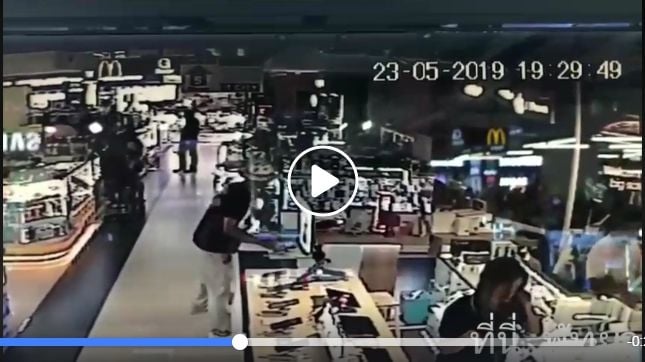 VIDEO: Pattaya Message
A French man has been charged after snatching a smartphone in a department store in Pattaya.
The Pattaya Message reports that Mueang Pattaya Police were notified of the incident yesterday evening. Police arrived and took the suspect into custody after other shop-holders helped to catch the suspect.
The man was identified by police as 40 year old Laurent Meriem, a French national. He had snatched the Huawei P30 Pro smart phone worth 31,900 baht. He was taken to the Meang Pattaya Police where he was charged with theft.
Perhaps he hadn't read the latest news about Huawei's phones!?
วงจรปิดจับภาพต่างชาติขโมยโทรศัพท์บนห้างพนักงานไล่จับส่งตำรวจวุ่น เมื่อเวลา 21.30 น.วันที่ 22 พฤษภาคม 2562 ร.ต.อ.เจนรพ วันทองสังข์ รอง สวป.สภ.เมืองพัทยา จ.ชลบุรี รับแจ้งจากประชาชนว่าได้ควบคุมตัวผู้ก่อเหตุลักทรัพย์ไว้ได้ เหตุเกิดที่ร้านโทรศัพท์ บีบี โฟน ภายในห้างตึกคอมพัทยาใต้ ต.หนองปรือ อ.บางละมุง จ.ชลบุรี หลังรับแจ้งจึงนำกำลังเจ้าหน้าที่ตำรวจรีบเดินทางไปตรวจสอบ ที่เกิดเหตุพบพลเมืองดีและพนักงานร้านควบคุมตัวผู้ก่อเหตุทราบชื่อภายหลังคือMR.MERIEM LAURENT อายุ 40 ปี สัญชาติฝรั่งเศส พร้อมของกลางโทรศัพท์มือถือ ยี่ห้อหัวเว่ย รุ่น พี 30 โปร สีน้ำเงิน จำนวน 1 เครื่อง มูลค่า 31,900 บาท จึงควบคุมมายัง สภ.เมืองพัทยา พร้อมแจ้งข้อกล่าวหา ลักทรัพย์ในเวลากลางคืน เป็นบุคคลต่างด้าวหลบหนีเข้ามาอยู่ในราชอาณาจักรไทยโดยไม่ได้รับอนุญาต ส่งพนักงานสอบสวนดำเนินคดีตามขบวนการทางกฎหมายซึ่งทางพนักงานร้านได้นำกล้องวงจรปิดในขณะเกิดเหตุมอบให้เจ้าหน้าที่ตำรวจไว้เป็นหลักฐาน ซึ่งจับภาพขณะที่ผู้ก่อเหตุเป็นผู้ชายลักษณะสูงใหญ่สวมกางเกงขายาว เสื้อสีดำลายสมอ สวมหมวก ทำทีเดินดูโทรศัพท์ แล้วอาศัยจังหวะที่พนักงานร้านเผลอหยิบโทรศัพท์ แต่โทรศัพท์ได้มีการป้องกันโดยติดตั้งสายสัญญาณเตือนไว้ ทำให้ผู้ก่อเหตุต้องออกแรงกระชาก แล้วออกตัววิ่งหนีอย่างรวดเร็วท่ามกลางสายตานักท่องเที่ยวจำนวนมาก เมื่อพนักงานร้านสังเกตเห็นและสัญญาณเตือนภัยดัง จึงรีบวิ่งตามไปก่อนที่จะมีพลเมืองดีช่วยจับกุมส่งเจ้าหน้าที่ตำรวจได้ดังกล่าว

Posted by Pattaya Message on Wednesday, May 22, 2019
Keep in contact with The Thaiger by following our Facebook page.
Never miss out on future posts by following The Thaiger.
29 arrested in Pattaya for smoking shisha above Indian restaurant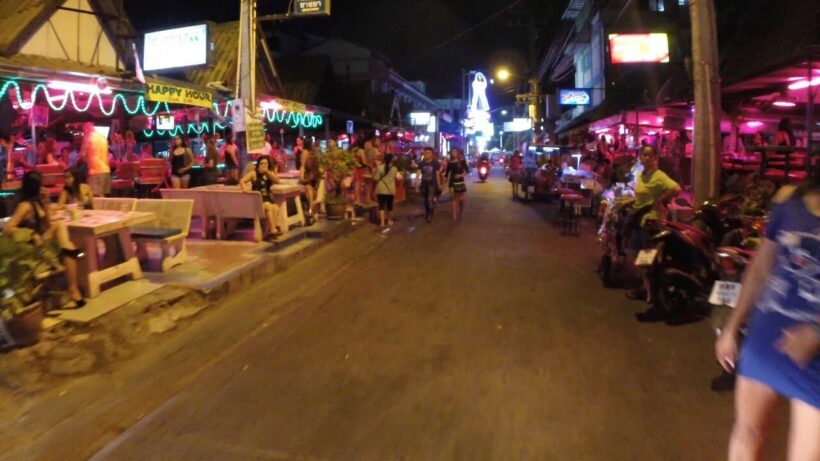 Police are investigating an Indian restaurant where they arrested 29 people for a late night party in Pattaya's Soi 7. The incident took place at 12:30am at a 5 story building which had the first 3 floors closed. Police say the venue was actually operating as a shisha lounge, pool hall, and bar.
The raid was based on a tip from an undercover officer who had previously confirmed the location was open and operating. When police entered the building, they found 29 people either smoking shisha, or hookah pipes, while others were playing pool, or snooker. Police say they found 18 hookah pipes (as distinct from 18 hookers).
In Thailand, shisha and hookah is illegal. 11 foreigners from India, Cambodia, and other countries were found at the venue. The remainder were Thai nationals. All 29 were arrested and taken to the Pattaya Police station where they will face charges under the Emergency Decree Act, the Communicable Disease Act and possession of an illegal substance.
Police say they don't know who owned or managed the venue and they claimed many of the people present were "playing dumb" in terms of how they knew about the venue or who was responsible for it. Police say they will be interrogating and interviewing those arrested today to determine who should be held responsible. They also seized documents from offices on the top floor relating to ownership.
Pattaya is a "highly controlled" zone as set by the Centre for Covid-19 Situation Administration, which sees it under the toughest rules in the country in order to curb the spreading of Covid infections. Chonburi has seen 0 new cases in the past 3 days, sparking anticipation from residents and business owners for the strict measures to relax. Health authorities say they will review the measures at the end of the month, but are not promising to make a change.
SOURCE: The Pattaya News
Keep in contact with The Thaiger by following our Facebook page.
Never miss out on future posts by following The Thaiger.
Chonburi sees 0 new Covid-19 infections for 3 days in a row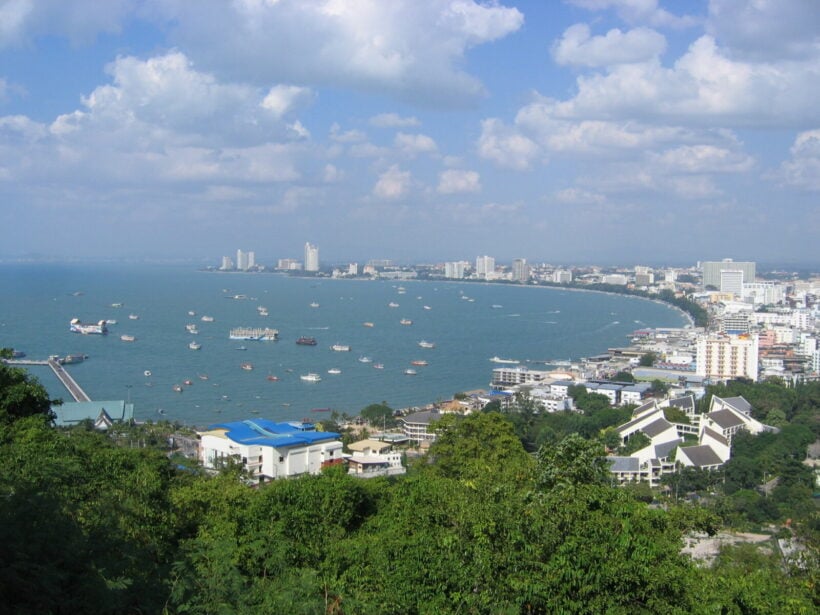 Chonburi province has reported another day of 0 cases of Covid-19, marking the third day in a row to see no cases. In the past 6 days only one case has been reported in the province and all of that person's relatives have tested negative for the virus.
The provincial health office says they will keep doing doing targeted mass testing for all of next week in the community. It says those in the province's high risk groups will receive free testing.
Those who fall into the high risk category either worked or visited places recently like the Chonburi Provincial Employment Office, are migrant workers living in crowded camps, are people showing symptoms of the virus, and people who work with the public like taxi drivers and supermarket employees.
The Department did not say if any measures or restrictions will be lifted any time soon as the province remains under stiff travel restrictions with many businesses having been forced to close. The provincial Administrative Organisation President, Wittaya Khunplume, says that the province is preparing to propose to the government to be downgraded from a deep red high-risk zone to an orange zone and ease measures.
There is no timeline or date for this proposal, however, the Centre for Covid-19 Situation Administration is due to meet on January 31 to officially discuss measures and restrictions. But health authorities in the province say there's no guarantee of a relaxation of measures by the end of the month.
Keep in contact with The Thaiger by following our Facebook page.
Never miss out on future posts by following The Thaiger.
Chinese businessmen hand out food in Pattaya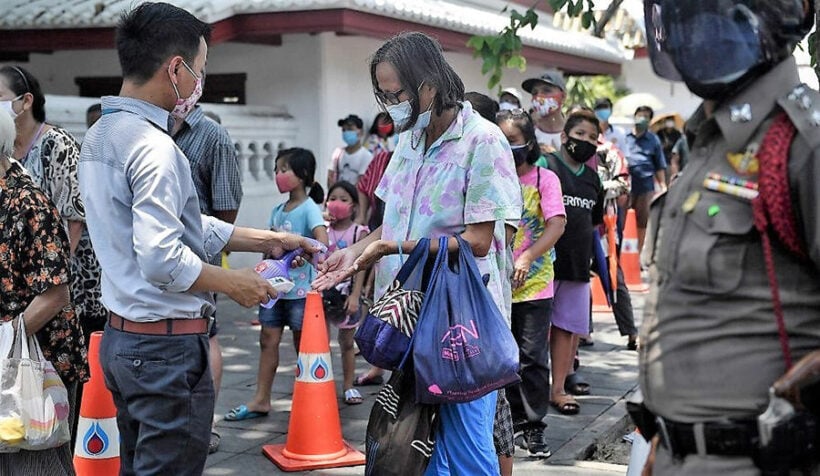 Chinese businessmen are helping to feed people in Pattaya after handing out over 1,000 meals to the needy last night. The handouts occurred near Third Road with Pattaya City Police nearby to help ensure social distancing and other safety measures.
Hundreds of locals were seen queing for the event well before it was scheduled to start, indicating the increasing need for aid. As Pattaya is part of Chon Buri province, an area that has been indicated as "highly controlled" due to the second wave of Covid-19 that hit Thailand in the past couple of months.
That wave, sent businesses and venues into shutdown, with many struggling to survive. But recently, Pattaya has recorded only 1 new case of the virus in the past 4 days, and only single digit cases in the past week. Local businesses are hoping this decrease in virus numbers will help speed up the reopening of businesses.
Although many venues can stay open, such as restaurants, their opening hours are restricted as well as seeing hardly any customers due to the travel restrictions in the province, which requires permission from a district official in writing in order to enter or leave.
Previously, Pattaya was relying on domestic tourism to keep it afloat after Thailand placed measures that essentially stopped foreign tourists from arriving. Now, many hotels in Pattaya are struggling to keep their staff and have resorted to selling their restaurants' food on the streetsor offering delivery in an attempt to support their remaining staff.
Despite multiple requests for the government to force businesses to shutdown, which would put many formal workers at hotels on social security, it has been denied. Chonburi Public Health Officials say they will be reviewing the strict measures at the end of the month, but warn it isn't a promise of allowing businesses to reopen.
Despite the area restricting tourism, Pattaya city officials have announced they will spend funds to clean up the Walking Street and decorate the streets for Chinese New Year on February 12.
SOURCE: The Pattaya News
Keep in contact with The Thaiger by following our Facebook page.
Never miss out on future posts by following The Thaiger.