Pattaya police on the hunt for 'amorous couple'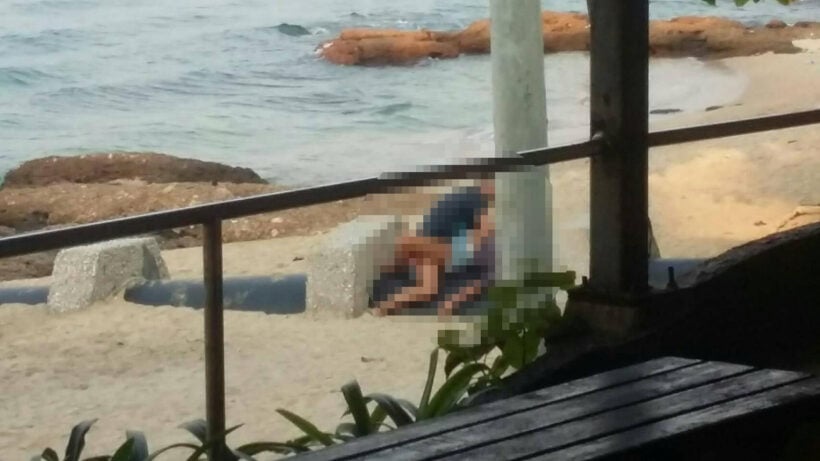 Tourist police are trying to locate and take legal action against a foreign couple who were caught on video having sex on Dong Tan beach in Pattaya City.
The couple appear in a 31 second clip that was taken at 8am on Sunday and widely shared on social networks. The video shows an unidentified man, who looks like a westerner, having sex with a woman on a drainage pipe in front of the Jomtien Marine Rescue Centre 3 in Tambon Nong Plue of Chon Buri's Bang Lamung district
The couple are clothed during the act, with only their shorts slightly pulled down. Many foreign tourists can be seen sitting on the beach.
Officials at the rescue centre said they saw the couple, who appeared to be drunk, arrive early in the morning and sit on the pipe for a while before they began having sex. An official said he came out and blew his whistle as a warning for the two to stop. They then got up and walked away.
Since the clip has been shared online, tourist police in Pattaya have inspected the scene and tried to locate the two to fine them.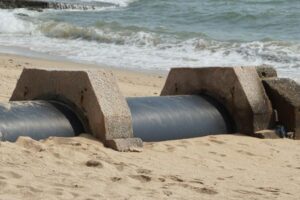 Keep in contact with The Thaiger by following our
Facebook page
.
Never miss out on future posts by
following The Thaiger
.
Finance Minister says Thailand's GDP will take 2 years to recover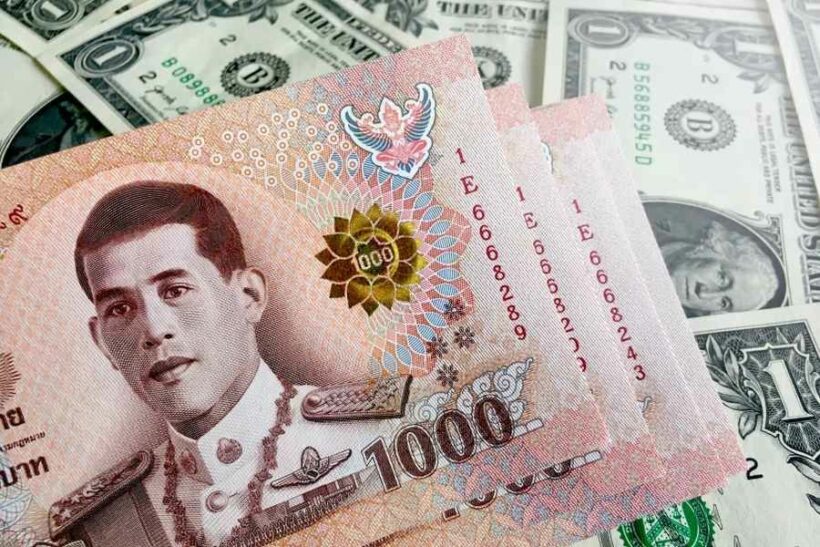 Thailand's finance minister says the countrys GDP will take 2 years to recover the 9% it has lost since the Covid pandemic ravaged the economy. Arkhom Termpittayapaisith, the Finance Minister, says the economy would have expanded by 3% this year if it weren't for the pandemic.
"The pandemic crisis will make the economy contract by around 6% in 2020, therefore there is a 9% gap that needs to be recuperated. If Thailand's GDP growth could arrive at 4% in 2021 and 2022, this would propel the country's economic growth momentum to return to a normal ratio."
The National Economic and Social Development says Thailand's GDP contracted by 6.4% year-on-year in the 3rd quarter, with a yearly economic contraction projected to be 6%. Previously, it was predicted to contract by 7.5%, however, since the global economy is projected to contract by 3.5% and the global trade is expected to decline by 11%, the number has been updated.
The seasonal adjustment saw the economy expand by 6.5% quarter on quarter from the 2nd quarter, with it contracting by 6.7% in the first 9 months. However, the NESDC's projection doesn't account for the impact from political conflicts or a 2nd wave of outbreaks.
Such political conflicts as the protests against the monarchy have seen some authorities, such as the Chief ASEAN economist, saying it won't help Thailand's weak economy recover. But Krisada says the Thai economy is expected to recover gradually, with a possibility of vaccine use and the global economic recovery helping to push forward the recovery next year.
Arkhom says the government reportedly has 30% fiscal space left in its 2021 budget, to help cushion the economic crisis. That percentage is about 980 billion baht worth of capital, which excludes the remaining sum of the 1 trillion baht loan decree.
As for the 2022 budget, he says it is still being designed to support economic growth through public investments in infrastructure and energy, with some projects relying more heavily on help from the private sector.
SOURCE: Bangkok Post
Keep in contact with The Thaiger by following our
Facebook page
.
Never miss out on future posts by
following The Thaiger
.
UPDATE: Coming to Thailand? Check your insurance and ASQ fine print.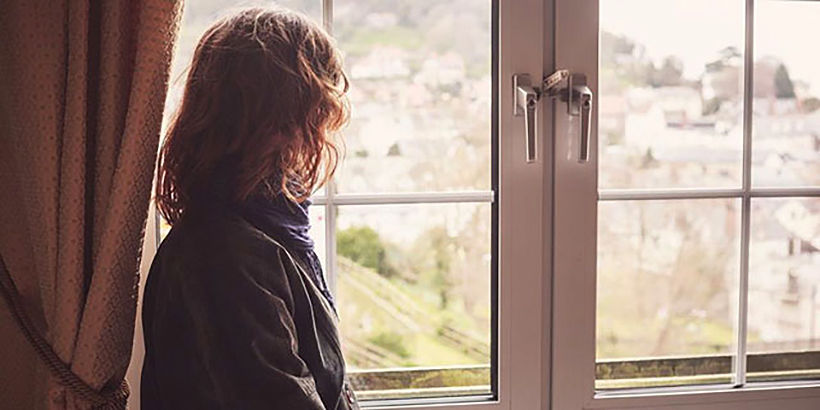 A concerned reader sent us this information, based on his experiences in the ASQ when he arrived in Thailand. We publish them with good faith but would urge everyone to check their insurance situation, whether they're currently in ASQ or might be in the near future, to check your individual circumstances. AXA has also responded to the comment, we provide that information in BOLD.
"Under current Thai ASQ rules, anyone who fails the RT-PCR test in quarantine is sent to hospital, even if they have no symptoms. The ASQ quarantine fee (paid in advance to the hotel) does not cover the hospital costs. So insurance is required.

1. I checked with AXA Thailand, as they offer an insurance policy for US$100,000 to meet the Covid-19 insurance laws. They told me this does NOT cover hospitalisation without symptoms, even after failing the covid-19 tests that are required in quarantine. I believe the odds of anyone who fails the test in quarantine having no symptoms are at least 50% and in this case their insurance will be invalid. The policy is not fit for purpose!

(AXA have responded to this claim… AXA will cover for the hospital expense necessarily incurred if an insured person is tested positive for COVID-19 regardless of the showing of symptoms. The claim payment is subject to the insured person satisfying the other terms and conditions of the policy.)
2. Most UK insurers offer travel insurance cover for "Emergency Medical Care". As being sent to hospital merely for failing a test is not an emergency, then they do not cover being sent to hospital from ASQ.
3. Some UK insurers invalidate all of the medical cover, as any visitor to Thailand is "awaiting tests for an undiagnosed condition", because they require RT-PCR tests."
AXA has further provided this information…
• Meet the 100,000 USD health insurance requirement of application for Certificate of Entry (COE) to Thailand
• Cover 3.5 million THB of medical expense including COVID19 and 1 million THB of Personal Accident, choice of period 30,90,180,270 and up to 365 days
• Coverage starts immediately a‑er clearing immigration in Thailand and include the period of 14-day Alternative
• State Quarantine (ASQ) and Alternative Local State Quarantine (ALSQ)
• No waiting period , no deductible
• Provide insurance certificate including COVID-19
Reference: https://www.axa.co.th/en/axa-sawasdee-thailand-travel-insurance
The bottomline on all this is ASK questions, check your insurance coverage and get everything in writing.
Keep in contact with The Thaiger by following our
Facebook page
.
Never miss out on future posts by
following The Thaiger
.
2 Thai Covid-19 vaccines to proceed to human testing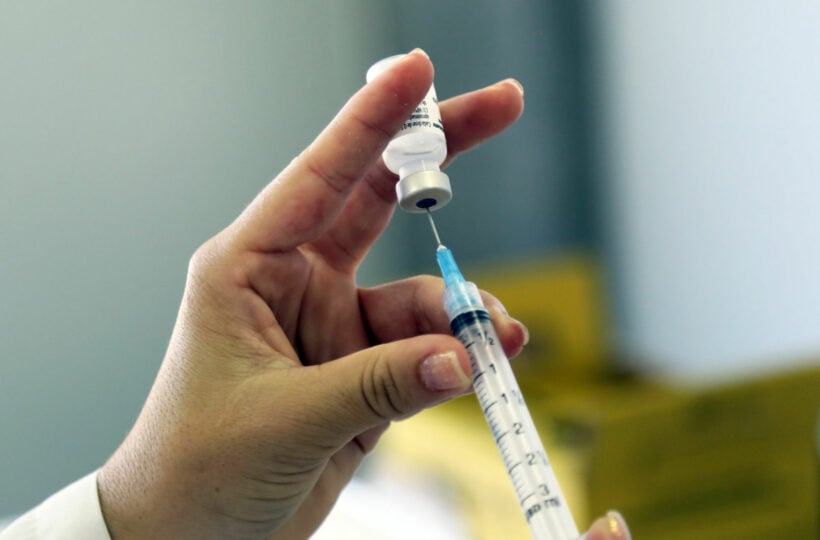 Out of Thailand's 7 potential Covid-19 vaccines, 2 have successfully completed the animal testing stage and will proceed to human testing. Dr Nakorn Premsri from the National Vaccine Institute says the 2 vaccines are the mRNA vaccine from the Chula Vaccine Research Centre and BioNet-Asia's DNA vaccine.
The Chula VRC candidate vaccine is expected to begin human trials in April of next year. It will initially be tested on 72 volunteers aged 18 – 55, and 36 volunteers over the age of 55. Initial tests will be to determine the best dosage, with volunteers subsequently divided into groups of 12 for further tests. Subject to the tests proving successful, the vaccine will move to phase 2 of human testing, involving 600 people in 2 age groups, from June 2021.
Nakorn adds that the BioNet DNA vaccine will begin human trials in Australia, with phase 2 human trials taking place in Thailand early next year.
"BioNet has received a grant from the Australian government to conduct Phase 1 human trials in Australia."
Meanwhile, Dr Kiat Raxrungtham, from the Vaccine Development Research Centre, says that while BioNet has the raw materials needed for vaccine development, the supply may not be sufficient, with larger organisations having already procured most of the resources. He further cautions that the government's budget for vaccine development – 300 million baht, distributed in 42 million baht installments – may prove insufficient. Kiat says he believes at least 1 billion baht is necessary and that fundraising among the public may have to take place.
He adds that, following successful phase 1 trials, phase 2 will take place in June. Following phase 2, the results will be analysed to determine safety and efficacy, but there will be no phase 3, as the technology for manufacturing the vaccine has already been developed and verified in other countries. If phase 1 and 2 prove successful, he anticipates the vaccine could go into mass production by late 2021.
Kiat adds that, due to the genetic make-up of Thai citizens, their dosage during the trial phases will differ to that given to non-Thai citizens.
Meanwhile, Nakorn from the NVI says the other 5 vaccines are still at the animal testing stage.
SOURCE: Nation Thailand | Thai PBS World
Keep in contact with The Thaiger by following our
Facebook page
.
Never miss out on future posts by
following The Thaiger
.