Buddhists call for boycott of Hilton & Waldorf Astoria Hotels with the opening of Siddhartha Lounge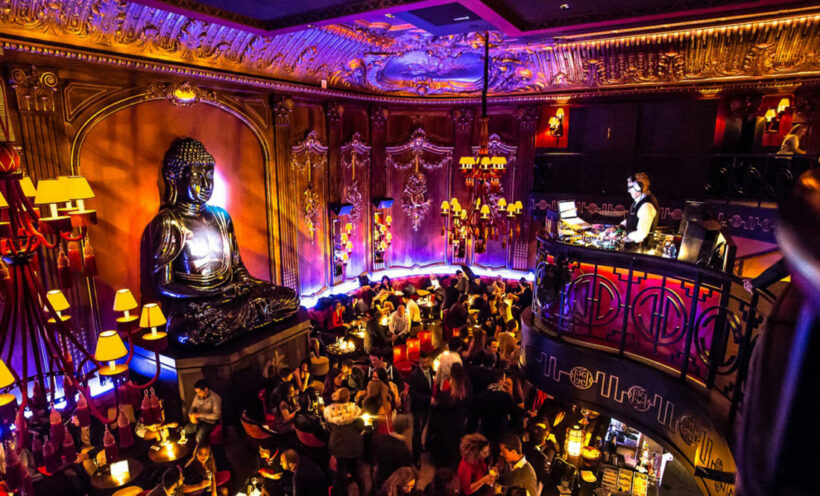 OPINION: The Buddhist Times
Since its creation in 1996, Buddha-Bar Paris has been using the name and image of Buddha in it's Bars and Hotels throughout the world. Typically the franchises use large statues of Buddha in their Bars and around dance floors and in restaurants similar to a Buddhist temple.
What makes the use of Buddha's image in these bars most insulting to Buddhists around the world is that Buddhism does not support the consumption of alcohol. So to use the Buddha's image as decoration to promote the consumption and sale of alcohol and as a prop on dance floors and in restaurants is especially disrespectful and hurtful to Buddhists.
Now comes a further insult with the Buddha-Bar franchise opening the Siddhartha Lounge at Waldorf Astoria Ras Al Khaimah. (Siddhartha Gautama being the full name of Buddha).
According to the Knowing Buddha Organisation in Thailand what the Buddha-Bar franchise is doing is not only disrespectful but it is immoral. The foundation points out that "Respect is Common Sense".
Buddhists feel hurt by the misuse of the name and image of their father, as people of other faiths would be if the image of Christ or Mohammad were used to promote bars and nightclubs.
The Buddha–Bar, restaurant, and hotel franchise created by French-Romanian restaurateur Raymond Vișan and DJ and interior designer Claude Challe, with its original location having opened in Paris, France in 1996.
Raymond Vișan, according to Wikipedia, had the idea of establishing the chain of restaurants and bars which came from his fascination with the Orient. However at the age of 60 Visan suddenly died of terminal cancer. The franchise was continued by co-founder Claude Challe and Vișan's wife Tarja, who took over the reins of the Buddha Bar franchise upon Vișan death.
Critics of the Vișan's and Claude Challe say that these self described artists and creators have created nothing but bad Karma and Sin for themselves. They suggest that Buddha-Bar franchise is a form of "grotesque Plagiarism " which has merely hi-jacked a 2500 year old religion, using the name and image of Buddha, who imparts peace, compassion and loving kindness, for the purpose of selling alcohol and making money. As any case of plagiarism it is expected that Buddha-Bar and Waldorf Astoria will soon find them selves in the courts say Buddhims advocats.
Buddhist around the world are calling the Boycotting of Waldorf Astoria Hotels Hilton Hotels, Buddha-Bars and the music of Claude Challe, demanding that they stop using the image of Buddha and instead creat their own brand.
The views expressed in this editorial do not necessarily reflect the opinions or views of The Thaiger or its staff
Keep in contact with The Thaiger by following our
Facebook page
.


Find more SE Asian News courtesy of The Thaiger.

Broke? Find employment in Southeast Asia with JobCute Thailand and SmartJob Indonesia. Rich? Invest in real estate across Asia with FazWaz Property Group or get out on a yacht anywhere with Boatcrowd. Even book medical procedures worldwide with MyMediTravel, all powered by DB Ventures.

Not much of an apology – Thai Health Minister's non-apology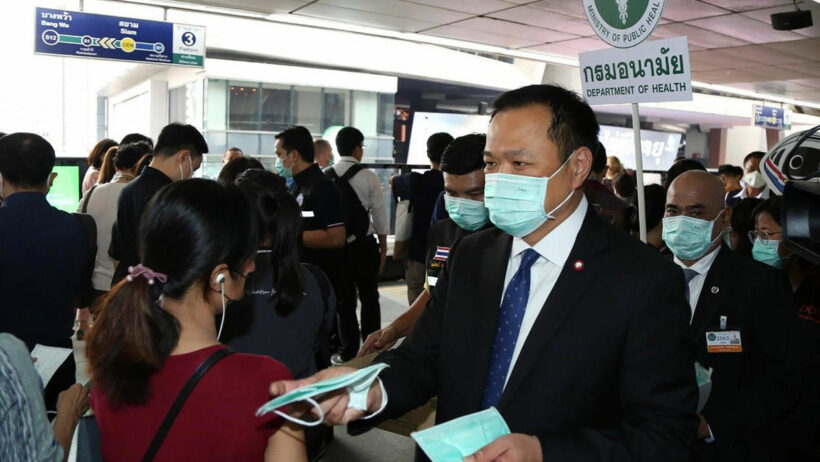 OPINION by Tim Newton
Yesterday morning the Thai Public Health Minister, Anutin Charnvirakul, also the head of the Bhumjaithai Party, lost his cool and struck out at 'Europeans' and 'damn farangs' (caucasians) saying they "should be kicked out" of Thailand for not wearing the cheap, flimsy paper face masks being handed out at the busy Siam BTS station as a government PR stunt.
Worthy as his attempts were, to press BTS travellers to adopt a precautionary attitude about the current coronavirus outbreak, mostly confined to China (all but 300 of the cases are within mainland China), his appearance did a lot more harm than good.
There was little right about the media presser from the start.
Flanked by his minions, all adorned with the flimsy pale blue face masks (which usually cost around 20 baht when the pharmacies aren't price-gouging the situation), he spoke about Thailand's success in limiting the outbreak within the Kingdom.
Just the day before he made another of his changes of mind saying that Thailand won't be closing its borders to Chinese travellers.
"Thailand's public health minister Anutin Charnvirakul now says imposing a travel ban on Chinese citizens won't help the government's fight against coronavirus 2019nCov epidemic."
A week ago he was insisting that Thailand would have to stop flights out of China, a proposal that was challenged by the Sports and Tourism Minister and eventually voted at last Tuesday's Cabinet meeting as "excessive".
Whether that decision was right or wrong, we'll leave that to the scientists and World Health Organisation to explain in coming months.
As Anutin started speaking to the awaiting media pack, ironically without his face mask in place, he noted that some 'farang' weren't taking the face-masks being offered.
"They don't care about the big picture. They don't have any consideration to the situation."
"… non-compliant behaviours of foreigners should be reported to embassies".
"All damn farangs, those tourists… that's something the embassies should be notified about and the public as well that are not wearing masks."
"We're handing them out and they still refuse. They need to be kicked out of Thailand!"
"We're giving the masks to them and they still refuse."
"The Chinese, the Asians… they are all taking the masks, but those Europeans… that's unbelievable."
THOSE Europeans, the 'farangs' he was deriding, have provided the back-bone of Thailand's growing tourism industry for decades until the Chinese started visiting Thailand in large numbers since around 2014. The numbers of Europeans have remained steady but, as a proportion, their percentage has been slowly dropping. But they're still a vital component to the Thai tourism mix.
But his later apology, mid afternoon on the same day, wasn't much of an apology. He apologised for his racially-charged remarks. He blamed his outburst… "on ill manners displayed by some foreigners".
So rather than unreservedly apologising for his comments he just doubled-down and blamed the foreigners again.
"I'm sorry for losing my temper to foreigners today. I couldn't tell where the foreigners came from or how much risk they pose."
"We expected respect and cooperation in mitigating the outbreak from them, not slapping our hands away or looking at us in a demeaning way.
But there was a venom behind his original outburst too, beyond the actual words themselves, that was particularly worrisome. Beyond the venom was a tinge of racism that should concern anyone who is 'caucasian' and living in, or visiting, Thailand. The rant, from a minister, officially appointed by the Head of State, was inappropriate, ill-considered and reflected poorly on the Prayut Government.
If you've lived in Thailand over the term of the Prayut military, and recently quasi-democratic, government, you'd know that that there's been a push (or is that 'putsch') to make it more difficult for foreigners to reside and work in the Land of Smiles. Of course the Thai government are well entitled to make foreigners jump through as many hoops as they want – it's their country.
There has been a few ill-tempered comments coming from Immigration officials, and even the Deputy PM Prawit Wongsawon, in the past, blaming foreigners for Thailand's problems. But this was probably the most direct reflection of those inner racial tensions coming to the surface in front of 50 cameras recording his every word.
And his words, caught in sharp focus on numerous cameras, and republished in hundreds of articles, are making the round in world media. It's not a good look.
Thailand's health minister lashed out at "Western" tourists on Friday for not wearing face masks and suggested they be expelled from the country for putting others at risk during the coronavirus outbreak – France24
Some tourists refused to accept the surgical masks, prompting his comments. He later apologised on his Facebook page for "losing it" – Bloomberg
Even the word 'farang' is one that makes a lot of 'white' foreigners bristle. When used by the vast majority of Thais, it's just a word that's been used for centuries to describe the 'round-eyed' white foreigners. Similar terms have mostly disappeared from polite discourse in the west. The indigenous Australians, are no longer referred to as 'black fellas' and the word 'negro' is considered utterly verboten in the US. Similar terminology has vanished in civilised conversation around the world because it's now recognised as racially-charged and a completely unscientific way of defining the disparate tribes of humans. Anthropologically, we are all one race – the human race.
But there's still plenty of residual racism around the world, not the least in Asia where historical hatreds will take generations to pass. Maybe us 'farang' were too hopeful that the easy-going Thais, with their willing smile and accommodating culture were too good to be true. Maybe we ARE all just walking 'white' ATM cards afterall, ready to be siphoned as we plough through the myriad 'misunderstandings' and paperwork obstacle courses at the Immigration offices. We're just deep pockets of cash to visit Thailand as tourists, then leave, please.
Despite Anutin's outburst, it should be discussed why he was there in the first place. It was a well-timed PR opportunity at Bangkok's busiest BTS (Skytrain) station, just after the morning peak. The Bangkok press were invited to witness his grand gesture of handing out the ubiquitious pale blue paper face masks to passengers.
If Thai people, or anyone else in the world, hasn't already realised that wearing a cheap, poorly-fitting piece of paper will do approximately NOTHING to protect you from Coronavirus, then you haven't been doing your homework. The face masks, properly fitted, are a useful tool for doctors and clinicians in close contact with infected patients. They are also useful in helping prevent coughing and sneezing patients from spreading their germs.
But the virus in not 'airborne' and isn't floating around waiting for you to walk into it (which appears to be the way many think it is transmitted, judging by their behaviour).
Even the World Health Organisation has published papers and websites about the unsuitability for wearing of paper face masks as a prevention for the current coronavirus outbreak. Indeed, it's much more about washing your hands and avoiding touching your face when around infected patients. Anutin would have been better handing out washing basins and hand sanitisers if he wanted to be helpful.
And this guy is the Health Minister…. you know, the Minister of Health!! He should 1) know better 2) have been given better advice and 3) saved the government money and stayed back in his office reading the WHO published material.
Dear Minister, click below…
Keep in contact with The Thaiger by following our
Facebook page
.
The knock-on effect. Coronavirus hits Phuket hotels.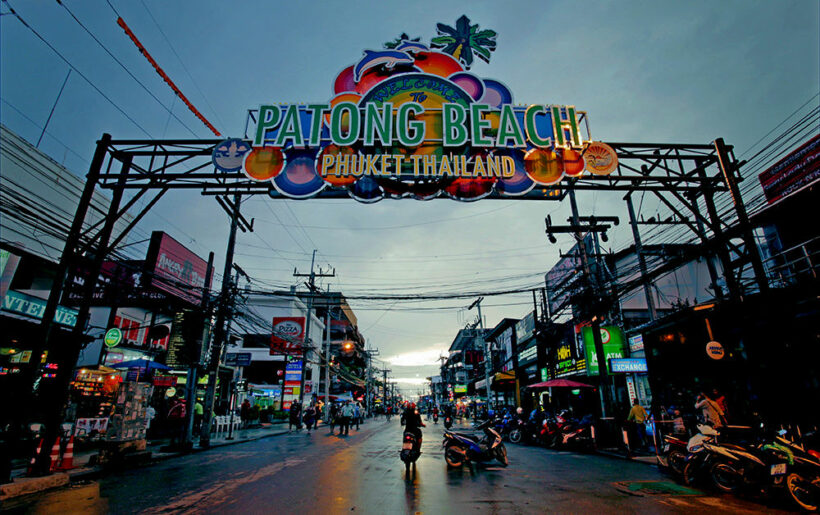 The Thaiger's occasional Phuket hotel management contributor is back with some inside knowledge of the current situation for hoteliers on the holiday island. That the coronavirus situation is affecting hotel bookings, is an understatement, he says. Here's some of the current thinking as Phuket hoteliers stand around the water-cooler and mull the situation. Our writer has asked to remain anonymous…
Over the past weeks, as the coronavirus situation develops, hoteliers have been sharing information and revealing the knock-on effects on their businesses. Some hotels and resorts have been affected more than others, depending on the diversity of their guest base and the type of business they have/had on their "books".
For us, we have so far lost approximately 1 million baht of business (FIT – Free Independent Travellers – guests) for February alone. Our friends are reporting FIT losses up to 7 million baht so far but the region of 2 – 5 million baht seems to be average so far.
Others we are hearing (confirmed data) have lost in the region of 3 – 10 million baht from the MICE (Meetings Incentives Conferences Exhibitions) markets and 'commitment blocks' which would have been negotiated sometime last year for the last part of January and into February. Sadly, as this has happened so quickly, it gives us all the challenge of finding new business to fill in the gaps.
But it's not just guests from China who are cancelling now. Guests from other parts of the world, who were flying via a Chinese airport into Thailand, have been affected as their flights are cancelled. We have seen a few bookings cancelled or postponed over the past week as a result.
After this situation passes, and it will eventually pass, many hotels and resorts might look at their market mixes (as we are doing) and continue to diversify, looking specifically at merging markets to Thailand and aim for a more balanced business base (if there is such a thing). Only time will tell.
On top of all this, environmental concerns and traditionally strong high season markets are being told to 'take the train rather than fly'. That will just add more challenges to us hoteliers for future business planning.
We are currently seeing so much negativity on social networks against Chinese visitors, however, Phuket has been one of their most favourite destinations for several years and the island really does need our Chinese visitors to return as they keep so many locals in jobs and our shopping malls open, etc. Many, many jobs will be lost if Phuket loses its Chinese traffic.
Our Chinese partners and travel offices in China have been so delighted and happy to see the lovely and uplifting video messages posted on social media (and reposted via WeChat) from many resorts, hotels and the Phuket Tourist Association showing support.
"Fake news" is certainly a factor playing a part too, as guests from other countries contact the hotel asking about the situation and asking 'is it safe to come to Phuket?' Social media groups from important markets have been buzzing with questions and inquiries after some 'fake news' postings and incorrect translations! This too has caused a few cancellations as the 'worry' factor deters some visitors from choosing Phuket.
The reality is, sadly, that you are much, much more likely to have a motorbike accident here than contact the virus – any virus – here in Phuket.
We are also pleased to see the Thai Government monitoring, and doing their best to crack down on such fake and irresponsible news. Reliable local media, too, are playing a very important part in this, posting facts rather than fiction.
Guests contact hotels in the first instance for information (even during 'normal' times if such times still exist!) so us hoteliers are doing our best to play an important part in sharing correct updated information which has been sent to us from the authorities.
As the situation continues, may we wish all our Chinese friends and partners strength and support during this time. We are still here and ready to welcome you back when the current 'panic' has passed.
Keep in contact with The Thaiger by following our
Facebook page
.
Hazy days and Sundays – Bangkok has fifth highest air pollution in the world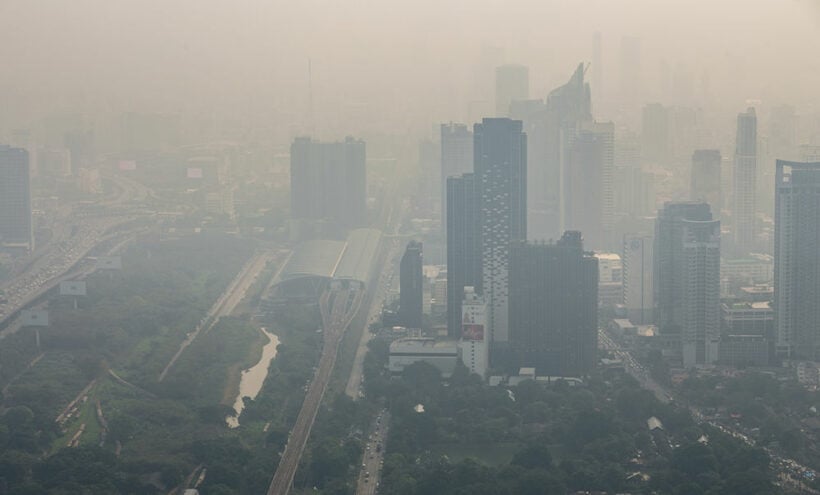 "Unhealthy". That about sums up the air Bangkokians are breathing this morning, a situation almost completely avoidable but allowed to continue by the Thai Government. Bangkok is in bad company today with other polluted cities in Asia – Lahore, Hanoi, Delhi and Dhaka – as the fifth most polluted city in the world, a headline the Thai Government would prefer to avoid.

Right around the capital this morning, a day of the quietest traffic, and stretching around the central Thailand region and down to Pattaya, the smoke and haze caused by the plantation burn-offs is palpable as people try and find some respite from the poor air quality.
The northern airflows are blowing all the smoke from the field fires lit by farmers back into the city today. The city, already in a mild panic over the Coronavirus cases in Thailand, is short on masks and probably even shorted on patience as the Thai Government continues to put lives at risk by doing little about solving the smog crisis.
Let's be clear, this has almost nothing to do with old buses and factories, and burning incense sticks (all which have been blamed in the past), and EVERYTHING to do with the annual burn-off season, mostly sugar cane, corn and rice fields.
Even the sugar industry, the source of much of the pollution, has been pro-active enough to offer solutions to encourage, or force, farmers into harvesting the crops and using machinery to prepare the paddocks for the next crops, instead of resorting to the cheap solution of burning.
Sugar factories are campaigning to cut and harvest raw sugarcane, instead of boring it first, for processing. The conglomerates are recommending that the government offer funding at low interest rates to farmers to buy harvesters as the prices of the equipment are quite high (6-12 million baht).
The Thaiger has published countless articles over the past few years about the pollution problem HERE, HERE and HERE. There's even been a 'crackdown' on the plantation fires with police being given the power to prosecute farmers who continue to light the fires.
"National Police chief Pol General Chakthip Chaijinda has ordered deputy chief Pol General Suwat Jaengyodsuk to be the central administrator of these measures. They are to be enforced at traffic routes, industrial factories, construction sites and burnt crop fields where the PM2.5 comes from nationwide."
But here we are, on a Sunday, in one of the world's most visited cities by tourists from around the world, enveloped in choking pollution that measures up to 4 times the Thai Government's own classification of a safe upper limit. And up to 8 times what the World Health Organisation deems as 'safe'.

If the map readings of Unhealthy and Very Unhealthy aren't enough to scare a Thai Government public servant into action this morning, perhaps they should just look out of their windows at the pall of smoke descending on the city. Or perhaps they should go and greet some arriving visitors at the country's largest international port, Suvarnabhumi Airport, where this morning's reading is 205 microns (of 2.5 micron particulate per cubic metre of air).
Welcome to Bangkok.
PS. If the police need any help to find where the fires are burning, 1) look for the smoke or 2) log onto the NASA satellite fire map HERE (screenshot below) for some live data about fires burning around Thailand. Hundreds and hundreds of fires.


Maps courtesy of AirVisual

Keep in contact with The Thaiger by following our
Facebook page
.