Phuket Opinion: Keeping pace with disaster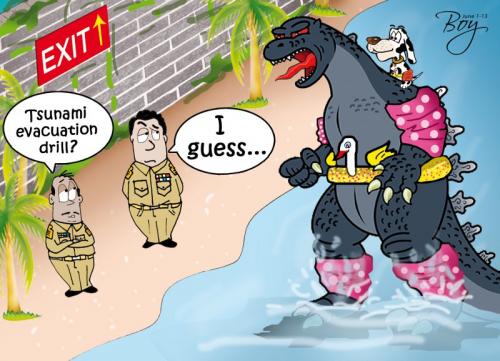 PHUKET: The construction of a wall along Kamala Beach that could be a barrier during an emergency evacuation once again highlights the need for constant vigilance and above all, common sense in the never-ending preparation for a tsunami or other natural disaster.
Few places on Phuket were hit harder than Kamala, where the bathymetry and onshore topography allowed the surging seawater to extend some two kilometers inland, destroying just about everything in its path except, in thought-provoking irony, most trees.
Sadly, other hard-hit areas with similar topography like Patong and Khao Lak in Phang Nga had also attracted some of the densest concentrations of resorts and tourist-related businesses.
With the 10-year anniversary of the disaster approaching, we can all sleep better at night knowing that a warning system is in place around the island and ready to sound, probably well in
advance, should another tsunami threaten our shoreline.
As this past week's emergency training exercises have shown, the many agencies involved in emergency response appear better trained and equipped than they were in 2004.
This is due not only to increased awareness and better budgets, but also to hands-on training developed during the 2004 event itself and during subsequent tsunami scares, especially the one that followed the largest earthquake ever recorded in Phuket in April 2012.
That event exposed a variety of serious flaws in our preparedness mechanisms, especially the woeful inability of the state-run media to keep a panicked public informed of events in real time.
There are other weaknesses in the system.
In 2004, Karon was largely spared from inland devastation due to its large and healthy dunes. Since then, many sections of this natural barrier have been destroyed by heavy machinery working on projects authorized or carried out by the local administration. Similar situations can be found in many places on the island, where tourism-related businesses are encroaching on coastal land.
The government is rather uncreative in its evacuation exercises, which are inevitably based on a theoretical tsunami with the same causes and characteristics as the 2004 event.
If such a twin tsunami were to hit the island, it seems likely that many more lives would be saved than the first time around. However, due to a virtual tsunami of greed-driven, poorly regulated development over the past decade, property damage would probably be far greater.
But disasters are, by definition, unpredictable, and if we do not prepare for the unexpected, the results we face may be devastating.
OPINION – One, two, three bad incidents on Patong Hill within 24 hours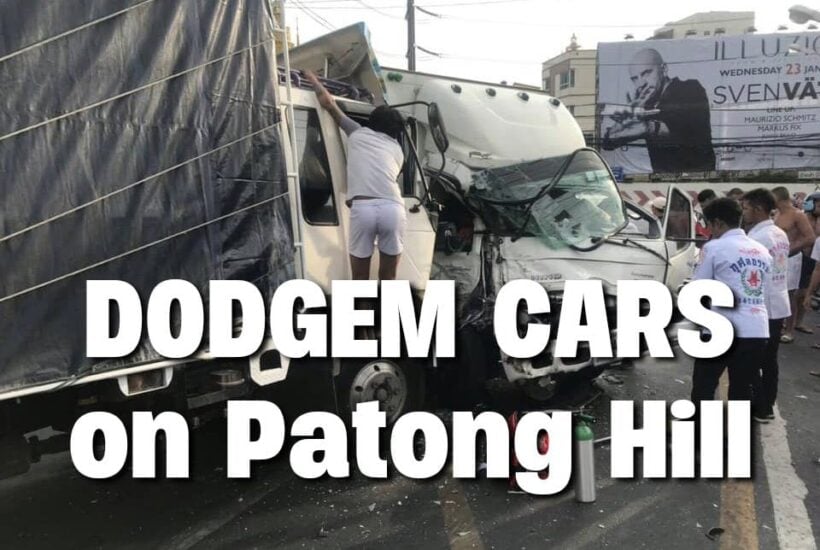 The bottom of Patong Hill, on the Patong side, has been the scene of numerous fatalities over the past 20 years. Following a steep decent and some tight windy turns, some vehicles simply come to grief.
Residents and shops at the bottom of the hill have built barriers, walls and fencing to try and defend themselves from the parade of accidents flowing down the hill.
In just 24 hours, between 5pm on Tuesday January 22 and 3.34pm on Wednesday, January 23, there have been three major incidents, luckily none of them fatals, which have caused long delays for people accessing Phuket's main town and tourist hub. On Tuesday night some people were stuck trying to get out of Patong for three hours.
Phra Baramee Road is the only way in and out of Patong, otherwise it's a long trek south past Karon before you can go over Kata Hill to get to the east coast. The long-awaited tunnel has shuffled along for 20 years going from idea to proposal to study to environmental reports to funding assessments to more studies to artists impressions to more reports and 'statements' from various departments.
Net result after all this discussion and deaths on the Hill over 20 years?
Nothing, Nada. Zero. Just a lot of carnage.
Nary a day goes by when there isn't a multitude of 'incidents', many of them minor, where traffic in the one or two lanes in each direction, isn't delayed or stopped. The three beeps at the top of the hill as drivers pass the temple, the Pun Tuao Kong Chinese Shrine, obviously don't appear to be calling on the correct luck gods.
The temple at the bottom of the hill is also a failure when it comes to bringing any luck or divine protection to the hapless drivers passing by.
So, in just 24 hours, in much the same spot – the final 100 metres of Patong Hill outside the temple – three major incidents (photos below).
Here's what will happen.
• The Governor will make an announcement that there will be 'important discussions' between the Provincial office, police and Land Transport department.
• There will be a 'crackdown' on buses and trucks with 'checkpoints' announced to ensure that all vehicles going over the hill are safe to do so.
• Police will urge transport companies and tour bus operators to ensure their drivers are properly licensed and trained.
• The media will be urged not to 'dramatise' the situation or present a negative image that may affect tourism.
• Brake failure will be cited as the cause for almost EVERY incident without any evidence being presented.
So, let's recap the last 24 hours along the same 100 metre stretch of Phra Baramee Road in Patong…
1. Tuesday, January 22 @5.03 pm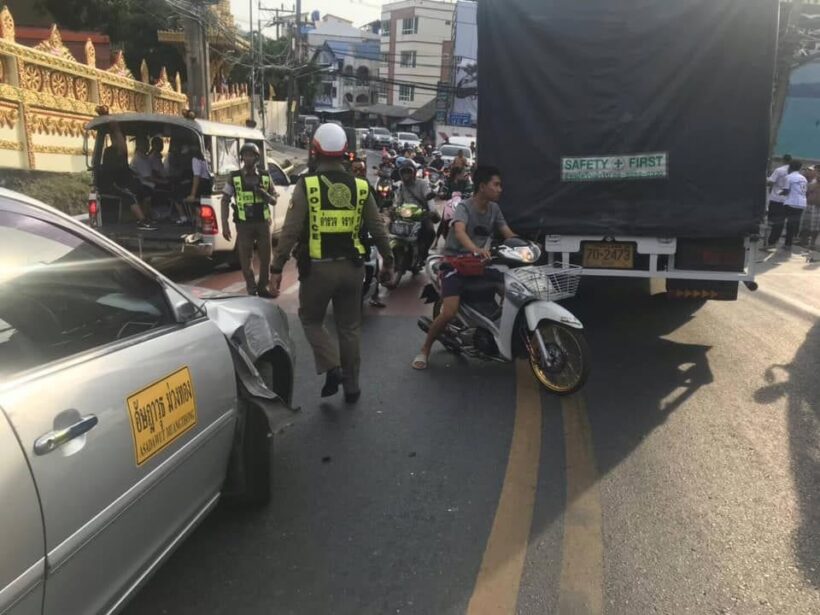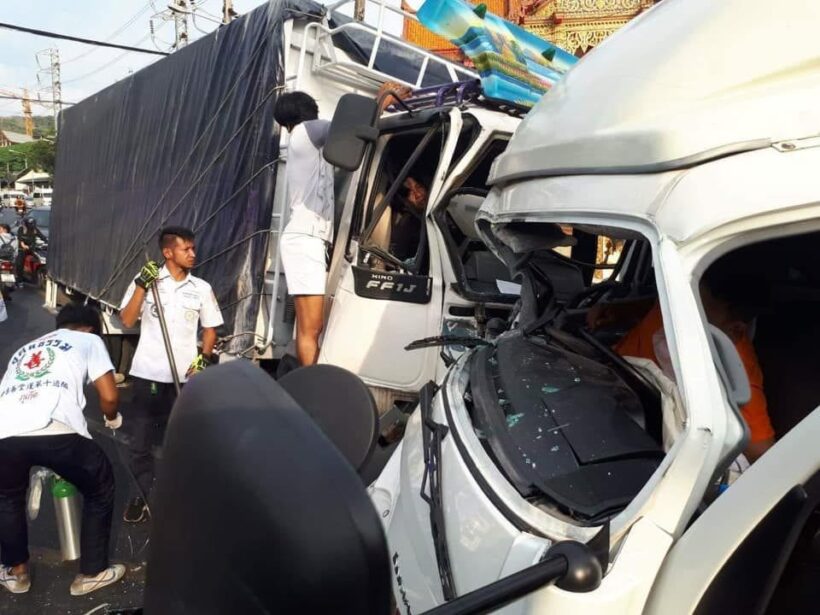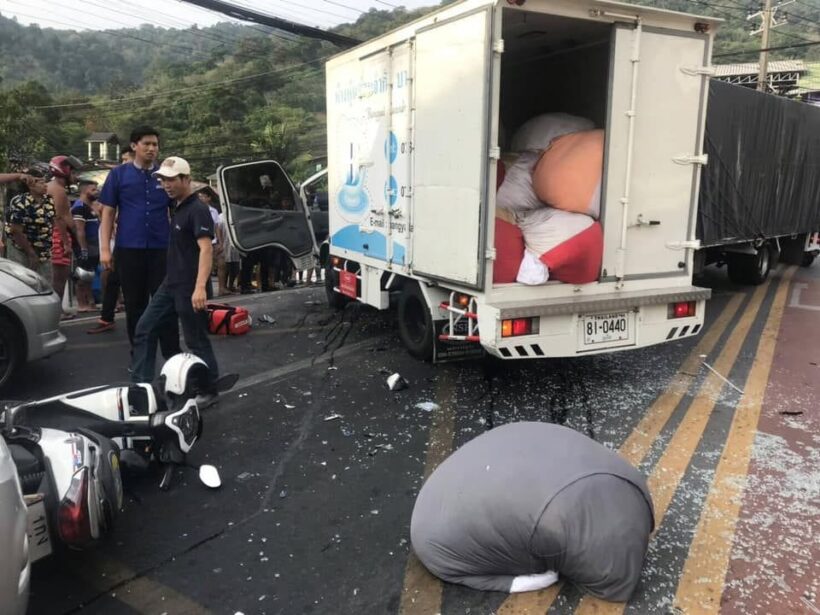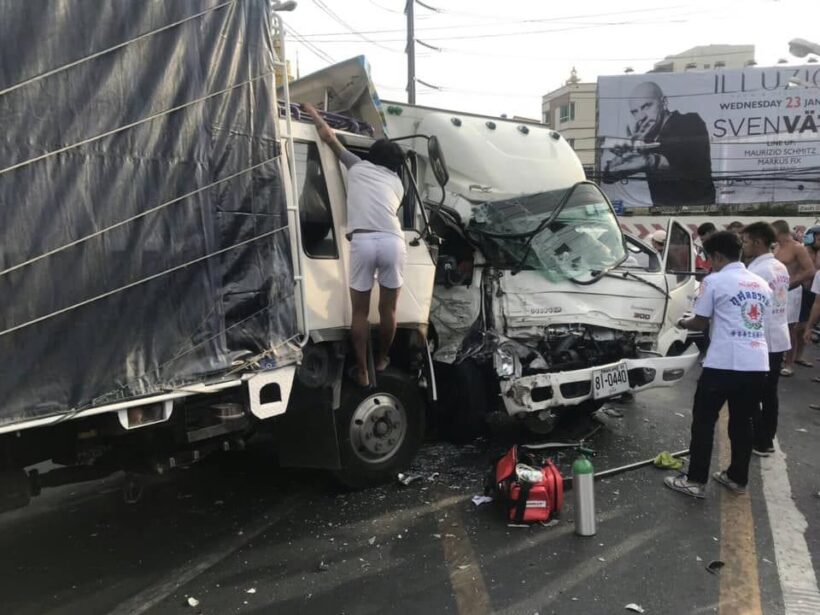 2. Wednesday, January 23 @ 7.40am
[ #ภูเก็ต #อุบัติเหตุ #ป่าตอง 23-01-62 ]#คลิป // 09.45 น. รับแจ้งอุบัติเหตุ รถทัวร์เบียดกับรถกระบะ เลยวัดสุวรรณคีรีวงก์ ขาออกป่าตอง #เหยี่ยวข่าวภูเก็ต

Posted by เหยี่ยวข่าว ภูเก็ต on Tuesday, January 22, 2019
3. Wednesday, January 23 @ 3.34pm

The only people making anything out of this mess are people selling brooms or the roadside banner advertisers with all the unexpected additional advertising coverage.
That there has been no fatalities in the past 24 hours is a matter of luck, not good planning.
The 35 billion baht white elephant – Phuket's light rail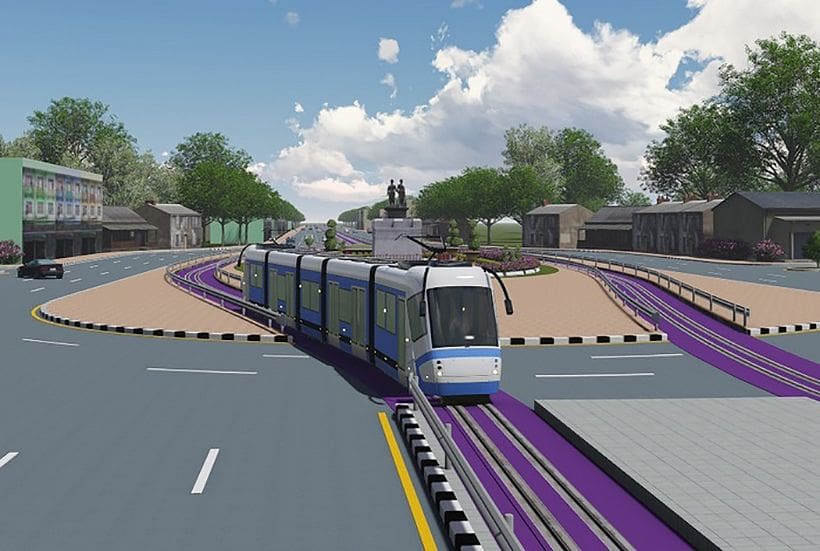 "About the only thing feasible in this rendering is the blue sky."
Spending 35 billion baht on infrastructure that few will use, is planned on the least useful route and will cause mayhem for a 3-5 year build time is a waste of money.
The Mass Rapid Transit Authority of Thailand (MRTA) is currently chatting to the private sector and local administrative bodies to support Phuket's planned light-rail/tram project.
Firstly, where will it travel?
The tram route plans to run from Tha Noon in Phang Nga province, across Sarasin Bridge onto Phuket, past the airport, through Phuket Town on the east coast and then finishing at Chalong's main intersection near the Chalong Circle.
Phuket's tourists, who mainly head for the west coast beaches, are being almost completely ignored in the planning.
Oh, but the tram will travel from the airport to Phuket Town (where less than 5% of Phuket's tourists stay). That route is already well connected with Airport and private buses – the least of Phuket's transport woes.
The two-way tram will be constructed right in the middle of existing, already busy, roads – principally Thepkasattri road from the island's north to Phuket Town. Then in the middle of the equally busy Chao Fah East road which, mostly, doesn't already have a centre-strip.
The MRTA expects to seek cabinet approval for the project in the middle of this year with construction likely to begin in 2020. They estimate it will be operational by 2023 (code for 'maybe before 2025').
At this stage, the MRTA estimates fares will be no more than 100 – 137 baht, less for shorter hops between the 21 proposed stations. This already puts the cost of daily use for many local Thais out of reach. If it costs about 80 baht to fill an average 110cc scooter which would last most of the week – you do the maths.
Then the locals will still have to use public transport, or their feet, to get to and from the nearest tram stop.
Here are four key problems with the whole idea…
The tram stops avoid most of the tourist hot spots along the west coast of the island and concentrates on locals living along the main Thepkasattri trunk from Thalang to Phuket Town and then Chao Fah East to Chalong.
Patong? Kata? Karon? Surin? Mai Khao? Kamala? Nowhere near them. We acknowledge that a tram would never be a solution to get to people to and between these locations.
The second point is a glaring failure in the concept to measure popular and cheap services currently available – mostly the trusty and cheap motorbike.
Thai users are unlikely to give up their point-to-point motorcycle transport for a more inconvenient, and expensive, tram that will necessitate them using expensive taxis, buses and motorcycle taxis at either end to get them to their destinations.
Next, imagine the three year construction period which, if following recent major road construction projects, is likely to blow out to four or five years. And the massive disruption of traffic during the construction time. Ask anyone living in Chalong and Rawai about how the roadworks at the Chalong circle has affected their lives in the past three years. It's been chaotic, time-wasting, dangerous and stressful.
Finally, the loss of road space along the route will restrict local road traffic even more, neutralising any nett gains of the new tram system. Tram rails, in both directions, 21 stations, the overhead walkways (to get people to the sidewalk areas), parking… where is all this going to go? It will chew up limited road space and bring traffic and people even closer together – a recipe for disaster.
Phuket badly needs public transport reform. Recent infrastructure to improve roads, add underpasses and improve existing services has gone part of the way to making life better for locals and tourists.
But this new white elephant completely ignores the real elephant in the room – the intransigent cabal of the taxis and tuk tuks on the island which 'could' be the island's best asset. But instead they are a feared, reviled and a much-discussed tourism killer.
Local people almost completely avoid taxis and tuk tuks (they already know their fares are ridiculously priced when compared to other parts of the country), and tourists use them because there's not a lot of alternative only to end up with occasional horror stories in social media, complaints to the Tourist Police and a lasting impression of Phuket as an over-priced tourism pearl that's lost its lustre.
Spending 35 billion baht (let's spell that out for you – 35,000,000,000 baht) on a shiny new tram system does little, if nothing, to address the island's key transport issues – better roads and better alternatives for transport in and around tourist zones.
Your comments are welcome on our Facebook page.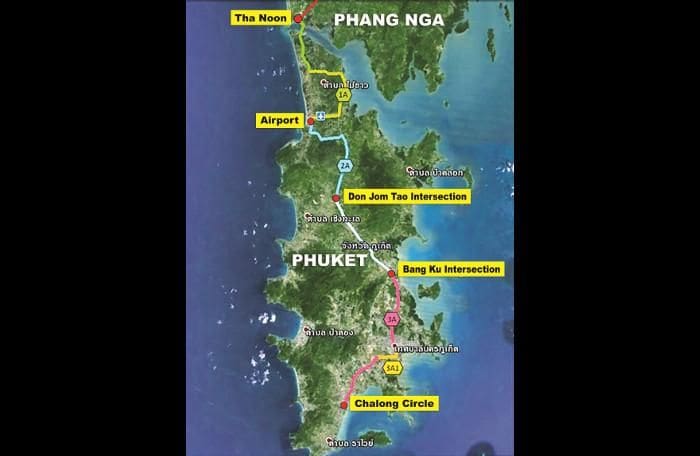 What's the use of number plates if you can't read them?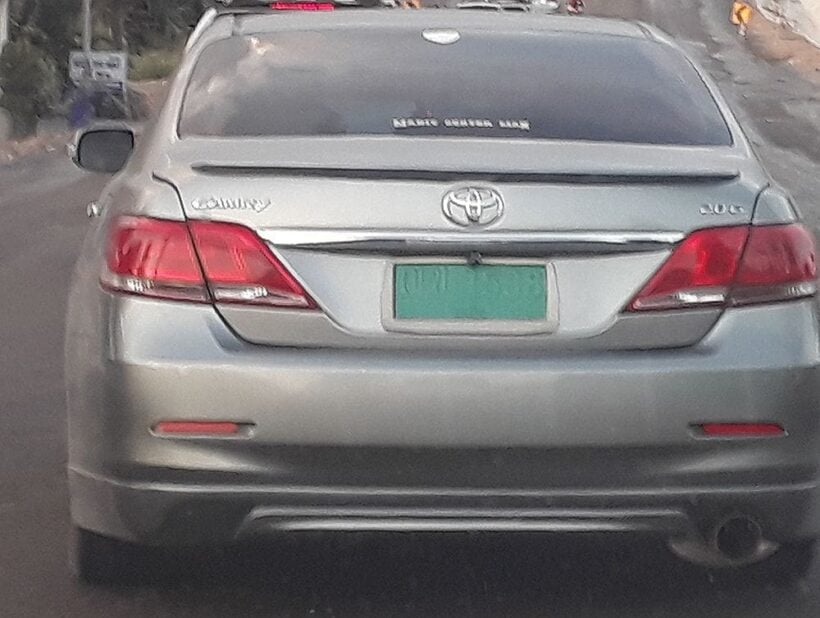 by DW (anonymously sent to The Thaiger)
Hiding in plain sight, and rarely noted—at least by anyone I've spoken with—are thousands of cars, vans, buses, trucks, and even motorcycles. Most are commercial vehicles … you know, the ones with green and yellow plates.
Now when I say they're "hiding in plain sight", I mean to say that yes, you can plainly see that it's a Toyota Camry, or white passenger van, but take a look at that license plate. Isn't it difficult to make out the numbers now that they're painted over with the same colour as the background?
Oh, wait a minute, maybe you're looking at one of those immaculate plates that have the highly reflective plastic covers. Yes, those ones that catch any bit of sunlight and bounce it back in such way that the plate numbers are near impossible to read.
Bad enough during the day, but at night, the glare from your own headlights is enough to blind you!
Speaking of which, there is another interesting observation to be made: Next time it's dark and you are in a line of cars waiting for the light to turn green, take a look around at the license plates.
You will likely see a lot of vehicles that have the small lights meant to illuminate the rear plate either not working or, dare I say, "modified" to disguise the numbers barely on display. If you're keeping tabs, you will also note that the vast majority of these modifications are associated with the green and yellow license plates.
Does that surprise you?
Now consider how many times you've seen vehicles racing through the streets, highways, and byways of this fine little island. And, for just a moment, stop and think, how many times have you noted green or yellow plates in those photos of horrific accidents that are all-too-often reported in our newspapers?
What of the speed cameras and prolific use of CCTV to monitor every street, lane, and intersection? Surely that must go some way to reducing the carnage. (It seems we hear less of drivers fleeing the scene, so maybe there is a return on the investment, after all.)
Now if disguising your license plate amounts to a traffic violation, you would be right to assume the police are missing an opportunity to collect a hefty sum in fines levied against perpetrators. Since speed cameras are effectively rendered useless in the face of 30% of vehicles carrying plates that are unrecognisable, there again is huge loss in revenue.
Well then, what to do? What to do?
Here's an idea: Police checks and road blocks are common enough; fines are given out for driving without a seat belt, no helmet, no insurance, improper registration or lack of a driving license, etc. So why not for license plates that are illegible, modified, or intentionally disguised?
What about a public reporting system that allows citizens to photograph a plate and send it directly to the police? Officers could issue fines from the comfort of their desks.
Before long, the practice of "hiding in plain sight" would lose its appeal. Instead of becoming more popular, it would diminish, possibly even stop altogether.
At the end of day, one has to ask: What is the purpose of a license plate if it cannot be read?