OPINION: Street Show a great event for Phuket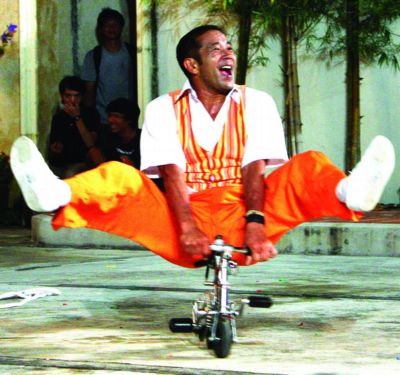 PHUKET: The Phuket Street Show festival last weekend was a wonderful coming out party for Old Phuket Town following its recent facelift. (See story, current issue of the Phuket Gazette. Digital subscribers click here to download the full newspaper.)

Whoever came up with the idea to host world-class street performers in the old quarter is to be given a great deal of credit as the performers provided just the right kind of entertainment that could be appreciated by every member of the family, young or old.

And because the performers relied more on movement and gestures than the spoken word, their art was perfect for an international tourist destination like Phuket.

Comment in the Gazette's online readers' forum, often a repository of rote and rutted lament from disenchanted expatriates, was almost uniformly favorable. An extract from our favorite:

"Big surprise to me. This event actually seemed well planned, organized and efficient! Not only is it entertaining, it's delightful in every respect – lovely mix of people and a relaxed feel. A big improvement over the Vegetarian Festival!"

The festival also provided a pleasant alternative to the stinking sewage, noise, parking problems, touts, tuk-tuks and drunks that dog the Patong Carnival, which was held concurrently.

But in some ways the unexpectedly large crowds in Phuket Town turned the fête into a victim of its own success. As anyone who attended on Saturday night can confirm, the huge turnout presented some problems, most notably Soi Romanee and other places where stages were set up in the middle of the street, blocking the flow of pedestrians.

Some have already recommended moving the festival to Suan Luang or Saphan Hin next year in order to take advantage of the greater area and availability of parking.

Of course it would be great to have more performances in those parks, but with a bit of tweaking, most of the issues that surfaced during this innaugural event could be overcome, and that the festival could well be developed into a signature event for Old Phuket Town.

There are already numerous events held at Suan Luang and Saphan Hin, and local residents in and around both areas have begun to complain of sanitation problems, security issues, 'hospitality fatigue' and a host of other problems. Few would complain if yet another large event is hosted elsewhere.

As mentioned by local TAT office director Bangornrat Shinaprayoon, this year's event could not use Queen Sirikit Park as a main staging area, thereby forcing almost all of the activities into the very narrow Thalang Road.

If just two or three of the acts could be held inside the park and others set up in areas where they would not impede pedestrian traffic, Thalang Road could be more of an intimate walking street than a bottleneck for the masses.

The traffic jams of last weekend could also be largely avoided simply by using the Phuket Provincial Administration's pink buses or other vehicles to shuttle in visitors from remote park-and-ride areas.

We hope very much to see the Phuket Street Show back again next year.
— Phuket Gazette Editors
Wai Khru – setting a bad example for the future. Thailand's demand for respect from its young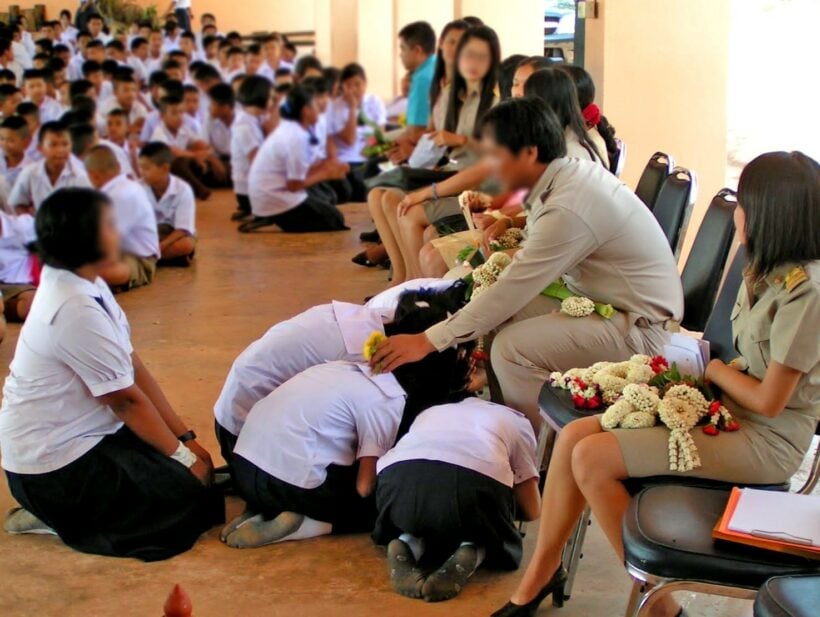 Hazing (US English), initiation ceremonies (British English), bastardisation (Australian English), ragging (South Asia), or deposition, refers to the practice of rituals, challenges, and other activities involving harassment, abuse or humiliation used as a way of initiating a person into a group including a new fraternity, sorority, team or club.
In Thailand, hazing is not only rife, it's seen as a rite of passage for young Thais as part of their cultural inculcation into the subservience they're expected to display elders or people with more money or higher positions than them. What's mistaken for 'respect' is actually a cultural party trick where children and young adults are 'trained' to be deferential from an early age.
In recent years there have a been a few high-profile deaths of army trainees, in the care of their Academy leaders, but allegedly subjected to initiations and bastardisation that is just 'par for the course' for the education of young Thais.
In a response to the recent death of Phakhapong Tanyakan at the Armed Forces Academies Preparatory School on October 17 last year, the Thai Deputy PM and Defence Minister Prawit Wongsuwan claimed that he "was not beaten to death, but just too weak to withstand tough training."
He went further saying "I was once beaten more than I could take and I fainted too. I didn't die. For this, before the school accepts kids for entry, they must give them a proper physical check-up."
When you get you get such official, public, responses from the top you can see how this hazing culture continues to thrive in the, otherwise, Land of Smiles.
We spoke to three foreign teachers in Thailand, all speaking on condition of anonymity, about the culture of hazing in their schools and the benign version of that in primary schools, 'wai khru'.
"Hazing is seen in many different types of social groups, including gangs, sports teams, schools, military units, fraternities and sororities. The initiation rites can range from relatively benign pranks and was khru, to protracted patterns of behavior that rise to the level of abuse or criminal misconduct."
For the families of hazing victims these ceremonies can be catastrophic, as in the tragic case of Phakhapong Tanyakan.
A 19 year old armed forces cadet, previously subjected to harsh physical discipline, suddenly died a day after returning to school from a break. His parents were told he suffered from a sudden cardiac arrest but became suspicious of possible foul play after a detailed autopsy report never came. – Khaosod English
But he's not the only one. Hazing and cruel or unusual initiations are conducted every day around the Kingdom but with a growing concern about the practices, both from the young students themselves and concerned older Thais, who realise the dangers of 'persuading' youngsters to respect elders needs examination in a modern 21st century Thailand.
We spoke to a respected senior Thai businessperson, again on the condition of anonymity, who said he had seen too much hazing going on during his time at school and then whilst training in the military.
"I was a victim of this type of bullying. I was told to 'be a man' and that all Thai men have to go through this. I think it is degrading and breaks human spirits. It teaches fear of those we are meant to respect. It has to change."
It all starts when young Thais are subjected to the Wai Khru or 'Teacher Wai' where students are expected to prostrate themselves in front of their teachers in a show of respect. But a broad spectrum of foreign teachers not only feel uncomfortable with this faux-deference, some of them go out of their way to be away for that day or, sometimes, even speak out about their concern with this tradition.
"I made the mistake of speaking out about the Wai Khru in our school. I just found it demeaning for the poor students who had to rehearse all week for this totally meaningless show of respect. I didn't feel respected, I felt sick. I ended up being ostracised and had to leave that school."
Whilst many Thais continue to wonder why westerners might find all this kowtowing and prostrating could cause concern, you just need to examine the deaths in the Army preparatory schools as the end result of 'demanding' obedience and deference to elders. In western culture, I have learned, respect is something that is earned, not demanded.
"Hazing is undignified, humiliating and cruel… not my words, but the words of students who are made go through this horrible experience. It's meant to be a sign of showing respect to your seniors but it's nothing more than a shameful indulgence at the expense of the students," said a long-term foreign teacher.
"Making students crawl around on the ground acting like animals in front of their peers, does nothing for either senior or freshie students. I have stopped attending Wai Khru day as I find it terribly uncomfortable for myself and for the students. You can see the look in their eyes as they approach you and are ordered to bow before the teacher. Teachers, like everyone else, should learn how to earn the respect of their students."
A young female foreign teacher first thought that the Wai Khru was 'cute' but has changed her tune over the years.
"Wai khru was the highlight of my first year teaching in Thailand. I was, and still am, extremely humbled and deeply touched by this beautiful tradition intended to recognise a teachers' role in children's life and to give said children the opportunity to express their gratitude to their teachers.
"But throughout the years I have started to look at this event with a more critical eye and I wish it weren't as rehearsed and staged as it unfortunately is. At our school, rehearsals for Wai Kru start a week prior to the event. During this week, children are drilled incessantly until they have mastered the walk, the bow and the wai leading up to the offering of the flowers that they are eager to free their sweaty little palms of."
Wai Khru continues to be practiced in all Thai schools as a long standing tradition and show of respect for teachers.
"Although I understand and commend the wonderful intentions behind such practices, I feel that much like other sorts of drilling that these students endure, this sadly takes away from the true purpose of it all. For want of a picture perfect event, meaning is lost and a demonstration of gratitude is transformed into a dreaded labour," she said.
An investigation into the death of Army cadet Phakhapong Tanyakan, by military investigators, found no wrongdoing by the Preparatory School. The parents have consistently called for a probe into their son's death and are still pursuing legal action.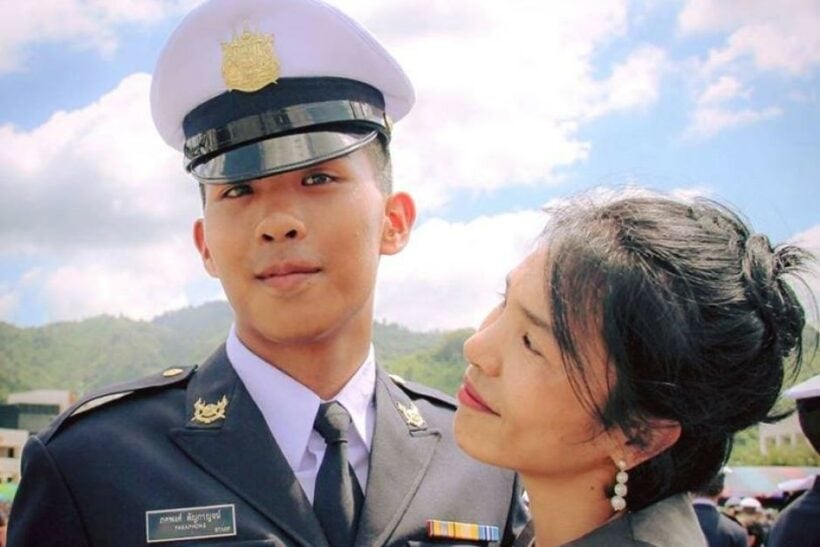 PHOTO: Army cadet Phakhapong Tanyakan, who died at the Armed Forces Academies Preparatory School on October 17 last year.
Thailand: Paradise Lost? Part 1.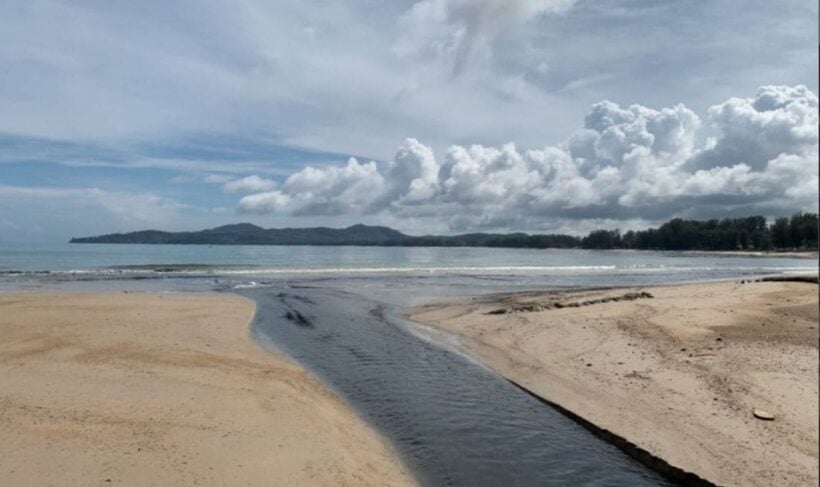 by guest blogger Kent Bowie
Thailand has seen rampant tourist development and expansion over the past 25+ years, but at what cost?
Is this sustainable or even ethical?
Social media has seen an explosive growth too over the last 15+ years, and one thing that annoys many governments worldwide is how the facts and figures delivered by their own agencies often bear no resemblance to the details posted 'live and online' by the worldwide army of grassroots commentators and locals on site.
In fact social media is having much sway that local governments and even global corporations are being shamed into scrambling to clarify, rectify or justify areas of concern.
Not just comments by the public are now on these web-mediums, but entire films and documentaries are now made, published and shared online.
Check out this DW report about the problems of rampant tourism…
Thai tourism has more than doubled in 8 years since 2011, with 34+ million visitors a year! It is worth remembering though that it is not just tourism numbers that are causing natural destruction, more education and awareness is needed by the Thai people too.
When tourists comes, they spend, they travel, they eat, they produce waste – and not just the wrappings, litter and disposable plastic drink bottles and food cases – tourists go to the toilet, and 34+ million extra people in Thailand is a lot of extra 'toilet'.
Currently Thailand, and particularly Phuket, are struggling with out-of-date and broken down waste disposal management. Current laws or regulations for sewage treatment and disposal are either woefully inadequate or more sadly, not even enforced. With the rampant and unabated development and construction of yet more and more condos, villas, tourist 'leisure' resorts and sites around Phuket, what happens to all that sewage? 
Sadly, in most cases it is simply, cheaply and conveniently (for the developers) piped through to the local klongs, waterways and beaches – out of sight and out of mind maybe?
Not so much anymore though, as an army of tourists and locals are now taking photos and videos of the rampant health transgressions and are flocking in greater numbers to social media to highlight this slow and persistent poison that is killing the heart of Thai tourism.
#อย่าให้เรื่องนี้เงียบหายลงเล จากคลองบางเทาไหลลงสู่ทะเลเมื่อเช้านี้ (11/5/62) เป็นคลิปที่ชาวบ้านบางเทาบันทึกได้ ตามคลิปน้ำเสียสีดำสนิทและส่งกลิ่นเหม็นอย่างหนักจากคำบอกเล่าของนักท่องเที่ยว กำลังไหลลงทะเลตรงหน้าหาดบางเทา จังหวัดภูเก็ต งานนี้ไม่ต้องอายฝรั่งมังคุดหลอกครับ อายชาวบ้านเขาบ้าง เขาบอกว่าร้องมาหลายปีหลายครั้งแล้ว ก็ยังเฉยกันอยู่!! อย่าให้เรื่องนี้เงียบหายไหลลงทะเลไปอีกนะครับพระเดชพระคุณท่าน"เมื่อ 10 ปีที่แล้วผมเคยไปที่หน้าหาดบางเทา แล้วนั่งเรือของชาวบ้าน ไปเที่ยวเกาะแววใช้เวลาเดินทางประมาณ 15 นาทีซึ่งไม่ไกลจากฝั่งมาก เป็นเกาะเล็กๆที่มีทรัพยากรใต้ทะเลซึ่งอุดมสมบูรณ์เป็นอย่างมาก เราสามารถไปดำน้ำแบบสน็อคได้ น้ำใสเหมือนกระจก จนเห็นปลาสวยงามและปะการังกลากหลายสายพันธ์ุได้อย่างชัดเจน แต่ถ้าเล่นปลอยน้ำเสียลงทะเลแบบไม่บรรยะบรรยังแบบนี้ เกาะแววก็คงไม่เหลืออะไรแล้วแหละครับ!!"

Posted by จิตอาสา Go Eco Phuket on Friday, May 10, 2019
Would you or your family care to sit on a beach littered with plastic, bottle tops, sand soaked in raw, untreated sewage? Do you want to swim in a brown fetid slick sliding over the once pristine waves onto the beaches?
Recently posts regarding huge black pollution flowing onto Bang Tao beaches was shared via social media.
The President of Cherng Talay OrBorTor, Ma'ann Samran admitted that "90% of the businesses in the area did not treat their waste-water" which is being released into the Bang Tao canal and – you guessed it – flowing straight out to greet the tourists on the beaches.
That's just one area. The story repeats throughout Thailand. Similar posts have been shared recently for Krabi, Jomtien and Pattaya. And it's not just recently but over the past decade as the situation has become more common, worse and more people are posting pictures of the ugly situation.
Unless something is done, urgently, then Thailand, along with the southern tourist money-spinner, Phuket, will continue to lose tourists, especially when so many other countries are now going out of their way to welcome them.
We will look at where the tourists are now going in Part II of our article.
We cast our eyes into Thailand's political crystal ball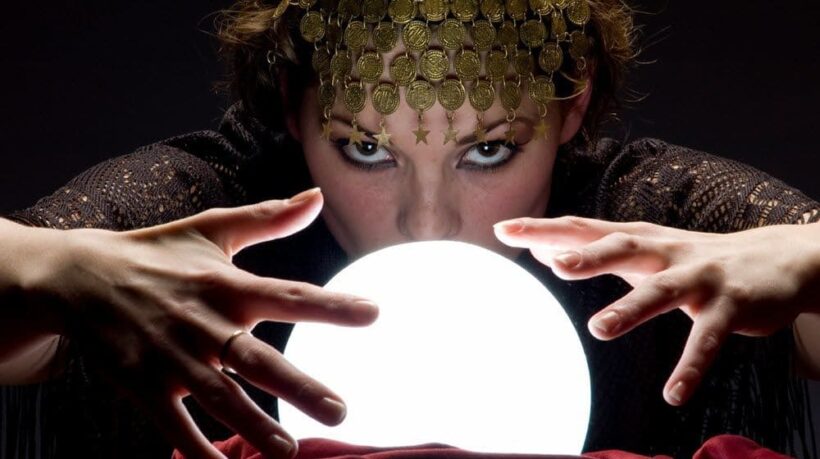 The new Thai government, still being legoed together after more than two months since the election, is fragile at best, terminal at worst. The government faces serious problems, no matter if you see it as a defacto military rule, a democratic hatchet job or a fair election (cough).
• Prime Minister Prayut will now face lengthy debates, and even ridicule, as the parliamentary system labours through any new legislation. This isn't something he is going to like. For the past five years if he's ordered his minions to jump, the answer was 'how high?!' Now the process is going to be a lot slower with scrutiny, especially media scrutiny, as new policy is aired and debated in social media and on the floor of the parliament. How often will he even bother turning up?
• Palang Pracharat – who have won their position in power with a favourable Charter, banning some opponents during and after the election through the Election Commission, offered cabinet positions to opposing MPs to gain their vote for the PM (and now appear likely to renege on their promises) – show all the signs of acute denial of the situation they face. They don't have a majority of MPs on the floor and each vote will rely on a coalition bonded with glue that is already showing signs of failing.
• The parties that won the most and third highest MP votes in Parliament – Pheu Thai and Future Forward – are going to be a formidable opposition. If the Democrats and Bhumjaithai MPs have a falling out with Palang Pracharat over cabinet positions (a situation that seems more likely by the day), Palang Pracharat can't win any majority votes in the lower house, including a no-confidence vote. With Democrat and Bhumjaithai votes, added to Pheu Thai and Future Forward, any legislation put to the vote by the PM and Palang Pracharat, will be soundly beaten.
Today a Dusit poll indicates that 73.6% those surveyed believe that a Palang Pracharat-led coalition government will last no more than a year. But 44.1% of respondents to a NIDA Poll believe the government will survive its four-year term. (Poll numbers rounded to the nearest .1%)
Suan Dusit University's poll sought the opinions of 1,128 people between June 6–8 and the National Institute of Development Administration's (NIDA) polled 1,265 people on June 6 and 7.
The NIDA poll showed 26.8% of the respondents are happy that the country can now move forward after parliament elected Prayut Chan-o-cha as the new PM, against 24.8% who say they were disappointed as the country's economy may remain stagnant.
The Dusit Poll showed 63.3% were disappointed that the Democrat party joined the Palang Pracharat coalition, but 24.2% believe the party wanted the ministerial posts.
Looking into Thailand's political crystal ball is unreliable at the best of time. For now it appears that another election may have to be called, even before the end of the year. Of course there is another option.
SOURCE for poll information: Thai PBS